Ride of the Week: Rockin' '74 Chevy Cheyenne
Unique crawler builds can manifest from all kinds of stock trucks and SUVs, but it's rare to find one that has been in the same family for over 30 years. When Matt Kime was handed the keys to his dad's 1974 Chevy half-ton truck, he knew he had to carry on its legacy as a trusty desert 4x4. Previously, this rig was a work truck for his father's garage door business, and later became the official Scout Master vehicle for the High Desert's first Boy Scout troop. Matt lives in Yucca Valley, just a few miles down the road from Johnson Valley, so naturally the Chevy was right at home in the rocks at The Hammers. Over the years, the mods piled on as trails became more difficult and new trails were discovered, and his father's truck transformed into a rig to be reckoned with.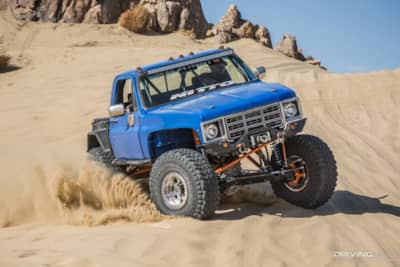 Although Matt kept the classic square body appearance, many components on this truck have been upgraded to modern rock crawler standards. Under the hood, the heart of this Chevy was swapped for a modern and powerful LS-based 6.0L LQ9 iron block, mildly tuned for pump gas. The LQ9 is mated to a tried and true TH400 transmission, modified with a manual valve body. The transmission allows for engine braking, which is useful when descending steep trails. Matt topped the tranny off with a reverse shift pattern Art Carr Sidewinder shifter. For ultimate low gear action, Matt uses an Off-Road Designs Magnum Box transfer case paired to an NP205 transfer case with twin sticks. The dual cases compound the gear ratios to provide the an extremely low gear ratio, maximizing traction and power when crawling over huge boulders.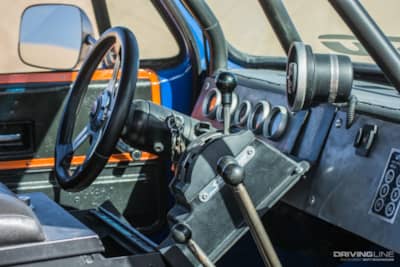 Back in 1974, this Cheyenne was built with leaf spring front and rear suspension. The truck has come a long way since those days, now sporting a custom front and rear 4-link suspension system, utilizing 2.5-inch King coilover shocks and hydraulic bump stops. Further down the drivetrain, Matt swapped the original front end for a Chevy Dana 60 with an ARB air locker and 4.88 Nitro gears. The steering was also upgraded with Artec Industries high-steer arms and Reid Racing knuckles. Matt also installed a PSC Motorsports full hydraulic steering system, making it a breeze to navigate the various lines on the Hammers trails. The rear axle is a GM Corporate 14-Bolt with a Nitro spool and 4.88 gears. Matt also added an Artec truss for added rigidity and upgraded the brakes from the original drums to a Blue Torch Fab disc brake conversion.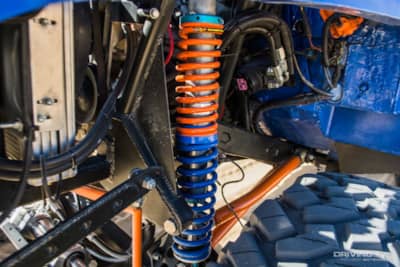 The heavy duty axles and related components allow Matt to run 40x13.50R17 Nitto Trail Grapplers with ease and peace of mind. For years, the Trail Grapplers have proven their effectiveness at King of the Hammers, with multiple wins and countless strong finishes, so it's no wonder Matt's truck is right at home in The Hammers. The 40-inch Trail Grapplers come with sidewall lugs that provide even more traction when skimming along rock walls. Of course, no crawler is complete without a set of strong wheels, so Matt opted for a set of 17-inch Raceline Monster beadlocks.
In order to get the most from this truck in the extreme rock trails at The Hammers, Matt had to gain as much clearance as he could while keeping the center of gravity low. He accomplished this by building a whole new chassis from the ground up, custom tailored to allow for a full-length flat-bottom skid plate, yielding 23 inches of belly clearance. Matt also lowered the body to keep a low center of gravity when things get on the tippy side in the rocks. In addition, the engine and transmission was pushed back 6 inches into the cab of the truck, which allows for equal length front and rear driveshafts and better weight distribution.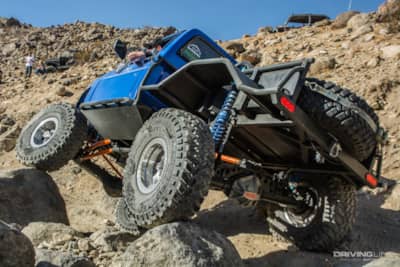 The time and effort Matt has put into his crawler over the years is a combination of years of experience off-roading and trial and error on the trails themselves. Although this rig still resembles its past life as just a regular square-body Chevy, every inch of it has been optimized to effortlessly climb over some of the toughest terrain in North America. It's one thing to spend years transforming a truck like this into a capable crawler, but make no mistake—this is not a garage queen. In fact, next time you're out at The Hammers, keep your eyes peeled. There's a good chance you'll spot this blue monster stretching its legs on the trails.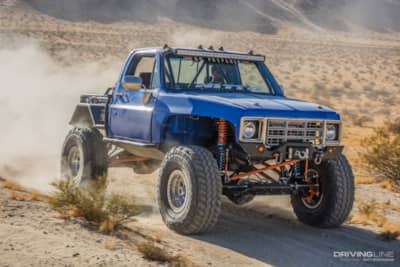 Specs: '74 Chevy Cheyenne
| | |
| --- | --- |
| DRIVETRAIN | 2005 Chevy 6.0L LQ9, manual valve body TH400 transmission, Art Carr Sidewinder Shifter, Off-Road Design Magnum Box and NP205 transfer cases |
| FRONT AXLE | GM Dana 60 with ARB Air Locker, 4.88 Nitro gears, Reid Racing knuckles, Artec Industries High-Steer arms |
| REAR AXLE | GM Corporate 14 bolt axle with Artec Industries truss, 4.88 Nitro gears, Blue Torch Fab disc brake conversion |
| SUSPENSION | Custom 4-link front and rear suspension with 2.5-inch King Coilovers and hydraulic bump stops |
| WHEELS AND TIRES | 40x13.50R17 Nitto Trail Grapplers, 17-inch Raceline Monster Beadlock wheels |
| CHASSIS | Full custom chassis, full length flat-bottom skid plate |
Think your rig might qualify for our Ride of the Week? Leave us a comment!