Ride of the Week: Rtech Fabrication's '72 K50 Crew Cab
Seeing what's been dubbed "The Duke" in person is even more impressive than in pictures. Not only is it original enough to stand out in a sea of raised trucks, it's also well built and made to be fully functional… all things asking to be dubbed a Driving Line "Ride of the Week."
Watch more of it in the video above and read on for an interview with Randall Robertson of Rtech Fabrications based in Hayden, Idaho.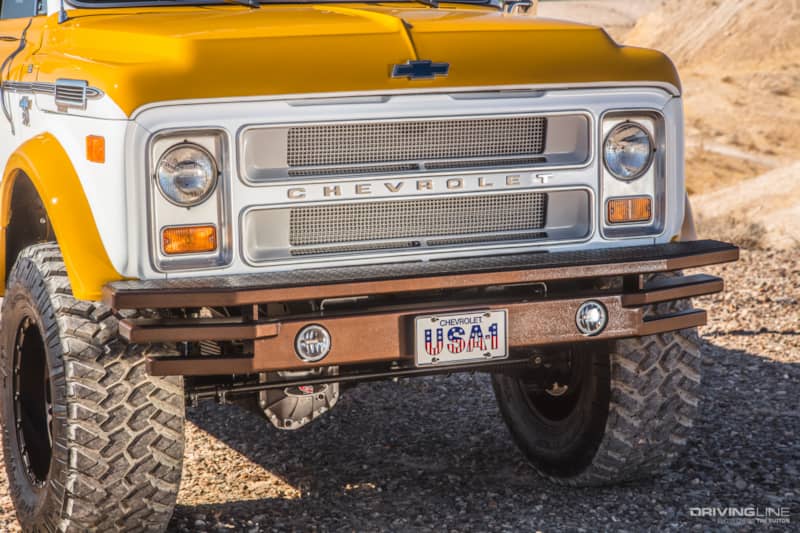 What made you choose to specialize in late model trucks?
I don't consider the Duke to be a late model truck, but the reason why I chose this body style is that I like the body lines and the character. I have always chosen the road less traveled, and sometimes I make my own road when the road has not been made to my satisfaction. Whenever I see a production vehicle I automatically look to see what could make it better.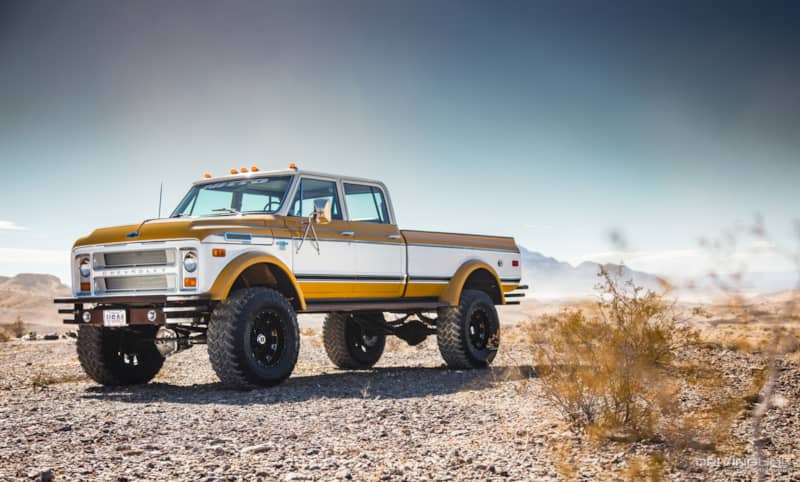 What are some of Rtech Fabrications other specialties?
Our motto is "We build trucks to do truck things" which means we build trucks to be used, not necessarily to be shown—but they can be award winners. The latest build is a 65' blazer which was never made by GM, dubbed the "Dino."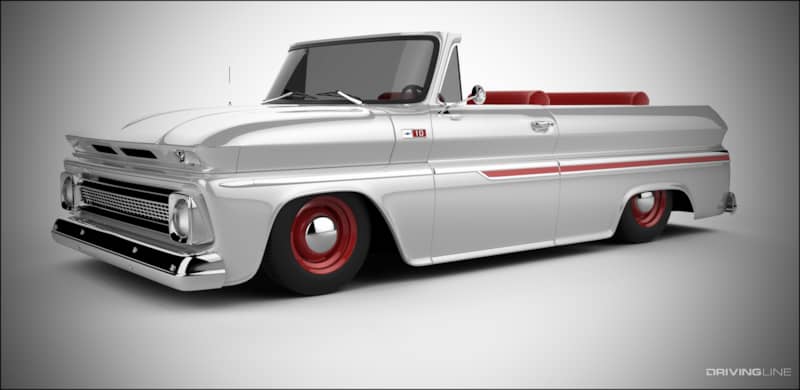 In addition there is the K20 limo...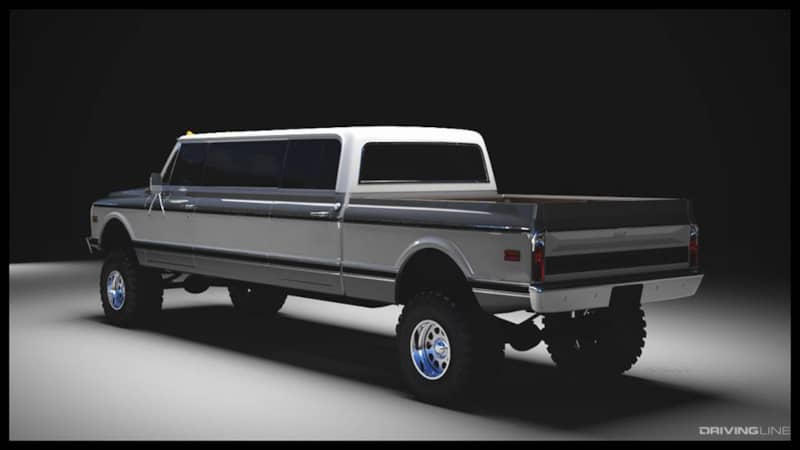 Also, we've just released our newest product line, The Ponderosa, our version of another truck that was never built. It is a '64-'66 Chevy four-door crew cab. My design is not something I've seen anybody build with the level of symmetry that I require in a production vehicle here at Rtech Fabrications. One of the many features is that it has a great deal of leg room.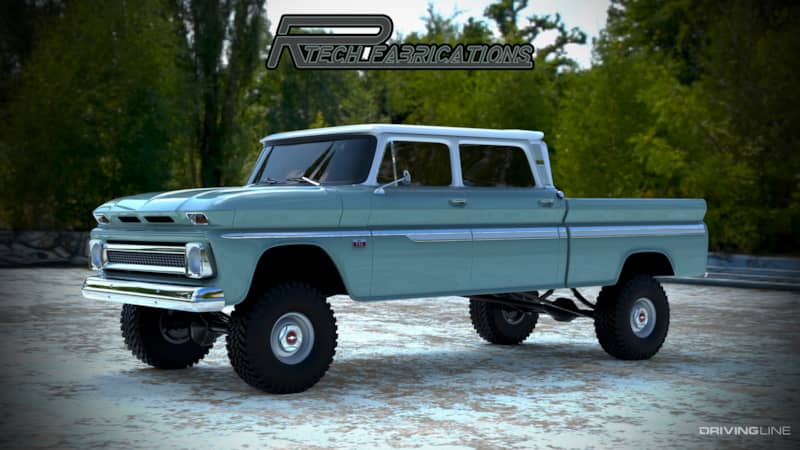 Favorite car adventure?
I have so many that it is hard to put my finger on only one. Back in the '80s I built/restored, from the ground up, a '73 BMW 2002 turbo. When finished, I drove and raced the wheels off of it. One of the things I enjoyed most was taking other people for a ride but requiring them to wear a helmet first, it always put them on edge. I enjoyed watching them hold on to whatever they could, in other words for dear life. If there is any one vehicle I could have back, that would be the one.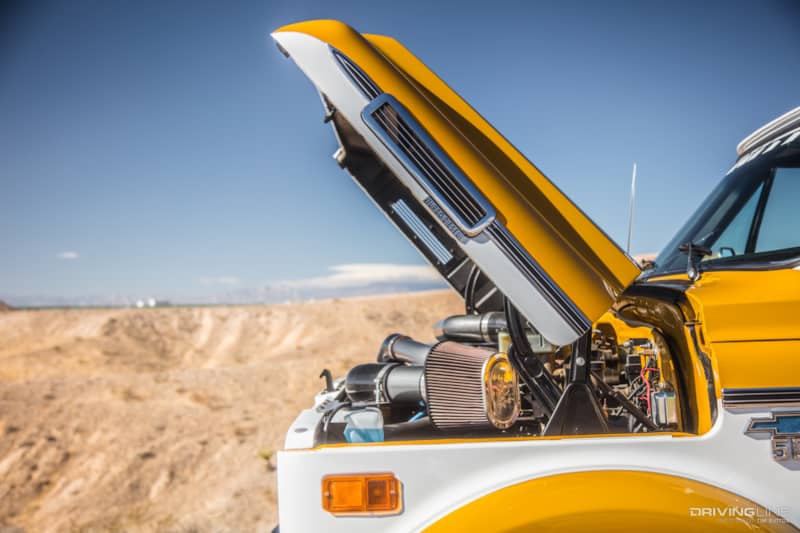 Specs: '72 K50 Crew Cab
| | |
| --- | --- |
| OWNER/BUILDER: | Randall Robertson at Rtech Fabrications |
| HOMETOWN: | Hayden, Idaho |
| BUILD TIME: | 2 1/2 years |
| ENGINE: | 5.9L Cummins 6BT from a '96 Dodge Ram, custom intake with a K&N air filter, Flowmaster 4-inch turbo-back exhaust, Intercooler and air conditioning condenser mounted under cab due to engine bay space limitations |
| TRANSMISSION: | NV4500 Manual Transmission with a NP205 Transfer Case |
| AXLES: | 1-ton Axles (Dana 60 front, 14-bolt rear) |
| BODY: | Front clip is a modified C50, bed is from a C20 pickup |
| PAINT: | PPG Concepts Ochre and white urethane base/clear |
| INTERIOR: | Seats and center console from a 2010 GMC Sierra, custom GM yellow and black "Saddle Highlander" plaid cloth interior finishes by Stitchwurx, custom steel dash by Rtech with original gauges |
| WHEELS: | 20-inch KMC XD829 HOSS 2 |
| TIRES: | Nitto Trail Grappler 40x15.50 R20 |