Silver Bullet: A Corvette Powered Wrangler With Real Trail Chops
When it comes to important years for the Jeep Wrangler JK platform, 2012 was a big one in many ways. Not only did it mark the first year for the far more powerful 3.6L Pentastar V6, but it ushered in a NAG1 automatic transmission. While the new engine wasn't without problems, the five-speed automatic has proven to be a robust unit in the Wrangler. Maybe its biggest bragging point is the fact that it can easily hold V8 power.
This little tidbit is what led Chris Smith to swap in the high-revving LS3 V8 into his 2012 Jeep Wrangler Unlimited Rubicon. Though the LS3 was originally found in the fifth-generation Camaro SS and C6 Corvette, the aluminum-blocked 6.2L engine has become a go-to across multiple motorsports disciplines. This is largely thanks to its proven track record for reliability and fantastic power output (more on that in a minute). Sure, swapping in a 'Vette engine into a Jeep isn't anything new. But, the combination of parts and build execution on Smith's JK warranted a closer look.
On a trip to Clemson, South Carolina, we actually ran into person responsible for executing Smith's dream JK vision, Jeep builder extraordinaire Cole Conner. While a few details on the Jeep were unfinished, we were able to see it in action on some private wheeling land. This on-trail test-and-tune was very cool to witness. Not only because the JK performed so well, but because we got a chance to see how the tuned-up crate engine would handle the warm summer heat and humidity. How did it all fare? Read on to find out.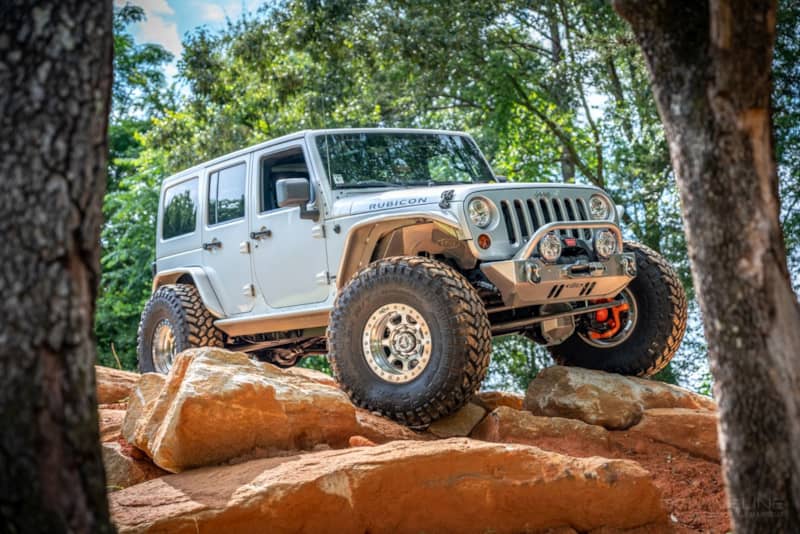 Crate Engine
If you are looking to swap a V8 into your JK, you have a few options. This swap started off with a brand-new LS3 crate engine direct from General Motors. While these come with over 400 ponies out of the box, new valve springs, rocker arms, and cam get it to an estimated 500hp. Along with a GM accessory kit, you'll find a Vintage Air A/C compressor, and PSC Motorsports power steering pump hanging off the front of the engine. To cut down on the fab time, and make things a bit more plug-and-play, a LS conversion kit from Bruiser Conversions was used. Ensuring the Jeep has plenty of juice for the trail are two Optima YellowTop batteries that fit nicely under the hood thanks to a dual-battery kit from Genesis Offroad.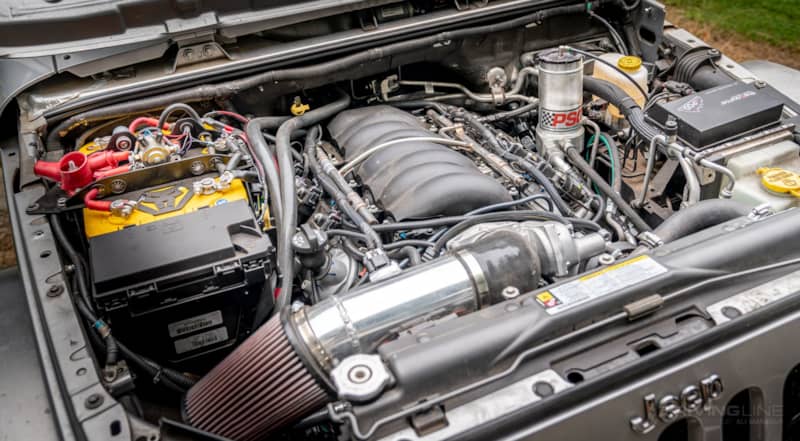 Linked
Typically, there would be a belly pan protecting the exposed NAG1 automatic transmission. Luckily for us, it was off so we could get a peek at the 3-link suspension, which is utilizing GenRight's Elite suspension crossmember. The arms were all built by Conner to ensure the front axle would rest exactly where he needed it.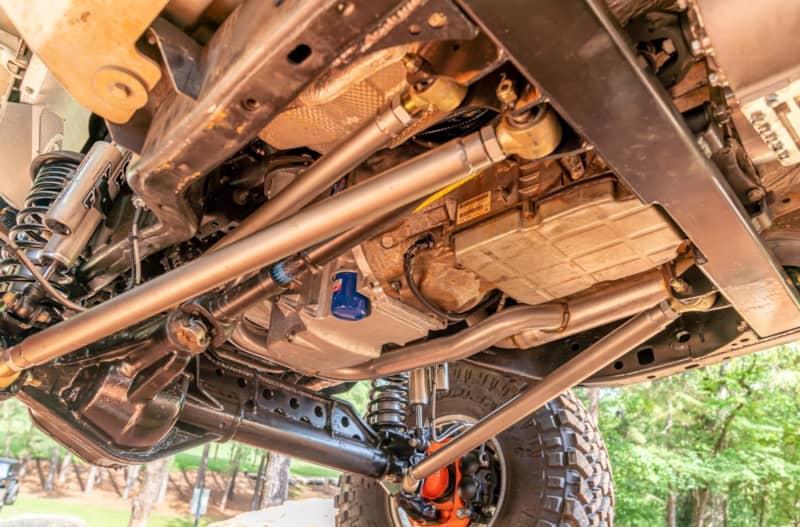 Atlas II
Despite having 200 more ponies on tap over what the Jeep originally came with from the factory, Smith wanted to make sure he had a good balance of gear reduction and transfer case strength for his off-road adventures. This is why the OE T-case replaced with a stronger gear-driven unit from Advance Adapters. The Atlas II case was optioned with a 3.8:1 low range gear set along with 1350 outputs. These heavy-duty CV-style yokes rotate a custom set of Tom Woods drivelines.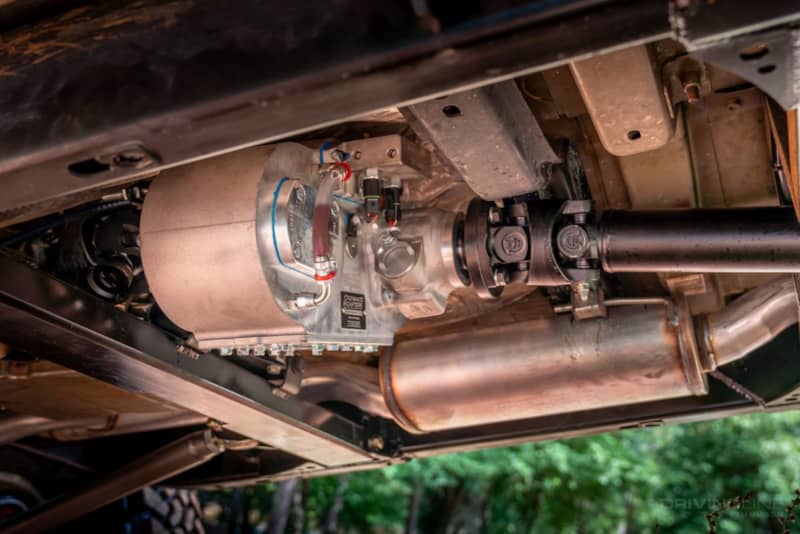 Sterling Rear
The rear axle is a Sterling 10.5 that was plucked from a 2005 Ford F-250. Turning the stock full-float axleshafts is an electronic locker that was sourced from a 2012 Super Duty truck. The axle has been outfitted with an Artec truss and bracket kit, along with a TMR differential cover. Like the front, the JK is using a GenRight Elite rear crossmember as well with custom-built 0.250-wall DOM control arms. Since this setup calls for triangulated upper control arms, the stock fuel tank was ditched. Now carrying the fuel is a GenRight 36-gallon tank that mounts behind the 1-ton axle.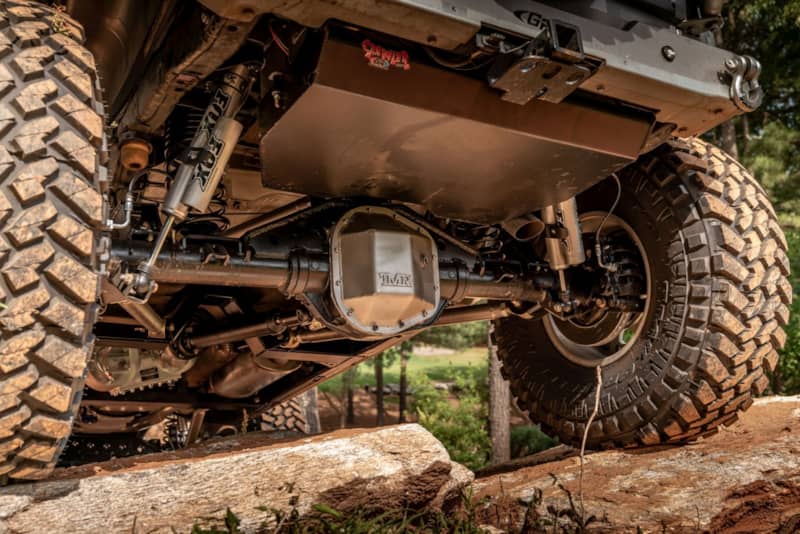 Sixty '06
The 2006 Ford Super Duty sourced high-pinion Dana 60 front axle was stripped completely and rebuilt using premium off-road components. For starters, you'll find an Eaton ELocker paired with 4.88 differential gears. This selectable locker setup sends power via RCV Performance Axleshafts out to Warn hubs. Just like the rear, the axle brackets and truss all come from Artec Industries. While there is still the matter of installing the PSC Motorsports hydraulic-assist ram, for now, the Big Bore XD gearbox does a good job working with the Reid racing knuckles.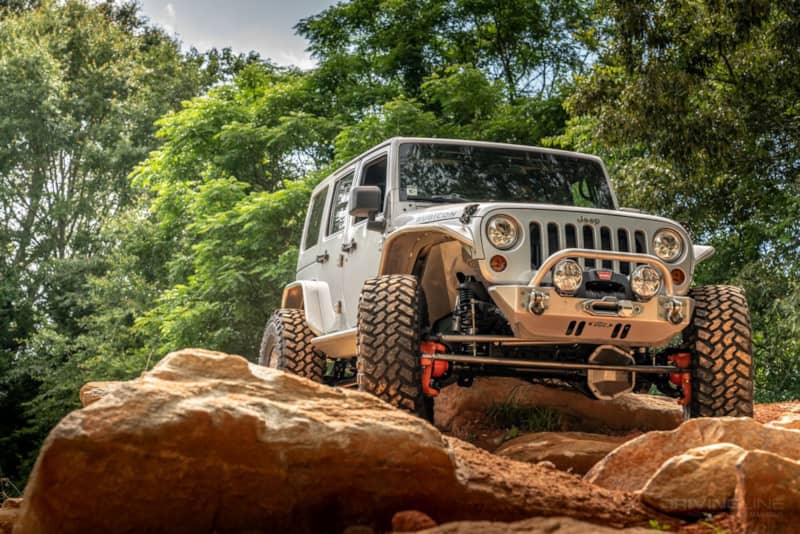 Cloaked In Travel
Providing the modest 3.5 inches of lift height are progressive-rate coil springs from Metal Cloak. These are paired with Fox 2.0 remote-reservoir adventure series shocks and Antirock sway bars front and rear. The bumpstop extensions ensure the axles upward movement is well controlled, so rubbing is not an issue.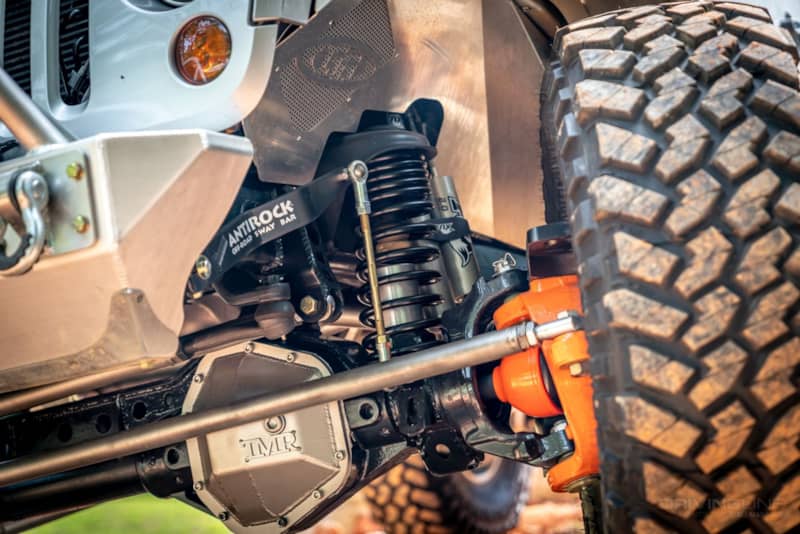 Trail Treads
Balancing off-road performance and on-road ride comfort is one of the JK's strong suits. To optimize traction and handling in every terrain, Smith opted for 40x13.50R17 Nitto Trail Grappler tires. This mud-terrain radial is one of the only tires of its size that has the ability to tackle extreme trail conditions, without sacrificing on-road ride quality. To ensure the 40-inch Grapplers would stay put on the trail, each tire was paired with a 17x8.5 HD series beadlock wheel from Trail Ready. These are fit with 4 inches of back spacing, offering a great balance of stability on the trail.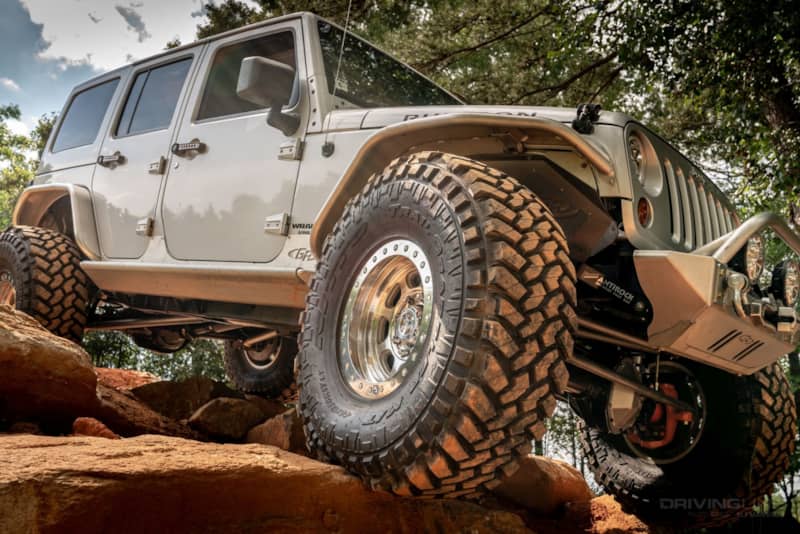 Bright Recovery
Increasing the approach angle and housing the Warn 9.5 CTI winch is a GenRight aluminum front bumper. This fast-spooling winch is paired with Warn's Spydura synthetic cable and finished off with a FlatLink shackle from Factor55. Making sure wheeling and recovery efforts stay illuminated are Vision X LED headlights, which are accompanied by LED fog lights from J.W. Speaker.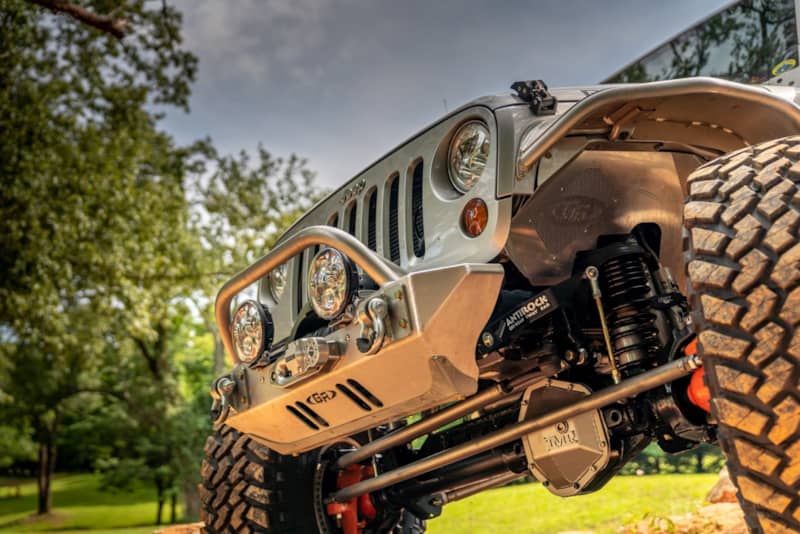 Rockin' Weight Savings
It's easy for the Wrangler Unlimited platform to quickly gain serious weight with aftermarket armor and upgraded axles. To make sure his V8 upgrade wouldn't be for not, Smith opted for aluminum armor over more conventional (and heavier) steel. These aluminum bits include the rocker guards, fender flares, and inner fenders from GenRight.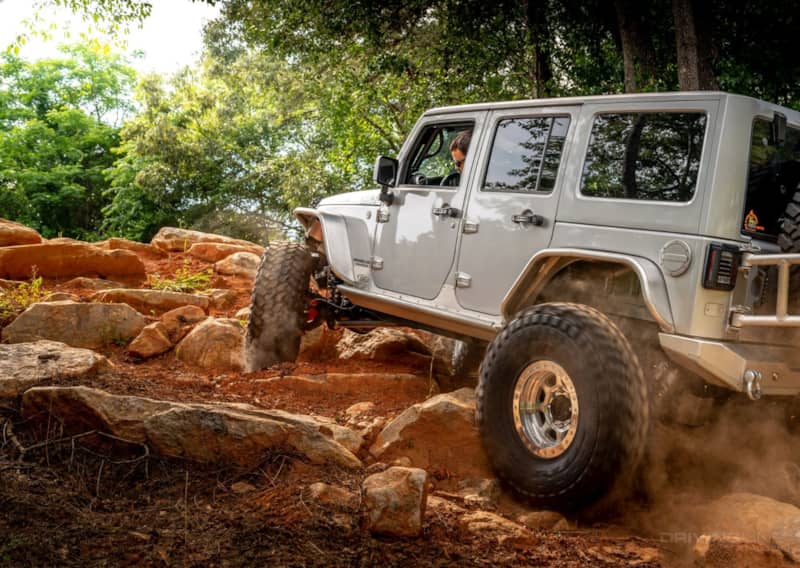 Carried Away
While it's unlikely he'll need to use it, Smith played it safe with a fullsize spare mounted via a GenRight tire carrier. Keeping up with the GenRight theme is the aluminum rear bumper. Finishing off the rear of the Jeep are LED taillights from J.W. Speaker.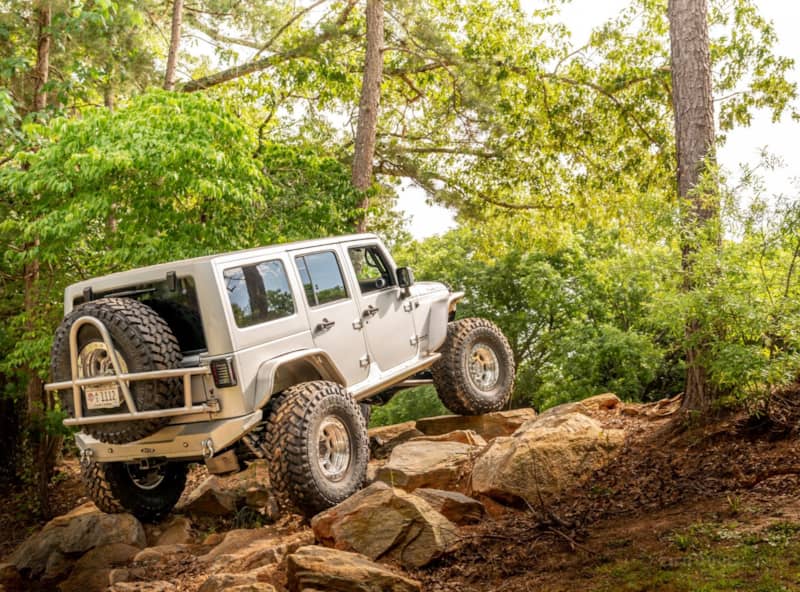 Hard Rockin' Interior
The stock seats in the JK are fairly comfortable. So, in leu of swapping them out, a Rock Hard 4x4 bolt-in 'cage was added for occupant protection. To give all of his locker switches and aux lights a centralized location, an sPOD kit was used.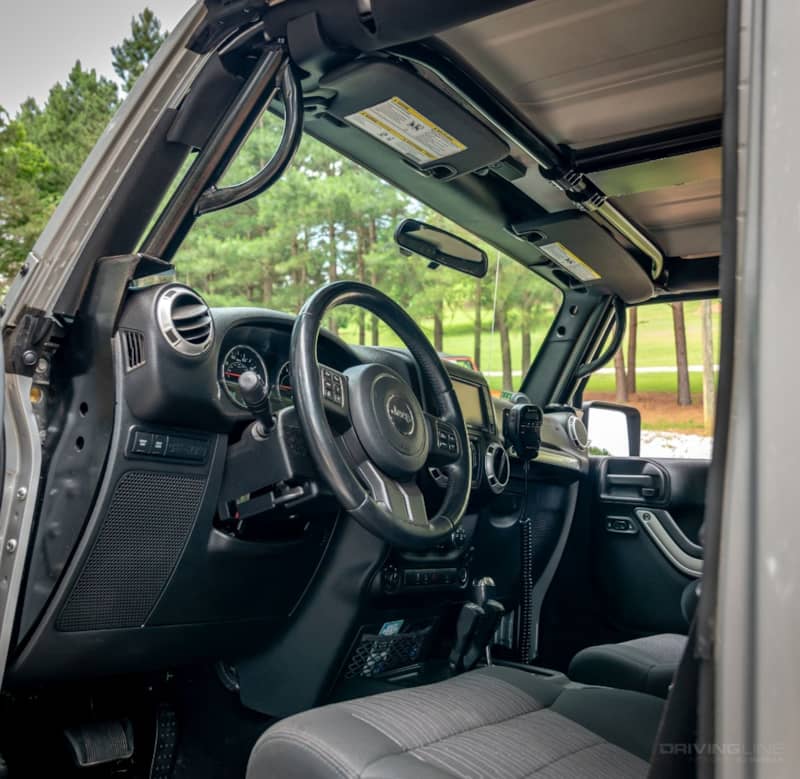 Thinking Ahead
One very convenient feature of the GenRight tank is that it utilizes the stock fuel pump. For anyone who has ever had the pleasure of dropping a fuel tank out of the vehicle to replace the pump, you'll appreciate this slick feature. It's an access door that installs into the cargo area of the JK. Removing a few bolts grants you full access to the fuel pump without needing to remove the entire tank from the vehicle.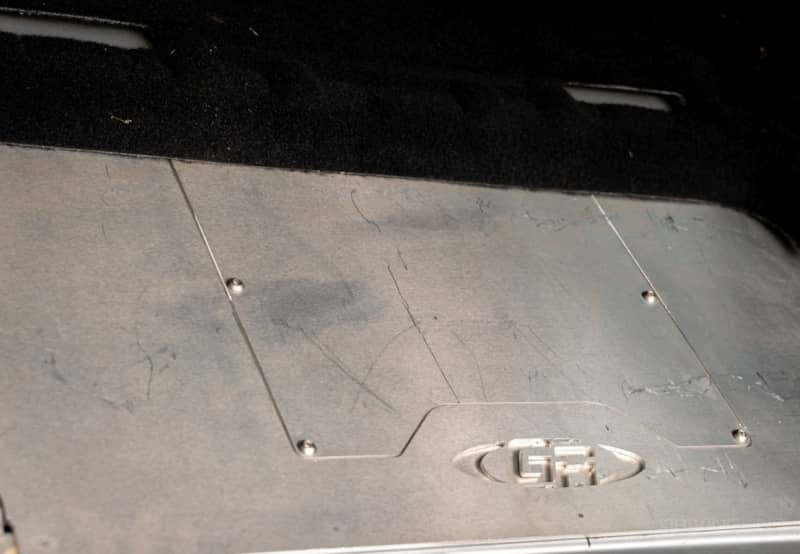 Details
Despite the fact that there were still a few details to wrap up on this build, we appreciate the fact that many of the small details that can sometimes be overlook were taken care of. This includes swapping to a J8 master cylinder, a critical component when upgrading to 1-ton axles with massive calipers. The axles were also modified with the correct tone rings. So, all of the necessary traction control and braking systems work properly. On the highway and even in the rocks, the JK never overheated. That might not sound like a bragging point, but V8 swapping in JK's are often plagued with heating issues. While you can't hear the rumble, it was a very mellow and tasteful tone. Overall, the tasteful mods and dollar-smart parts make this rig very well executed with the right balance of performance and practicality.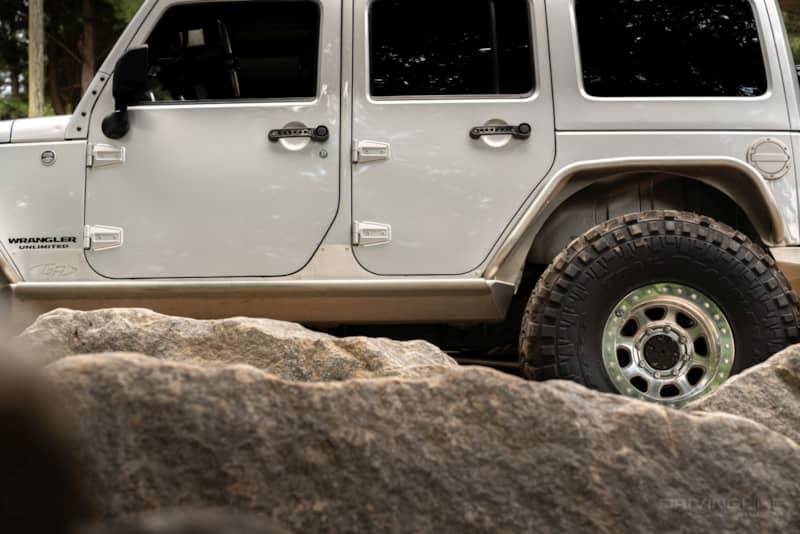 Digging this JK? Check out this LS-Swapped Wrangler Unlimited.