War Machine: Big O's Hemi-Powered Wrangler Unlimited [Video]
When it comes to any car or truck project, having a definitive game plan will always equate to time and money saved. This is something all veterans know. Jake Odum of Greenville, South Carolina, is no off-road novice. Having built and owned many modified 4x4s over the years, he's also no stranger to the rollercoaster ride that is building a Jeep. As a married father of two, Odum wanted to build a vehicle that could 'wheel challenging trails with the family in tow.
Landing on a 2016 Jeep Wrangler Unlimited wasn't by chance. While he knew the JK platform could fit his build goals, his Big O Chrysler Jeep Ram dealership also made him partial to the Mopar camp. With less than 50 miles on the odometer, Odum, Keith Marsh and his crew at Big O tore into the Jeep he would eventually dub the "War Machine." We got a chance to catch up with Odum and his Hemi-powered JK at the Flats Offroad Park in Marion, North Carolina. While you can learn more about the JK and see it in action in the video above, we're digging farther into build in the feature breakdown below.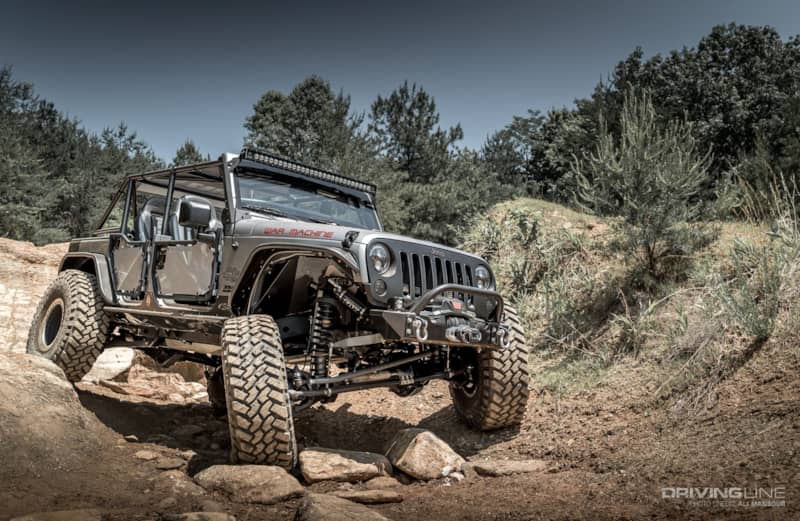 Mopar-Swapped
Odum knew he wanted more power, so the first thing to get plucked was the Pentastar 3.6L engine. In its place is a 392ci Mopar V8. The 6.4L crate engine burps out 550hp and gets a big boost of extra breathing power from full-length Borla headers. To make the swap as painless as possible, Odum used a Dakota Customs conversion kit.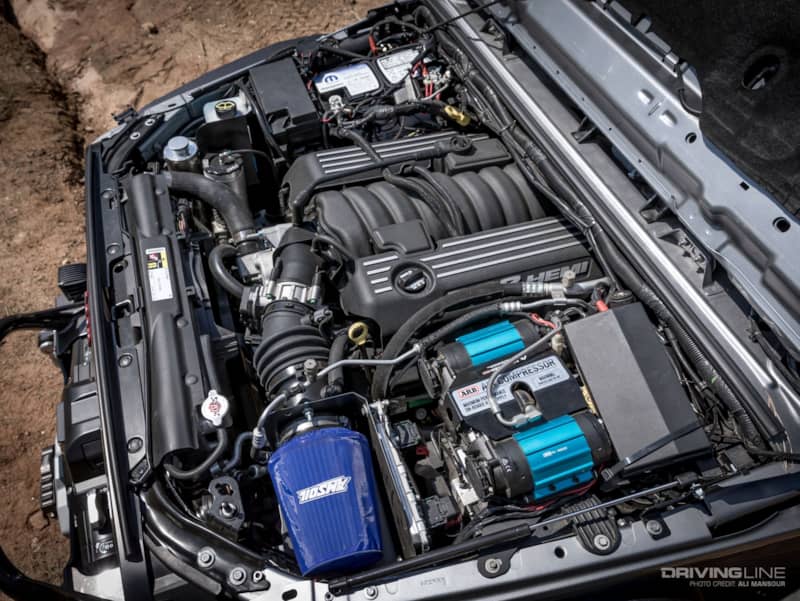 Reprogrammed Transmission
The stock WA580 transmission was reprogrammed to work behind the V8, while an Atlas II with a 4.3:1 low range replaces the OE NVG 241. Upgrading the sound control for those open-cab drives is an Alpine 9-inch Restyle head unit and new Kicker speakers all around.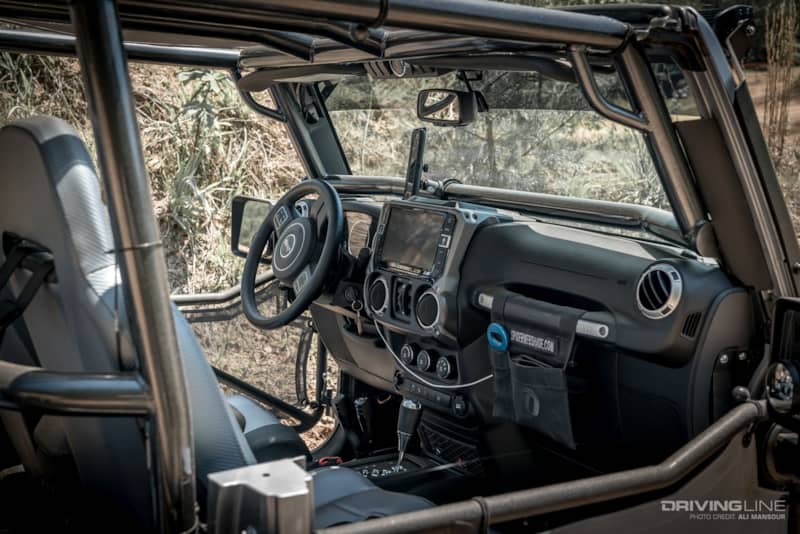 Currie Axle
With nearly double the original horsepower on tap, a more suitable Currie RockJock 70 rear axle was bolted out back. The full-float axle has a 5.38 gearset and ARB Air Locker. Providing the driving power is a custom 1350 series driveshaft from Carolina Driveline.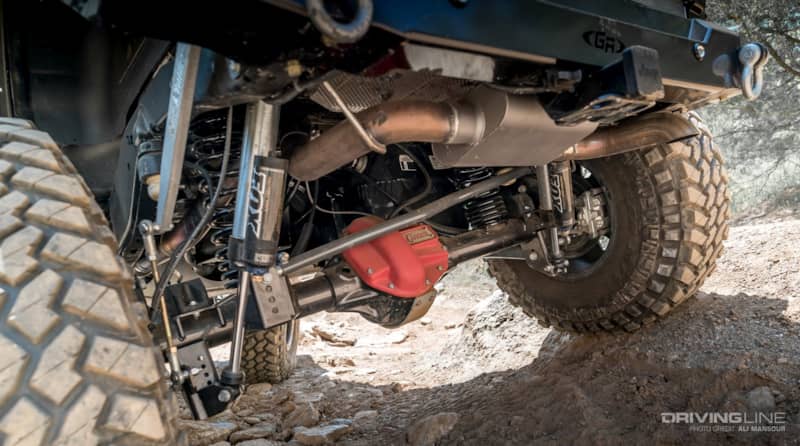 Synergy Suspension
Up front, you'll find a Currie RockJock 60 VXR that's secured in place by a Synergy Mfg. long arm suspension. Like the rear, the front is fit with 5.38 gears and an ARB Air Locker. To make sure steering wouldn't be a challenge on-road or off, a PSC Motorsports hydro-assist kit was used along with stronger steering links from Synergy.
Trail Grapplers
Getting power to the ground is a set of 40x13.50R17 Nitto Trail Grapplers, which are paired with 17-inch Raceline beadlocks. Odum opted for the Trail Grappler to achieve the proper balance of street manners and off-road performance. His setup does an excellent job of allowing him to tackle hardcore trails at single digit air pressures, then air up and drive home.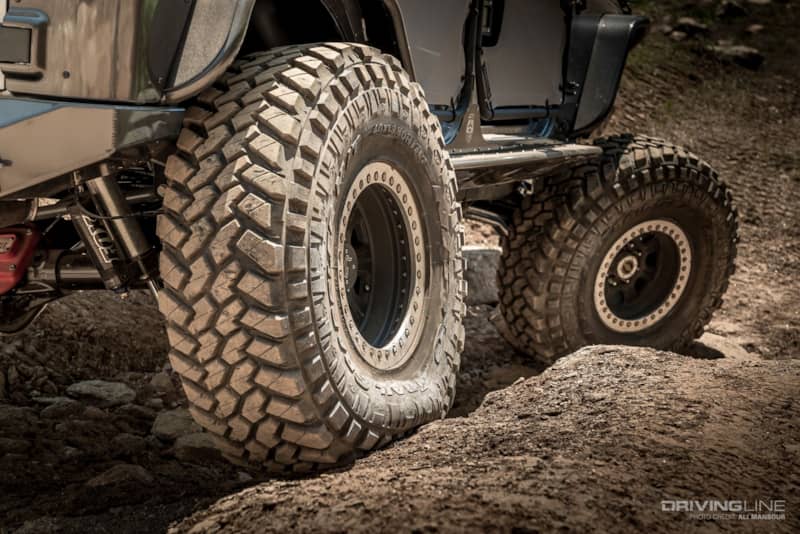 Low Lift
One of the best traits of the JK platform that's rarely praised are the large wheelwells. Thanks to these, Odum only needed Synergy's 4.5-inch lift springs. While the low lift helps with the center of gravity, the Currie Antirock sway bars provide extra stability. Dialing in the ride are Fox 2.5 DCS Adjuster remote reservoir shocks at each corner.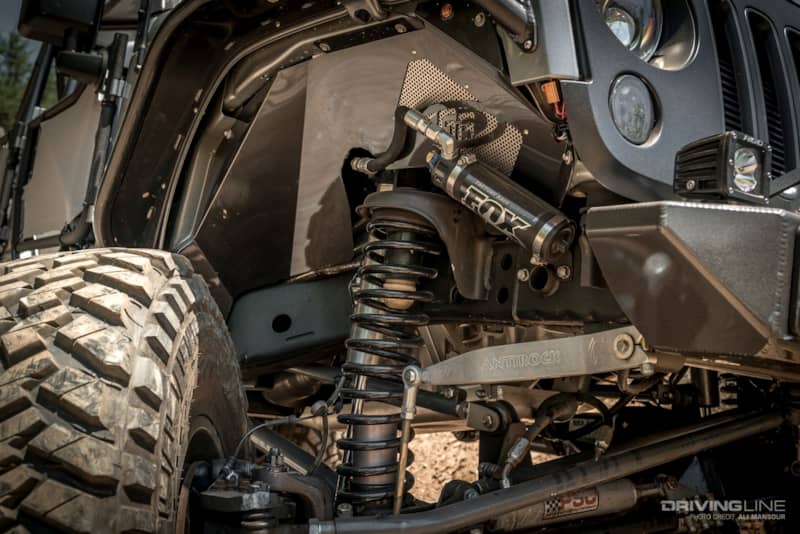 Removing the Doors and Roof
When Odum's looking to hit some harder trails, he'll typically pull the full doors and top in favor of the Rancho tube doors and SpiderWebShade. Though this helps the Jeep shed a few pounds, Odum went a step further by opting for aluminum over steel for most of the Jeep's armor protection. As you can see from the trail scars on the Artec underbelly skids and GenRight rockers, a show Jeep this is not.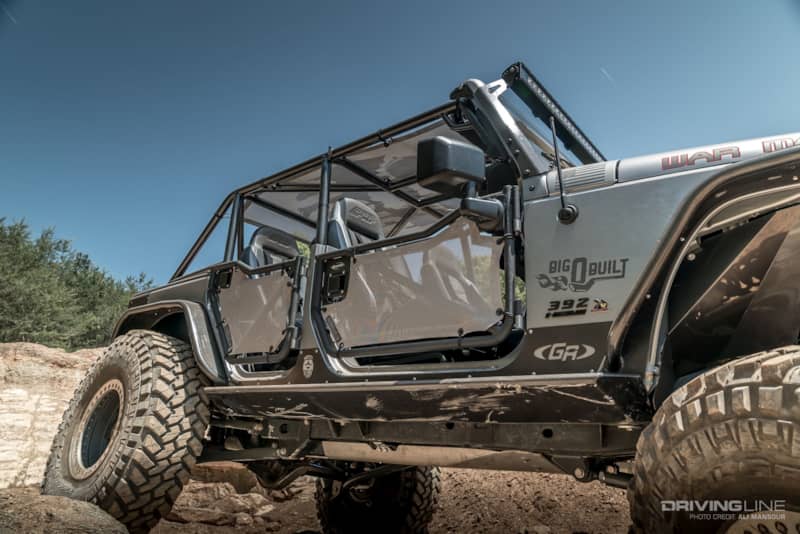 GenRight Protection
GenRight flares, bumpers and corner guards were custom painted (and powdercoated in some cases) and do a fine job of protecting the body. To make sure the precious cargo was safe, a complete GenRight cage replaces the stock sports bar.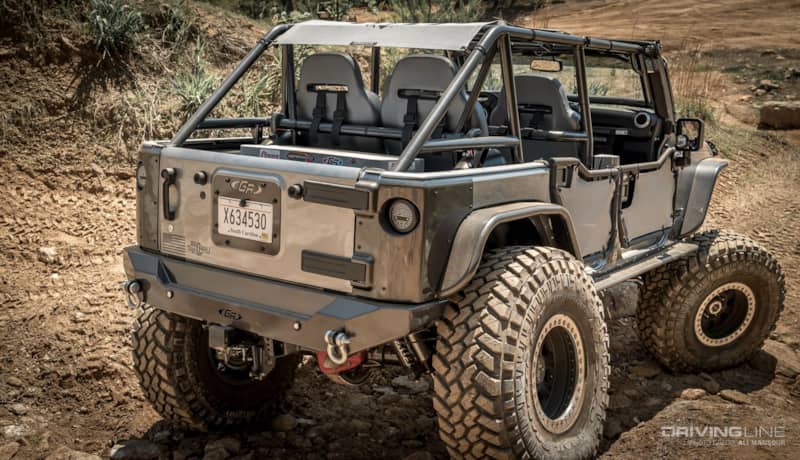 Warn Winch Included
Practical lighting needs are handled by JW Speaker headlights, while an assortment of LEDs from Rigid Industries help light up the trail. In case Odum finds himself (or others) in need of a pull, a 10,000-pound Warn Zeon winch is there with a Factor 55 Ultrahook.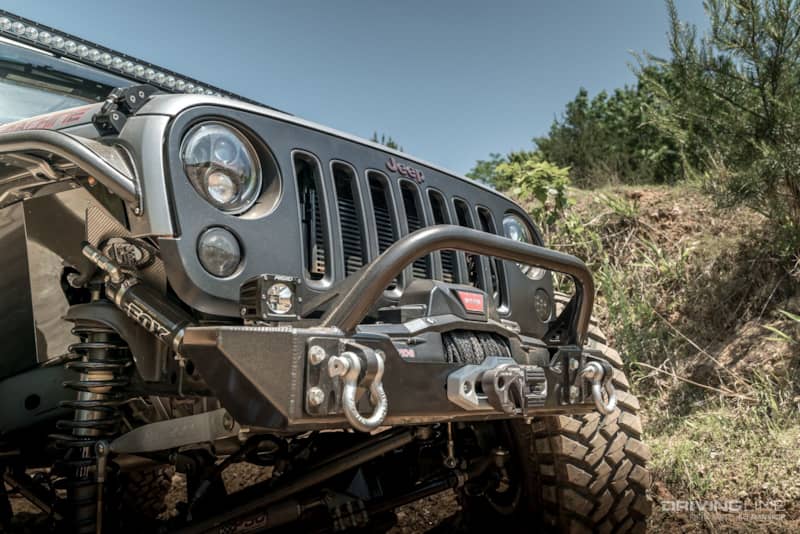 Riding in Comfort
Securing everyone in comfort are PRP suspension seats and four-point harnesses. To make cleanup a little easier, the carpet was pulled and a Line-X coating was sprayed on the floor.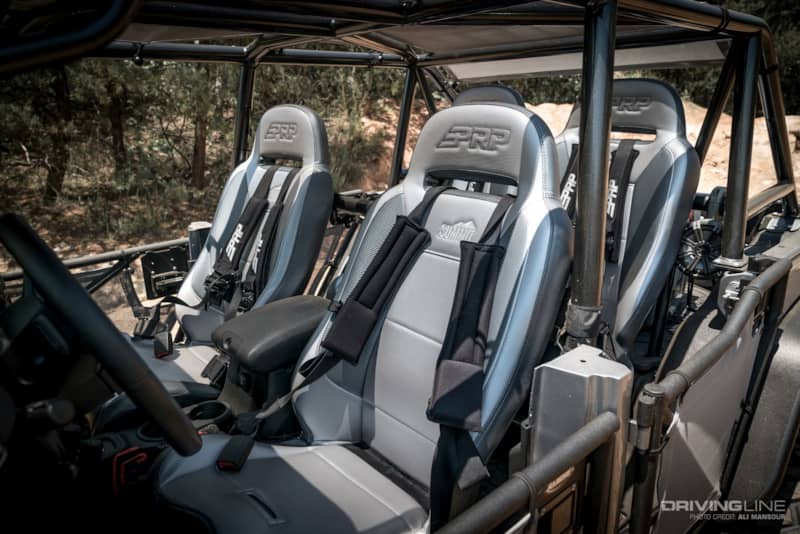 If you're curious about why he chose the name War Machine, Odum states that the color and overall build lent itself to something you'd see roll out of the Marvel universe. We dig how cleanly executed the Jeep is overall.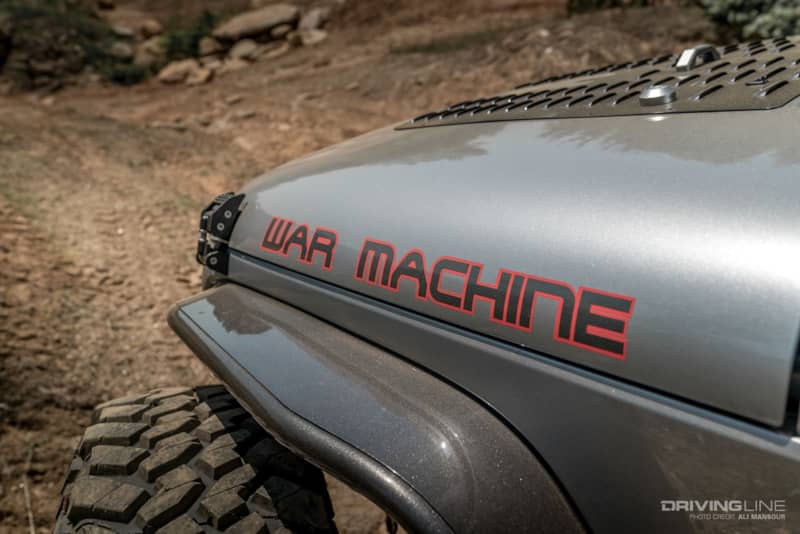 Looking for more cool Jeep builds? Here are 20 that survived the 2017 JK Experience.