Sports Car Killer: Inside an 11-second Duramax
Who says you can't have a reliable daily driver that hooks to the sled, tows over 10,000 pounds, gets 20 mpg, and runs bottom 11's in the quarter-mile?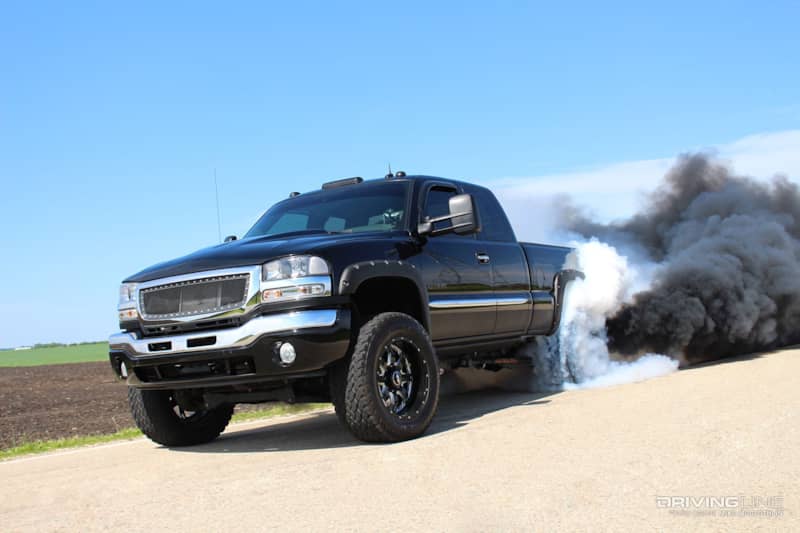 Welcome to Andrew Karker's world. His '04 GMC Sierra 2500 HD illustrates just how versatile a Duramax with the correct combination of aftermarket parts can be. With a built engine, transmission, all kinds of fuel and a high-flowing turbocharger, just shy of 900 horsepower makes it to the wheels.
As an avid sled puller, Andrew set the truck's suspension and driveline up for maximum traction in the dirt. Items such as an Eaton ELocker, upgraded axleshafts, heavy-duty tie rods, and CV shafts that parallel the ground help fortify and maximize the potential of the AAM 9.25 IFS front end. In the rear, added traction and strength comes by way of a Detroit Truetrac, Moser axle shafts, traction bars, an axle tube brace and a custom-built driveshaft.
Luckily, the same technology that helps the truck perform so well in the dirt also works to its advantage at the dragstrip. So far, the truck has blitzed through the quarter-mile in 11.2 seconds at 123 mph. With a harder launch and a sniff of nitrous, Andrew hopes to creep into the 10's this summer. Nasty doesn't even begin to describe it.
For a closer look at what makes this Duramax king of the dirt, a sports car killer at the dragstrip, and the ultimate everyday driver, keeping scrolling.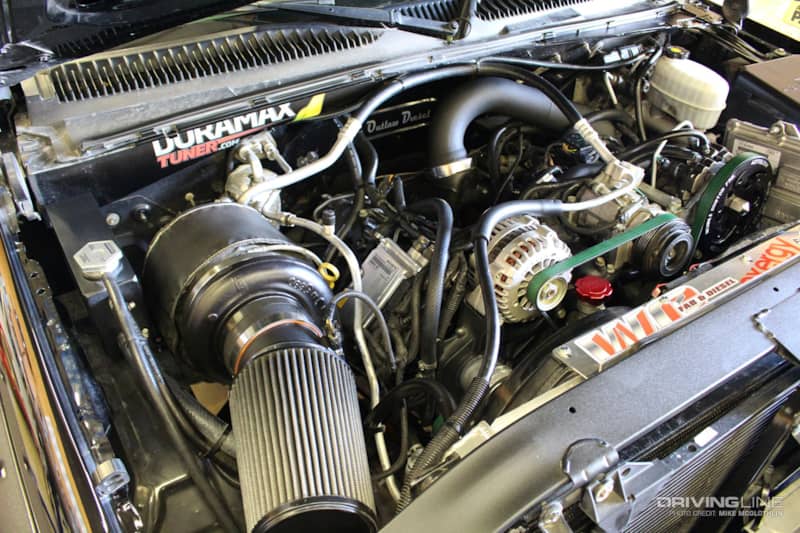 Far from stock, a balanced and blueprinted LB7 Duramax lives under the hood of Andrew's '04 GMC. An Industrial Injection Gorilla girdle, R&R connecting rods, valve-relieved Mahle Motorsport pistons, and a Wagler Competition alternate fire camshaft highlight the bottom end modifications. Ported cast-aluminum Brodix/Wagler Competition heads reside up top, along with a Wagler Competition street intake manifold. All ECM (engine) and TCM (transmission) tuning is handled by the EFI Live experts at DuramaxTuner.com.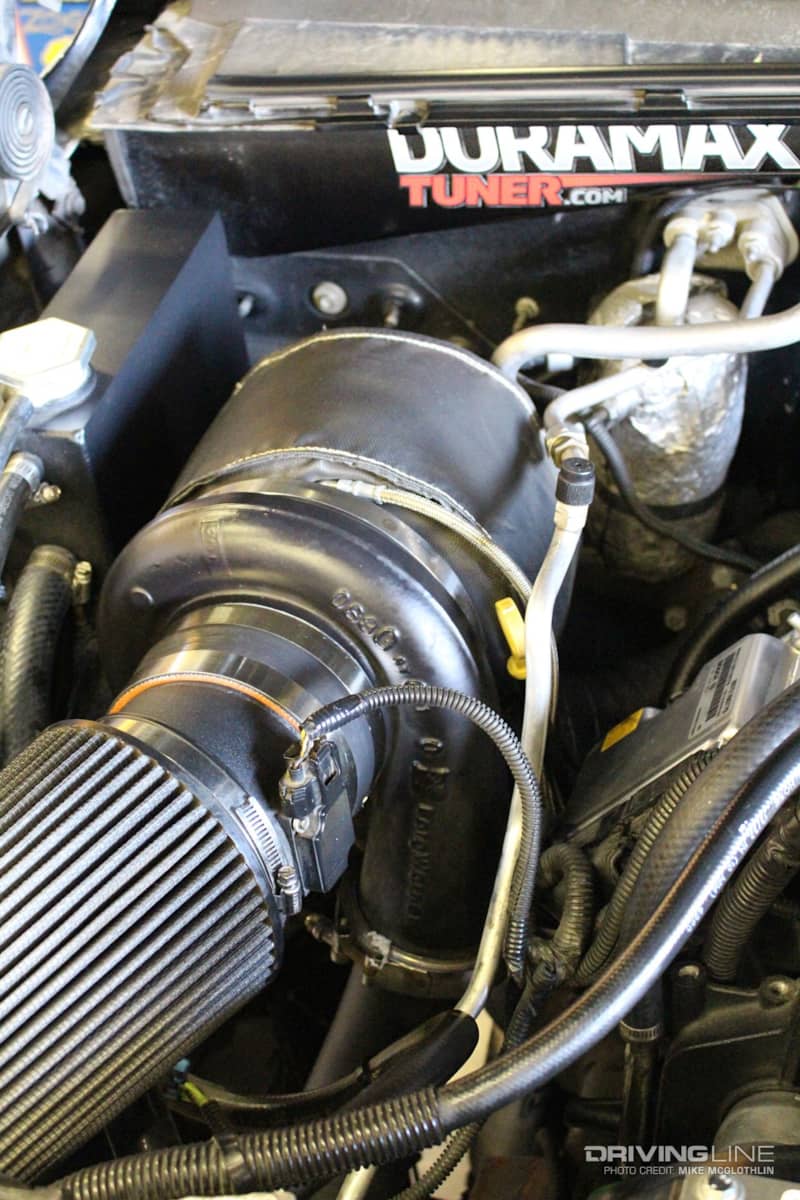 The thinking behind the remotely mounted (75mm S400) turbocharger was simple. It makes swapping chargers a snap. At truck pull events where the rules permit him to compete in more than one class, but turbo regulations spell out that a specific size turbo be used (i.e. the popular 2.5-inch class in the Midwest), a 20-minute swap is all that is in store. When compared to an all-day ordeal trying to replace a turbo mounted in the factory location, this was a smart choice.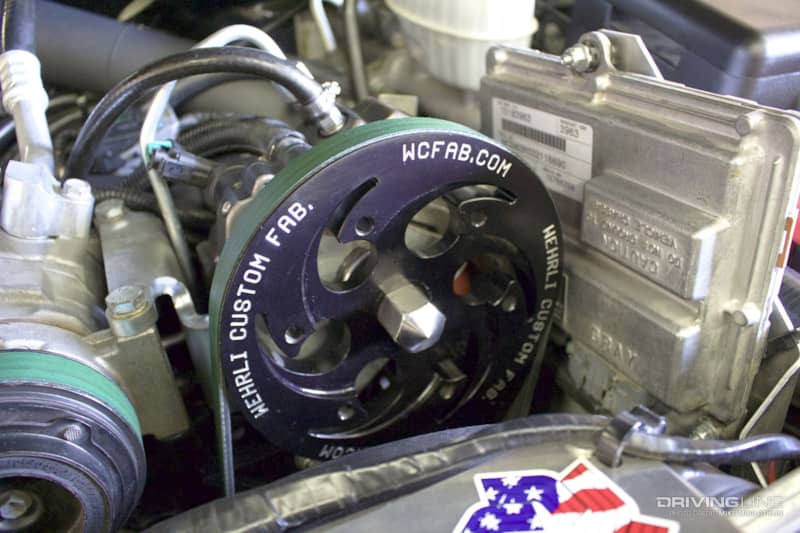 Thanks to Exergy Performance injectors measuring 150-percent larger than stock, two CP3 injection pumps are employed in order to keep both fuel rails full of diesel. A Wehrli Custom Fabrication dual CP3 kit makes it possible to run an Exergy Performance Sportsman pump in the factory location (gear-driven), and a second (belt-driven) Sportsman unit on top of the engine (shown here).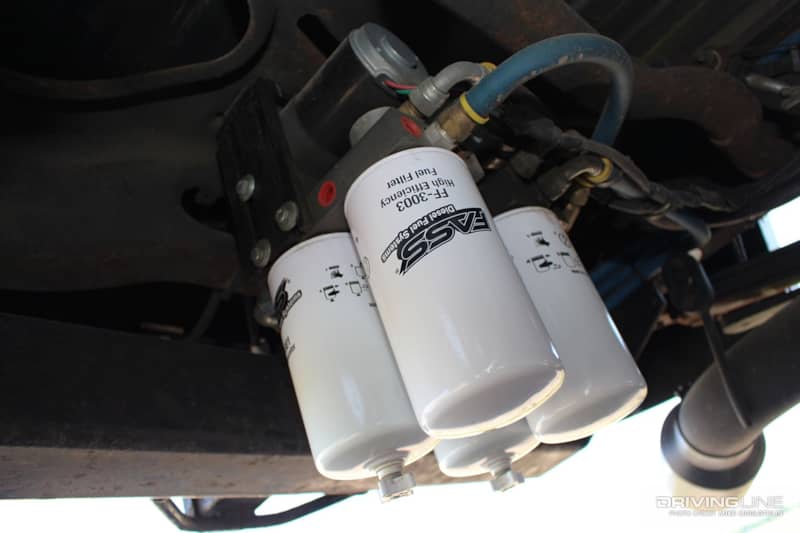 To maintain sufficient fuel supply for the CP3's, two Titanium series FASS lift pump systems are utilized. Both systems flow 150-gph and were (uniquely) mounted in the spare tire void at the rear of the truck, behind the roll pan and hitch receiver. A dual outlet fuel tank sump from T/Rex Technology ensures a high volume of diesel leaves the tank as quickly and restriction free as possible en route to the FASS systems.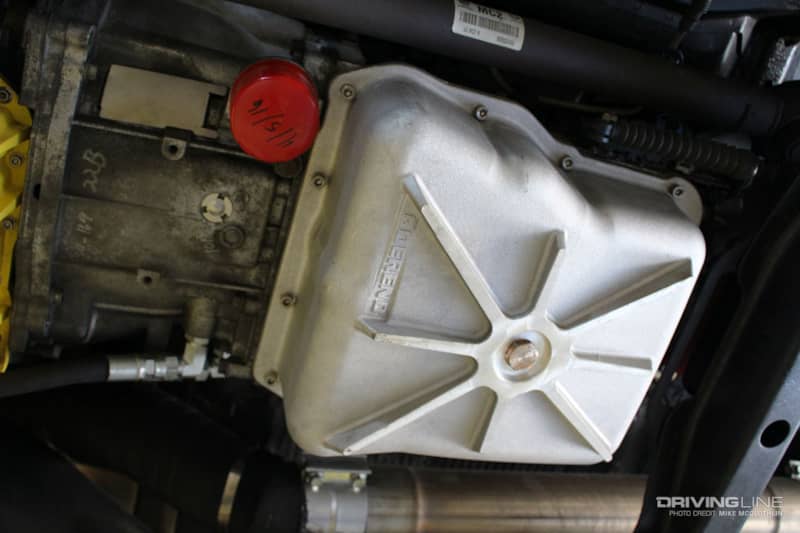 Beefing up the five-speed Allison 1000 automatic is a host of Sun Coast Diesel parts, along with Raybestos clutches. A 2,300-to-2,600-rpm stall triple disc (R model) torque converter from Goerend Transmission makes the large single turbo streetable and transfers power and torque efficiently. A lock up controller from BT DieselWorks is used to manually control torque converter lockup.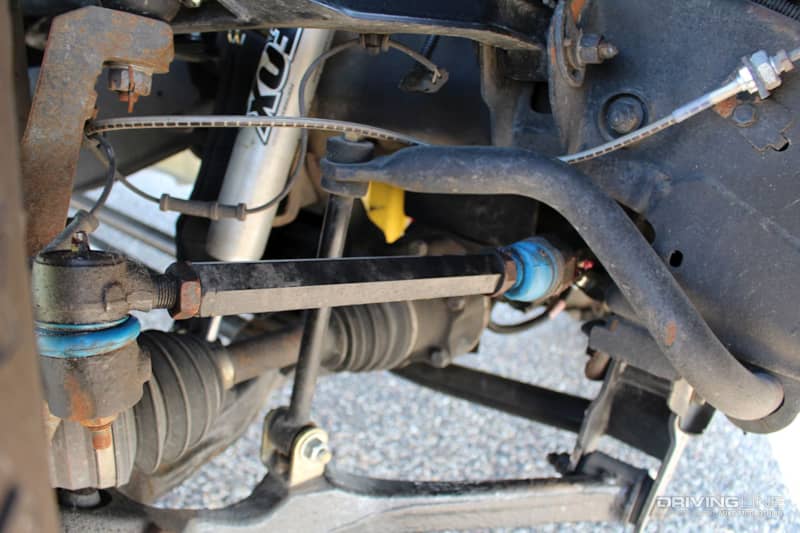 Kryptonite series tie rods, complete with brawny 1-1/8-inch hex steel bodies, make toe-in problems a non-issue while sled pulling and launching in four-wheel drive.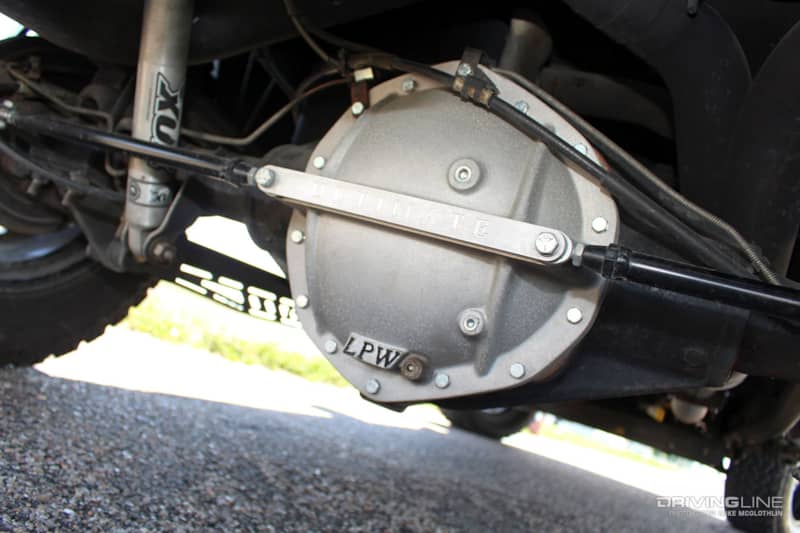 One look at the rear end and you can tell Andrew goes to a lot of truck pulls. Beyond the Moser Engineering axleshafts and Detroit Truetrac stored in the rear AAM 1150, this LPW axletube brace kit is employed to stop any forward movement of the axletube ends.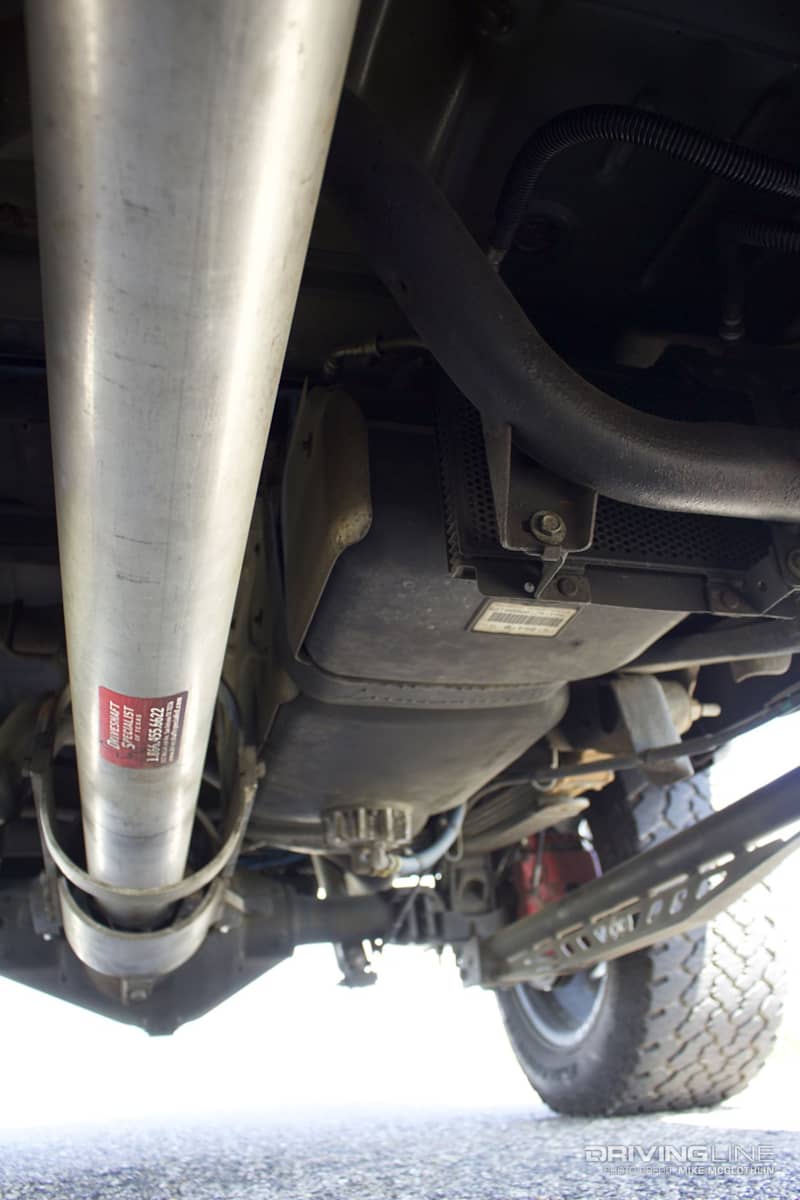 Knowing full well that the factory aluminum driveshaft was a weak link (they're known to twist rather easily), Andrew scrapped the stocker in favor of an aftermarket unit long ago. Made by Driveshaft Specialist of Texas, it's constructed from thicker 1/8-inch wall aluminum and incorporates beefy 1480 series U-joints.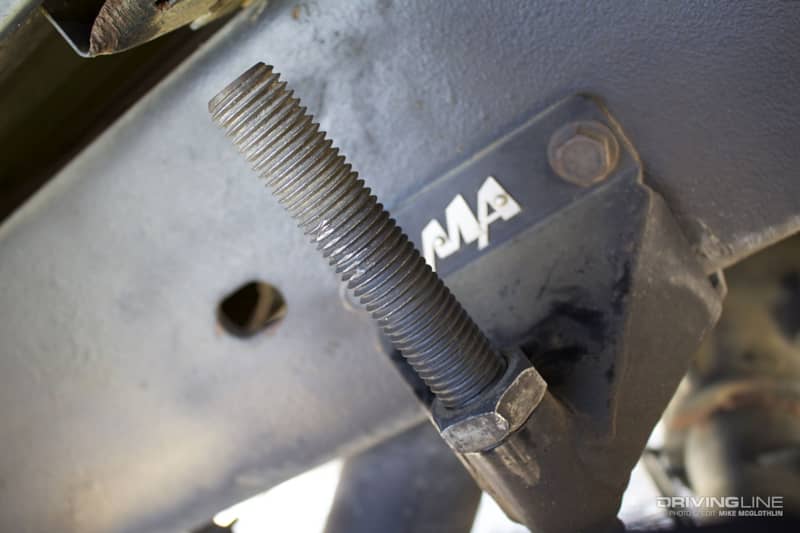 Have we mentioned how much Andrew likes to sled pull yet? Taking a peek atop the rear leaf springs you'll find a set of adjustable bumpstops from Merchant Automotive. When the rods are threaded all the way down, the rear suspension no longer droops due to the weight of the sled and the hitch height isn't lowered. This product has allowed the truck to claw its way to many First Place finishes.
Hard Facts
Year/Make/Model: 2004 GMC Sierra 2500 HD
Odometer: 166,000 miles
Engine: Built 6.6L LB7 Duramax with Industrial Injection crankcase girdle, R&R Racing Products forged connecting rods, Mahle Motorsports cast-aluminum and valve-relieved pistons, Wagler Competition Stage 1 alternate fire cam, Brodix/Wagler ported heads with beehive valve springs, ARP head studs, Harland Sharp roller rockers with billet valve bridges, Banana Pan
Injection System: Exergy Performance 150-percent larger injectors, Wehrli Custom Fabrication dual CP3's with Exergy Performance Sportsman pumps
Fuel Supply: Dual FASS Titanium 150-gph systems, T/Rex Technology dual outlet fuel tank sump
Turbo/Air: Engineered Diesel Billet S475, Wehrli Custom Fabrication remote turbocharger mount, Wagler Competition cast-aluminum Street Intake, Flex-a-lite dual cooling fans
Exhaust: 4-inch MBRP dual outlet with 6-inch tips (coated black) and Stainless Steel clamps
Tuning: EFI Live by DuramaxTuner.com
Transmission: Five-speed Allison 1000 with Goerend Transmission billet stator triple disc torque converter, Sun Coast internals with Raybestos clutches, Merchant Automotive rear housing support
Horsepower: 871
Tires: 35x12.50R20
Wheels: 20x10-inch BMF R.E.P.R.
Suspension/Steering: 4-inch overall lift with adjustable MAXXCam 2 Suspension Maxx torsion bar keys set at -2½-inches, 1-inch rear blocks, One Up Offroad long-gusset traction bars, Kryptonite series tie rods
Axles: 4.10 gears, front Eaton ELocker and Fleece Performance TufShafts, Detroit Truetrac rear with Moser Engineering axleshafts, rear LPW Ultimate axletube brace
Save