Anatomy of a Pro Street Diesel Truck
When the old, map groove 2.6 turbo class transitioned to the 3.0 smooth bore turbo class (Limited Pro Stock), a void was left for competitors willing to compete with chargers smaller than 76 mm (and on stock driveline components). To fill this gap, yet remain consistent with the new smooth bore turbo rules, the Lucas Oil Pro Pulling League created a 2.6-inch smooth bore truck class as part of its Western Series points chase. Called the Pro Street Diesel Truck class, it's been picked up by other sanctioning bodies in the Midwest, including the Illinois Tractor Pulling Association (ITPA).
To get a closer look at pulling's newest class, we spent some time following the Pro Street diesels on the ITPA circuit. What we found was that — unlike most truck pulling classes — this one wasn't dominated by Cummins-powered rigs. Instead, Duramax-powered GMs and even Power Stroke-equipped Fords compete on a level playing field with the almighty inline-six. On any given night, a Ram, Bow Tie or Blue Oval can take home the win, which up until the creation of this class was nearly unheard of for Ford fans.
The ultra-competitive Pro Street Diesel class can best be explained by taking a walk through its rulebook. Here's the scoop:
No More MWE
(It's a long story...)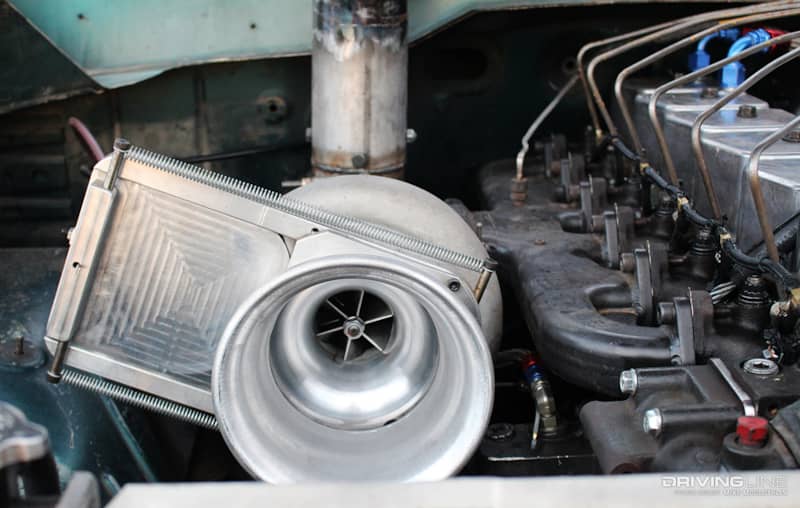 The predominant rule in the Pro Street Diesel Truck class boils down to the turbocharger. Specifically, the smooth bore rule mandates that no map width enhancement (MWE) groove can exist. In the past, the MWE was being used as an additional way to bring air into the turbo (i.e., more horsepower), which oftentimes led to an unfair advantage.
To eliminate borderline MWE turbos once and for all, smooth bore turbocharger rules have been implemented across the board in most major pulling organizations. In terms of horsepower, the 2.6 class being discussed here is somewhere around 200 hp down in comparison to the 2.6 MWE trucks of yesteryear. However, the old 2.6 is now the new Limited Pro Stock, which means those competitors experienced no real loss in horsepower when the class transitioned from 2.6 MWE turbos to 3.0 smooth bore chargers.
Turbo Specs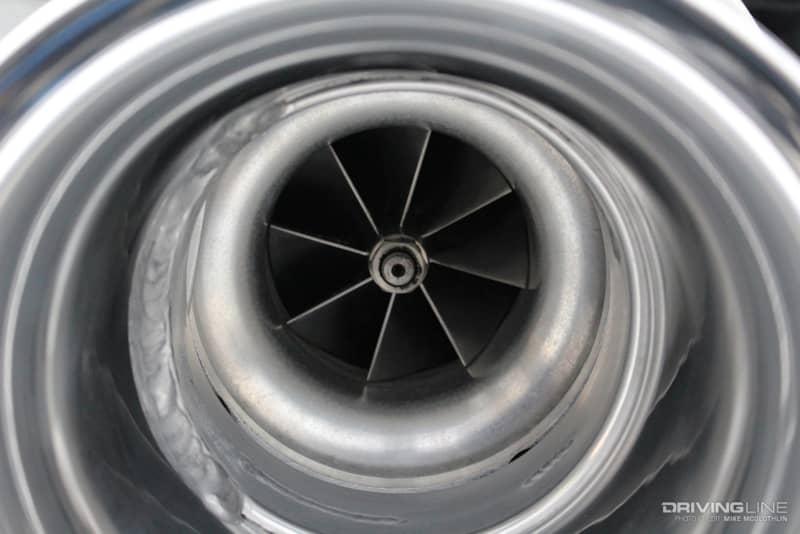 To be legal in the Pro Street Diesel Truck field, the maximum diameter of the inducer portion of the compressor wheel can measure no larger than 66 mm (2.6 inches). Additionally, the compressor wheel must protrude into the inducer bore 1/8-inch. With a properly built, fueled and tuned engine, more than 800-rwhp can be squeezed out of a 2.6-inch smooth bore charger.
8,000-Pound Maximum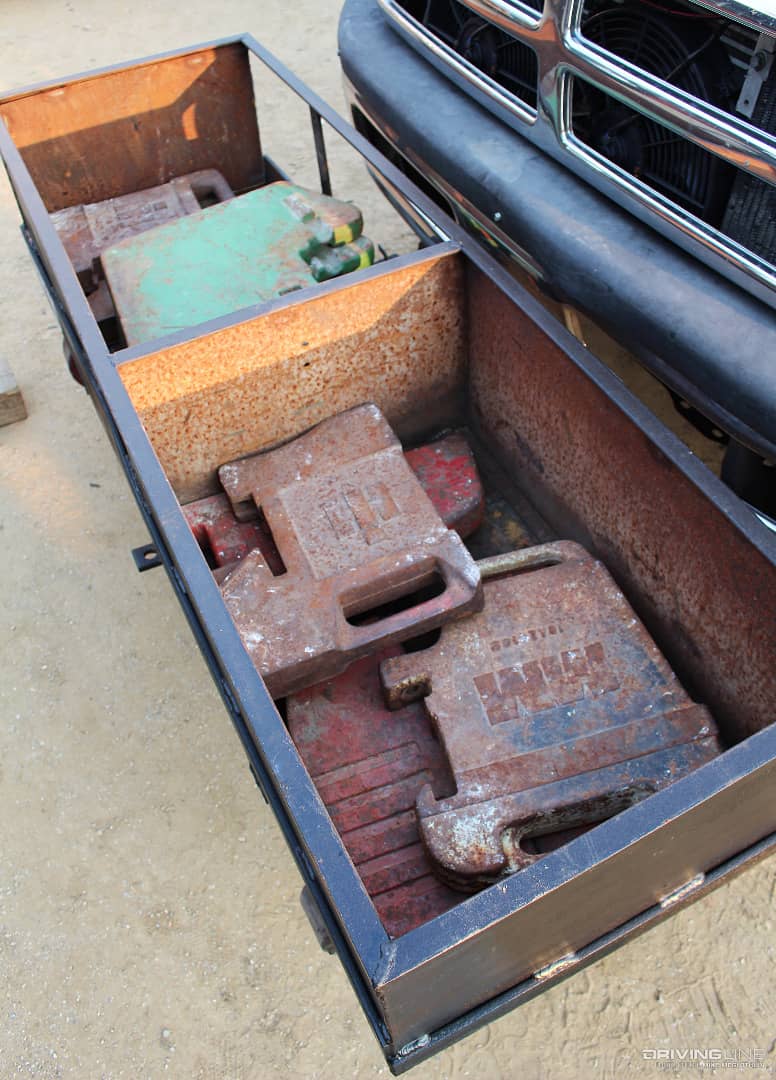 A maximum weight requirement of 8,000 pounds is observed, and hanging front weights are allowed in bracket or weight box form. Weight boxes are required to incorporate two, 2-inch wide, 6-inch-diameter wheels on the bottom side for safety purposes. Ballast can also be run if it's properly secured in the bed.
OEM Driveline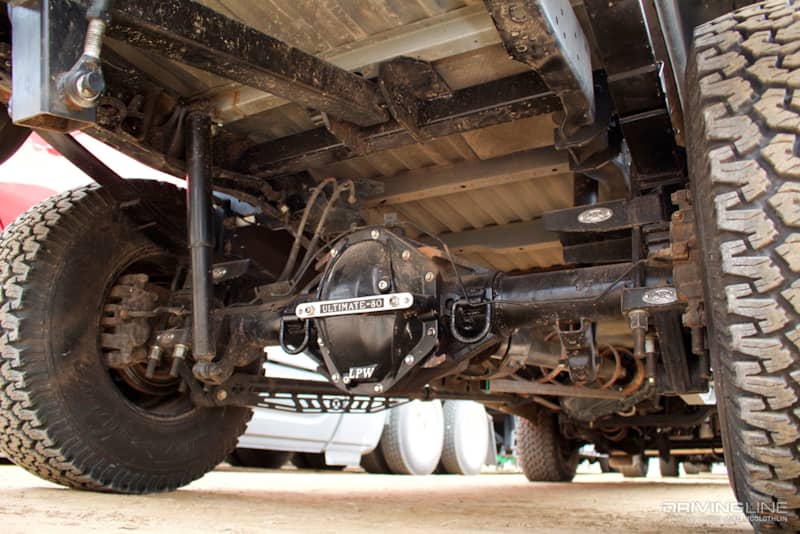 Another key stipulation is that factory-based axles, transmissions and transfer cases be utilized. All components must have been available in a 1-ton or smaller pickup truck from the manufacturer. Fortunately, the Dana 80 and AAM 1150 rear axles used by most competitors in this class are made tough as nails thanks to increased spline count, chromoly axleshafts, lockers and even trusses. Popular transmissions are the venerable NV4500 manual (typically placed behind a Cummins), Allison 1000 automatic (GM/Duramax applications) and TorqShift automatics (Ford/Power Stroke trucks).
1-Ton or Smaller Engine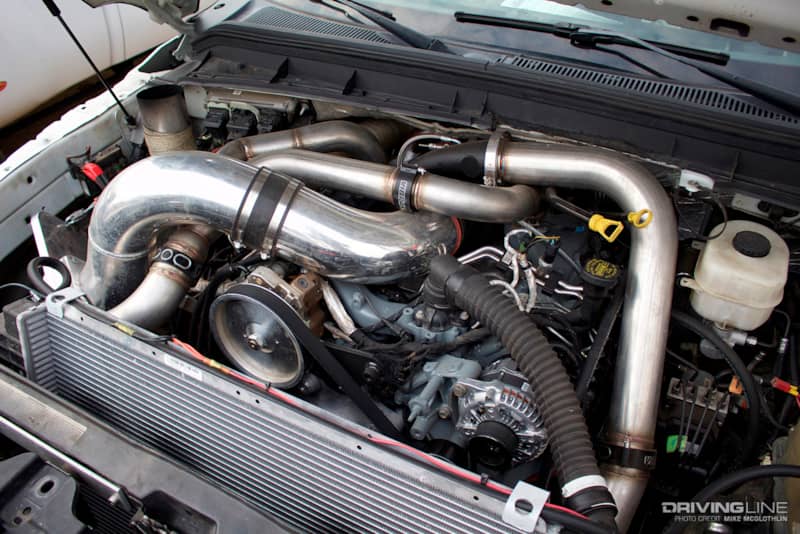 Like the driveline parts, the engine must have been an option in a 1-ton or smaller pickup, making Cummins swapped trucks 100-percent legal so long as a 5.9L or 6.7L is used. Beyond that, the displacement limit is 460 cubic inches, no billet-aluminum or billet-steel blocks or heads are allowed and no individual runner style intake manifolds are permitted.
Injection Pump(s)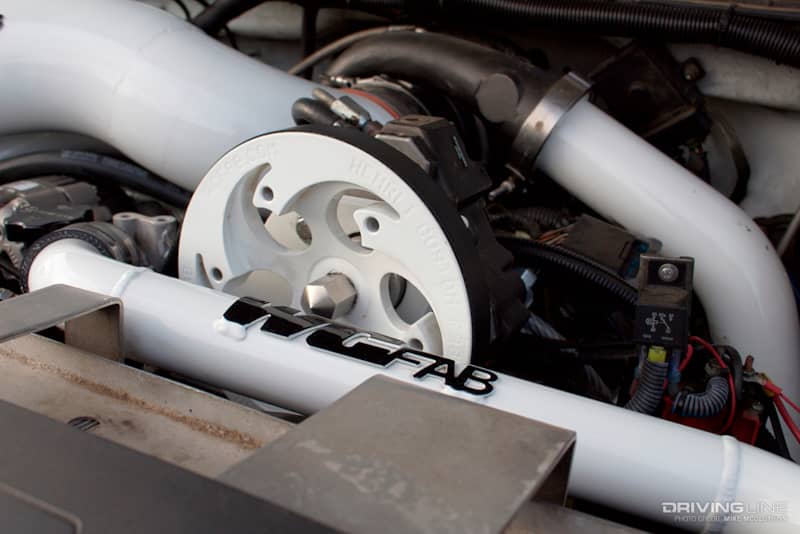 On engines with common-rail fuel systems, multiple injection pumps are allowed (and the same goes for dual high-pressure oil pumps in HEUI applications), while mechanical engines are limited to either a P7100 or P3000-based P-pump utilizing one plunger per cylinder. P-pumps are allowed to be fitted with Ag governors for high rpm fueling. In the ranks of the ITPA Pro Street Diesel Truck class, it's common to find 13 mm P7100s on Cummins mills and a second, belt driven CP3 on most common-rail engines.
Fuel Cells Are Legal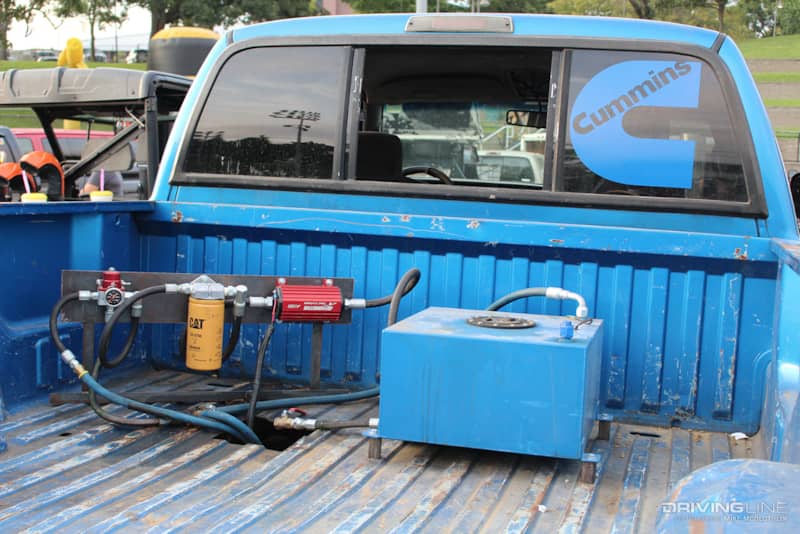 With fuel cells being permitted (provided that they aren't mounted in the cab), so far it appears to be a tossup between running an aftermarket one or sticking with the factory fuel tank. No matter where fuel is stored, class rules dictate that a fuel sampling valve be located somewhere between the tank and injection pump.
Air-to-Air Only
The lone type of intercooler allowed in the class is an air-to-air unit. Mishimoto, Spearco and Precision Turbo & Engine intercoolers are popular. No other means of increasing horsepower (water-to-air intercoolers) or cooling down the intake charge (water-injection) are permitted. Additionally, the radiator must be mounted in the truck's factory location.
No Duals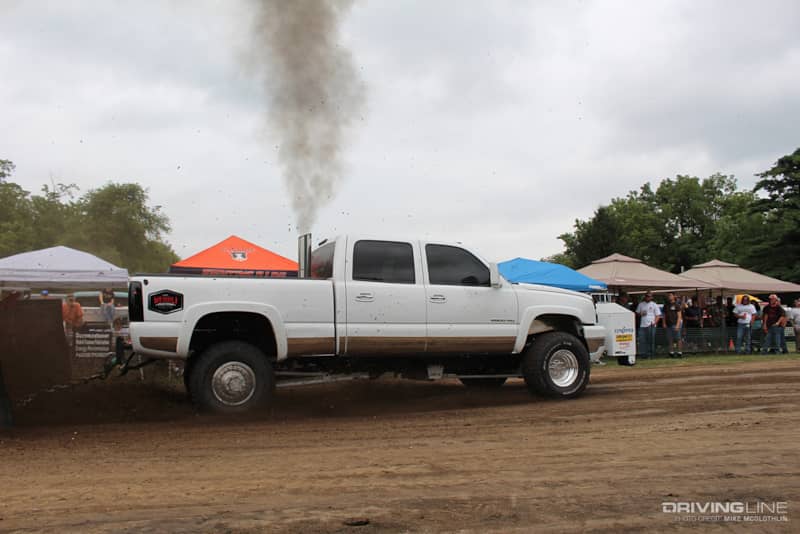 Unlike a lot of DOT tire classes, all Pro Street Diesel trucks are restricted to a single rear wheel configuration. That means no duals — not even on a 1-ton truck that left the factory with them. Along with the turbo and OEM driveline rules, this is one of the great limiting factors of the class, but it makes choosing the right line and good driving skills all the more important. As for tires, the familiar 35-inch maximum diameter regulation is in place (no cuts, studs or chains).
Maximized Traction and Safety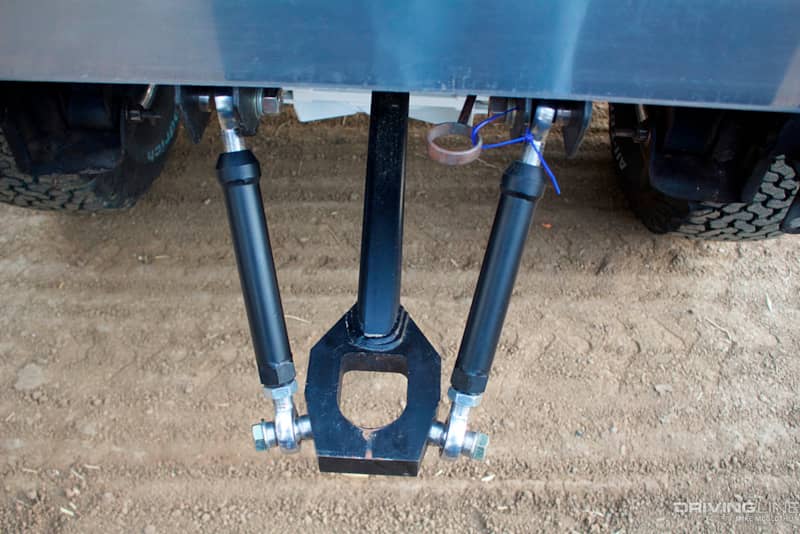 A draw bar style hitch is mandatory (no Reese units allowed), and the maximum allowed hitch height is 24 inches. All components of the hitch must be located below the top of the truck's factory frame rails. For added safety in the event the sled makes contact with the truck, sled stops are also a requirement.
Suspension Rules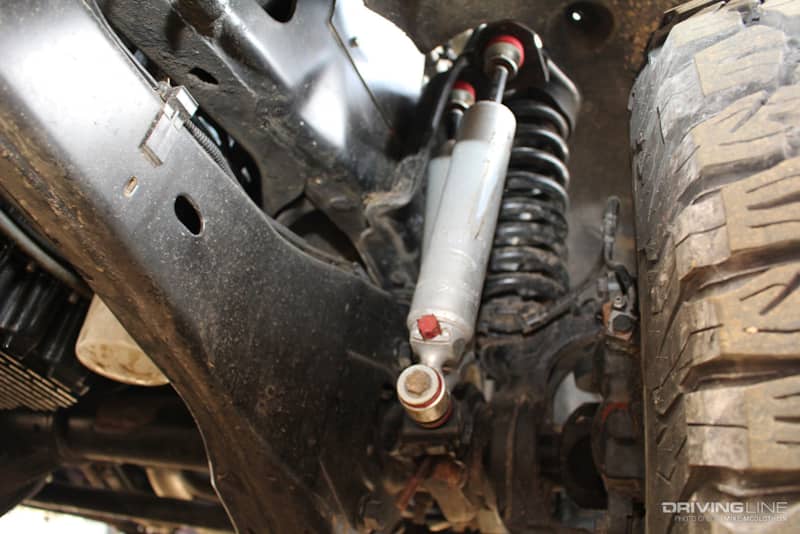 Suspension guidelines permit the use of three and four-link systems up front (along with traction bars), although most competitors seem to have retained the factory suspension configurations up to this point. The upper mounting point for the strut assemblies must remain in the factory location, although additional shocks can be added (as is the case on the Super Duty suspension shown above, done to stop the front end hop '05+ Fords are known for). An OEM-style rear suspension must be retained, complete with functioning leaf spring packs, but suspension blocks can be used (i.e., zero suspension travel), as well as traction bars. Air springs are prohibited.
Non-Gutted Interiors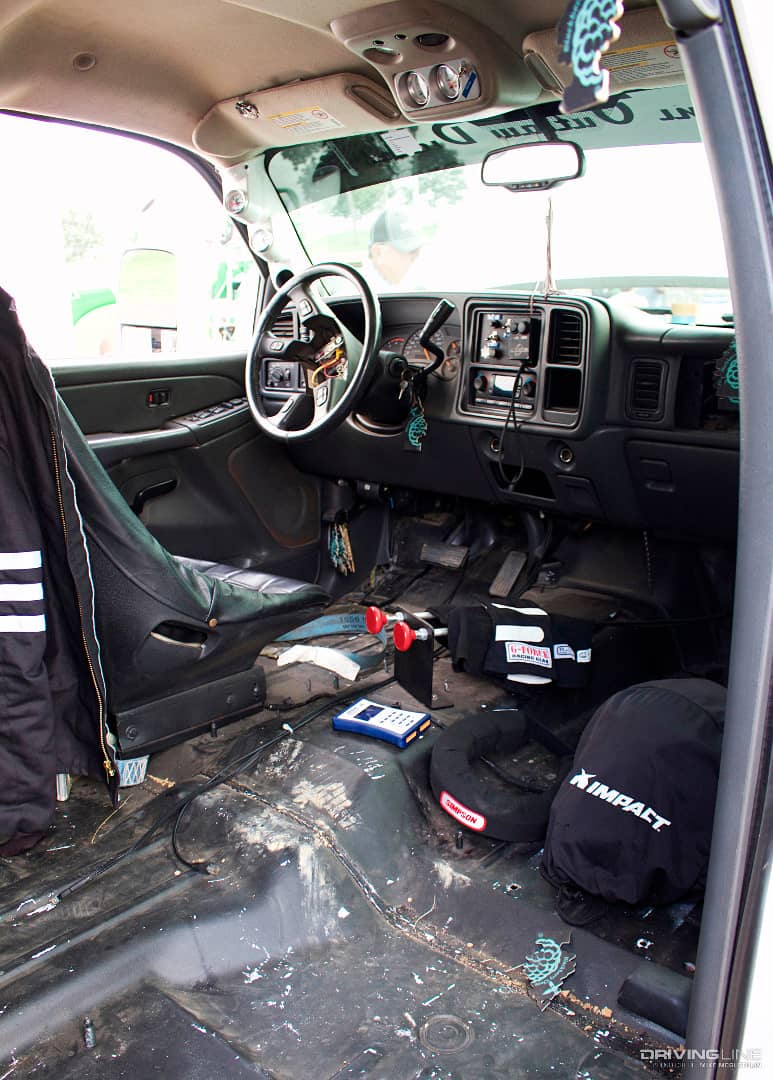 While seats, consoles and carpet can be removed to shed weight, most of the truck's interior has to remain untouched. That means a full dash, a complete steel firewall and fully functional, glass windows. Even the factory front door panels have to be retained. As with any pulling class, manual air and kill switches must be in place and be operable by the driver.
Factory Body and Frame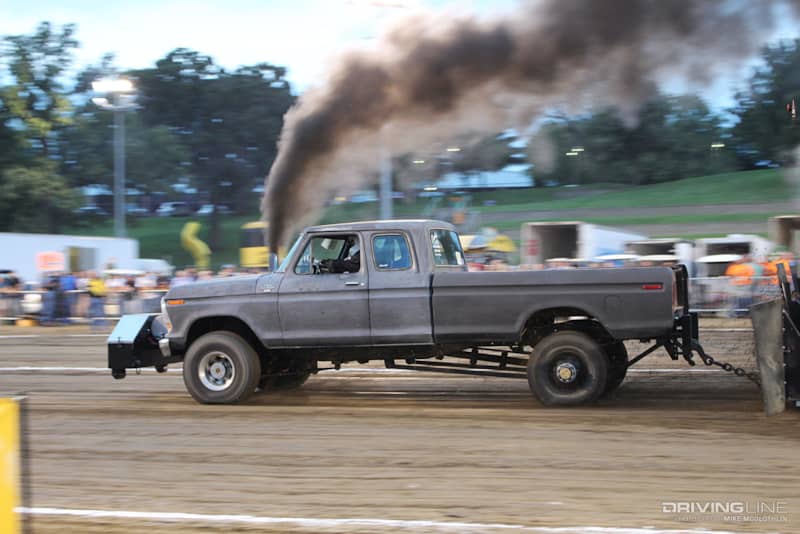 All OEM sheetmetal must be present, although fiberglass hoods have been given the OK. A stock frame must also exist under the sheetmetal, along with the factory wheelbase going untouched.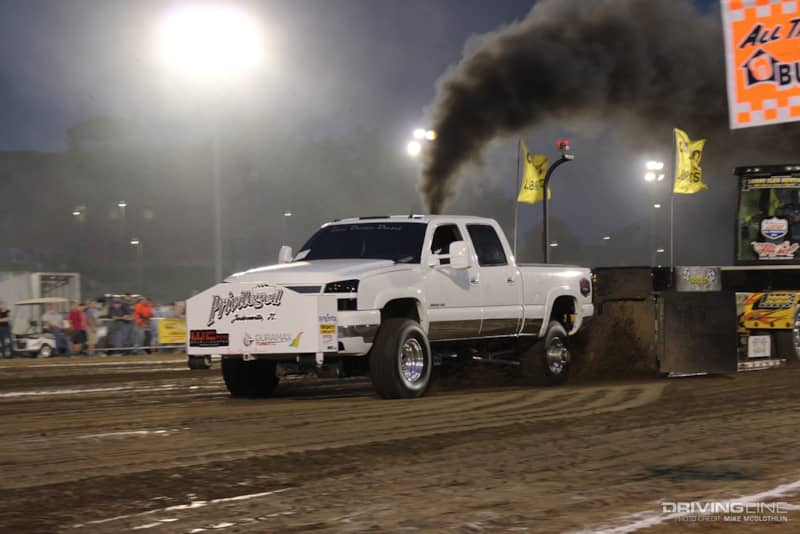 You can catch the Pro Pulling League (PPL) arm of the Pro Street Diesel Trucks in action one more time this summer (September 1), or see what they can do in 2018 — be it within the PPL's Western points series or amidst the Illinois Tractor Pulling Association's busy schedule.