SRRS vs. Ultra4 East/West Shootout 2015 [Gallery + Video]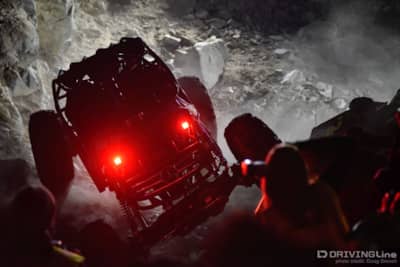 The much-anticipated ULTRA4 vs. SRRS East/West Shootout happens Monday night of King of The Hammers week in the trail dubbed "Back Door" which has an intense waterfall rock face that just seems to get steeper each and every year. Through a canyon planked with spectators on both sides, rockbouncers from the East face off against Ultra4-styled buggies from the West to see who can throttle their way up the canyon the fastest. In the process cars brake and flip over with some making it to the top and all providing an exciting, adrenaline-filled show to watch! [caption id="attachment_32127" align="alignnone" width="1200"]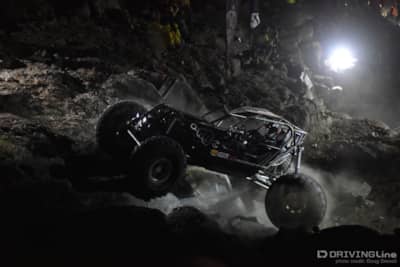 Busted Knuckle, who yardsaled their rig last year, made it up the waterfall this year... but not until they turned their rig around backward, putting the rear tires up first.
They aren't going down... they're powering up! And they made it!
You know you're serious about playing on the rocks when you start designing the undercarriage and roof of your rig with intentions of people seeing it!
Ultra4 competitor and 2012 King of The Hammers, Erik Miller, gave the top time a run for its money powering through the waterfall. Unfortunately his front diff got damaged in the process and he wasn't able to finish his run. The Miller Motorsports crew fixed his car in time to gain the pole position qualifying run the next afternoon.
The farthest traveling competitor, Jujo Widodo of Indonesia, flipped over during his attempt up the waterfall. A malfunction caused gas to pour from his tank, filling the ground below. The situation was dealt with quickly and safely and everyone was okay. A decision was made that the safest course of action was to burn off the gasoline, leading to a 40 minute delay and an unexpected "bonfire" of sorts in the middle of Back Door.
All competitors were vying for the fastest time to beat last year's winner Randy Slawson's record of 30.522 seconds. Ultra4 competitor Bill Biard took the lead early, with 26.22 seconds, and for most of the night it appeared nobody would be able to beat him. There were more than a handful of heart-pounding rollovers, and just when it seemed like perhaps nobody was going to get up the waterfall again, Bobby Tanner flashed by in a streak of blue gaining a time of 22.547 – a full 8 seconds faster than last year's record!
Ultra4 racer Bill Baird flashed through the Back Door before you could blink your eye, he ran smoothly and bounced his way up to the top. His time remained the time to beat throughout most of the night.
Bobby Tanner from Tennessee caught the best time of the night, gaining a point for the East rockbouncers in the friendly war of the mountain.
Enjoy the photos and video below! Full #KOH2015 social newsfeed and livestream video is LIVE at LiveatKOH.com, check it out so you don't miss a slice of the action!
Save
Save