Supersize Me: Die-Cast Cars and Their Real Life Counterparts
I said it in a previous article: "A man's most expensive hobby begins with $0.97" ($0.88, if you can find them on sale). Car enthusiasts are typically kids at heart, and as such, we love our cars as if they're actually toys. So it'd only make sense to want a toy replica of our car/s, if it's available. In most cases there is never an exact replica, but wouldn't it be cool if there was? Until the day my friends and I can find them - or EightyOne81 can be convinced to produce 3D replicas - we're just going to have to do with these mini-me stunt doubles. Of course, creativity is big here, so if you can trick out a "base model" from a toy store (like some of my friends do), all the better!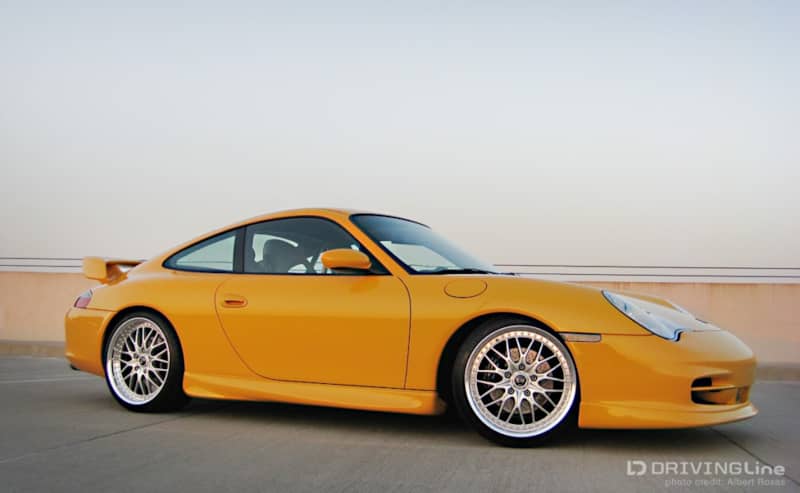 You might remember this 02' Porsche 996C2 from my Confessions of a Car Junkie article.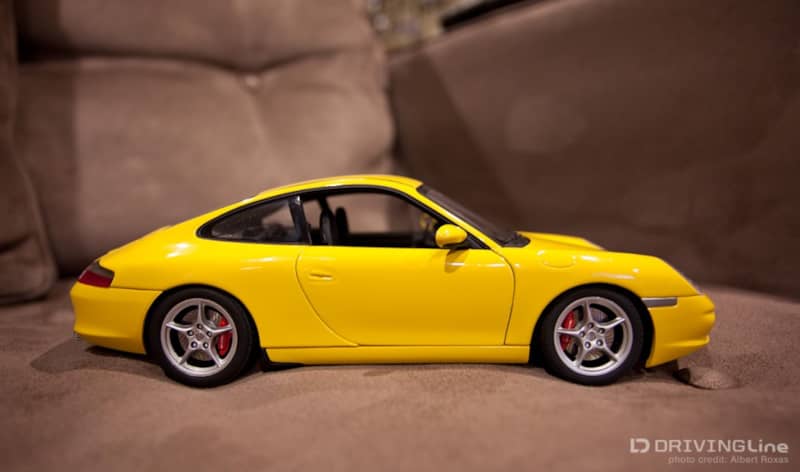 Here's as close as I could get with an AutoArt '02 C2, also in Speed Yellow at 1:18 Scale. Retail price is but pennies compared to the real deal at a steal of $99.99. The doors, trunk and engine lid open up but too bad there's no rollcage, rear wing or aftermarket wheels.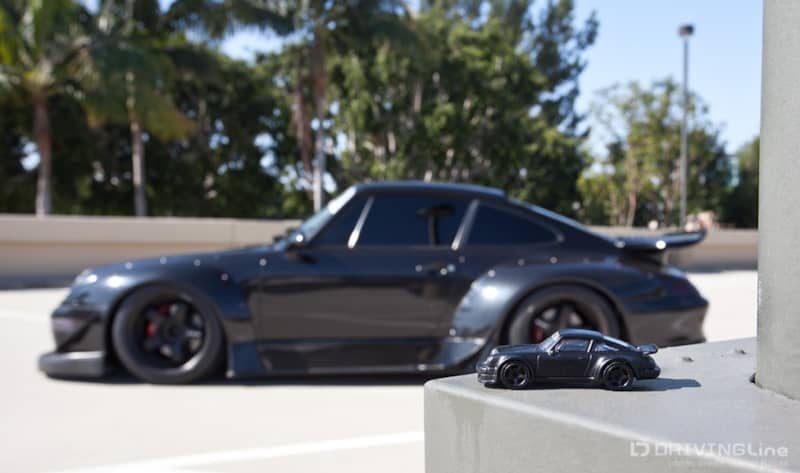 Following along with the Porsche motif: my buddy Pat's RWB Porsche 993C2, known to Rauh-Welt fans as BLACKAUT.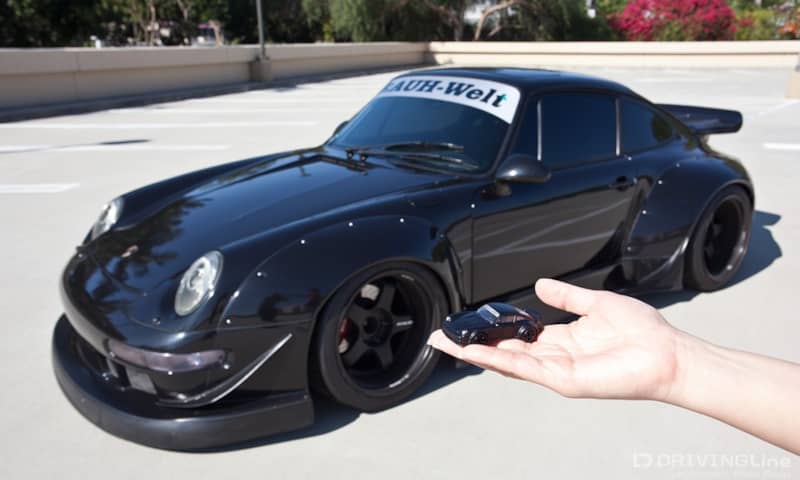 In his hand is a base model Hot Wheels 934RSR, customized by JSO in a complete BLACKAUT makeover. Retail price: $0.97!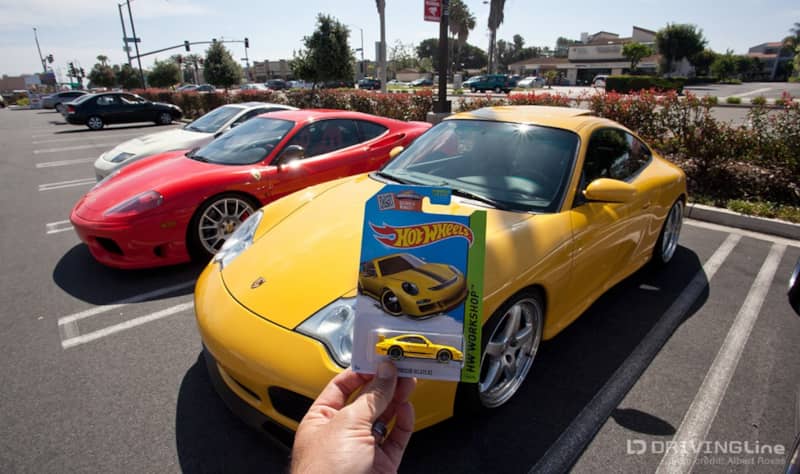 Another Porsche pairing: here's Peter's '03 Porsche 996C4 in Speed Yellow along with a Hot Wheels 911 Porsche GT2RS; two different models, but both 911s and in Speed Yellow. Retail price: $0.97.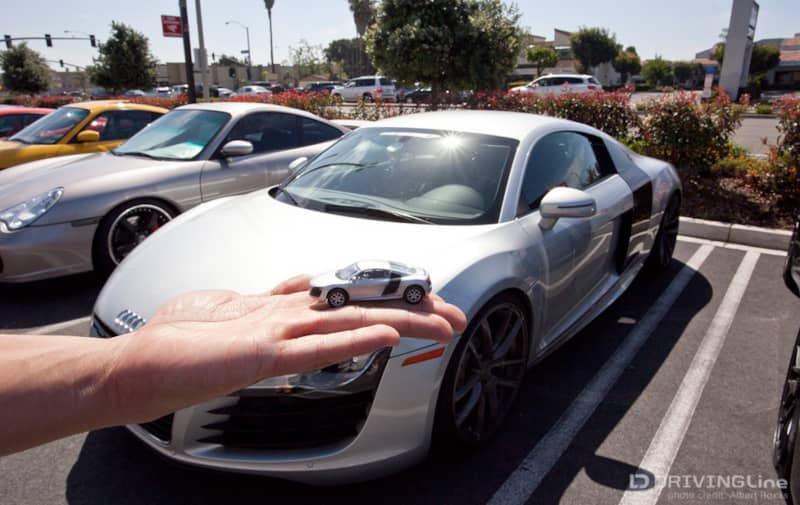 You know I had to throw an Audi R8 in here. The toy version actually pulls back and is made by UNI, setting potential buyers back a whopping $3.99.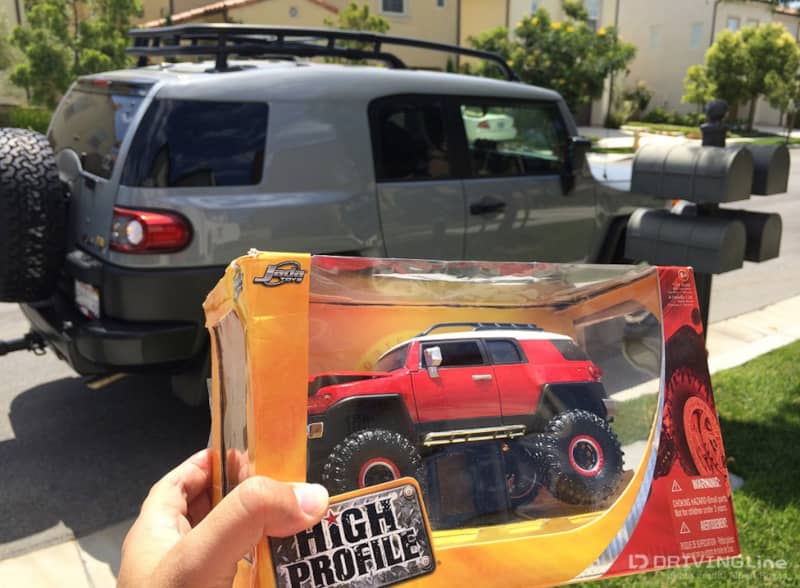 Need a toy truck? Jada Toys has you covered, like this nice 1:24-scale, monster truck-style FJ Cruiser, the closest thing I could find to my '13 Trail Teams edition FJ. Retail price: $19.99.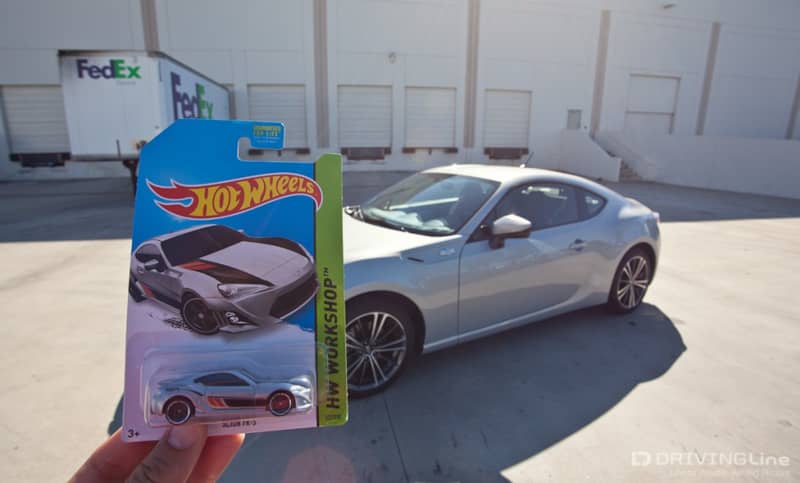 Hot Wheels has been on fire lately, releasing all sorts of miniature cars that resonates with the Japanese tuner crowd. Here's their take on a Scion FR-S along with my '13 Scion FR-S 10-Series. No stripe on the real deal but I can always add vinyl! Retail price $0.97.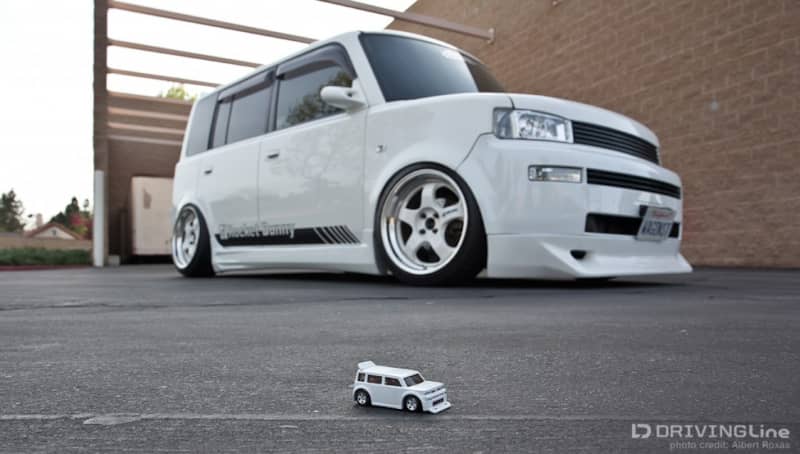 Krist's first-gen '05 Scion xB, as seen in my last feature, parked alongside its replica: a Hot Wheels base model customized by JSO. Retail price: $0.97.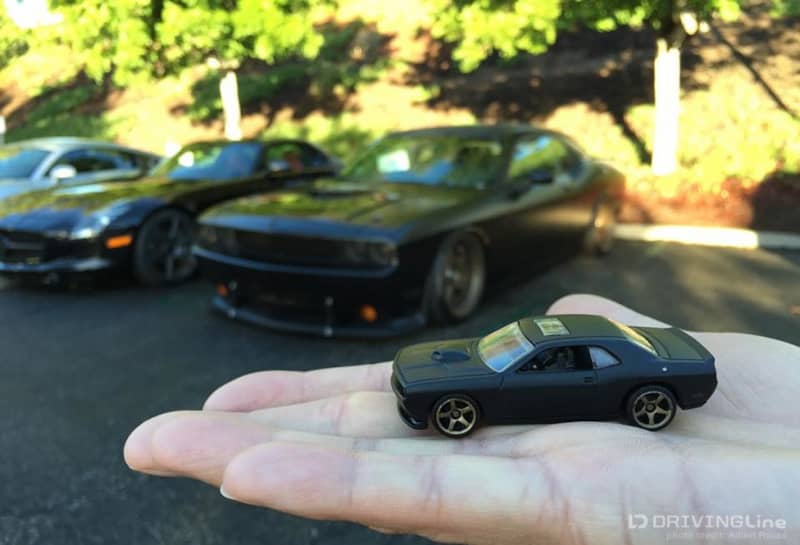 My old friend, comic book artist and custom car rendering extraordinaire, Jon Sibal, was able to do a customized Challenger some serious justice. This matching Hot Wheels die-cast hopefully captures the same magic at just $0.97.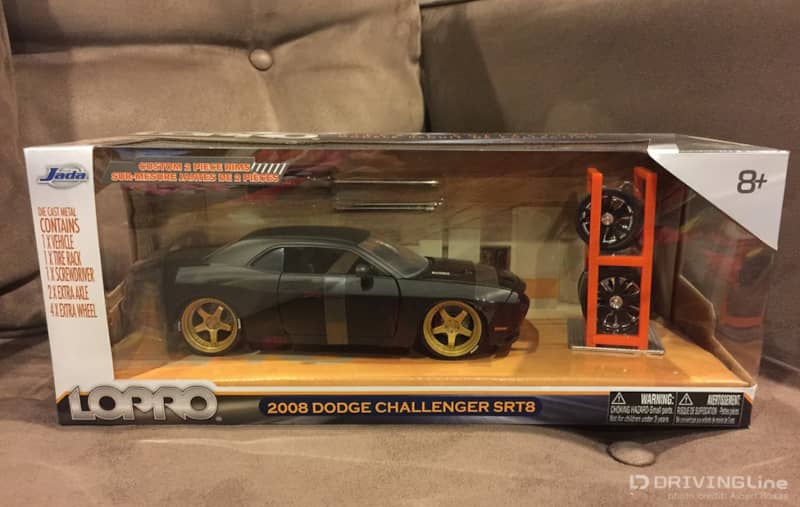 If handheld is literally too small for you, Jada also offers an exact 1:24-scale replica of Jon's car with interchangeable wheels. It's been since discontinued but perhaps it can be found via eBay or toy collecting specialists. Hopefully it won't be too far from its original $19.99 sticker price.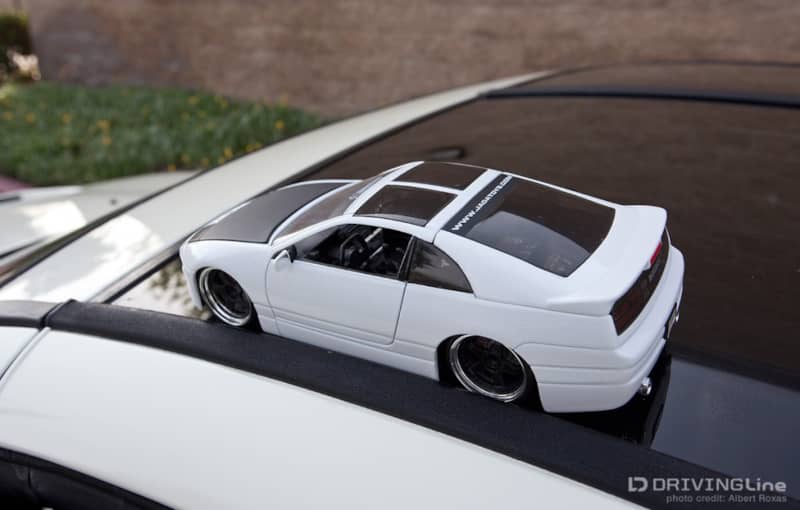 In case you haven't figured it out, Jada also has toys to keep you JDM fanboys happy. From their import line is this 1:24-scale Nissan 300ZX that's a near identical twin to Joe's Twin Turbo full-scale. Retail price: $19.99.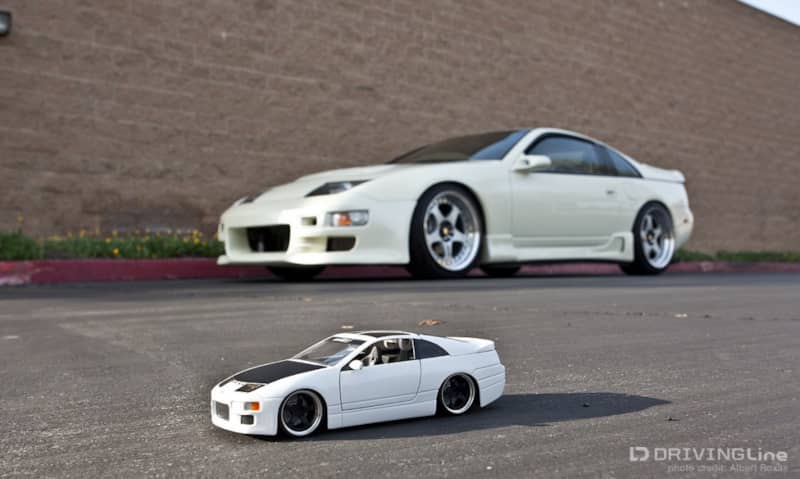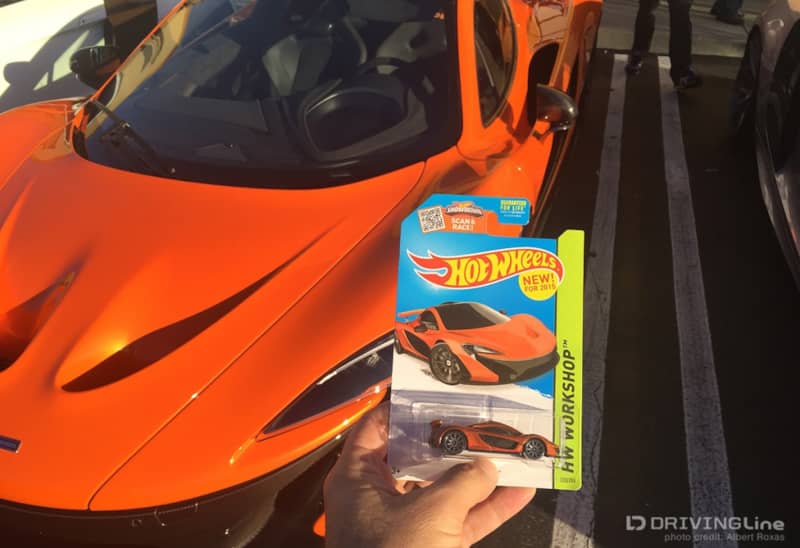 Perhaps you're looking for something a little more exotic? How about the McLaren P1 Hypercar? My friend, G recently took delivery of the Hot Wheels version as soon as it hit the stores, and it's much cheaper than the real deal. Hot Wheels has been steadily growing their real car models, offering JDM Civics and Skylines most recently at an unbeatable value. The likes of AutoArt/Minichamps and Kyosho (both larger scale) specialize in higher end, more exclusive and detailed vehicles. This is just a very small sampling of a mega die-cast sizes and models collection available in the wild. There's a whole other world with 1:18-scale - and even larger - matching twins. Chances are, if you've got a moderately mainstream vehicle, there's a matching mini-me out there for you. The trick is to see if you can find it!