Test Drive Review: The 2023 Cadillac Escalade-V Is A Horsepower Hammer In The Face Of The EV SUV Invasion
Stop me if you've heard this one before: an ultra-heavy truck that somehow manages to scorch the quarter mile in the 12-second range, while also dispatching the 0-60 sprint with a time that would have shamed a super sedan a decade previous.
It's a familiar story in a world where electric drivetrains have added massive weight paired with world-bending torque to a wide variety of people moving packages, making stupendous speed accessible to anyone within 300 miles of a fast charger. In this case, however, the SUV in question is about as far removed from electrification as you can get without going full stone age.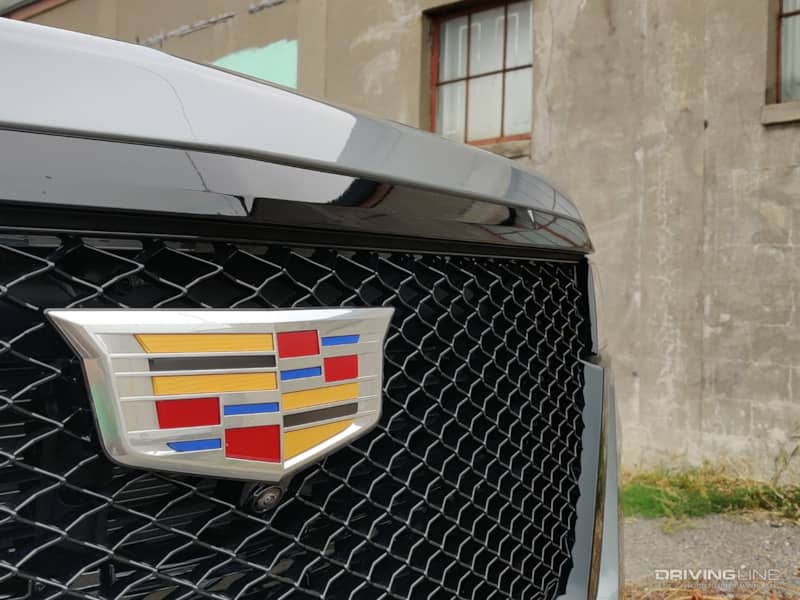 The 2023 Cadillac Escalade-V isn't just the most powerful version of the brand's flagship sport-utility vehicle, it's also the mightiest Cadillac to have ever been unleashed on public roads. More than that, however, it's a tire-shredding souvenir of a world that's increasingly indifferent to the high horsepower swan song of internal combustion engines.
Tackling EV Torque Head-On
The initial similarities between the Escalade-V and a similarly stout EV extend beyond the shared initials. For starters, there's the straight-line data hinted at in the opening paragraph, as the Cadillac can sift through the timing lights at the local drag strip in a very quick 12.7 seconds while posting a 4.3 second 0-60 mph run along the way. That's comparable to electrics like the BMW iX xDrive50 (which is just a few ticks quicker in each measure, and roughly 500 lbs lighter than the Escalade-V's 6,290 pounds of curb weight), and a dead match for the Ford F-150 Lightning EV pickup at the end of the 1,320 (a vehicle that's 500 pounds heavier).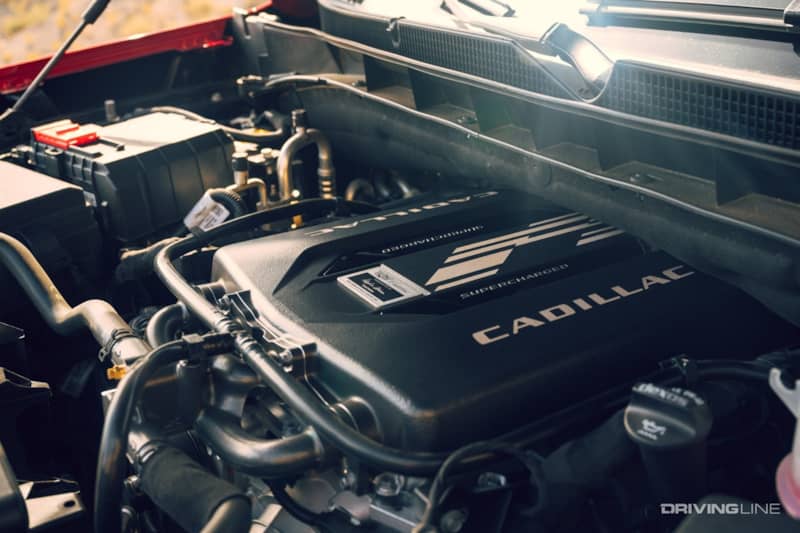 That the Cadillac Escalade-V can keep up with lighter, torque-happy electrics with the pedal mashed to the floor is due to its supercharged 6.2L V8 engine. Rated at 682 hp and 653 lb-ft of twist, it pushes past the similar unit in the CT5-V Blackwing sedan to triumph over V-models past, delivering its ostentatious output through a full-time all-wheel drive system and a 10-speed automatic transmission.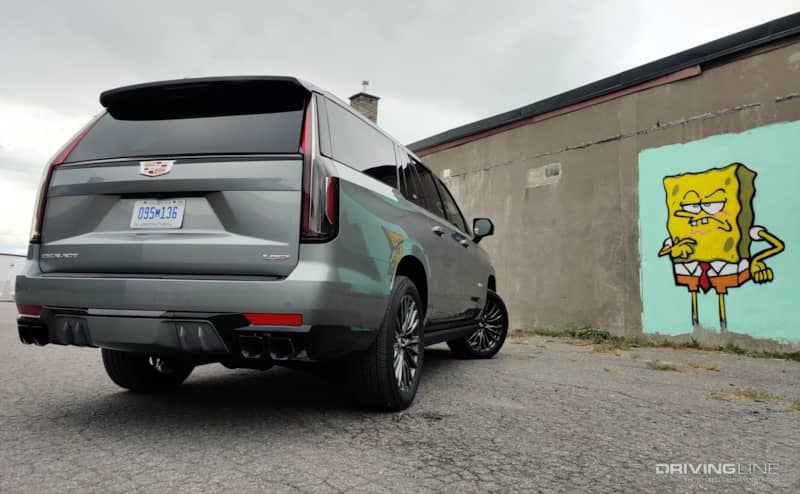 There's certainly a lot more drama associated with the Escalade-V at full gallop versus the silent spring of an electrified truck. With V mode engaged, the Cadillac's exhaust is fully unfettered, chortling off-idle and shattering glass with the throttle fully open as the plus-sized three-row hurtles towards the horizon. It's a sight to behold, particularly from behind the wheel of the extended-length ESV edition I tested, which dwarfs almost everything else on the road that doesn't require a CDL.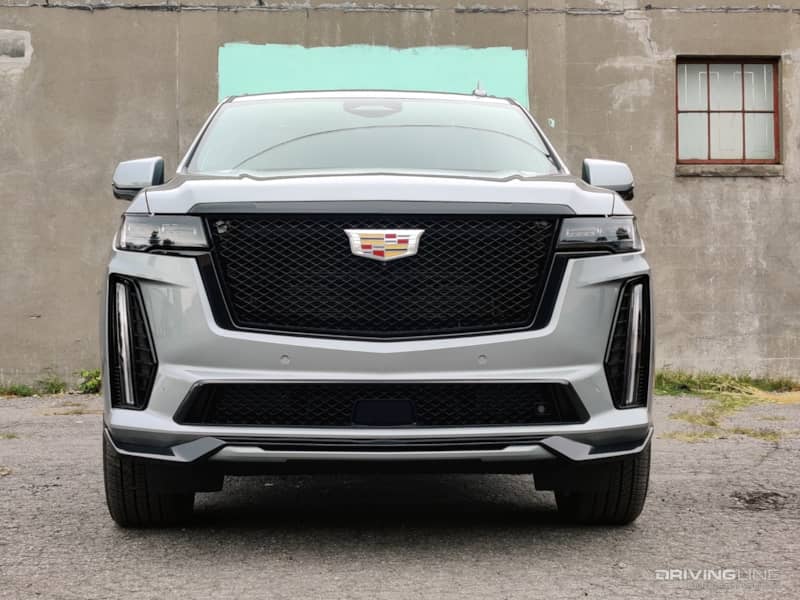 That V-spiced speed is waiting to pounce at any moment, just as potent when surging from 70 mph to 100 mph as it is when winning the race from one stoplight to the next. It's truly awe-inspiring just how casual the Cadillac is about the laws of physics, at least until you're forced to hammer down on its six-piston Brembo stoppers to avoid cutting through more than just the atmosphere with the Escalade's brick wall visage.
Two Left Feet…Of Flame
It's here that the Escalade's V-cosplay begins to fall apart. Sweet under the hood, the Escalade-V's chassis isn't nearly so saccharine, with only a few nods to cornering capability—lowered air springs in V-mode, tweaks to its MagneRide dampers—to be found. Perhaps adding a performance tire to the options list would help at least a little, as its all-season rubber is clearly overmatched by the sporting pretensions of its pilots.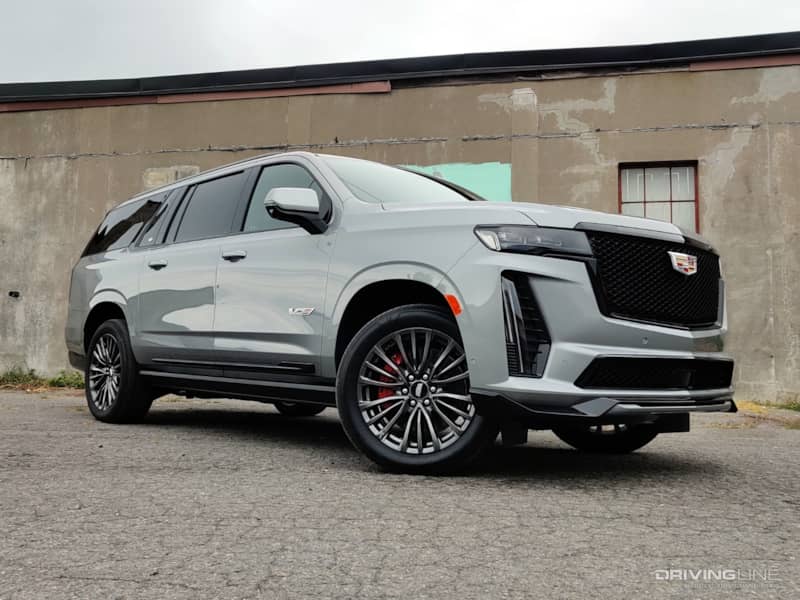 The chubby Caddy can't back up its fireworks display should the road turn twisty, and every miniscule measure of its mass informs steering inputs and weight transfer.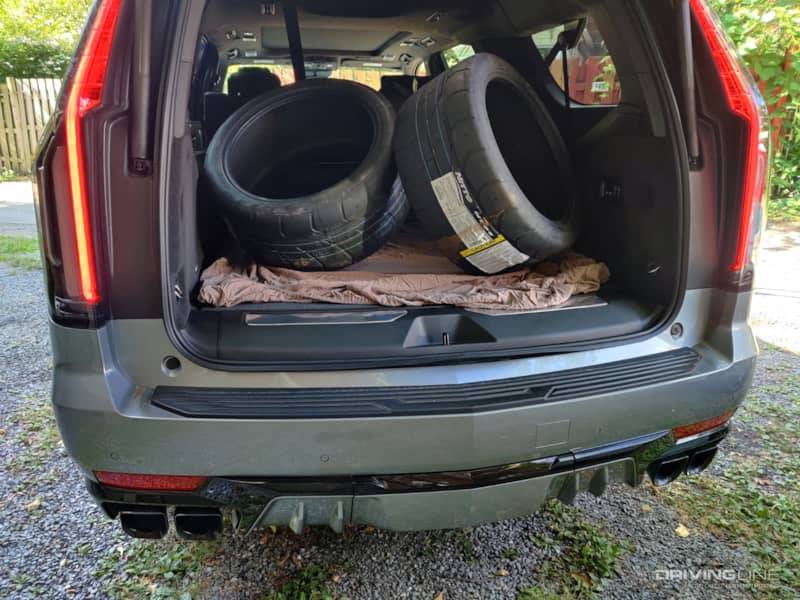 This is not a vehicle that rewards enthusiastic driving outside of an NHRA environment, nor does it go easy on your wallet with either its $150,000 purchase price or its dismal 13-mpg in combined driving. Seen from that perspective, it's harder to understand the appeal of a truck that costs nearly double the window sticker of an entry-level Escalade.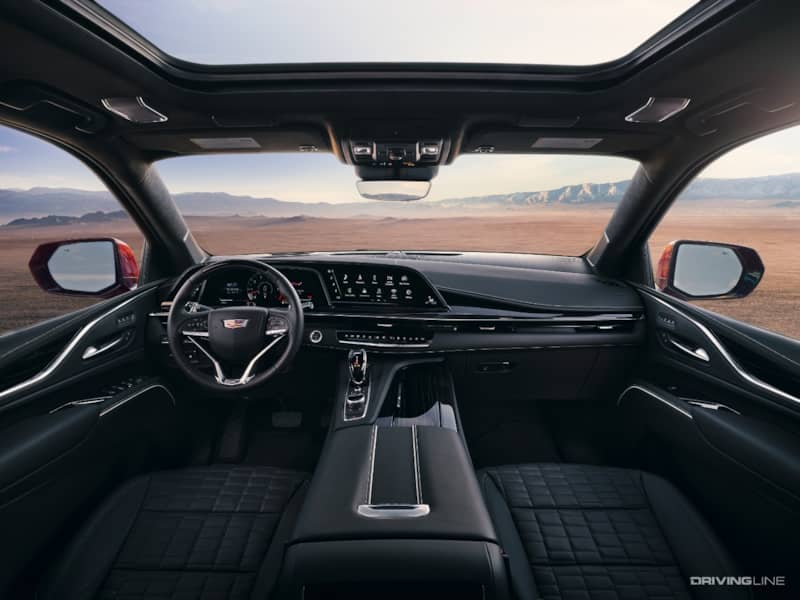 You can factor in the undeniable luxuries that fill its cabin, and its extremely impressive SuperCruise system (which is able to automatically pass slower traffic providing there's a clear left-hand lane available), but it's possible to enjoy those features on more affordable editions of the eight-cylinder SUV.
New Tech Old School
For a vehicle sporting so much advanced technology, the 2023 Cadillac Escalade-V is a surprisingly old school interpretation of what a hot rod SUV should be. If it had arrived earlier in the V brand's development, it might make a little more sense, but in its current guise its can't help but seem out of step with what the rest of the uber-athletic V stable (CT4-V, CT5-V and their respective Blackwing editions) has to offer.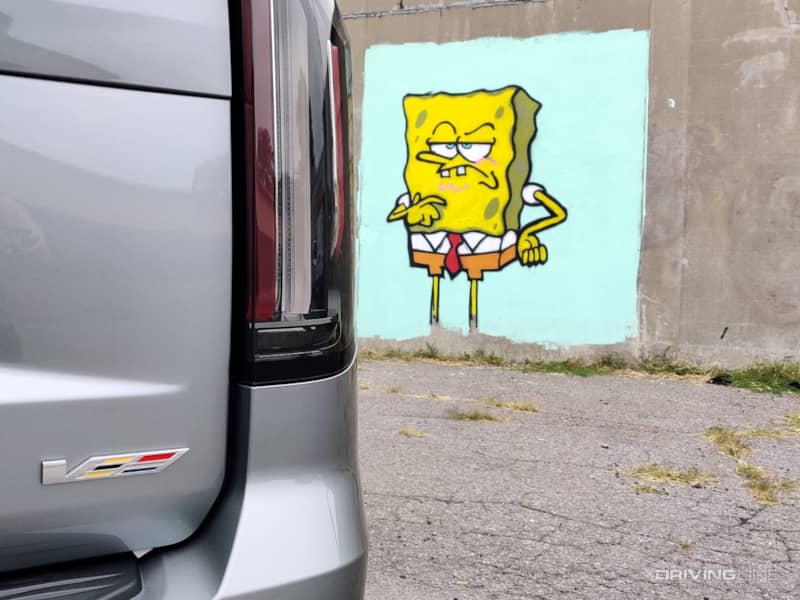 That being said, there will always be room at the table for a truck with too much horsepower, especially if it's as rip-snorting in its delivery as the Escalade-V. In many ways a throwback, Cadillac's supercharged terror is at the very least a contrarian achievement that eschews the idea that we should all go quietly into the electrified night.