The 1998 Jeep Grand Cherokee 5.9 Limited Delivered Muscle-Beating SUV Performance
High performance SUVs have become commonplace, especially among luxury brands committed to out-turboing each other on the long, wide-open stretches of the German autobahn. While these two-ton land missiles are now massive profit generators for their respective manufacturers, it wasn't until the 1990s that car companies began experimenting with sport-utility models that did more than tow, haul and occasionally head off-road.
GMC's short-lived Typhoon experiment from the beginning of that decade was certainly quick, but its pursuit of speed compromised the rest of the Jimmy platform's capabilities. It wasn't until Jeep churned out the Grand Cherokee 5.9 Limited that a legitimately mighty, yet still useful performance SUV was offered to American buyers.
Big Engine = Big Success
The Jeep Grand Cherokee had long been at the forefront of offering V8 power in a mid-size package, dating back to its original introduction for the 1993 model year. Nearing the end of its lifespan, the first-generation Grand Cherokee team elected to send the model out with a bang with a special model that would be available exclusively for 1998 — the 5.9 Limited.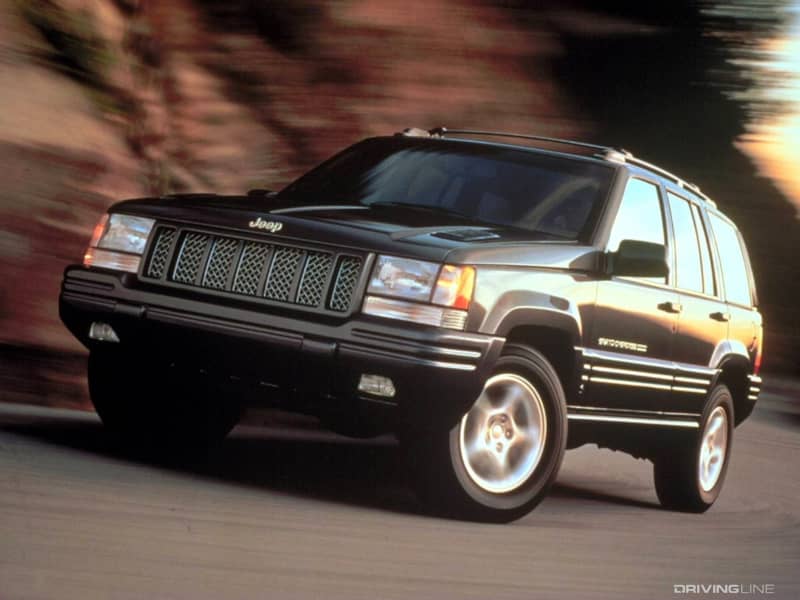 The concept was a simple one: take the largest eight-cylinder engine available from the Chrysler parts bin, a 5.9-liter unit sourced from the Dodge Ram pickup, and stuff it under the hood of the most sumptuously-equipped version of the Grand Cherokee. This introduced 245 hp and 345 lb-ft of torque to the equation, which was a respectable upgrade over the less-torquey 5.2-liter V8 previously available with the SUV.
Of course, there were a few unique touches added to the Grand Cherokee 5.9 Limited to ensure it could make the most of its extra brawn. Putting that grunt to the ground was a limited-slip Dana 44a axle packed with 3.73 gears, matched with a full-time all-wheel drive system that itself was mated to a beefy 46RE four-speed automatic transmission. A satisfying rumble each and every time owners turned the key also confirmed the presence of an exhaust system capable of maximizing the larger engine's output.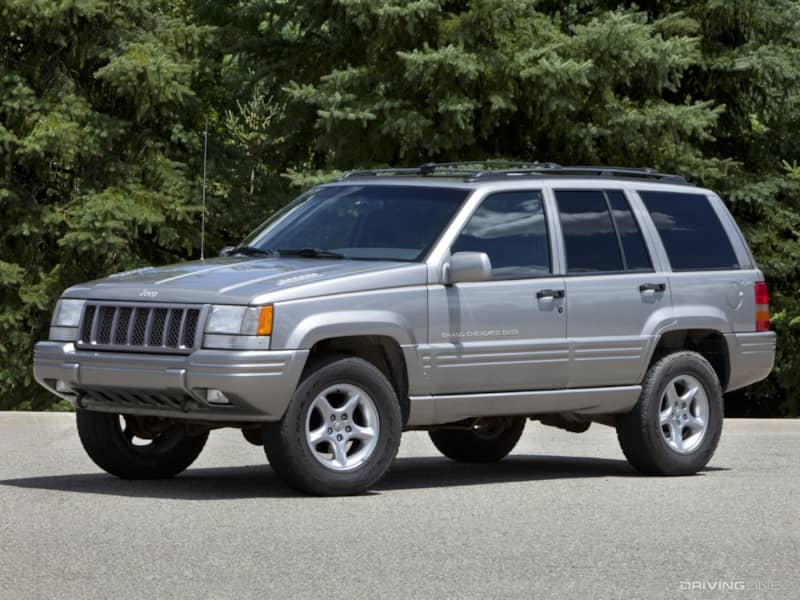 On the outside, you'll have to be in the know to spot the differences between a 5.9 Limited and a standard Grand Cherokee. Aside from a set of louvers slapped onto the hood, it's little details like badging, a mesh grille, and wheels (16-inch Ultra Stars) that are the biggest giveaways, alongside body-hued trim in one of the Jeep's three available colors (silver, black, or white).
Holding Its Own
Another way you could tell if you're looking at a Jeep Grand Cherokee 5.9 Limited is if you were in one of the 90s-era muscle cars dusted by the SUV at a stoplight. Capable of reaching 60-mph in 6.8 seconds (nearly one-and-a-half seconds faster than the standard Grand Cherokee), the Jeep was neck-and-neck with the Ford Mustang GT of its time. The drag strip yielded similar parity, with a 15.2 second time making it a driver's race should any ponies show up at the local quarter mile corral.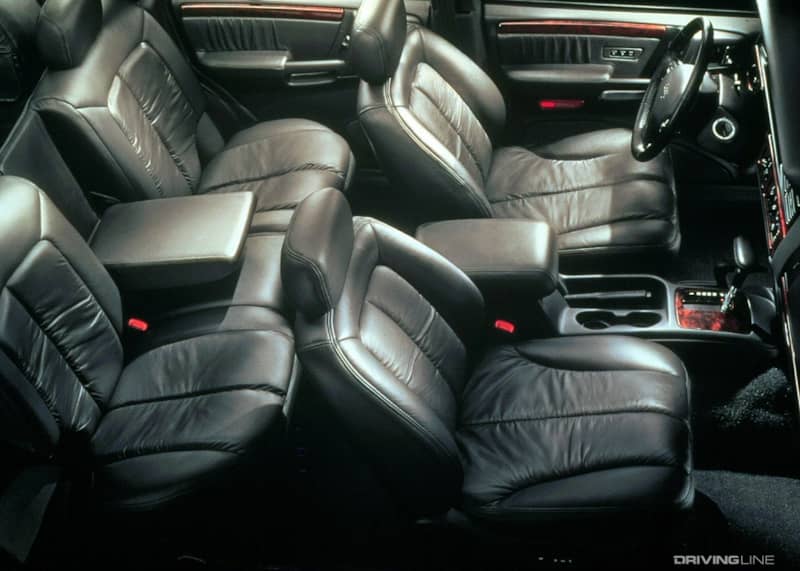 This is truly impressive capability for what was a relatively hefty people mover. Even better was the fact that the 5.9 Limited sacrificed nothing in terms of comfort or capability in terms of serving as a plush daily driver for the entire family. Despite its solid axles front and rear, the Jeep was a respectable handler (although a far cry from what would eventually be accomplished by current day tire compounds, suspension designs, and electronic stability control systems). It also maintained a level of off-road capability that few other sport-utility vehicles in its price range could match, making it a triple threat on the street, the strip and the trail.
Seeds Of Something Greater
Although the Jeep Grand Cherokee 5.9 Limited was offered for only a single model year (selling 14,286 examples), it had a major impact on the brand's thinking about how it could connect with an entirely new customer base. Despite having spent decades as an off-road leader, Jeep now saw that there was room for major growth among those seeking a street performance SUV, and plans began to be laid for the SRT program's version of the Grand Cherokee. The model would debut in the mid-2000s and feature a much more aggressive take on the muscle truck concept, ultimately continuing to this day as a very successful, and profitable, member of the line-up.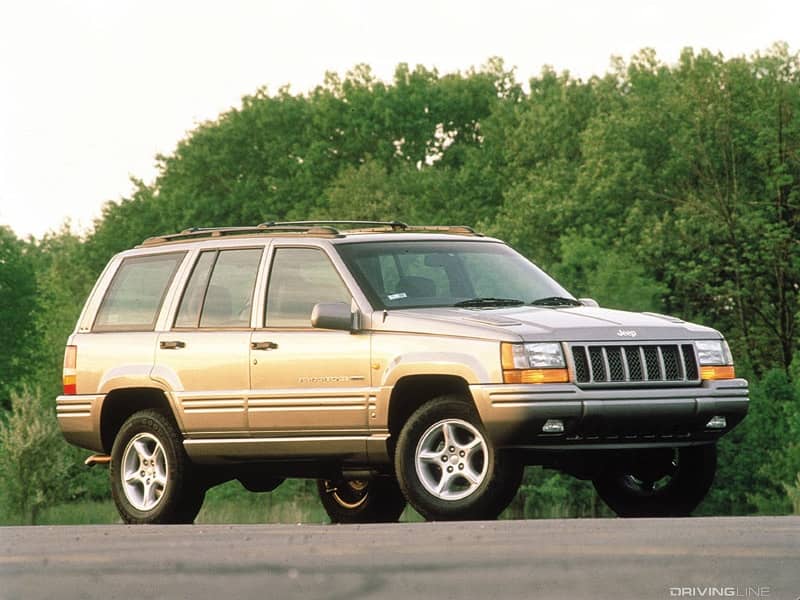 In hindsight, it's clear that it wasn't just Jeep that took this lesson to heart. The relatively low-tech, pushrod-powered 5.9 Limited demonstrated to the German luxury badges about to infiltrate the SUV segment that adding power to a well-optioned, tall-riding wagon would attract more than just casual attention from moneyed buyers. It was the final gift that the first, and ground-breaking, Grand Cherokee platform would bestow upon the American automotive market.
Looking for more vintage Jeep fun? Check out our series on LS-swapping a Jeep Grand Wagoneer.