The 63rd Annual Jeepers Jamboree
When it comes to annual Jeep events, few, if any, come close to the longevity and quality of the Jeepers Jamboree. Now in its 63rd year, the annual trek from Georgetown, California, to the famed Rubicon Trail has become part of nearly every dedicated 'wheelers bucket list. Starting off in 1952 as a way to help increase the economy in the Georgetown Divide, the Jeepers Jamboree has evolved into a summer-time staple for enthusiasts and industry icons alike. The success of the event hasn't been by accident. Thanks to a team of dedicated men, women, and of course, gracious sponsors, the Jamboree continues to create a world-class off-highway trip that is as organized as they come. With all meals covered, daily activities included and plenty of nighttime entertainment, the Jeepers Jamboree is more like an all-inclusive resort than a rugged wheeling trip. However, this doesn't mean that the Rubicon Trail is a cakewalk. While open to a variety of makes and models, the trip lends itself for those truly dedicated to wheeling and outdoor enthusiasts. Since the Jeepers crew understands that rockcrawling the Rubicon will be a first for many of its participants, they provide seasoned guides to help you navigate the famous 17-mile stretch of the High Sierra Mountain trail. In the event that you do have a vehicle failure, no need to worry; there are dedicated mechanics on-site to help get you going again. Before you can get on the trail, you must start off your journey in Georgetown to get your passes and complimentary gear from the event coordinators.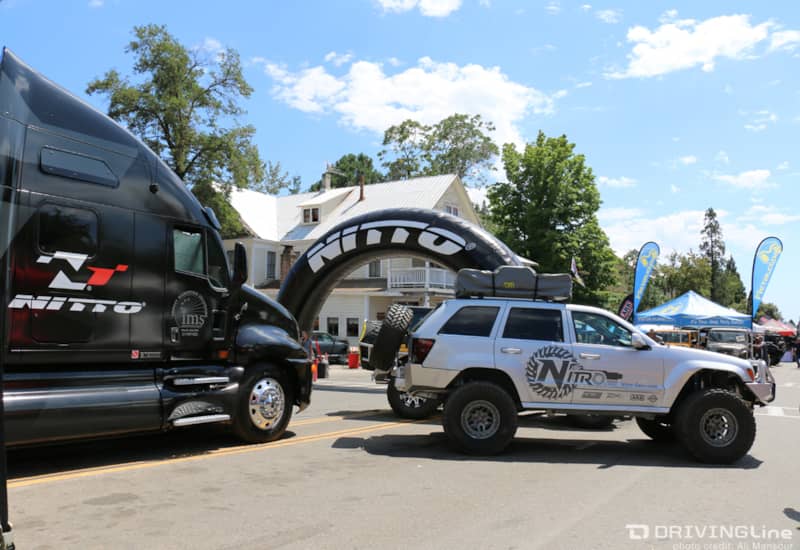 This year, the event kicked off with a vendor show setup in the heart of Georgetown, California, directly on Main Street. Here, participants were able to check in at the Jeepers Jamboree headquarters and engage with some of the industry's leading manufacturers. This included NITTO Tire, which has come on as the event's title sponsor. Well known for its success and support in the competition side of the off-road industry, NITTO continues to show support for its core audience, the recreational enthusiast.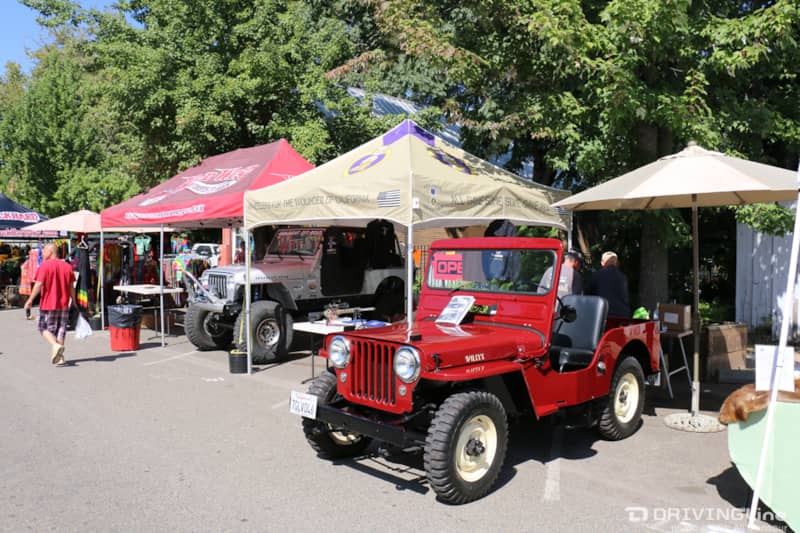 Some of the earliest vehicles to cross the Rubicon Trail were Willys flatfenders. There were a number of these on hand at this year's event, and even a few for sale in town.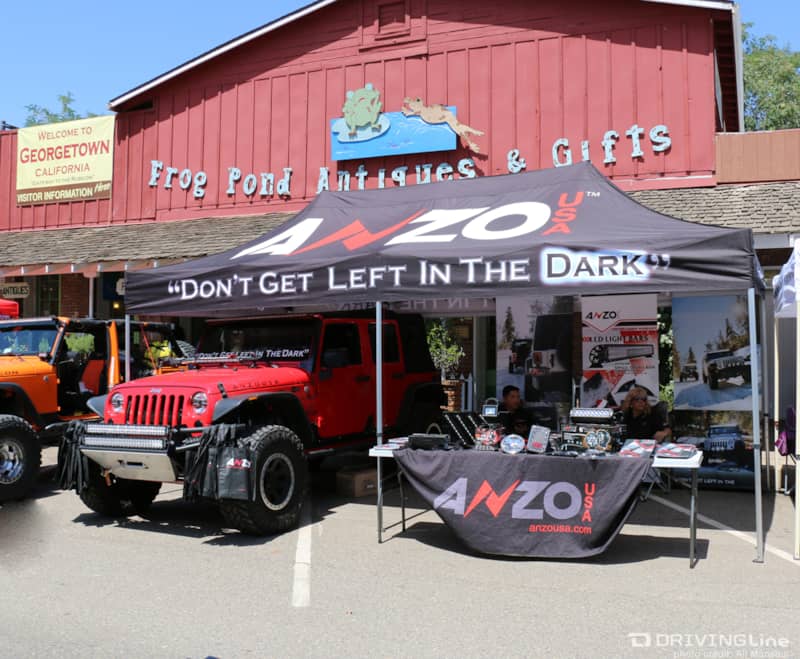 Vendors such as ANZO USA were on hand to show off some of its latest wares. While night wheeling is largely discouraged at the event, we found ourselves needing additional lighting a few times on the trip.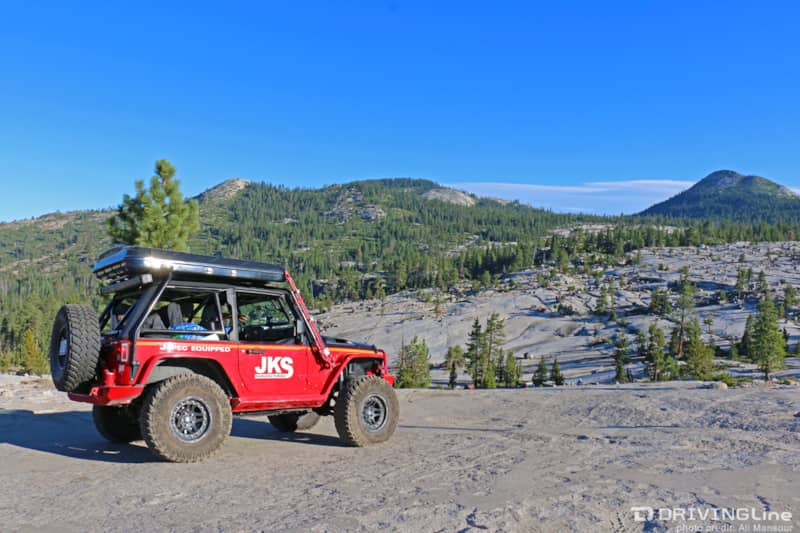 The 45-mile trek to the Loon Lake entrance of the Rubicon is packed with curvy mountain roads and incredible scenery. Our ride for the four-day journey (three-day trips are offered as well) was JKS Suspension's supercharged Jeep Wrangler JK. Piloted by brand rep Pete Williamsen, we were able to spend our time on the trail riding in comfort thanks to the company's plush J-spec suspension system. Thanks to a set of 17-inch Rock Monster beadlocks, we were able to drop the 37x12.50 Nitto Trail Grapplers down to 8psi, which helped tremendously with traction and comfort down the rocky trail.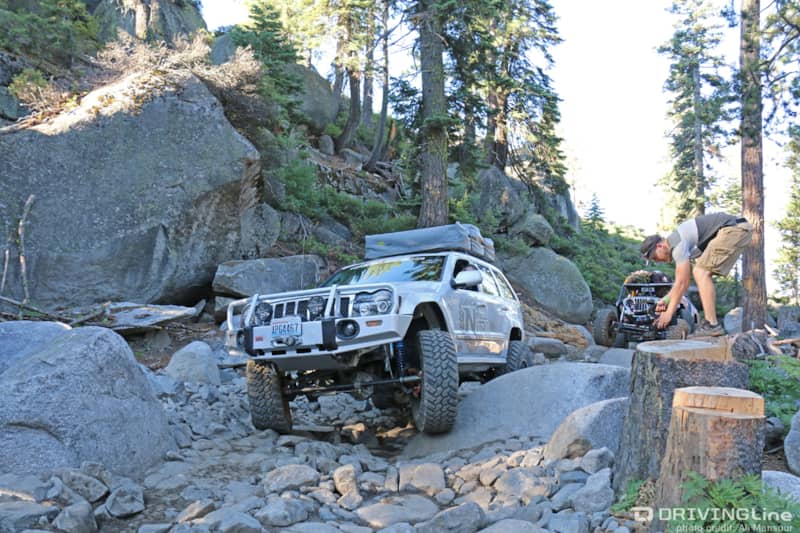 From the moment you slide your rig into low range, you'll be met with an endless array of rock obstacles. Most are easily navigable in a moderately modified 4x4. The camera man you see posting to the right was actually part of the NITTO film team, who were documenting the journey. You'll be able to see the action-packed footage soon at nittotire.com.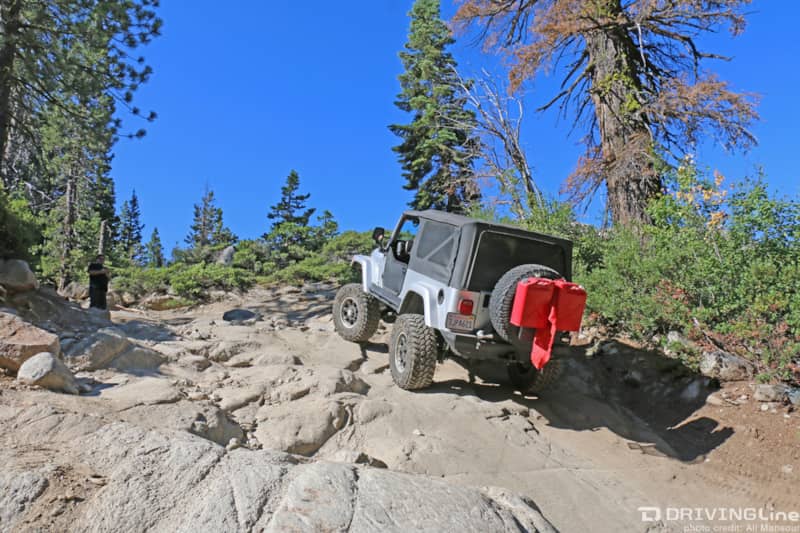 This well-built Jeep Wrangler Unlimited had no trouble crawling its way up this particularly steep section of trail. This was in part to the aired-down Trail Grapplers and the sure-footing driving of the lady behind the wheel. The extra fuel tanks on the back of the LJ were also a feature we saw plenty of throughout the trip. Jeeps in general are not known for fuel efficiency and the Rubicon Trail isn't an ideal place to run out. If you know your rig is a bit thirstier than normal, we strongly recommend bringing along a few extra gallons of fuel.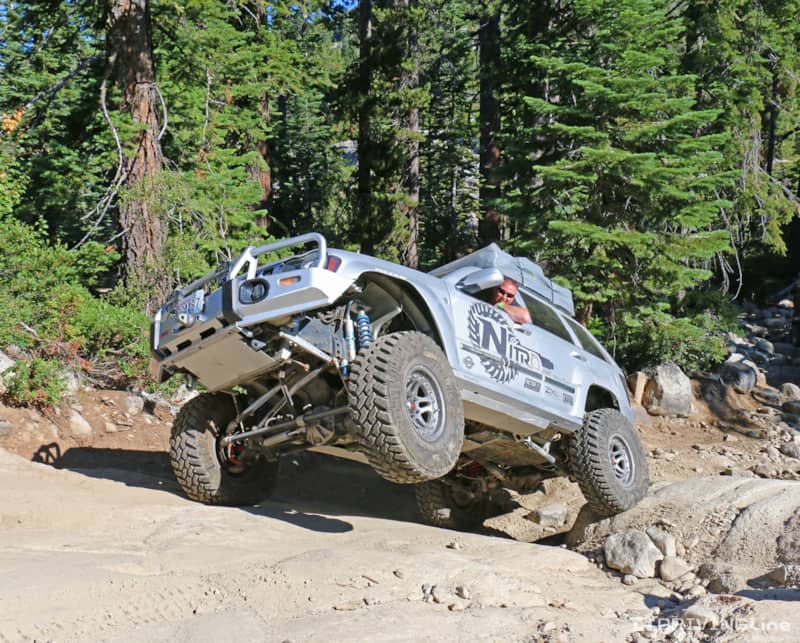 Nitro Gear's Jeremy Ayers 2007 Jeep Grand Cherokee was put to the test more than once on the trail The WK series Grand was relieved of the original independent front suspension and in its place a high-pinion 44 from TeraFlex was installed. The 3.0L diesel-powered SUV uses 4.88 differential gears, which work great at turning the 37-inch Trail Grapplers.
Although the event has Jeep in its name, it's actually open to other makes. We spotted an assortment of Toyotas, Chevys and Fords on the trail. A word of warning: the wider your vehicle, the greater the probability that it will leave the trail with body damage.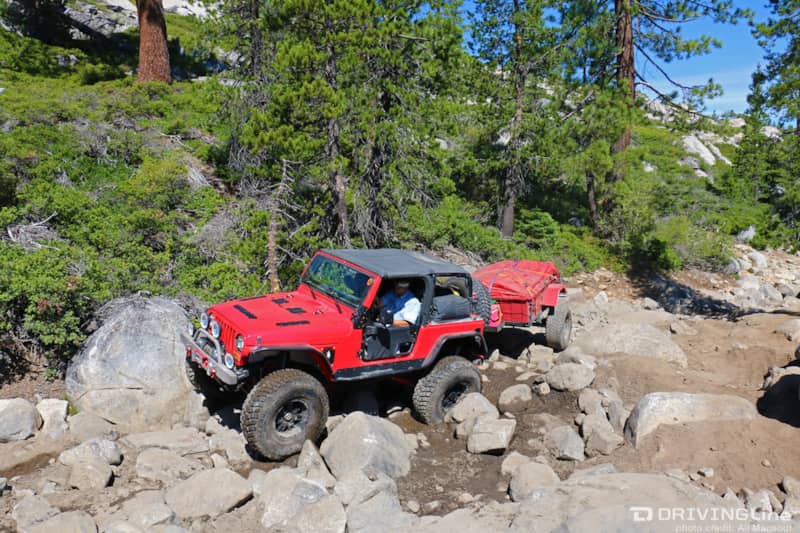 Some people prefer to have a lot of gear with them on the trail. This heavily-modified Jeep Wrangler TJ opted to haul in a trailer full of camping gear for trip. Sure, it's nice to have the extra digs when you get to base camp at Rubicon Springs, but the treacherous trip in can be more difficult when you add the dead weight of a trailer in tow.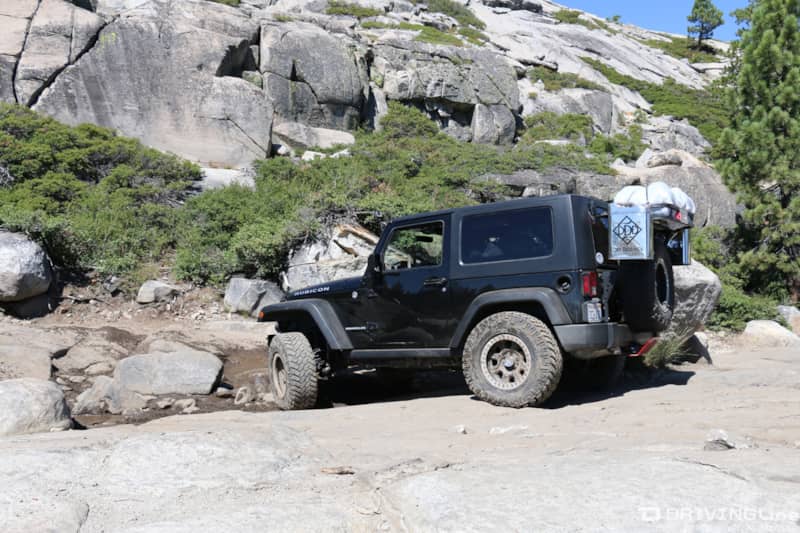 To participate in the Jeepers Jamboree, you don't need an over-the-top rig. In fact, we've completed the Rubicon Trail in stock (albeit very capable) vehicle more than once. Since the little Sluice was roped off for this year's trip, there wasn't any area on the trail that required participants to bypass.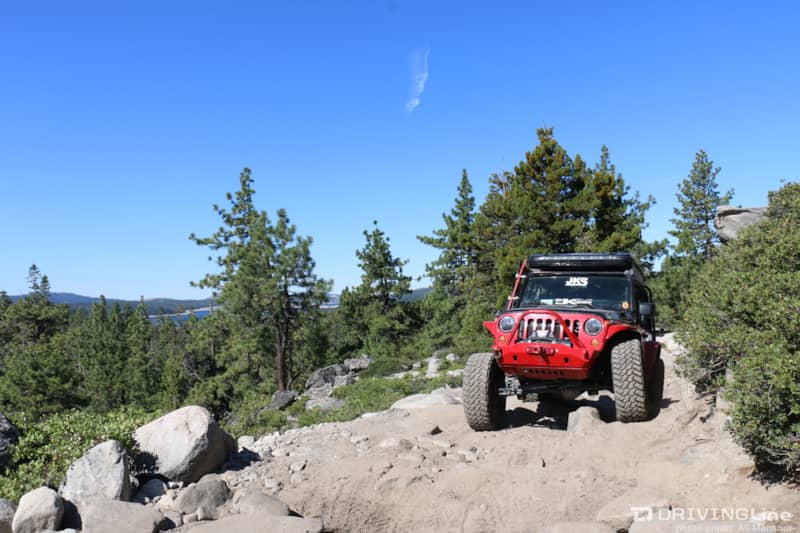 For those of you that feel the need to stay connected, you'll have one last chance to check your cell phone messages at the top of this ridge. We found only AT&T was able to drum up a few bars of service. If you really need to stay in communication with the civilized world, we strongly recommend picking up a satellite phone. In case of emergency, the Jeepers Jamboree can also connect you with the outside world and can even get you flown out via helicopter if it is a medical emergency.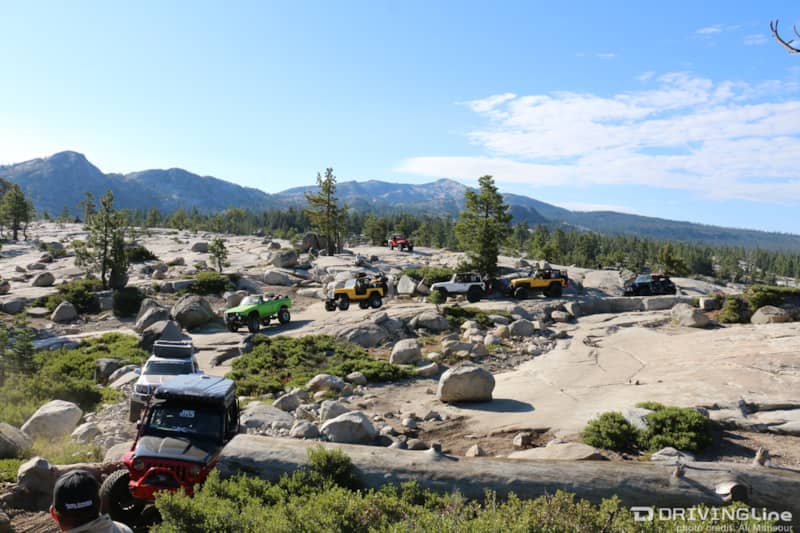 Driving to base camp was an all-day affair, but can be faster or slower depending on the amount of participants on the trail. Breakfast is provided at the start of the trail, along with a lunch, so you'll have plenty to chow on before you roll in.
Once you arrive near the springs, you can hunt out a spot to camp. There are plenty of outhouses, so don't fret! We saw campsites as lush and as simple as they come. On the four-day trip, you'll have three nights of camping. It gets cold at night, so be sure to have the right gear for when the sun goes down.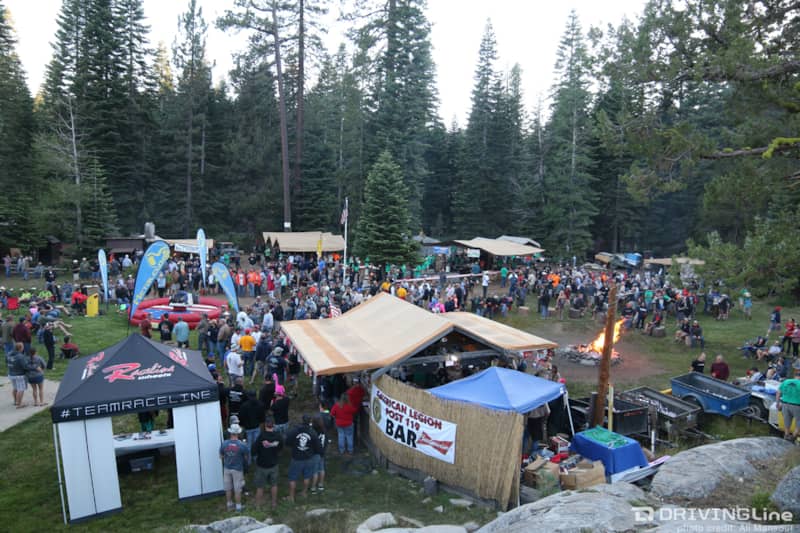 Speaking of food, if you leave the Jeepers Jamboree hungry, it's your own fault. With three hot meals provided per day, you won't have any excuse to not eat. There's even ice cream and adult beverages for purchase post-meal time for those looking for additional indulgences.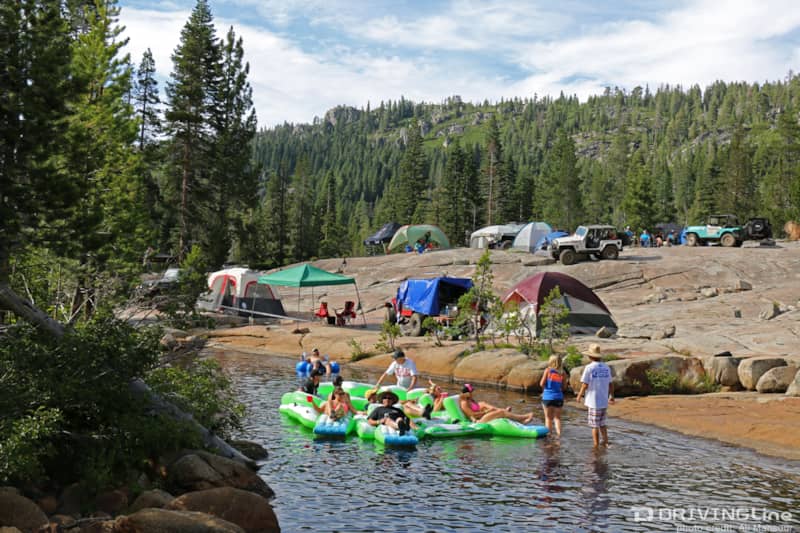 This is largely what the Jeepers Jamboree event is all about: relaxing by the river. This is a very adult-themed event, which means there will be plenty of partying. If that's not your crowd, you might want to sign up for the more tuned-down Jeep Jamboree, which is typically held the following weekend post-Jeepers. Both events are packed with great people, but one group will definitely have its music turned up (And be turnt up... - JW) slightly louder.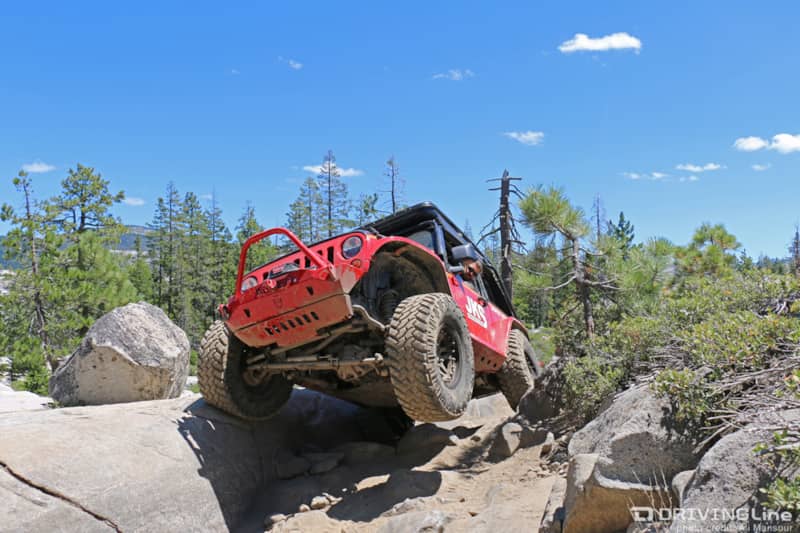 By day three (Saturday), we were anxious to get back on the trail. After all, we were on the world famous Rubicon! For others that were feeling the same itch, an optional Buck Island fun-run was put together. Driving the trail in reverse packs a new set of challenges as gravity is no longer on your side. Pete Williamsen from JKS maxed out the suspension travel on the JKS Wrangler a few times on his way up to our lake destination.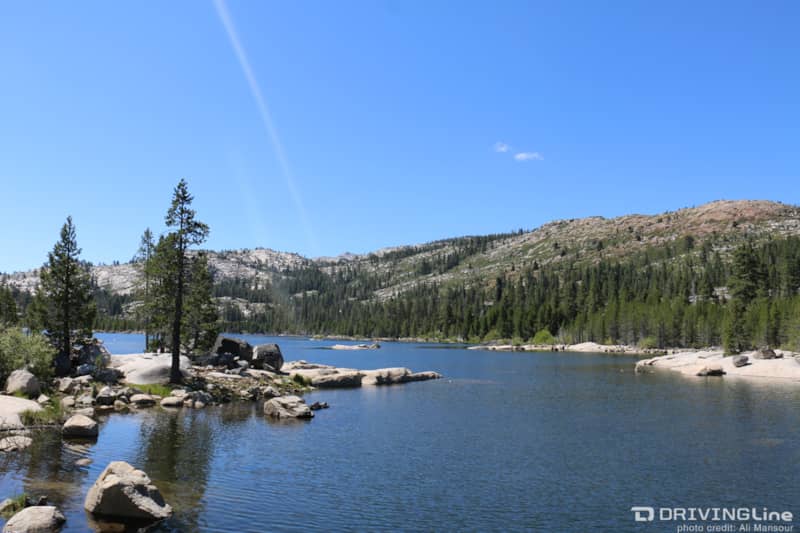 The swim-friendly waters of Buck Island Lake made for a picturesque and fun lunch stop. After spending a little time in the water, we were treated to a delicious tri-tip lunch. Like we said, you shouldn't leave the event hungry.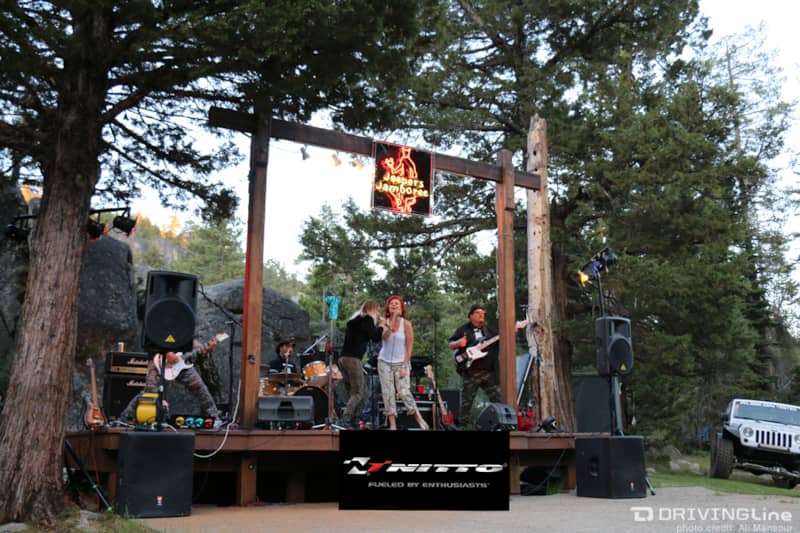 Back at camp, the evening's events commence with a live band and another incredible trail-side dinner. Be sure to leave a little space for goodies inside of your rig as well, as the gracious event sponsors are known to hand out swag in addition to the killer raffle prizes.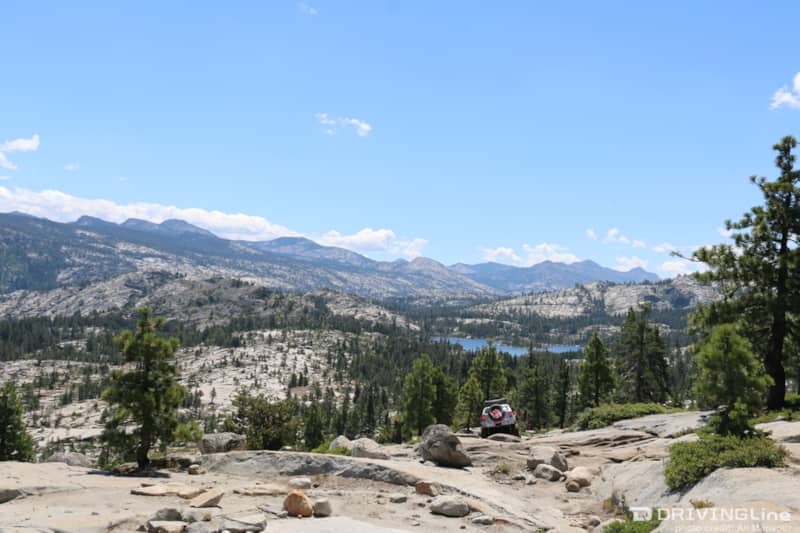 We had an absolute blast at this year's Jamboree, and would like to extend a special thank you to Bob Sweeny and the entire Jeepers Jamboree organization for putting on such a great event.