The Complete Spectator's Guide to the 2020 Formula Drift Season (COVID19 Edition)
Through no fault of their own, Formula Drift has had to adapt to the current COVID-19 times as we know it. The latest schedule, published to their social media platforms on June 11th, condenses the Formula Drift Championship from the original 8 round series that was scheduled to span 6 states in 7 months down to a four-weekend schedule of doubleheaders. The adjustment in the schedule triggered a number of additional changes including the elimination of qualifying, and while an ideal scenario would put capacity limitations and social distancing recommendations in the rearview mirror, that simply isn't the case. We connected with Formula Drift to sort out the latest details around their 2020 PRO Drifting Series, which will be their seventeenth season of drifting competition here in the US.
Doubleheader Schedule
When COVID-19 forced the delay of many sports and events back in March, Formula Drift had to delay the start of the 2020 season. With many tracks having other scheduling obligations to juggle, finding weekends that worked was very tricky for the Formula Drift staff. In the end, Formula Drift was able to identify four weekends at four race tracks across the country that made sense. The trick to squeezing eight competition rounds into four weekends is to run two rounds per weekend, the Saturday competition being completely separate from the Sunday competition. This streamlining will give the teams half the travel and time commitment while still fulfilling sponsorship obligations through eight rounds of competition. Other major motorsports like NASCAR and INDY Car have adapted by streamlining their schedule and running multiple events in a week, so the motorsport precedent is there for these doubleheaders within the 2020 calendar year.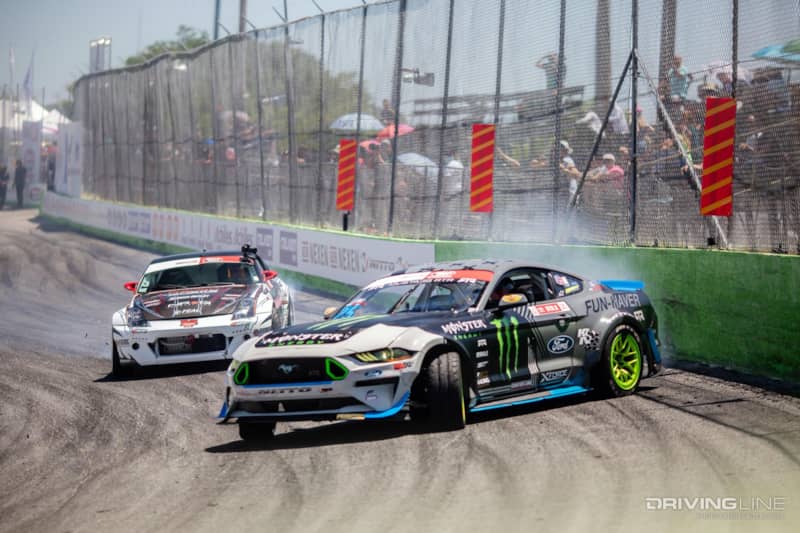 Formula Drift also has their PRO 2 class, which is the gap between the regional ProAm competitions that are operated independently around the United States, and the top PRO level of competition that feature the likes of big name drivers like Vaughn Gittin Jr. and Fredric Aasbo. Each Formula Drift weekend will kick off with the PRO 2 tandem competition on Friday followed by the odd-numbered Formula Drift PRO rounds on Saturday (Rounds 1 / 3 / 5 / 7), and the even-numbered Formula Drift PRO rounds on Sunday (Rounds 2 / 4 / 6 / 8). Both classes of competition will migrate to a tandem-only format, meaning qualifying will be eliminated and drivers will be ranked based on standings. Here's a look at the calendar for the rounds of competition as it stands now:
| Dates | Location | Friday | Saturday | Sunday |
| --- | --- | --- | --- | --- |
| September 4th thru 6th, 2020 | St. Louis, MO | PRO2 Round 1 | PRO Round 1 | PRO Round 2 |
| September 25th thru 27th, 2020 | Monroe, WA | PRO2 Round 2 | PRO Round 3 | PRO Round 4 |
| October 16th thru 18th, 2020 | Ft. Worth, TX | PRO2 Round 3 | PRO Round 3 | PRO Round 6 |
| November 20th thru 22nd, 2020 | Irwindale, CA | PRO2 Round 4 | PRO Round 3 | PRO Round 8 |
Qualifying turns into Seeding
With three full tandem competitions on the docket, there simply isn't time for qualifying. To solve this conundrum, Formula Drift has made a pair of major changes to accommodate the seeding of the drivers. First, qualifying has been eliminated from both the PRO and PRO 2 schedules. Competitors will be seeded (in a process that is still being finalized) and roll right into tandem competition after a brief morning practice. This will remove a huge amount of time that was previously dedicated to qualifying, and ensure all drivers are given a chance to prove themselves alongside another competitor.
Second, the PRO 2 class will expand from the normal Top 16 format to Top 32 format to accommodate more drivers. If more than 32 drivers are present for any single round of competition, additional tandem brackets will be added to accommodate. While the exact method of seeding and tandem bracketing is still being discussed, the expansion of the PRO 2 field to allow for more tandem competition and tandem experience for these up-and-coming drivers is very welcomed by both competitors and spectators alike.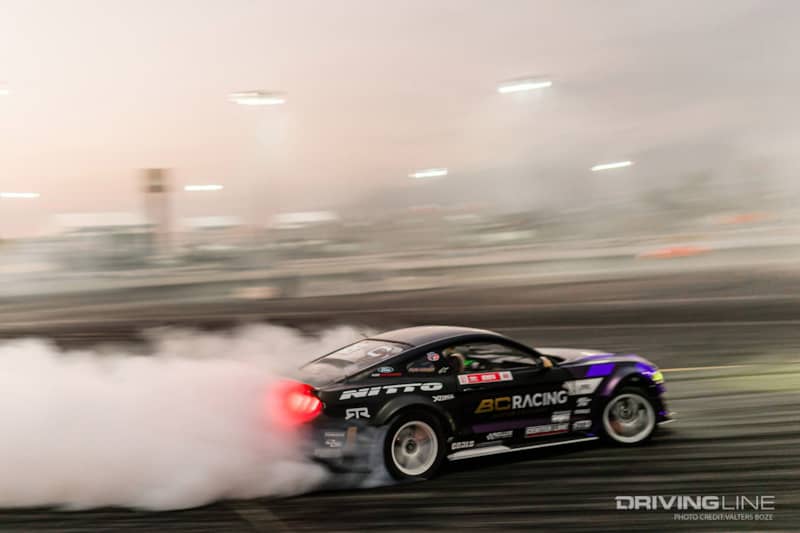 Third Place Battle is Back!
Several years ago, the third place battle was removed in favor of awarding the final podium position on the basis of qualifying rank. With qualifying going away, the third place battle will be resurrected to add one more tandem battle to the slate of events for spectators. This has been a fan request for several years since it went away, and the opportunity was right to resurrect this battle. With points for qualifying going away, earning a few more points and having your mugshot on the final step of the podium are both important opportunities for the drivers, so this added tandem battle should be every bit as competitive as the final battle!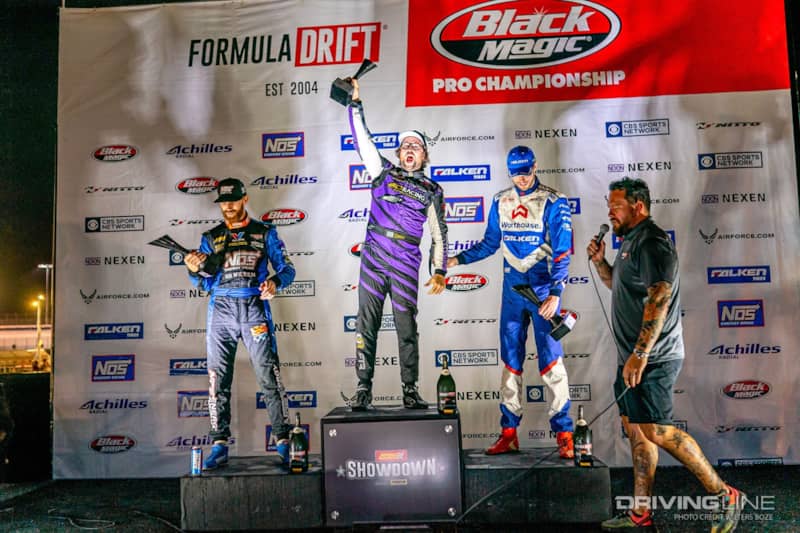 Judging Changes
At the end of last season, Andy Yen retired from his position as the head judge, a position he held for more than ten seasons. Stepping in to replace him will be Robbie Nishida, who was a driver in the series from 2006 through 2016, and has fulfilled various roles with both Formula Drift Japan and Formula Drift here in the USA ever since. Nishida is widely respected among the driver ranks, and will judge alongside longtime judges Ryan Lanteigne and Brian Eggert.
Several small tweaks are made to the judging criteria each year in an attempt to make the judging easier to understand both for spectators and competitors. This year, several changes were planned ahead of the elimination of qualifying, but overall, those changes will still be implemented for the 2020 season. Prior to each event, the judges will layout the ideal drifting line that they would like to see each competitor hold, as well as suggest where drivers are allowed to adjust their momentum (labeled as "red zones"). Although qualifying will not happen, the lead drivers in tandem will be expected to run as close to a perfect qualifying run as possible, with the chase drivers asked to mimic the lead driver while matching or bettering the slip angle. In the past, chase drivers have been rewarded for following with very close proximity to the lead driver with substantially less angle, but this year, it seems as though angle will be emphasized as much or more than proximity. In the event that the lead driver has poor angle, the chase driver should still attempt to assert their superiority through applying a higher degree of angle whenever possible.
This year, drivers are also being asked to have general knowledge of the tendencies of their competitors to ensure they can follow in a way that is exciting to watch. Failure to have knowledge of your competitor and failing to adjust to their style may result in a deduction for the chase driver. This also includes leaving space for drivers to adjust their momentum in areas that are identified as red zones, where slowing down the car is likely to happen and potentially at a fast rate.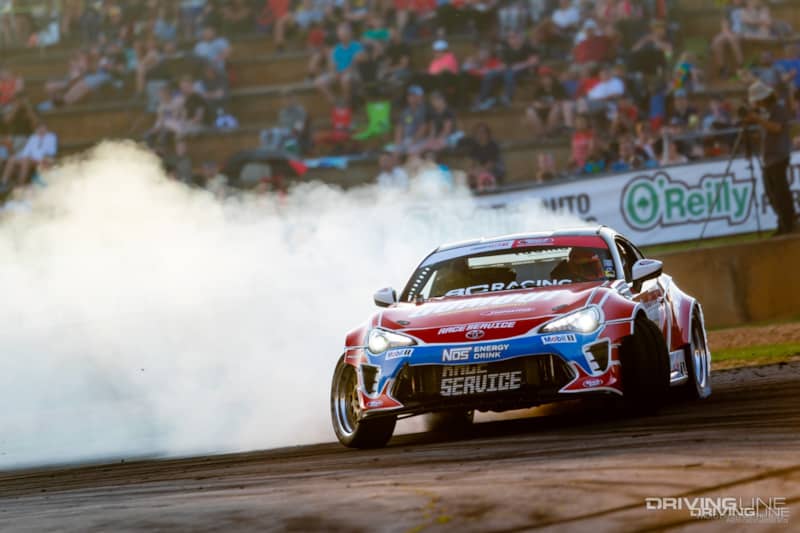 Spectator Guidelines
Several precautions are being taken by Formula Drift to ensure everyone's safety at the event. While some details like event capacity are likely to be fluid and could change up until event weekend, other precautions are expected to be in place at all rounds for all attendees. Those precautions include facemasks being required and temperature checks for entry into the venue, hand sanitizer that is at least 60% alcohol being distributed at multiple points around each venue, signage to encourage masks and social distancing, and a focus on disinfecting areas expected to be utilized by staff, spectators, and participants. Those at higher risk for severe illness or otherwise immuno-compromised, those who are feeling ill, or those who have come in close contact with someone who has tested positive for COVID-19 are encouraged to avoid attending the event. While many are excited for the schedule to be released, it is important that the safety and health of all attendees is kept top-of-mind at all times through this pandemic.
At the end of the day, we're excited to have drifting back on the calendar, and look forward to all the changes being implemented to ensure that these weekends can happen!
More From

Driving Line
Formula Drift's 2020 season is just a month away from kicking off! Stay tuned for the latest Formula Drift action throughout the 2020 season, or check out our 2019 season coverage here.