The Dobbertin Surface Orbiter Was A Globe-Trotting, Hand-Built, Amphibious Milk Tanker
If you've ever dreamt of circumnavigating the globe in a single vehicle, but are afraid to fly, your options are fairly limited. Given that our blue planet is composed of 70 percent water, chances are you'll have to splash down at some point in your voyage, which right off the bat, eliminates 99 percent of production vehicles from your plans.
It's challenges like this one that spark the minds of idle geniuses like Rick Dobbertin. Throughout the 1980s, Dobbertin had earned a tidy living building show cars, hot rods and Pro Street drag racers, letting his creative juices flow through fiberglass and steel. Then he got bored. Seeking another challenge, he and his wife Karen came up with the idea for 'Project Earth-Trek,' that would see them explore every corner of the Earth in a sci-fi vehicle of their own devising dubbed the 'Dobbertin Surface Orbiter.'
Monster Tube
At first glance, the Surface Orbiter looks like a cross between a tanker truck and a prop from the set of 'Thunderbirds Are Go!' At least half of that impression is by design: Rick and Karen snagged a stainless steel milk tanker (built in 1959 by Heil), and added a wedge-shaped cockpit to the front in order to create the vehicle's hull.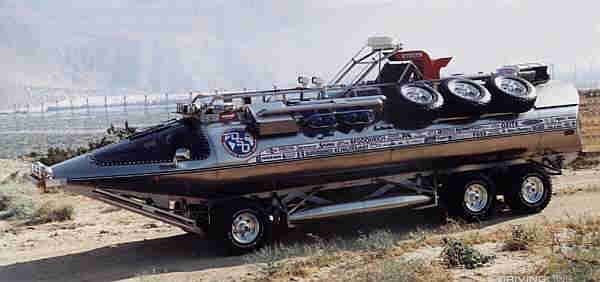 The advantages to using a tanker for the 32.5-foot vehicle were numerous. With its rounded shape it offered excellent internal volume, not to mention helpful buoyancy for the vehicle's sea-going shenanigans. The double-walled container was also insulated with styrofoam in between each layer of steel, which helped keep both the cold and the heat at bay.
The entire unit was attached to a full steel frame and powered by a 6.5-liter GM-sourced turbocharged diesel that produced 250 horses from its eight cylinders (and which had undergone a full marine conversion so that it could operate both on land and at sea). The Surface Orbiter rode on Dana axles and 16-inch wheels all 'round, and engine output was sent to four drive wheels via a four-speed automatic gearbox.
Despite a massive 18,000 lbs of weight when fully loaded with supplies and fuel, the cylinder topped out at an impressive 70-mph on a flat stretch of road. On the water speeds were reduced to about 10 knots, with fuel mileage showing a horrendous 2 miles per gallon once afloat (versus 12-mpg while rolling).
Adventuring Isn't Easy, But It's Necessary
The entire project took more than 14,000 hours to build over a four year period, during which the Dobbertins were forced to build an extension onto their home garage in Syracuse, New York, where the Surface Orbiter took shape.
Initially, the plan had been to depart from the Syracuse State Fair in the fall of 1993, but problems with the paperwork needed to get their vessel in and out of the various countries the couple planned to visit would delay the beginning of the adventure until mid-December of that year. By that time the Dobbertins had become media darlings, and received national attention on television and in print.

The love-fest would continue throughout the early stages of the trip, especially in their home town which would publish updates from the two on a regular basis. After driving down the east coast all the way to Miami—their projected entry point into the Caribbean for the initial jaunt to South America by way of the Bahamas—the delays would again begin to mount as additional permits and government documentation were demanded.
At this point, it was also becoming clear that perhaps a shakedown cruise would have been a wiser move prior to simply casting off into the great unknown. In addition to numerous gremlins that would dog the Surface Orbiter from day one, a transmission failure would strand the couple at sea, salt water would attack the vehicle's submerged rubber components, and the entire vessel would capsize while docked in Puerto Rico. Add to this fuel storage issues (spillage from its 340 gallon diesel tank were common), and Karen's complaints about being constantly sunburned (and salt-burned from the continual slap of seawater), and something had to give.
Despite these problems, the vehicle would make it through the Panama Canal and back up the west coast of the United States before the journey ended in Los Angeles in 1996. Nearly 30 countries had been touched by the massive beast's waterlogged tires, with 30,000 land miles on the odometer (with a further 10 percent of that number added at sea).
It was at this point that the Dobbertins called it quits. The Orbiter's design—despite facing down 18-foot waves, and living to tell the tale—simply wasn't up to the rigors of a full oceanic crossing. Neither was the couple's bank account, or their ability to tolerate living in such an enclosed space with each other over an extended period of time. Finances and a marital split would put an end to the voyage.
Don't Count Rick Out
What happened to the Orbiter itself? Rick Dobbertin attempted to sell it for $200,000 once it became clear that his entire life would require a personal and financial do-over. It wouldn't be until 2004, however, that the unique vehicle would find a new home (in the hands of a Chicago-based collector), for an undisclosed price.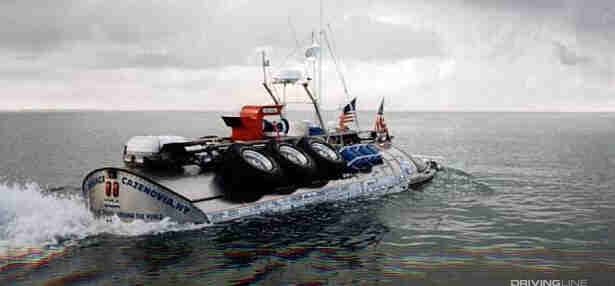 It's tempting to tag the Surface Orbiter project a failure, but that's clearly not the case. The duo didn't build a white elephant that lived in their backyard after years of labor. They constructed a completely custom vehicle that, while falling short of its lofty trans-global goal, still managed to visit two continents by both land and sea, and they did it with their own two hands.
The Dobbertins were ahead of the game when it came to the Internet, too, having built a (now) endearingly-dated website to document the Orbiter that is still accessible today. As for Rick, he's never quite left his amphibious passions behind, having continued to work on his 'Hydrocar' project until very recently. Big dreams die hard, especially when you're as determined—and as talented—as Dobbertin.
Curious about an amphibious car that will actually fit in your driveway? Check out our feature on the Amphicar 770.
All photos courtesy of www.dobbertinhydrocar.com