The Dodge Stealth R/T Turbo Was The Most Advanced 'American' Car Of Its Time
When is an American car also a Japanese car? When it's a Dodge Stealth, the fruit of an ongoing, and highly successful collaboration between Mitsubishi and Chrysler that saw both brands emerge guns blazing into the supercar-heavy early 90s.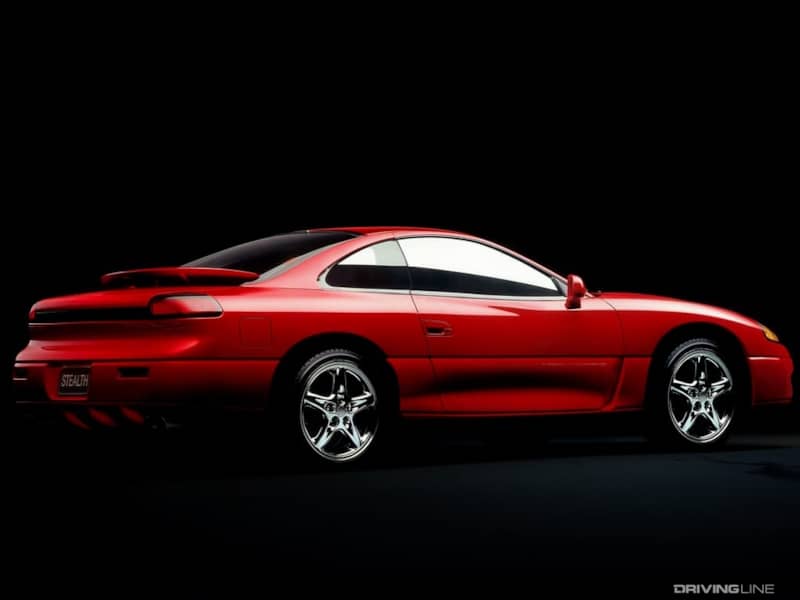 Unlike same-era efforts such as the Mitsubishi Eclipse/Eagle Talon twins, however, the Stealth did not spring forth from the Diamond Star Motors manufacturing venture that produced a long list of sporty compacts and affordable sedans for both automakers. The Stealth was a more traditional badge-engineering effort, with Mitsubishi supplying the car's guts and Dodge taking over styling to create one of the most unique vehicles available at a domestic dealership—and one with performance no one else in Detroit could match at the time.
Product Of The Bubble
By the end of the '80s the Japanese bubble economy was in full swing. With seemingly endless amounts of money pouring into the country's corporate coffers, its car companies were engaged in a startling cycle of technological one-upmanship, doing their best to produce the most advanced sports and luxury vehicles possible.
It's this environment that produced hallowed models like the Mazda RX-7 FD, the Nissan 300ZX twin-turbo, and the fourth-generation Toyota Supra turbo. Joining this list, and no less an achievement in terms of performance and power, was the Mitsubishi GTO. Sold in the United States as the 3000GT, it would serve as the underpinnings of the mechanically-identical Dodge Stealth.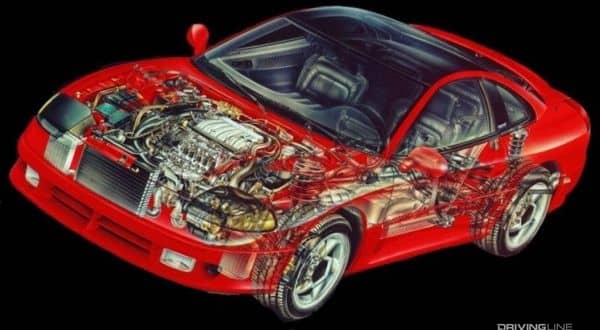 The GTO/3000GT/Stealth's list of engineering accolades was extensive. When it debuted in 1991, the top-tier car (VR-4 for Mitsubishi, R/T Turbo for Dodge) offered a twin-turbocharged 3.0-liter V6 that churned out 300 horsepower and 307 lb-ft of torque. Transmission choices included a four-speed automatic and a five-speed manual, and an all-wheel drive system was standard with the turbo models. So was an electronically-controlled suspension system and a passive four-wheel steering setup at the rear that offered up to 1.5 degrees of toe deflection.
This level of equipment was ultra-exotic for the time, and certainly unheard of when shopping for anything in an American showroom. Despite its heavy, grand touring dimensions, the Dodge Stealth R/T was an exceptional performer: the car could reach 60 mph from a standing start in less than five seconds, with the quarter mile flashing by in the mid-13 second range.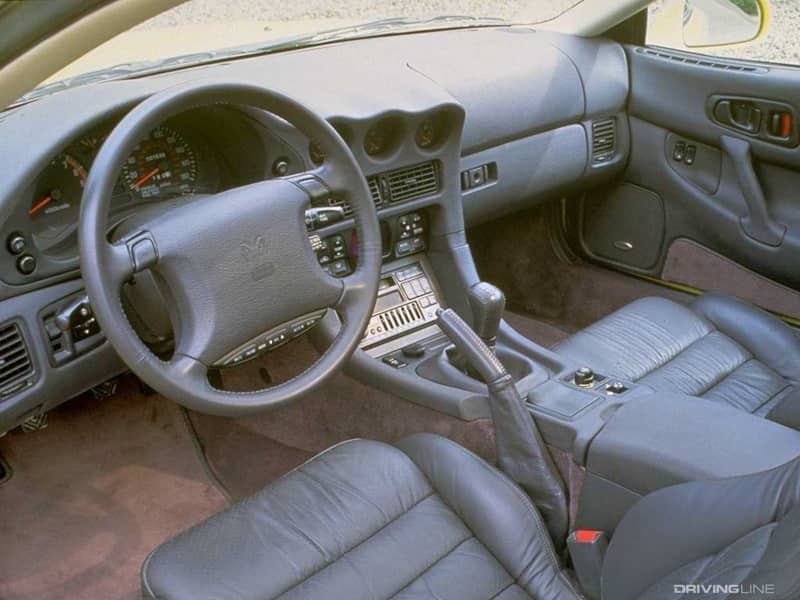 Of course, not all versions of the Stealth were delivered in such impressive trim. Base models were stuck with a 164 horsepower version of the 3.0 V6, while ES and R/T versions upgraded to a naturally-aspirated, 222 horsepower edition that featured dual-overhead camshafts. All non-turbo Stealths were also restricted to front-wheel drive.
Short, But Impressive Run
Dodge was rightly proud of its marketing coup, having scored a world-beating sports coupe with almost no investment other than paying a few designers enough overtime to bring its appearance in line with the rest of the brand. The company attempted to raise the Stealth's profile further by having it pace the 1991 Indianapolis 500, but such was the outcry from the United Autoworkers union about a Japanese-built vehicle headlining 'America's Race' that the entire enterprise was scuttled in favor of a pre-production Viper taking over the duties. Still, more than a few Stealths were manufactured wearing the 'Official Pace Car' decals commonly associated with Indy.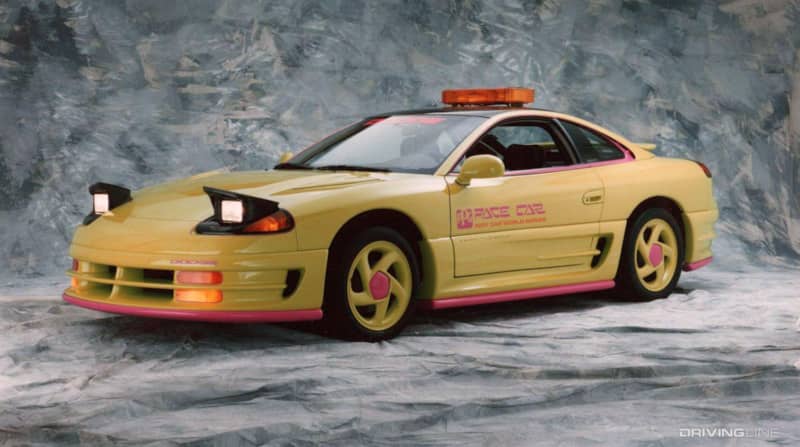 As the decade moved forward, the Stealth would see a number of small updates made to its appearance, and its drivetrain. A forged crankshaft would appear in 1993 alongside a four-bolt main bearing setup, while 1994 introduced 320 hp and 315 lb-ft from a new engine tune along with revised front-end styling that traded pop-up headlights for a new glassed-in set (and said goodbye to the fender blisters that had been necessary to clear the strut towers on the original vehicle).
Bursting Bubbles, Affordable Dreams
As with all wild parties, the Japanese economy's seemingly endless upward trajectory finally cratered by the mid-90s. As a result an entire generation of near-supercars produced within its borders were no longer financially sustainable, and their skyrocketing prices in export markets like the United States would soon doom Mazda, Toyota, Mitsubishi and Nissan's high performance badges to the dust heap. So it went with the Dodge Stealth, which would disappear from showrooms after 1996.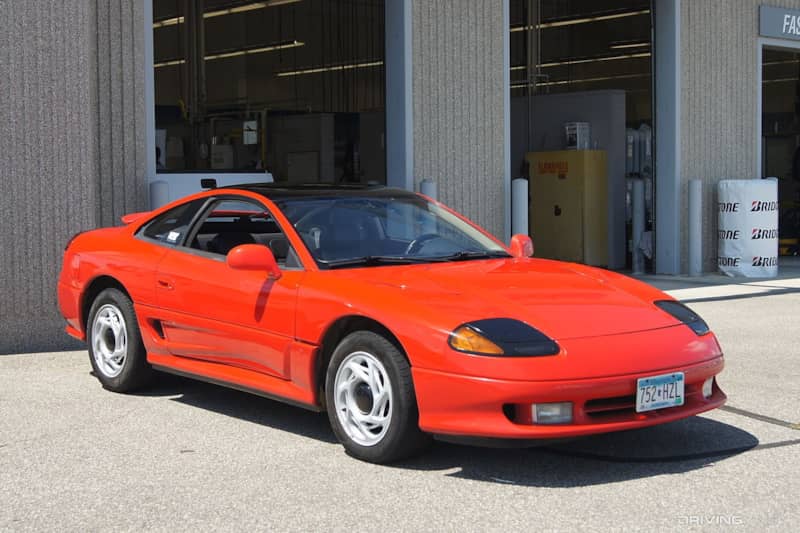 Today, the Stealth is a largely overlooked sports car option, for more than a few reasons. In truth, non-turbo versions of the car feel every one of their 3,000-plus pounds, and they deliver none of the advanced features found on the R/T Turbo. Unfortunately, the latter's exceptional speed and wow factor is balanced out by the complexity of repairing its various computer-controlled systems, as well as the sheer difficulty of even routine engine maintenance due to its tighter-than-tight engine placement under the hood (a common complaint for many of its high-end Japanese sports car contemporaries).
As a result it's possible to purchase an all-wheel drive, twin-turbo, four-wheel steer bullet in the range of $10,000 to $15,000 for a cared-for driver-quality example. This is an order of magnitude cheaper than a similarly-performing A80 Supra, and certainly less expansive than an FD RX-7. If you can stomach the maintenance, the Dodge Stealth R/T Turbo offers the easiest access to an automotive time period when not even the sky was the limit for cars coming from the land of the rising sun.
Looking for other rad-era unicorns from Dodge? Check out our feature on the Dodge Dakota Sport Convertible.