Peeling Back The Roof On The Dodge Dakota Sport Convertible
Aside from retro-driven styling exercises like the Chevrolet SSR, which were never intended to serve any practical purpose, the impetus for an automaker to cater to the open-top truck crowd has largely been limited to SUVs. Starting in the 1960s, a wide range of sport-utility vehicles were offered with removable rear passenger shells, imitating the design of the popular Jeep CJ that itself was a copy of the roof-free battlefield runabout from the same automaker.
Absent from all of this off-road topless fun were traditional trucks of any description. Indeed, why would you want to take the roof off of a pickup? It's hard to argue that exposing driver and passenger to the elements would improve the vehicle's ability to tow or haul, especially if you consider that often the only thing separating passengers from a Final Destination-style decapitation is that thin sheet of metal and glass between the bed and the cabin.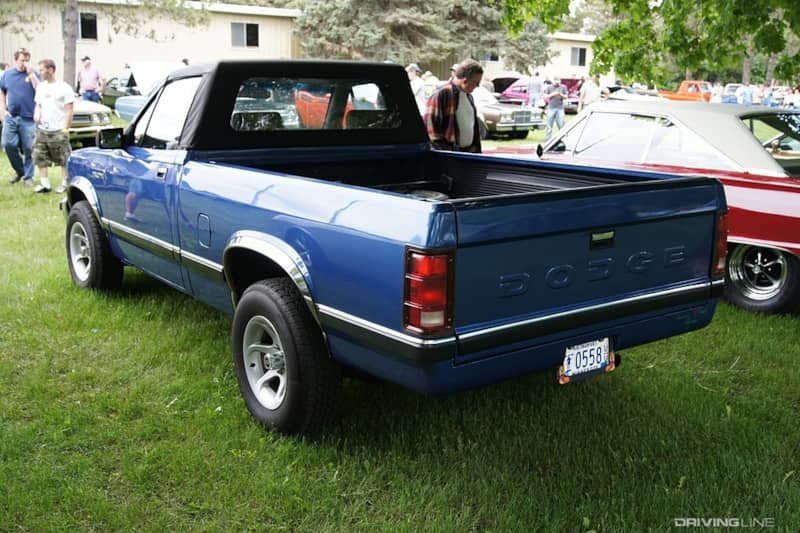 It might have taken decades, but the world was finally gifted with a convertible pickup—born not out of necessity, or any actual consumer demand, but rather to meet the needs of a struggling automaker starving for attention on a limited development budget.
Look At Me!
In the late 1980s, Dodge had a problem. Despite offering a larger platform and significantly more power than the rest of the entry-level pickup crowd, during the first two years of its production the mighty Dakota was selling a fraction of what the Ford Ranger, Chevrolet S-10, and GMC S-15 were turning in on a regular basis.
To that end, the Pentastar decided to get creative. Hamstrung by a smaller financial endowment as compared to other American brands, and still stinging from recent bankruptcy, subsidiary Dodge was forced to explore alternative methods of adding some shine to the Dakota's order sheet.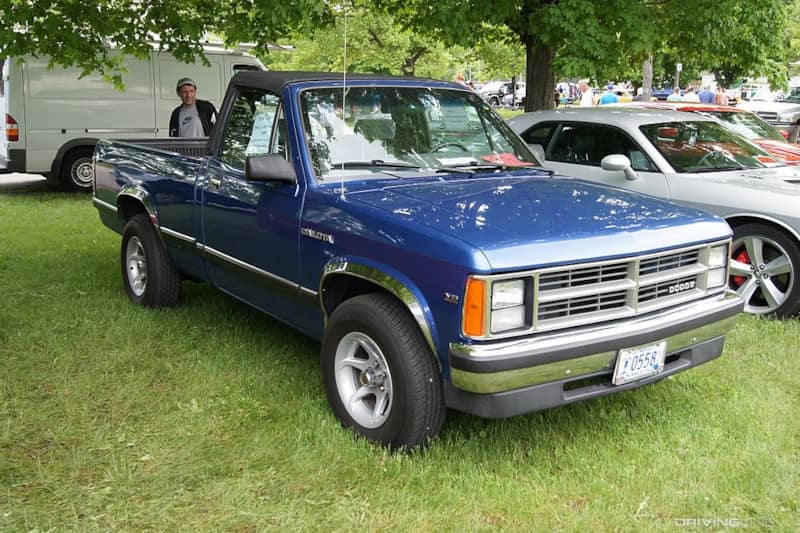 On the performance side, the company turned to Carroll Shelby to develop a street version of the truck (the imaginatively named Shelby Dakota), which came out in 1989. It would offer a 5.2-liter V8 engine producing 175 horsepower and 270 lb-ft of torque, and this motor would later become an option for non-Shelby models as well.
That same year, a much different version of the truck also appeared in dealerships: the Dakota Sport Convertible, the first soft-top pickup to ever darken a dealership's doorway.
Corporate Support
When the CEO tells you they have a good idea, you typically don't question it: you just grab whatever cash you can from the design slush fund and run with it. Such was the case with the Dakota Sport Convertible, which began as a suggestion from Dodge honcho Jerry York and ultimately made it to market through a partnership with sunroof manufacturer ASC.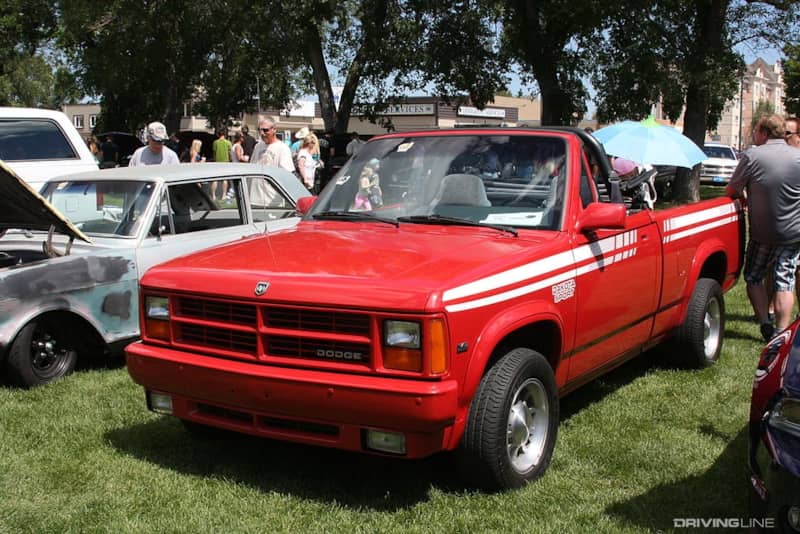 In a script that was familiar to many 80s-era special models, American Sunroof Co. would be completely responsible for converting the bone-stock Dakota Sport into the fun factory that was the Dakota Sport Convertible. The formula was a simple one: slice off the roof, weld in a padded roll bar, graft on a vinyl top, and make sure none of the sharp edges were still sticking up at the end. The roof itself was unique in that it could be either folded (although not entirely flat) or completely removed, which was in keeping with the SUV tradition that had no doubt inspired the vehicle.
The first run of convertibles were all Sport trim trucks, which meant a 125 horsepower, 3.9-liter V6 was standard, as was a five-speed manual transmission. Four-wheel drive could be added as an option for those with true Jeep fantasies to play out, while a cassette player, power steering, windows, and door locks, and fog lights were also part of the package. The following year a four-cylinder SE version would also appear for sun-lovers on a budget.
Still Weird, Still Cheap
With its full-frame design and limited cabin size (all Dakota Sport and SE Convertibles were single-cabs), there wasn't much of a body flex penalty with the open-top pickup as compared to similarly-converted cars. Payload and towing capacity were also unchanged versus a standard model, although the vinyl roofs did have a reputation for being easily defeated by the elements.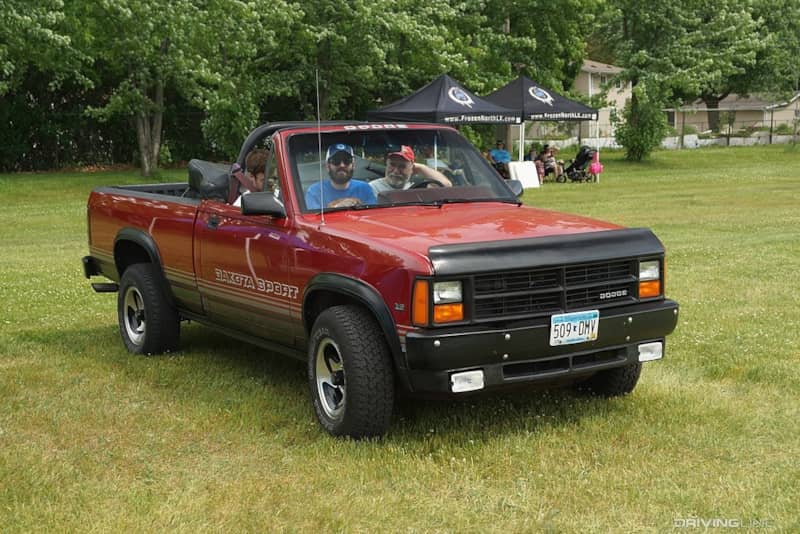 Still, even with its utility intact, the convertible Dakota was a hard, hard sell. In total only 3,759 versions of the truck were delivered to possibly the most adventurous buyers to ever set foot inside Dodge dealership, with a single-digit run having been produced in 1991 to satisfy the contract that had been signed with ASC.
Today, despite their rarity, the Dakota Sport is a remarkably affordable classic. Flying under the radar of most truck fans, it's possible to snag a driver for well under $10k—and if you're willing to stomach a little rust or repairs, half that amount. Mechanically identical to their hardtop siblings, the convertibles are the ultimate conversation starter at gas stations, cruise nights, or Home Depot parking lots where the most common question will be 'did you do that yourself?'
Just remember to stuff an umbrella behind the seat.
Was the Chevrolet SSR a worthy successor to the Dakota Sport Convertible's legacy? We set out to find out.