The King's Chariot: Erik Miller's 2016 KOH-Winning Car
Creativity, experience, and a serious fabrication skillset are the keys to building a vehicle tough enough to survive the hardest Ultra4 Race there is — King of The Hammers. With an extremely high attrition rate, just finishing KOH is no small feat. For 2016, Erik Miller took to the throne for the second time. While luck and talent both take a role in capturing the crown, having the right machine for the job also plays a major role. As one of only a handful of top-tier competitors running a solid-front axle race machine, Erik's Miller Motorsports Pro Chassis continues to prove that an independent front end isn't the only way to be fast in the desert.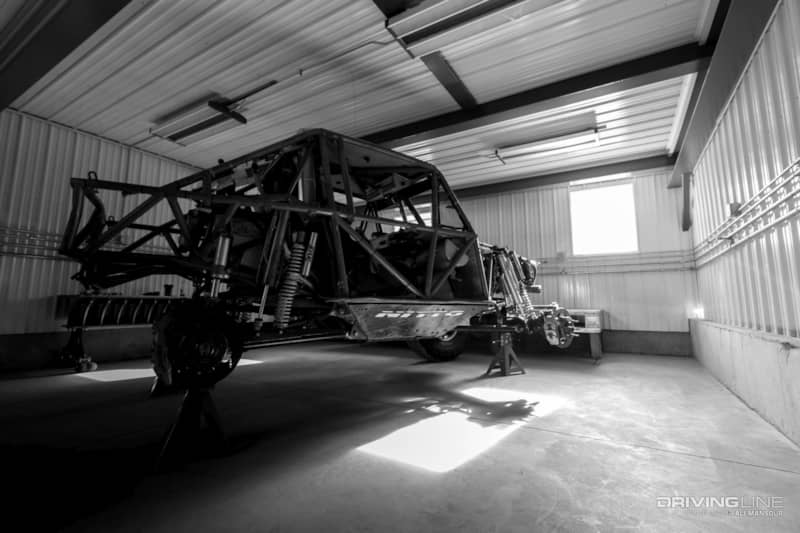 We were interested to see how the battle-proven rig held up after such a brutal race. So, we peeled back the layers on this intricate machine for a closer look.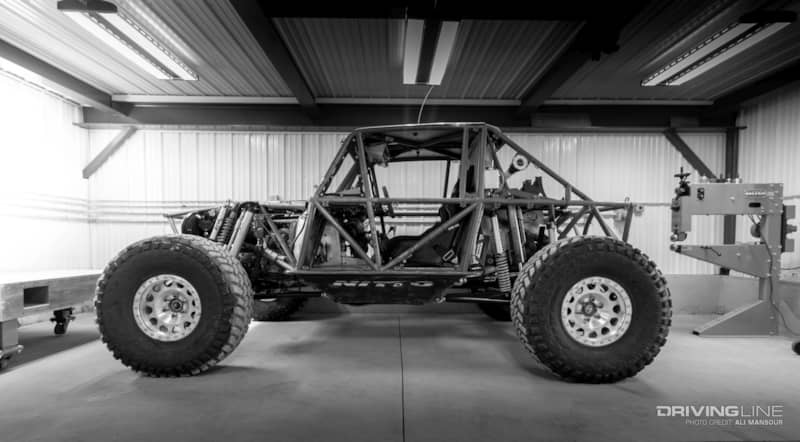 Once you remove the .040-inch aluminum panels, you're left with a stunning array of strategically placed tubing. The Miller Motorsports Pro Series chassis takes cues from an assortment of off-road racing disciplines. Given the brutal racing conditions it often endures, the chassis is comprised largely of 1.75, 0.120-wall 4130 chromoly tubing. For the sub-frame, and more impact-prone areas, 1.75, 0.188-wall chromoly was used. For added strength, the sub-frame is reinforced with 7075-T6 solid aluminum.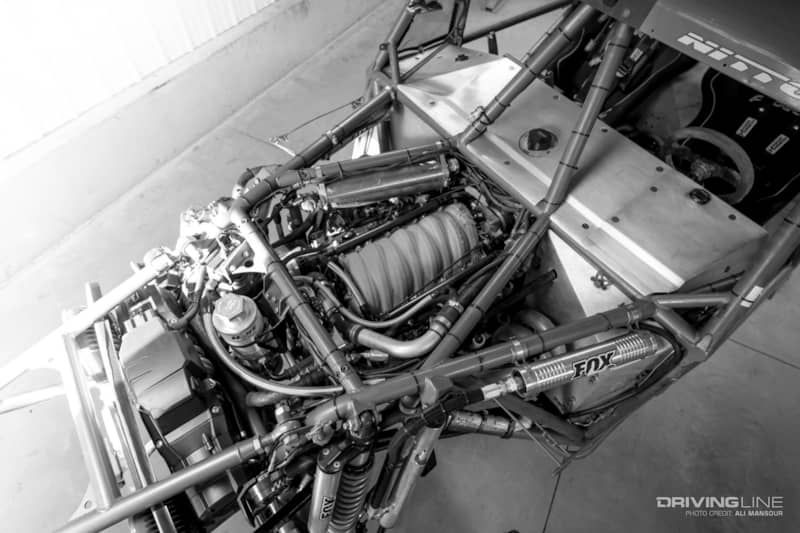 Powering the 5,200-pound race car is a John Bouchard LS7 engine that's pumping out 700 horsepower and 800 lb-ft of torque. The 428ci V-8 has a 12:1 compression ratio, Wiseco small dome pistons, Trick Flow GenX 260 heads, custom Comp Cam, PAC-1207X valve springs, Ti-17 retainers, PAC rocker and trunnion kit. The FAST LSXR intake manifold helps channel the air, while a custom set of headers feed the DynoMax race bullet mufflers. The electrical system gets its charge from a Mechman alternator and dual Total Power 1500 series batteries.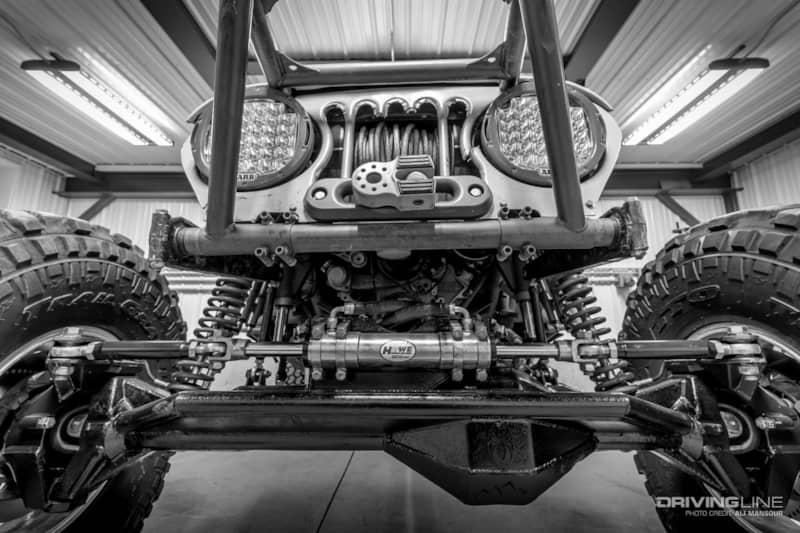 Miller uses a double-ended hydraulic steering ram from Howe Steering. The fact that hydraulic steering is easy to package and doesn't inhibit the 16 inches of vertical wheel travel makes it a go-to for many Ultra4 drivers. Miller's Howe setup is custom built for his rig and works excellent with the Spidertrax 3.5 Pro Series axlehousing.
A four-link front suspension with heat-treaded 4130 chromoly links and massive 1.25 FK spherical rod ends keeps the axle in place. Since the upper arms are triangulated, there's no need for a track bar. Getting its marching orders from the JE Reel front driveshaft is a Gear Works big bearing HP10 third member. Inside, the high-pinion differential uses 5.43:1 gears and a spool to move the Spidertrax 40-spline 300M Pro Series axleshafts. A Canton pan and Accusump accumulator make sure the engine doesn't starve for oil.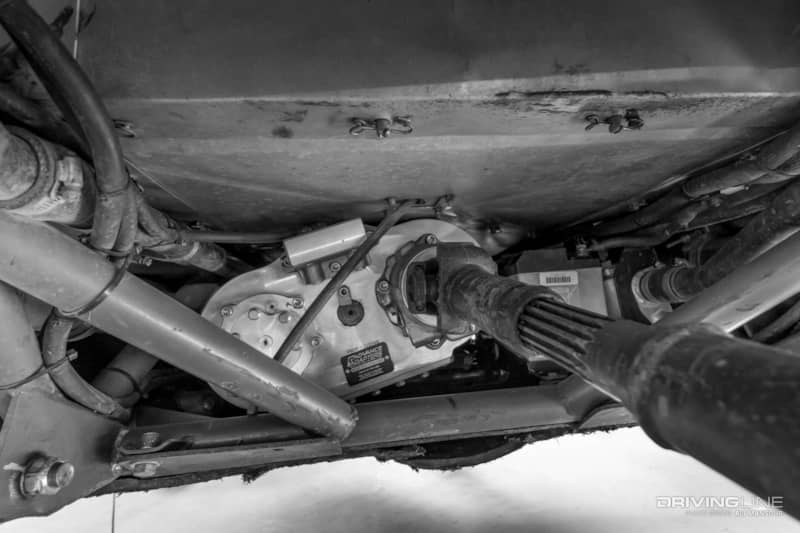 Channeling the power from the Miller Pro Spec TH400 transmission is an Advance Adapters race-spec Atlas II. The two-speed gear-driven transfer case was built with a 3.0:1 low-range ratio, which is plenty gear reduction for blasting through the rocky sections on the trail and track. As is the case up front, a JE Reel 0.250-wall driveshaft fit with 1350 U-joints keeps things turning.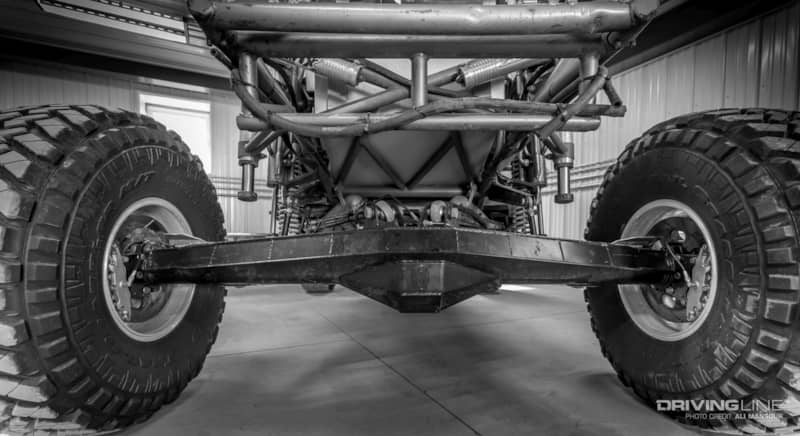 Out back, you'll find a Spidertrax 4-inch Pro Series 'housing that's stuffed with a Gear Works big bearing LP10 differential. The 40-spline Gear Works spool feeds 300M Spidertrax axleshafts. Similar to the front, the upper control arms are triangulated to isolate the rear axle.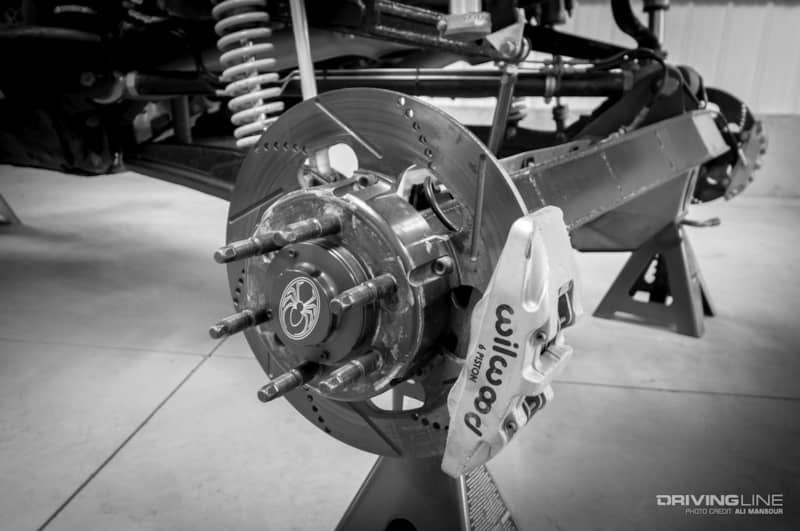 Ensuring Miller has enough stopping power in the dirt are Wilwood DynaPro six-piston calipers at all four corners. These performance clampers are used to sandwich Spidertrax HT Pro Series brake rotors. To makes sure that the car can handle a constant beating, Spidertrax Ultimate unit bearings and 300M studs were used.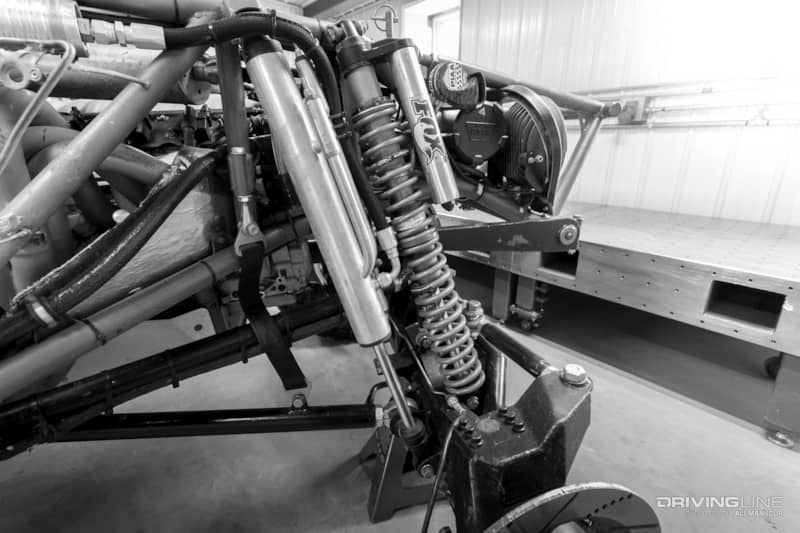 Miller spends an incredible amount of time dialing in his car's suspension. Up front, 14-inch-travel Fox 2.0 coilovers work with four-tube 2.5 Fox bypass shocks. Depending on the race, Miller will rotate in different spring rates of his PAC Racing Springs. To provide a more controlled final stage of up travel, Fox 2.0 bumpstops are used, while limit straps make sure the setup doesn't over extend. Another tool used to fine tune the suspension is the 28-spline PAC Racing Tomahawk sway bar.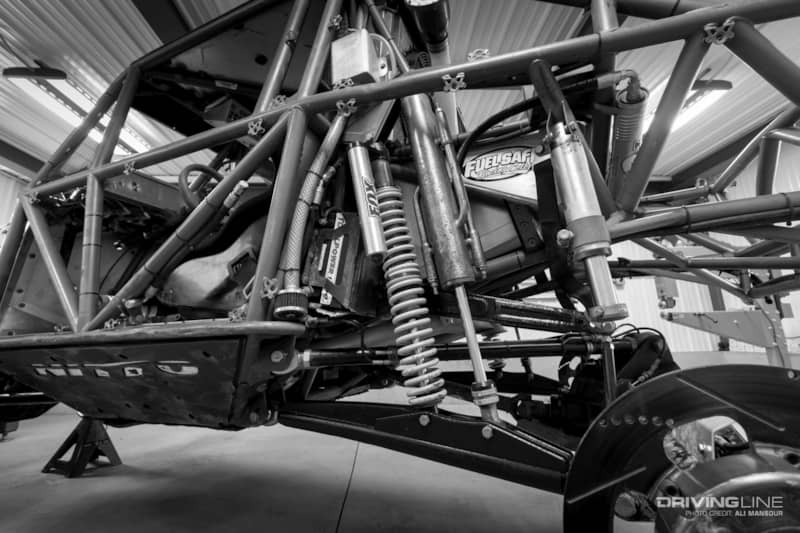 One area that Miller's setup has evolved since his first King of the Hammers win, is the rear suspension. Specifically, he's moved the shocks from the rear axle, to a more desert oriented trailing arm configuration. The move nets him greater suspension travel, which is critical in keeping up a competitive pace. Attached to the 4130 heat-treated lower links are Fox 2.0 coilovers and Fox 2.5 five-tube bypass shocks. PAC Racing Springs support the rig and work to modulate the 20 inches of vertical wheel travel.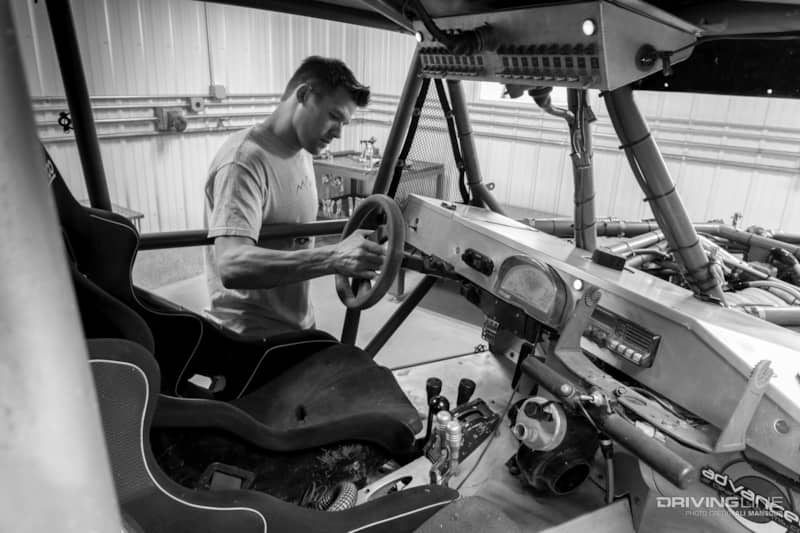 Inside, the two-seater is all business. Sparco Pro 2000 seats are matched with Hooker Harnesses, while a quick-release Sparco P270 steering wheel makes getting in and out a bit easier. Instrumentation comes from a RacePack digital dash, which works with a harness and computer from Pacific Fabrication. Missing from the GPS mount is a Lowrance 10-inch HDS, which is incredibly helpful in races such as King of the Hammers. All communication needs are handled by Rugged Race Radios.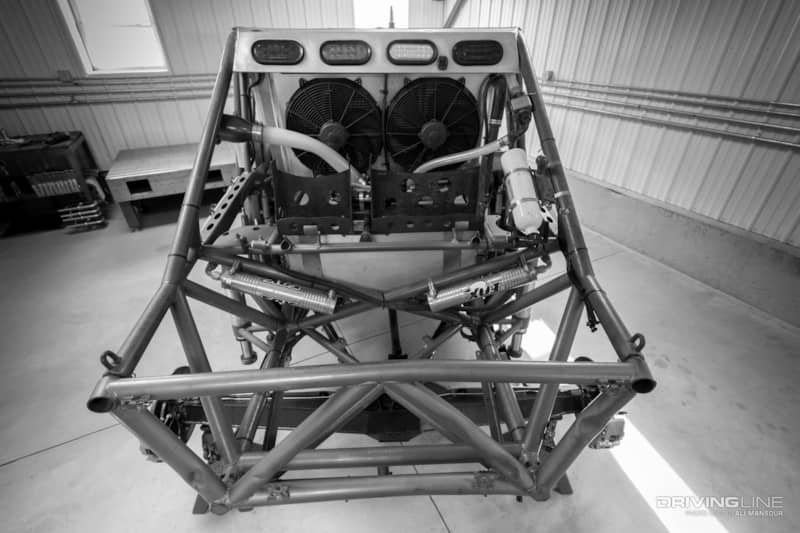 Depending on the race course, Miller has a few options for protecting the back of his rig. Since tire failure is extremely rare for his Nitto-adorned racer, and many of the races can come down to seconds, Miller doesn't run a spare tire. Mounted vertically behind the cabin is the 38x19-inch Ron Davis radiator, which keeps the rig cool with the help of dual 16-inch Spal electric fans.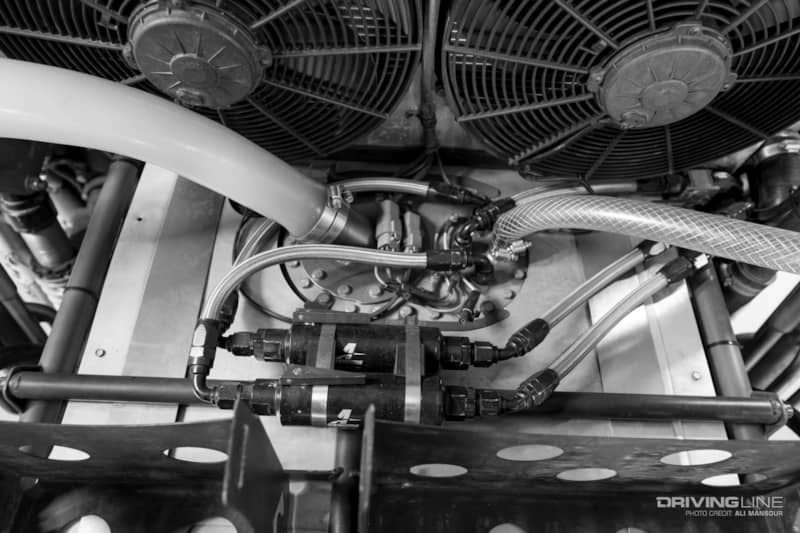 Feeding the engine is a Miller Pro Spec Fuel Safe 40 gallon cell that's fit with dual 044 Bosch fuel pumps and All-Tech baffles. Aeromotive fuel filters and regulator moderate the race fuel, while Fragola -8 lines carry it where it needs to go.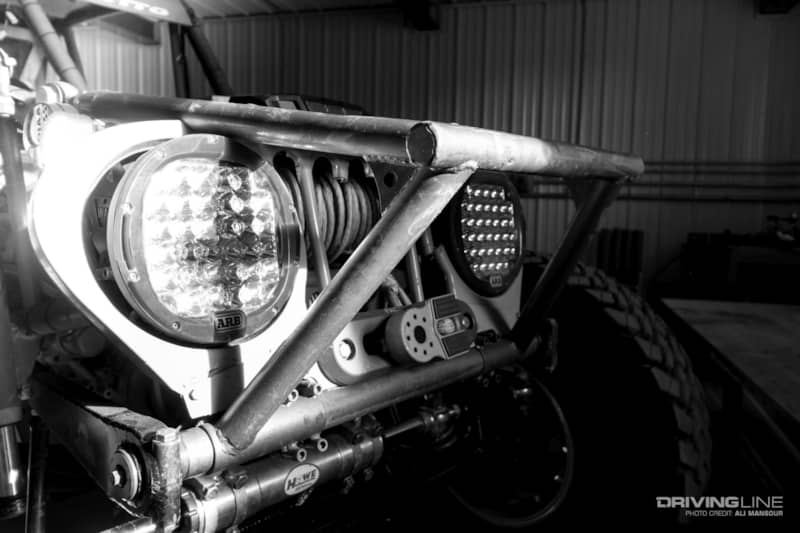 For times when driving up the obstacle simply isn't an option, a Warn Zeon 10-s winch is there to help. Nighttime driving is aided by ARB Intensity series LED lights.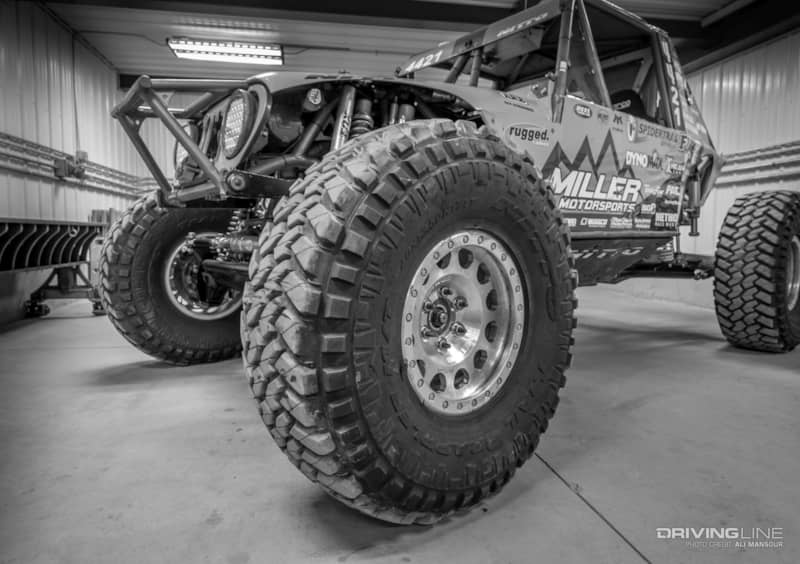 A winning combination for Miller has been his 40x13.50R17 Nitto Trail Grapplers. The Grapplers have proven time and time again to be extremely durable in the most extreme off-road conditions. To make sure the Nitto's stay put on race day, a set of Method 201 Forged beadlock wheels are used to clamp the heavy-duty rubber in place.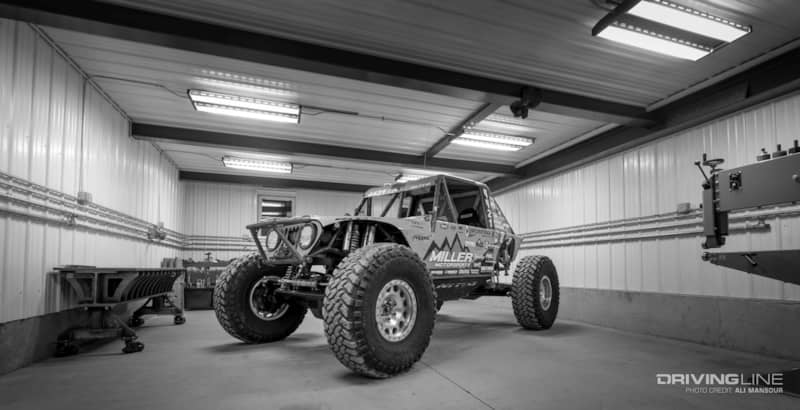 Specs at a Glance
WHEELBASE (in.): 113
WIDTH (in.): 85
BELLY HEIGHT (in.): 15
APPROX. WEIGHT (lbs.): 5,200
Hear what the King has to say about his car in this video.