The Other Alabama: Alabama Hills in the Eastern Sierra
The Alabama Hills in the Eastern Sierra is one of my favorite places to visit. Located near Lone Pine, California, in the high desert region below the Sierra Nevada Range, the name has nothing to do with the state of Alabama. The area was given its name by gold prospectors who were Southern sympathizers during the Civil War. After learning that a Confederate ship named the Alabama had burned, sunk or captured more than 60 Federal ships, they began naming their mining claims after the ship. Soon the entire area became known as the Alabama Hills.
The area is best known as the location where hundreds of Western movies were filmed, including "The Lone Ranger," "Rawhide," "Gunga Din," "How the West Was Won" and many more. There are more than 300 natural rock arches in the area, but most people only see the popular and easily accessible ones. You have to get out and explore to find the rest.
Leaving the Crowds Behind
This time we followed the graded dirt Movie Road for several miles, going past the popular (and crowded) Movie Flats area and turning West down an unmarked spur trail. None of the dirt roads or trails in the Alabama Hills have names or numbers, except the main Movie Road.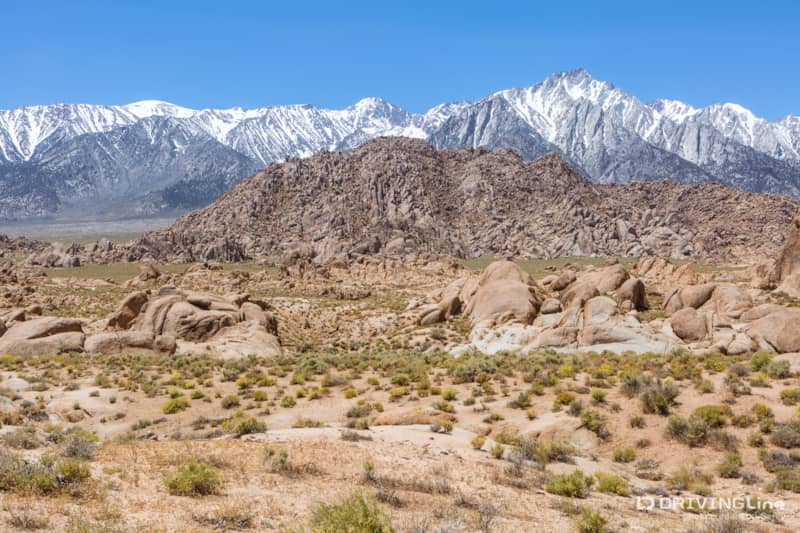 In a few feet there was a small parking area on the side for hiking out to the Boot Arch. I often have to tell people that it's named for the shape of the hole, not the shape of the rock.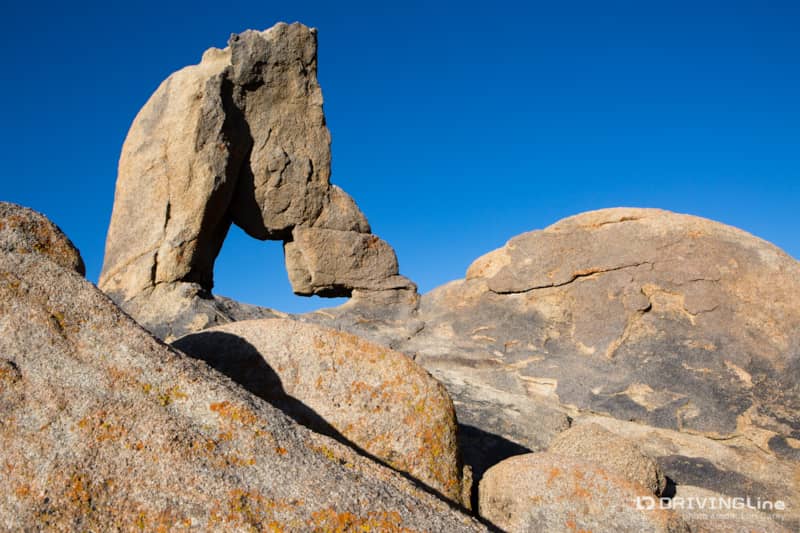 A bit further down we spotted another a small parking area. Most people never drive past this point because after that, the trail isn't maintained, and it starts to get rougher.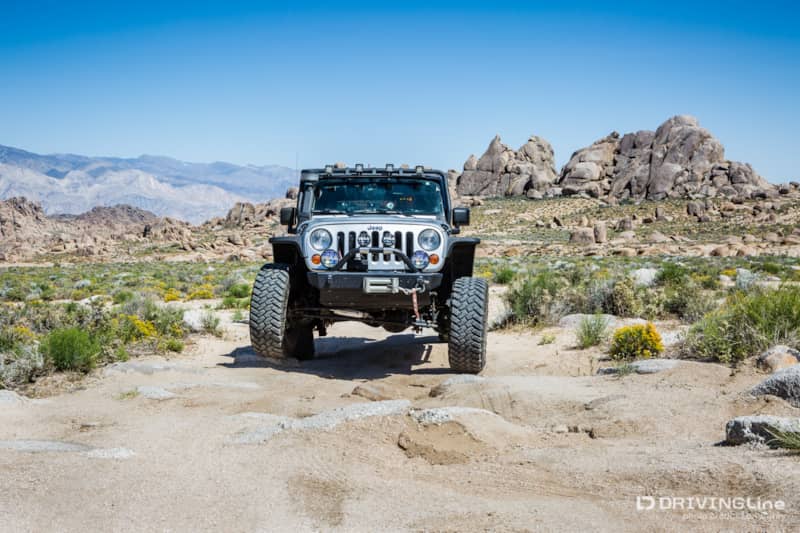 When we spotted a secluded campsite with a fire ring tucked into the rocks, we decided to stake our claim and set up camp before heading out for more exploring. A large boulder blocked access to most vehicles, so it was perfect for us. We didn't know if we would find a better spot further along the trail and didn't want to take a chance on losing a beautiful spot. Plus, it was nice for a change to not have to worry about finding a suitable campsite after it's already getting dark. Then we were back on the trail, heading west toward the beautiful Sierra Nevada Mountains and looking for more to explore.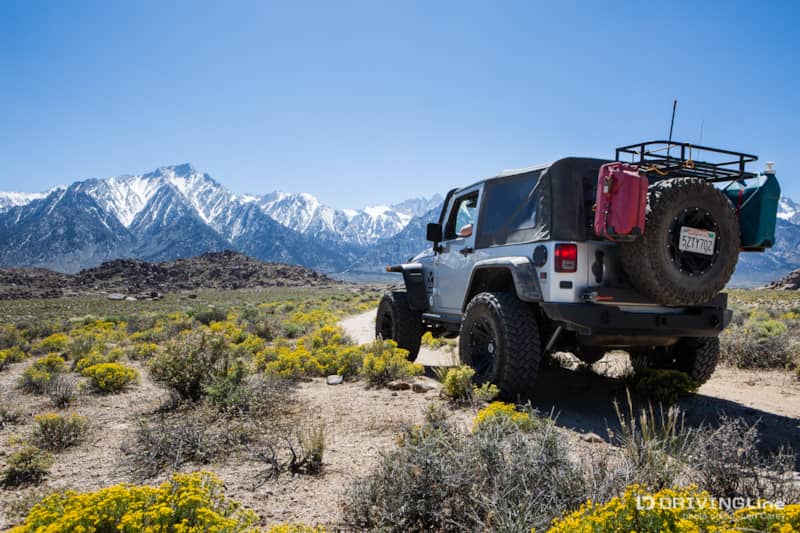 After a few miles we spotted a small sign that said only "Trail" with an arrow. We thought that the steep descent was a hiking trail until we got out of the Jeep and verified that there were indeed tire tracks leading down into the wash.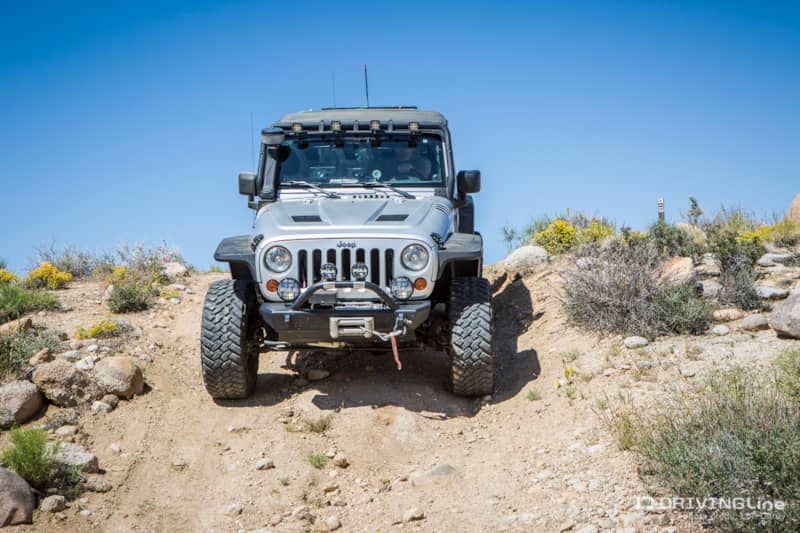 Majestic Sierra Mountains
Beyond the wash, the trail began climbing higher as it winded its way to the base of the mountains. The sharp peak to the left of my Jeep (photo above) is Mount Whitney, the highest mountain in the contiguous United States at 14,505 feet.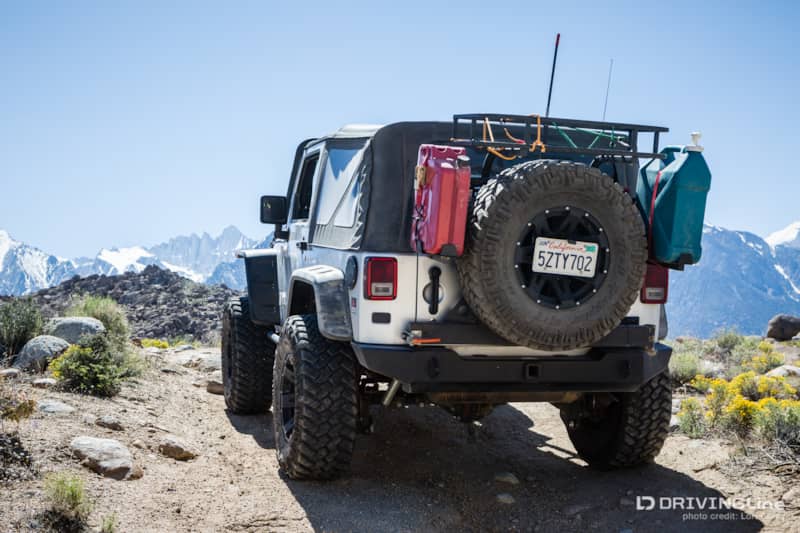 The trail dead-ended at a high vantage point, where signs warned that only non-motorized traffic could continue.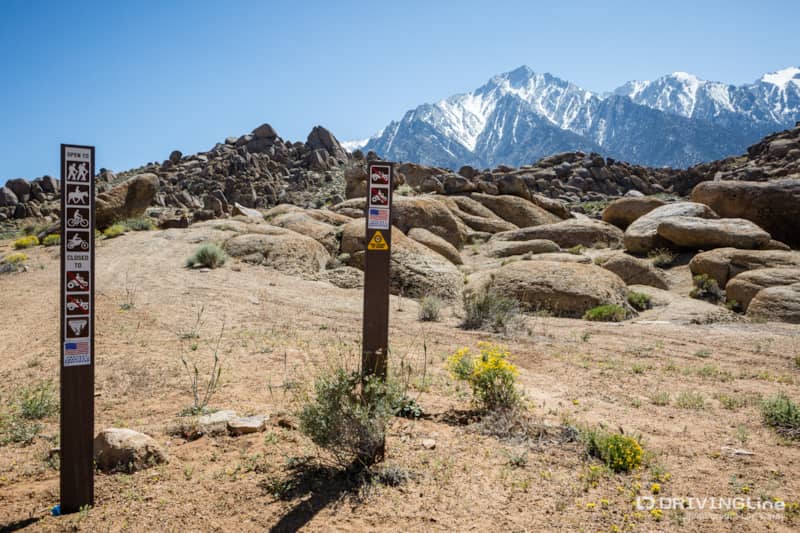 Lone Pine Peak and Mount Whitney loomed so large that I felt as if I could reach out and touch them.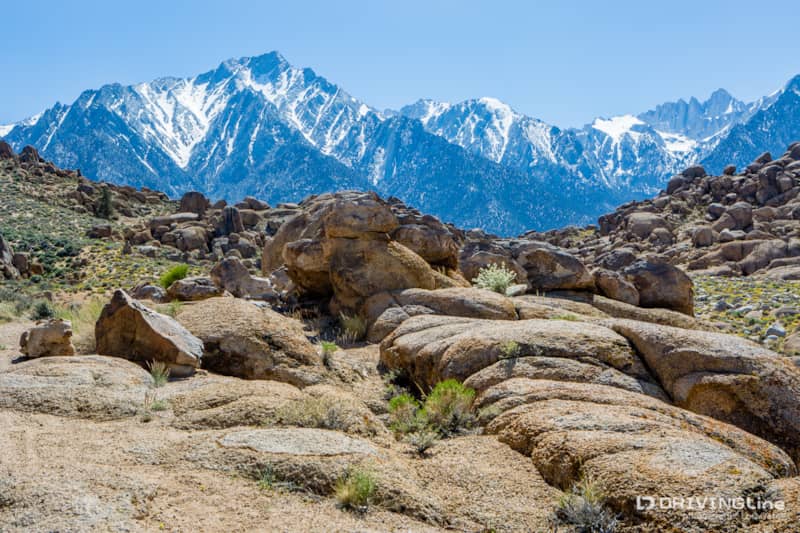 There was a campsite with fire ring on a flat spot here, and I found myself wishing we hadn't set up camp earlier on the trail. It was a beautiful location, with a view of dramatic rock formations for miles, set against a backdrop of snow-covered mountains. We set up the drone and did some aerial photography before I set out on foot to explore.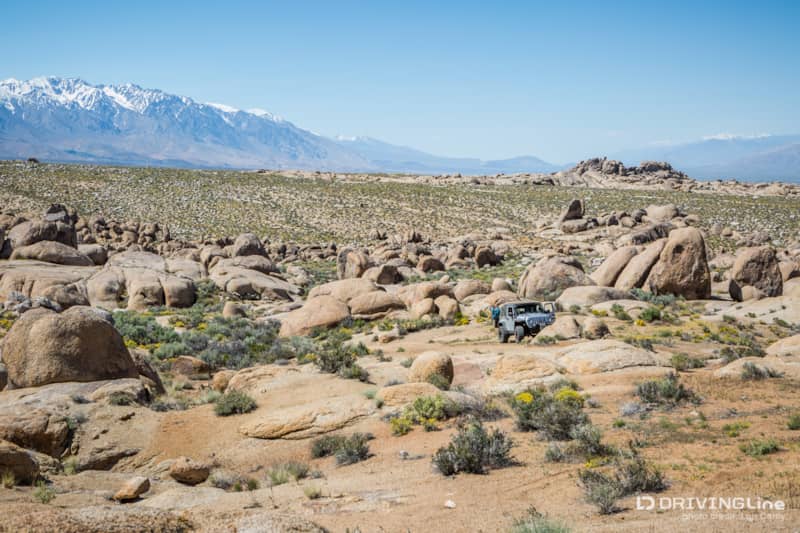 Although it was late May, everything was in full bloom, including the cacti. The desert is always amazing when it is in bloom.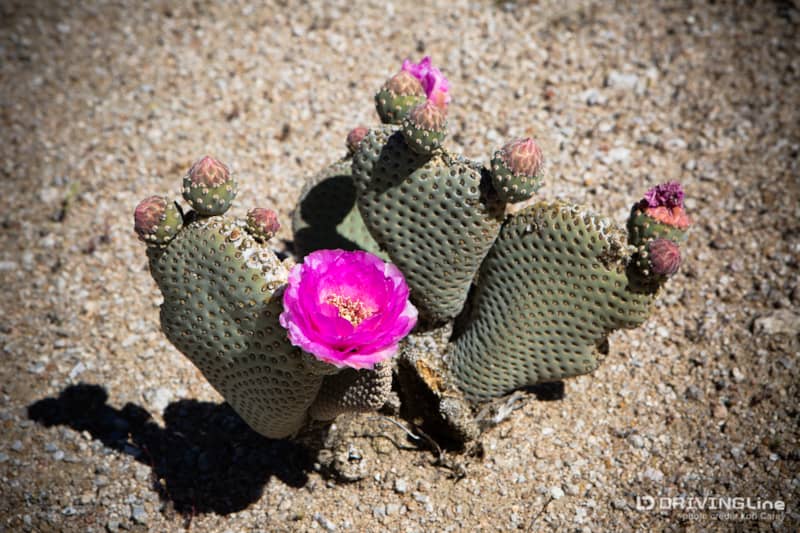 We spotted some cool rock formations, including a baby arch. It may not be as dramatic as the larger arches, but who knows after another thousand years of erosion?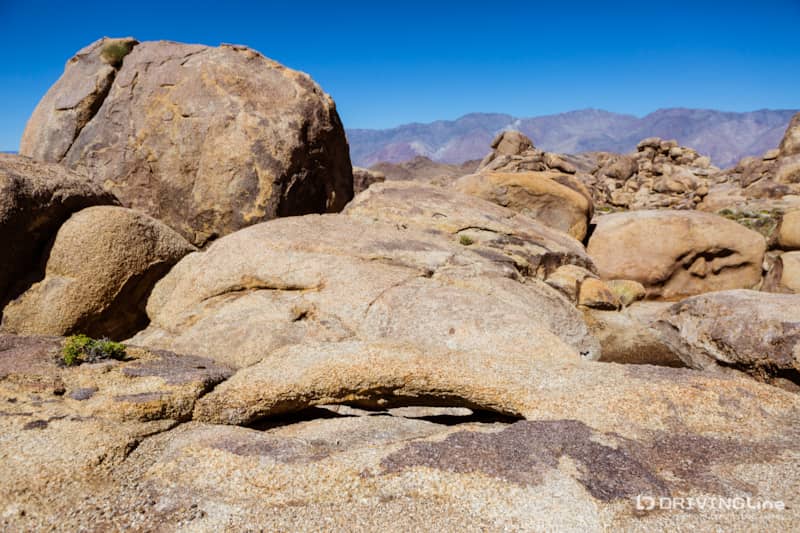 We didn't have any luck finding any of the larger arches here. There was so much to explore that we could've spent days camped right in this spot. But we needed to start working our way back toward our camp, so after a few hours we loaded up our gear and got back on the trail.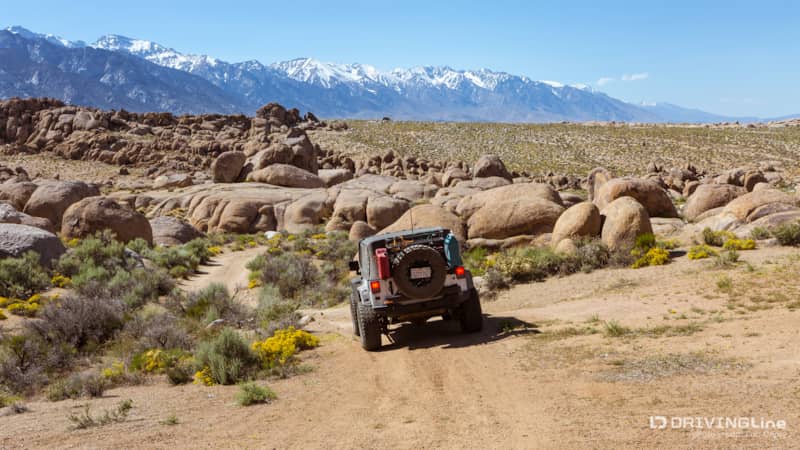 Back at Camp
Back at camp, I went on a scouting hike of the surrounding area to plan my night and sunrise photography.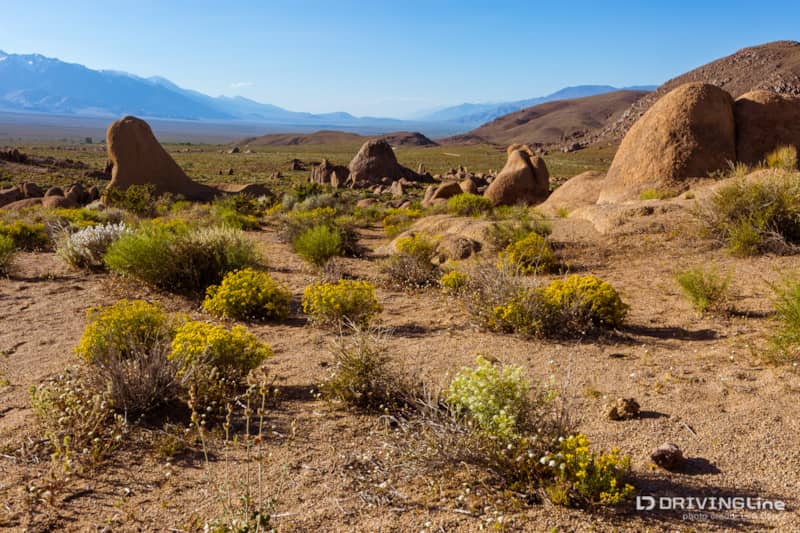 I spotted a large arch off in the distance and decided to hike out to it. It turned out to be the Cyclops Double Arch.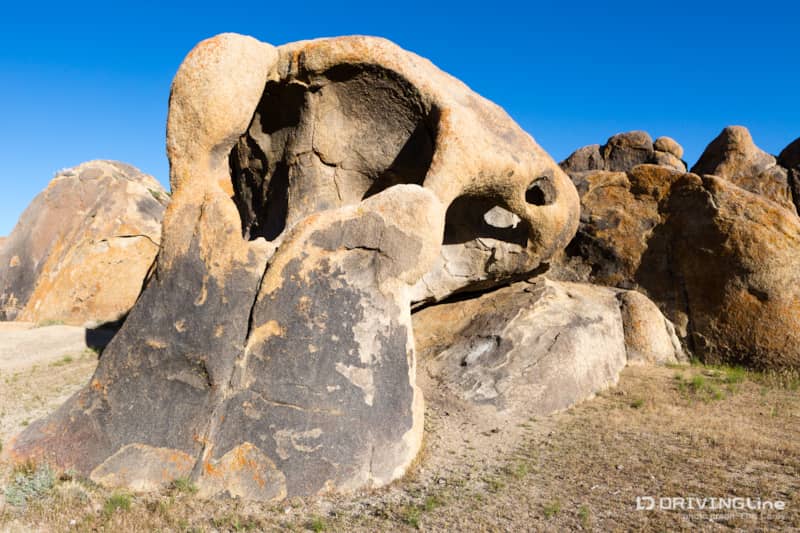 We spent a beautiful night under the stars and didn't regret staying at this camp site one bit.
Plan Your Visit
Alabama Hills is BLM land, accessible from Whitney Portal Road in Lone Pine, California. Dispersed camping is free, but there are no services or amenities: no water, no pit toilets, no trash, no pavement and usually no cell service. There is also very little signage. You can pick up a self-guided tour map of famous movie locations at the Lone Pine Chamber of Commerce, but to find most of the arches you're going to need to do some research or just get out and explore.