The Ram 1500 TRX Is A Mopar Stomp On Ford's Raptor With 702hp Of Hellcat Fury
When the Ford F-150 Raptor first appeared on the scene nearly a decade ago, the Blue Oval threw down a gauntlet that Mopar seemingly ignored. Despite the presence of the rough-and-rugged, heavy-duty Power Wagon in Ram showrooms, Pentastar fans were provided with no direct answer to the high speed desert running fun offered by Ford's long-travel beast.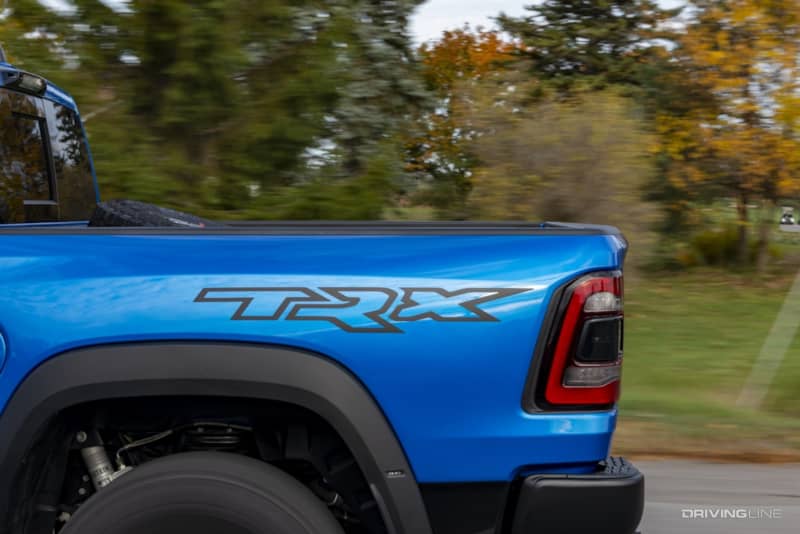 Flash-forward to the 2021 model year, and a lot has changed. A concentrated campaign of stuffing the supercharged Hellcat V8 into any platform larger enough to accommodate its over-muscled proportions has finally tapped the Ram 1500 on the shoulder.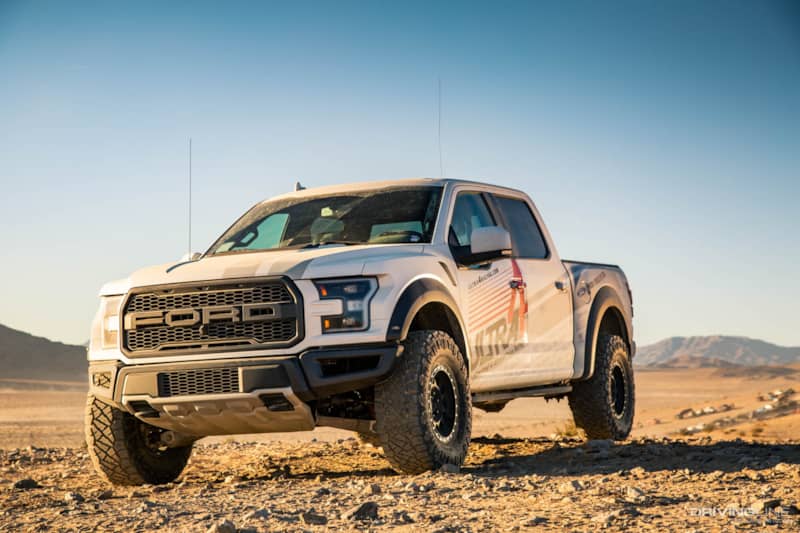 The end result is the Ram 1500 TRX, a truck with humongous horsepower that is aimed squarely at off-road fans who simply aren't satisfied by Ford's EcoBoost V6. 
The Most Powerful Truck On The Market 
Any discussion of Raptor vs. TRX is going to hinge around each vehicle's respective power plants, and it's here that the Ram pulls ahead mightily. Sporting the same 6.2L supercharged V8 found in the Dodge Challenger Hellcat and the Jeep Grand Cherokee Trackhawk, for the pickup platform it has been tuned to provide 702 horses and 650 lb-ft of torque. That five pony drop on the Hellcat truck from the standard 707 can be attributed to stronger filtration for dust and dirt through the hood-mounted scoop.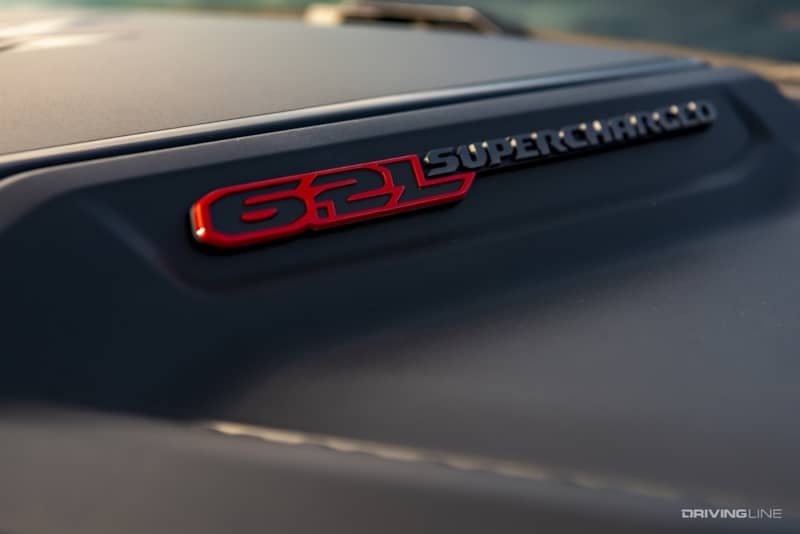 The Ram's output dwarfs the current Raptor's 450hp, 3.5L twin-turbo V6 to the point where the next-generation Ford Raptor "R"—due later this year—is planned to deliver a new eight-cylinder option to help counter the TRX's brawn. Any time an automaker can trigger that level of response from a direct competitor, it's a sure sign it's hit on a winning formula.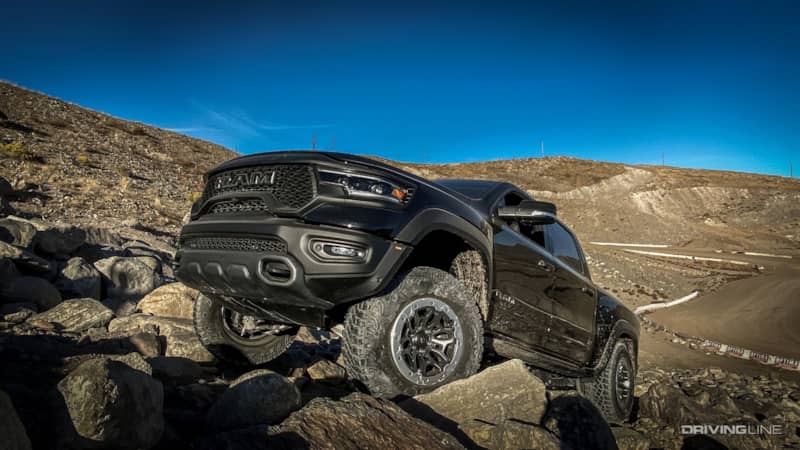 Rounding out the Ram 1500 TRX's drivetrain is an eight-speed automatic transmission coupled with a full-time BorgWarner 48-13 four-wheel drive system. The latter has been significantly bolstered to handle the near-constant torque pressure from the Hellcat motor, and it's paired with a long list of terrain-specific drive modes (Mud/Sand, Baja, Rock) as well as asphalt-oriented setups (Auto, Tow, Snow, Custom, and Sport). These affect not just the four-wheel drive system's power management, but also throttle response, gear-holding, suspension settings, and steering feel.
Big And Bulky
All of that oomph requires more than a little chassis magic to keep under control, particularly when planning to match the Raptor's high speed off-road pace. Throw in the fact that the 1500 TRX weighs nearly 7,000 lbs, and the issue gets underlined in bright red ink.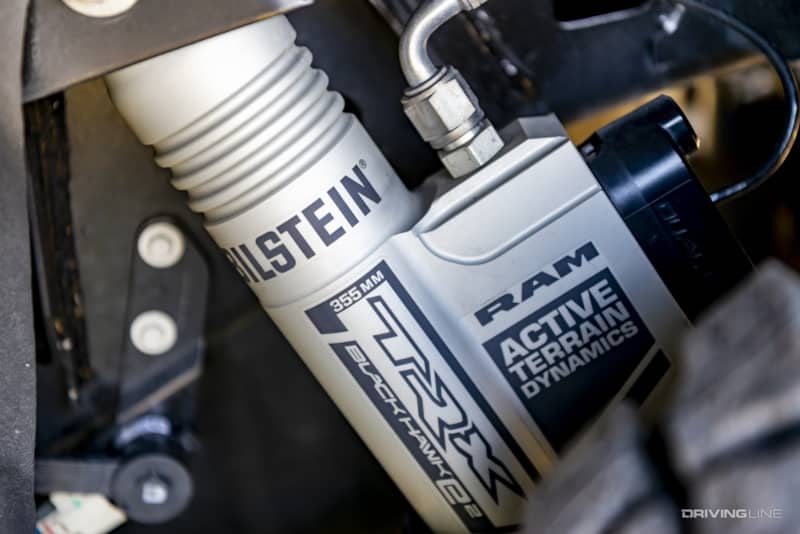 Fortunately, Ram's extensive experience with coil suspensions works to the Hellcat truck's advantage. A set of 2.5-inch diameter Bilstein remote reservoir shocks combine with a five-link rear setup and electronically-adjustable damping to give the TRX more than 13 inches of suspension travel, as well as impressive approach and departure angles for such a large, bulky truck. The chassis has also been stiffened to help better resist torsional force both when crawling across uneven rocks or bouncing from one big bump to another at speeds of up to 118-mph. You get almost 12 inches of ground clearance in the Ram, too.
Unstoppable Bull
What's it like to hoon the 2021 Ram 1500 TRX across a straight stretch of mud-filled holes? Despite a crushing amount of power, the TRX is remarkably controlled as it dispatches even the most banging of stiff-legged landings.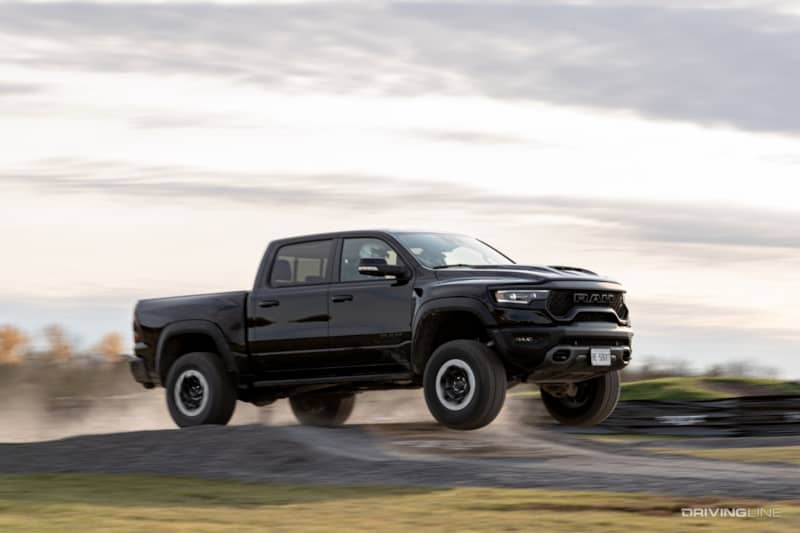 I had no issue pegging the throttle after selecting the correct drive mode and letting the truck's electronic suspension system work its mojo across any length of slippery trail.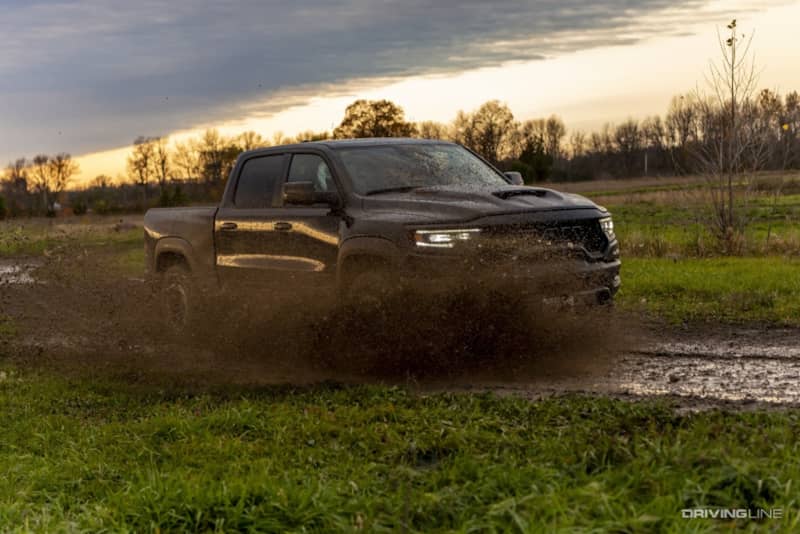 In fact, it was me who cried 'uncle' well before the Ram, as the truck is capable of such incredible off-road speeds that my head felt like it was being used for tetherball practice before I backed off the gas. At slower speeds, too, the TRX was elegant in finding traction before bludgeoning any rocks or grass that got in our way with the judicious application of monster torque.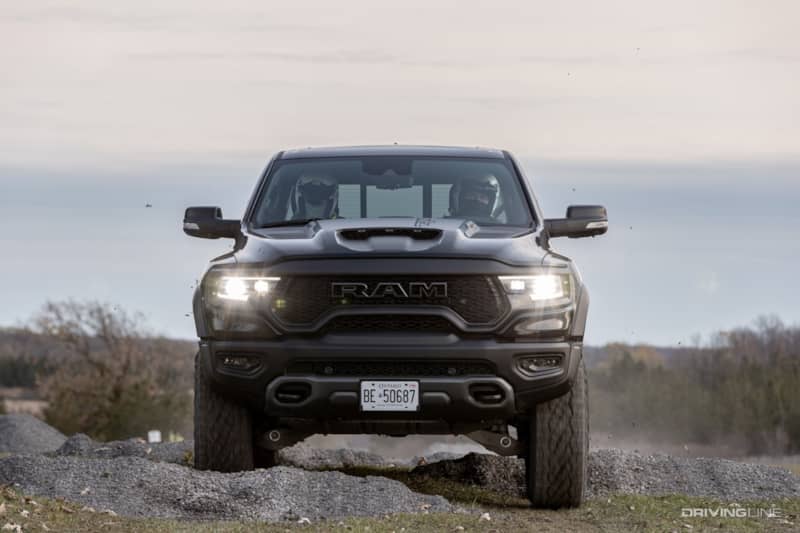 My only real concern came when the trees on either side hemmed in the enormous truck, forcing me to slow down and ensure that its ultra-wide body could fit through the next gap in the forest.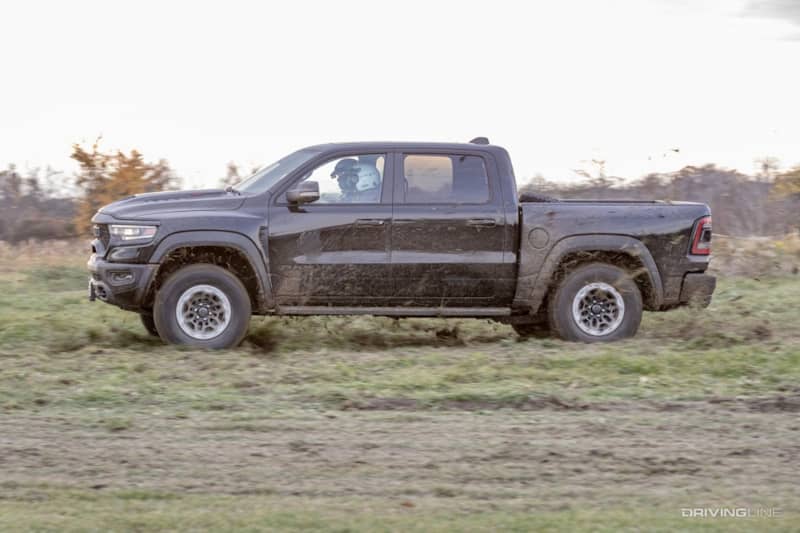 On the street, the Ram 1500 TRX is much more of a mixed bag. In 'Auto' mode, flooring the accelerator unleashes enough power to roust the front end off of its soft suspension, tilting the hood maniacally as the suspension twists under the load from the 6.2L motor.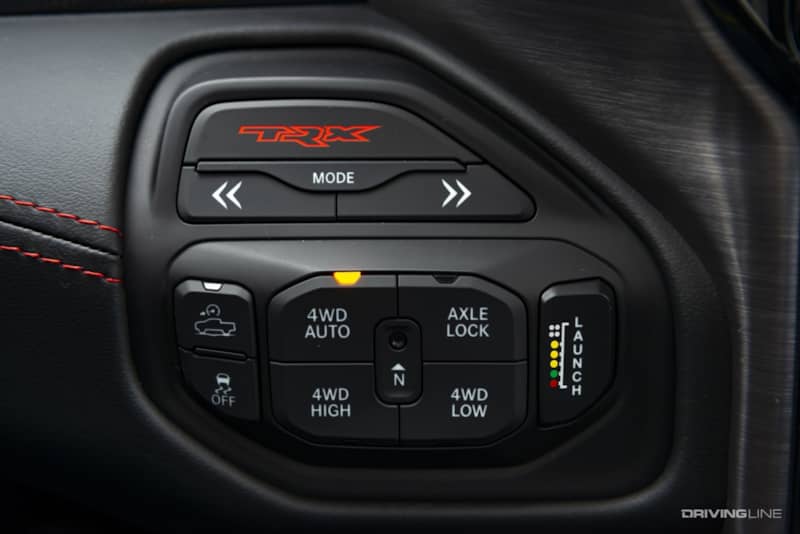 Choose 'Sport' and you're granted a more pleasing level of body control, but there's still the question of the pickup's massive proportions and enormous weight to consider while cornering or braking. There's enough power to get you into trouble, quickly—0-60 mph arrives in less than 4 seconds—but you'll largely have to rely on your own common sense to get you out of it.
Big Fun, Big Price
Without a doubt, the Ram 1500 TRX is an impressive package. If you can get past its over-the-top, trophy-truck-try-hard styling, you'll be treated with a fantastic, and roomy interior, along with a reasonably comfortable and docile daily drive as long as you can resist dipping into its endless reserves of Hellcat horsepower.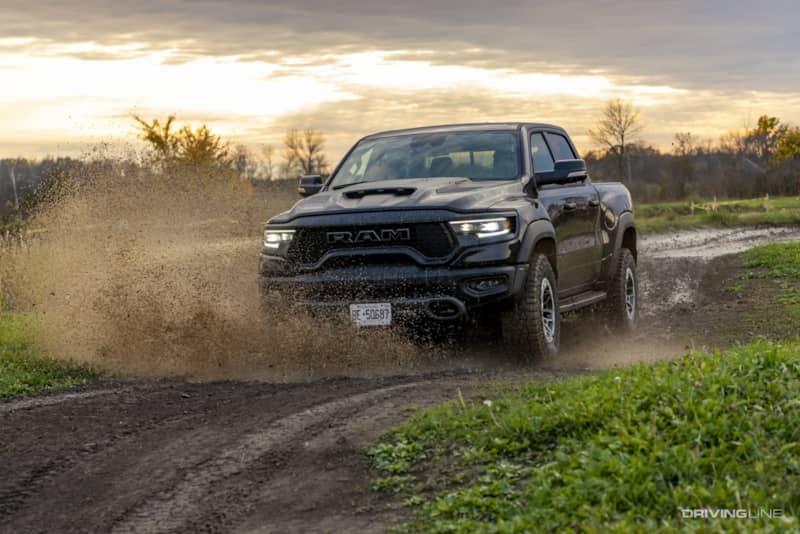 Still, with pricing that starts at just over $70,000, if you can afford the TRX's window sticker you probably won't be too worried about its single-digit fuel mileage, which in the real world tends to undercut its still-staggering 12-mpg EPA rating in combined driving.
The supercharged Ram might not be a truck for every occasion, and it's certainly not a logical choice as a commuter or a work truck (good luck loading cargo into its ultra-high bed sides, or finding room for your gear alongside its bed-mounted spare). That being said, like the Raptor, it's very, very good at bringing your Baja fantasies to life, and it does it with a roaring V8 soundtrack that the less-gifted Ford pickup simply can't match.