The World's Fastest Power Strokes
Ford's powered by Power Stroke-they're the slow, perpetual under dogs of the diesel performance world. At least, that's what some of the opposition thinks (and often says). Unfortunately for the Blue Oval haters of the world, Ford fans are some of the most loyal, dedicated truck owners on the planet—and the two record-holding Power Strokes presented in this article help validate this point. Both trucks are campaigned and sponsored by diehard Ford fanatics that've been at it for years.
The first rig is driven by Rawlings Barnes of Rudy's Diesel Performance and is currently the quickest 1/8th mile Power Stroke in the world. It recently clicked off a 4.98-second 660 at 140 mph during the Rudy's Fall Truck Jam event held on October 6-7 in Julian, North Carolina. As you might've guessed, Barnes' fiberglass, Pro-Mod Super Duty is also the first Power Stroke to ever dip into 4-second territory.
The second record-setting Power Stroke on our list is owned by another North Carolina native: Brian Jelich. His '00 F-350 is propelled via 7.3L power and has been a staple in diesel drag racing for nearly a decade. His steel-bodied, first-generation Super Duty is the quickest and fastest 1/8th mile 4x4 Power Stroke in the world, having recently laid down a blazing 6.19-second pass at Diesel Truck Wars.
Scroll on for the full scoop on these 1/8th mile assassins.
Pro-Mod Super Duty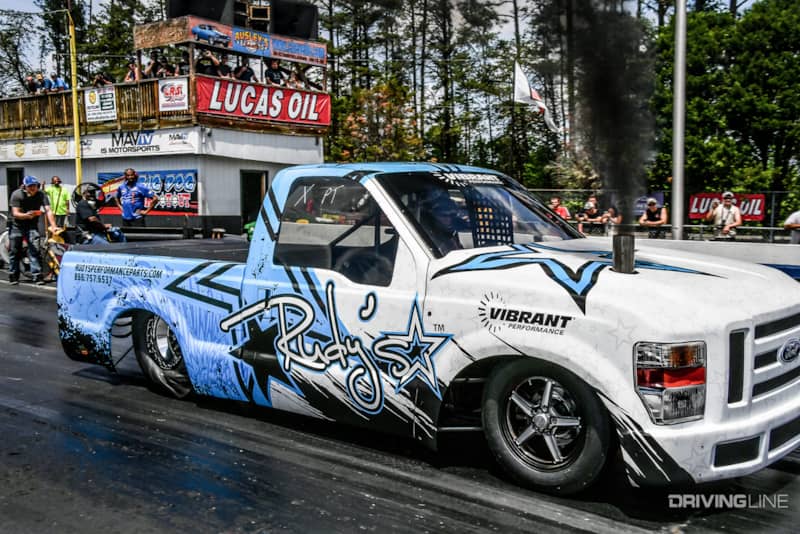 The Rudy's Diesel Performance-backed Pro-Mod truck driven by Rawlings Barnes regularly competes in the Outlaw Diesel Super Series (ODSS), which with this sanctioning body only running the 1/8th mile at its events explains why the truck hasn't yet taken a stab at the Power Stroke quarter-mile record. The truck sports the original cab off of an '08 F-250 but is otherwise constructed of fiberglass or carbon fiber. And for a Super Duty this baby is light—weighing in at 3,542 pounds with Barnes in the driver seat.
4.98 at 140 MPH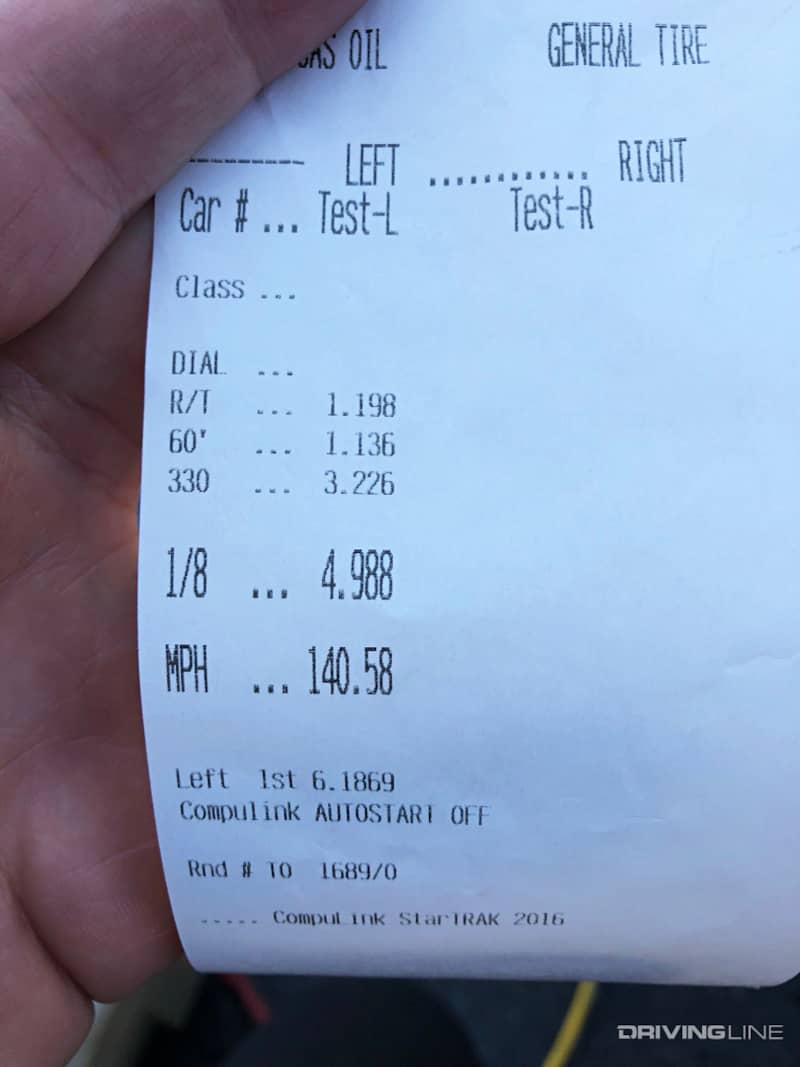 Although it took most of the racing season to get the truck dialed in, things are finally starting to pay off. At the Rudy's Diesel Performance hometown event back on October 6-7, Barnes and crew would achieve a best-ever 4.98-second eighth-mile pass at more than 140 mph. According to the NHRA's 1/8th mile-to-quarter-mile conversion factor, that ET and speed translates into a 7.83 at 175 mph. This is a pretty good start considering the engine has been tuned very conservatively to date. Barnes and the Rudy's team have wisely left the power backed down until the truck began to make consistent, clean passes, which it's starting to do.
Exotic 6.4L, Proven TH400 Trans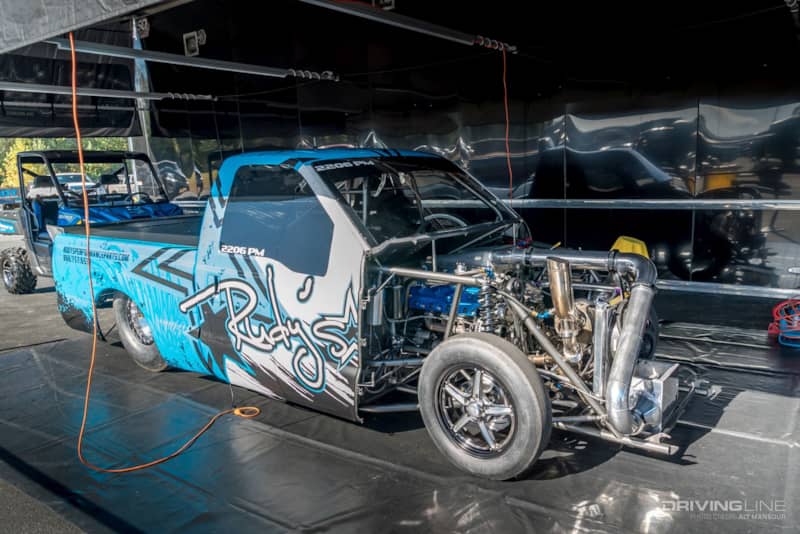 Speaking of the engine, a 6.4L Power Stroke resides under the hood. It's been built for battle courtesy of Carrillo rods and Mahle forged-aluminum pistons, with an extensively ported set of factory-based, cast-iron heads from Elite Diesel Engineering. The fuel system's makeup consists of River City Diesel 150-percent over injectors, Rudy's Diesel Dual K16 high-pressure fuel pumps and two 230-gph AirDog low-pressure supply systems. Engine tuning is handled via a MoTeC stand alone ECM and the potent Power Stroke is backed by a Rossler Transmissions Turbo 400 and a Neil Chance converter.
1,300 HP and Legal to Run 6.50
Originally, the truck was built to pull double duty: compete in both Pro Street and Pro-Mod. It packed a triple-turbo arrangement as well (as this photo from the 2016 PRI Show reveals). However, the build morphed into the chassis being constructed to solely meet Pro-Mod class specifications (SFI 25.3 and legal to go 6.50 in the quarter-mile) and the triple-turbo configuration was ditched in favor of a single S475 from Precision Turbo & Engine. According to Barnes, the single charger spools quicker, simplifies the entire setup and still positions the truck in the power range it needs to be in (1,300-plus hp). The chassis was built at nearby Elite Fab and Design, with all suspension work being performed by Menscer Motorsports. Look for Barnes and the Rudy's Ford to dig even deeper into the 4's next season or make it to the quarter-mile to take a few shots at mid 7's.
No Stranger to Speed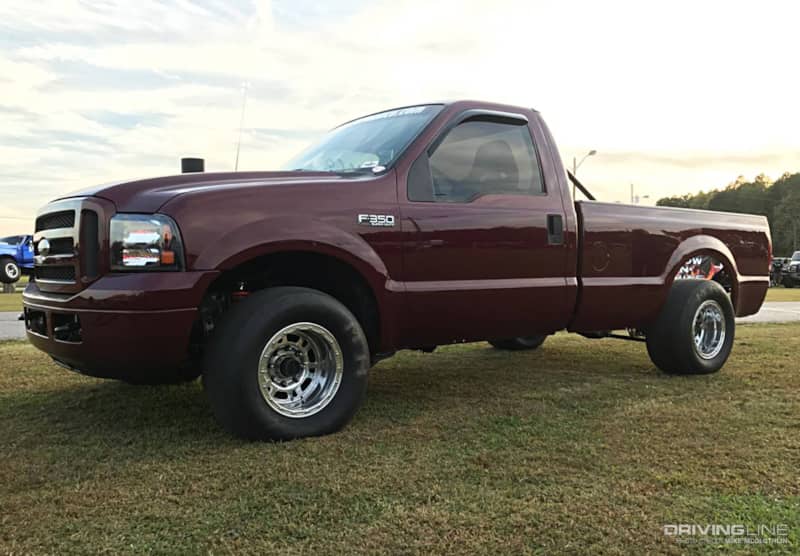 Having run mid 10's in the quarter-mile all the way back in 2010, Brian Jelich is a well-known commodity in the Power Stroke realm. After campaigning several different engine setups (from stock rods to built-to-the-hilt), some of the best HEUI injection system parts in existence and countless PCM calibrations (he personally tunes his engine), Brian knows what works and what doesn't when it comes to the 7.3L Power Stroke. If it makes power, chances are he's tested it. Thanks to cam and head work, Jelich's '00 F-350 has been charging deeper and deeper into the 6's in the 1/8th mile over the past several years. But most recently, it was the four-linking of the truck and a 600-pound weight reduction performed at Paul's Custom Fabrication that got the truck to hook and book even quicker. The standard cab Super Duty now weighs in at 5,700 pounds and nabs 1.4-second 60-foots.
6.19 at 112.98 MPH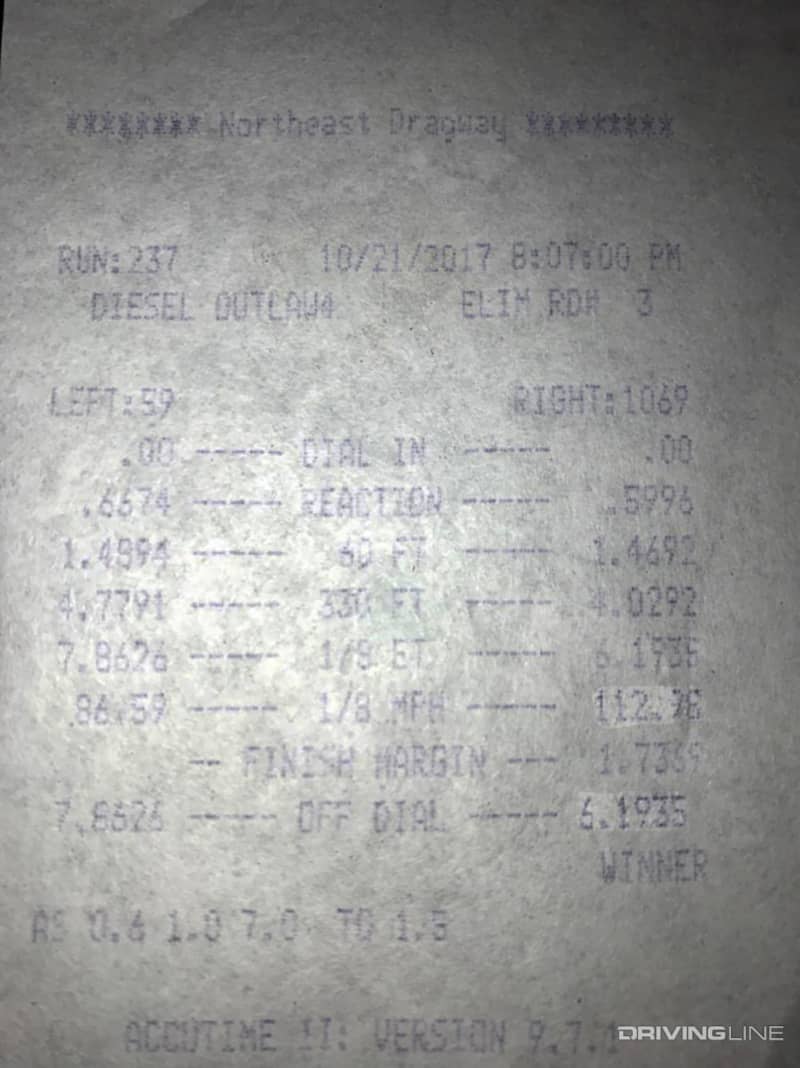 In the case of a 3-ton truck, losing 600 pounds is equal to picking up roughly 100hp—and Jelich made the most of it when he stole the show at the most recent Diesel Truck Wars event held in Hertford, North Carolina, on October 21. Jelich's 6.19 at nearly 113 mph not only makes his four-wheel drive F-350 the quickest 1/8th mile Power Stroke in existence, but it means the truck is capable of running 9.70's in the quarter-mile (at 140-plus mph). Not too bad for a HEUI-injected 7.3L—a true dinosaur in the now high-tech diesel world.
B.A. Hard Parts & Big Fuel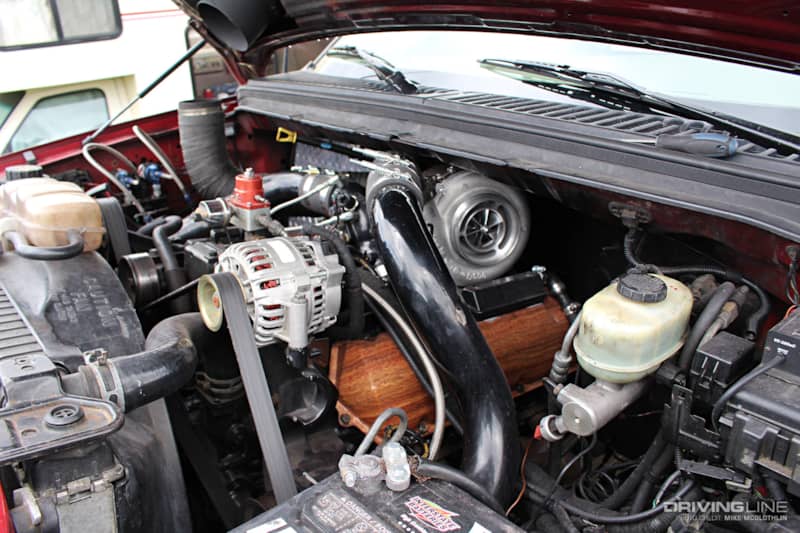 A built 7.3L, equipped with heads ported by Crutchfield Machine and complemented by a Stage 2 cam from Gearhead Automotive Performance, allow the engine to both produce and endure the stresses of roughly 1,250hp at the crank. A set of 400/400 injectors and a Gen3 high-pressure oil pump from Swamp's Diesel Performance bring the HEUI injection system (a design that has never been widely embraced for yielding big horsepower) to life, while Jelich's own PCM calibrations keep the big injectors tame enough to drive the truck on the street. Efficient power transfer to the front and rear axles comes by way of a Level 4 4R100 built by Twisted Diesel Performance. Also notice that the valve covers have been Plasti Dipped for a touch of unique dress up under the hood.
Big Single, Little Spray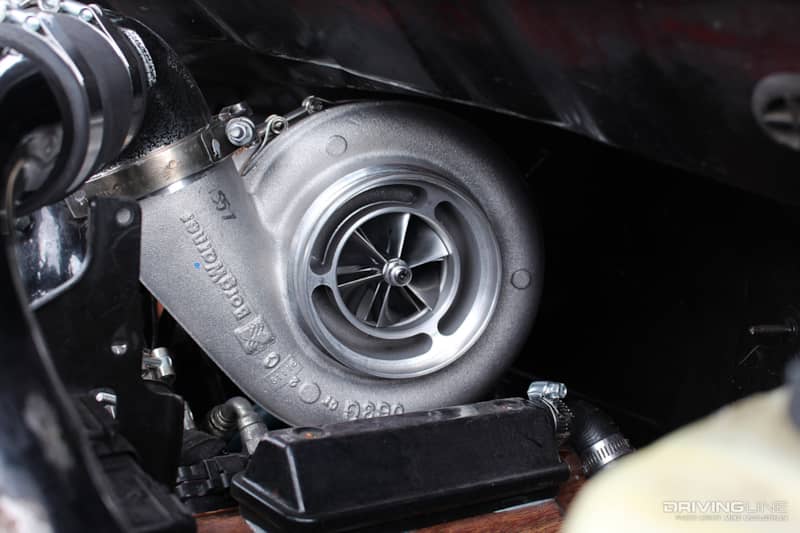 Although Jelich courted a compound arrangement once upon a time, he has always experienced his greatest successes with a big single turbo feeding the 7.3L. Currently, he relies on an S400-based charger from Forced Inductions. Called the S400SX-76R, it features a billet compressor wheel with a 76mm inducer and makes between 50-55 psi of boost on fuel. With Jelich's fairly conservative two-stage nitrous system activated, boost jumps up to around 60 psi. To keep drive pressure (and boost) from getting out of hand while spraying, the charger is externally wastegated.
Dyno King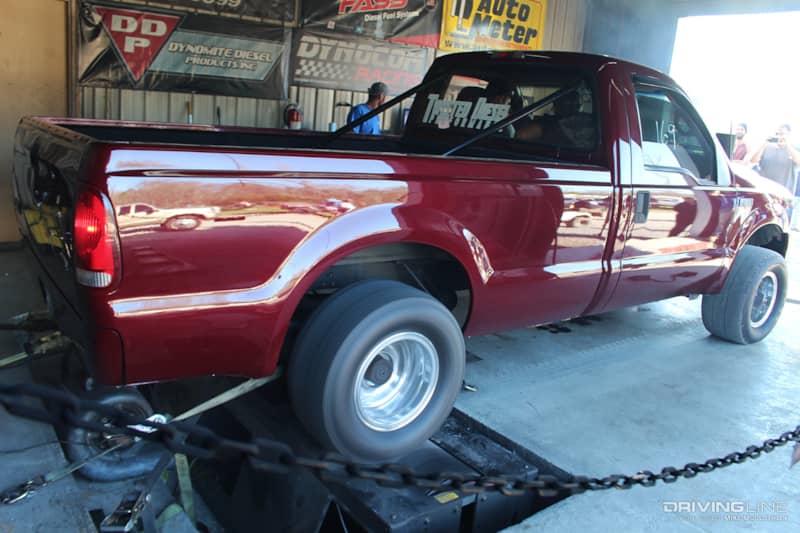 In addition to walking the walk at the drag strip, Jelich is known for rocking the rollers at chassis dyno events and we've seen his Super Duty lay down more than 1,000 hp on several occasions. Here, he's in the midst of laying down a nitrous-assisted 1,080 hp. The pass before—a fuel only run—resulted in 808hp. In this video, you can see the truck clear 1,069 hp aboard the former yardstick-dyno of the diesel industry: Dave Dunbar's old Dynojet 248C.
The action photo of the Rudy's Diesel Performance drag truck was provided by Amy Gilbert of Stainless Diesel.