They Call Her Imogene. Traversing Colorado's Classic High-Mountain Pass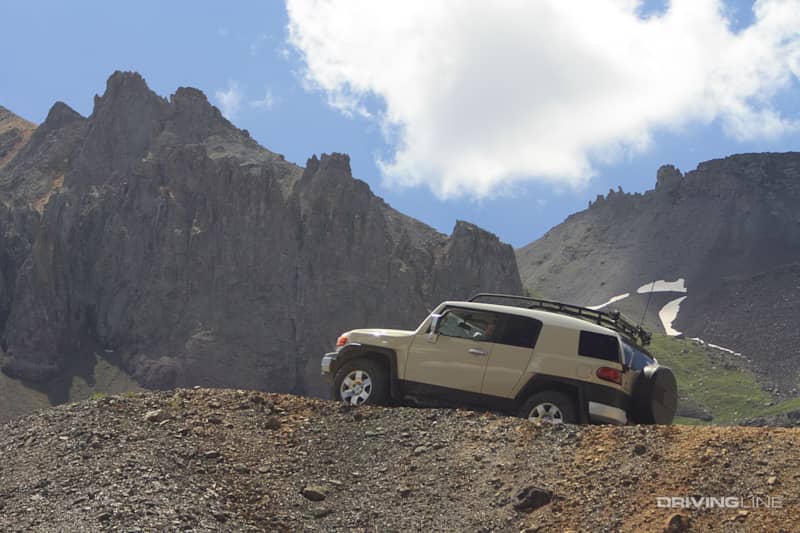 Amongst the exceptional off-roading options in Colorado, there are standouts. To name a few: Carnage, which offers eight hours of... carnage... in one mile; Mt. Antero, delivering you to more than 14,000ft (and an hour's hoofbeats from a genuine Colorado Fourteener); Ingram/Black Bear Pass, which can make passengers vomit with fear; and Imogene Pass, a trail that travels over the second-highest pass road in North America (13,114ft) and through nuggets of Colorado history.
Imogene runs through areas full of American history, and you owe it to yourself to poke around: Colorado saw epic strikes like Camp Bird and Upper Camp Bird, Revenue, Atlas and Tomboy; union thugs and assassins fought a minor war with Colorado's army over another kind of strike; and Ford Peabody was constructed at Imogene Pass to keep the unions from invading Tomboy and Telluride (little is left of the fort now). And who was Imogene? She was the wife of one of the partners controlling the Camp Bird Mine.
While in Southwestern Colorado, we chased a gaggle of Toyota FJ types on an FJ Summit group run up Imogene Pass. We'd planned to do Imogene anyway because it's awesome, but having ran into the FJ folks the night before in downtown Ouray, we opted to join them.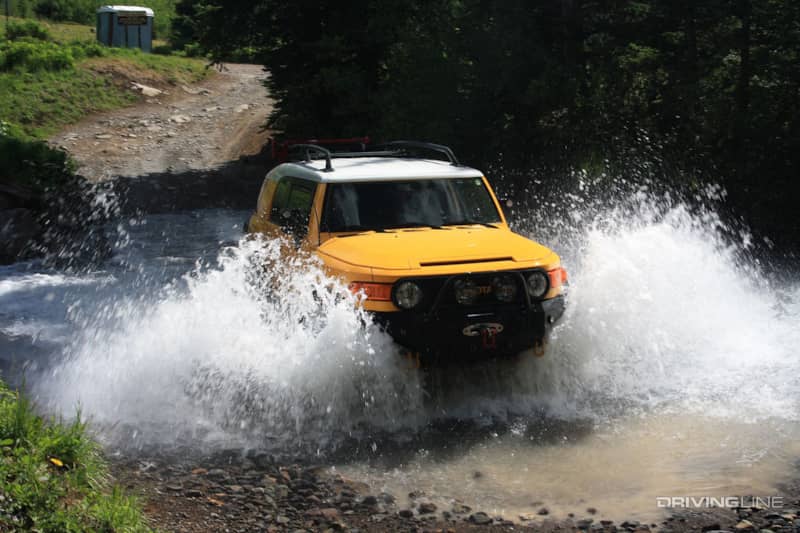 The northern end of Imogene Pass Road (nearer Ouray) is frequently wet, and requires a number of crick crossings. This crick is Sneffels Creek.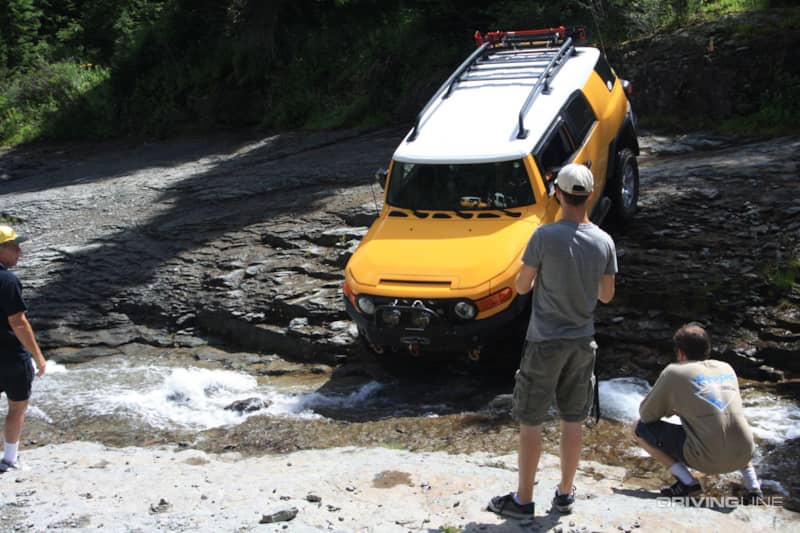 At one Imogene creek crossing, where Imogene intersects with the old trail to Richmond Basin (thankfully, the water was low), vehicles were forced through a tight granite channel that was no friend of longer trucks.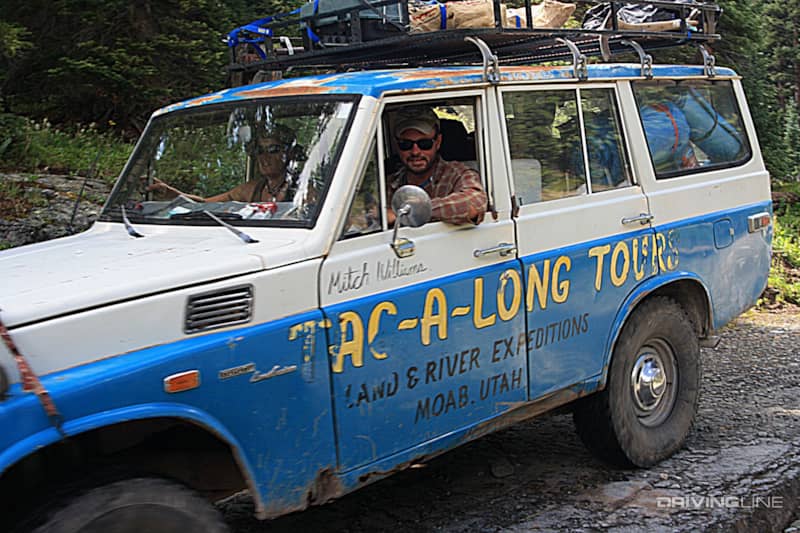 Also found at old Richmond Basin was this old FJ-55. They don't die, people, they just get uglier.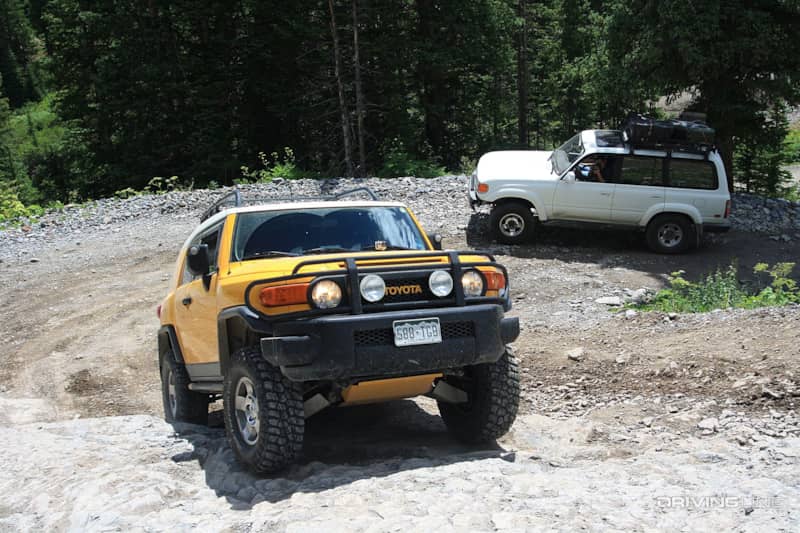 Imogene Pass afforded the FJ folks a variety of trail types. This included this sheer rock face that had trucks literally climbing up and away from those on the trail below it.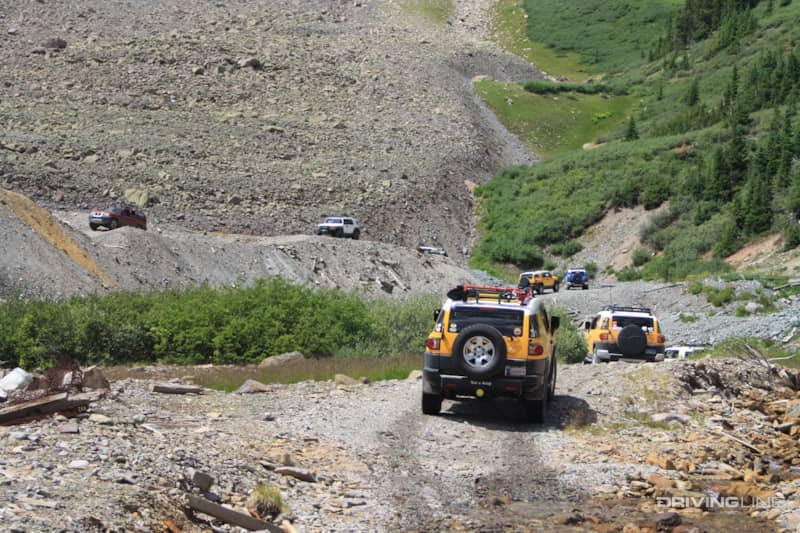 Now that "history-erasure" crews pretending to be cleaning up old mine sites have ruined the ruins of Upper Camp Bird Mine, the trail that ran past the mine is now the trail that runs over it.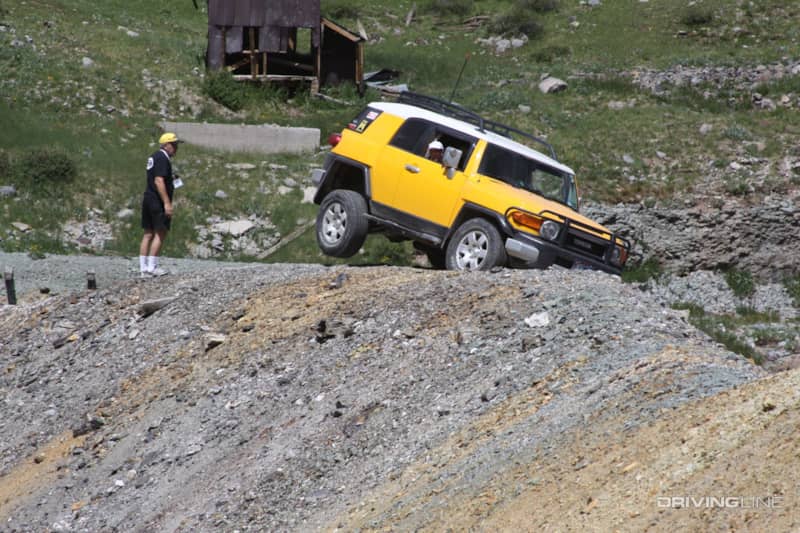 Several points on the over-Upper-Camp-Bird-trail were washed out, and far hairier than expected, requiring spotting for those new to the trail.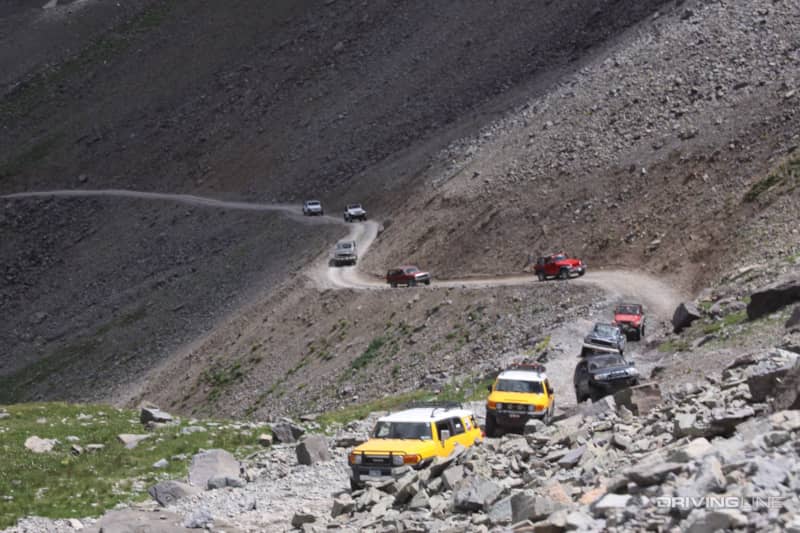 Once past the mine remnants below United States Mountain and Imogene Pass, the climb towards the pass clung to a long rising face-cut that left little peril to the imagination.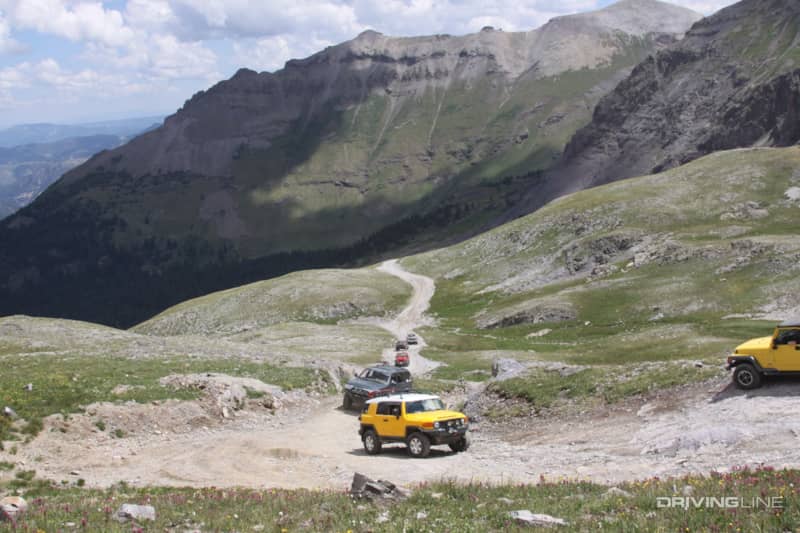 The relatively flat high-mountain glade below the pass itself was deceptively rough, with serious hard-rock features. This section of Imogene required the most vehicle control of the entire run.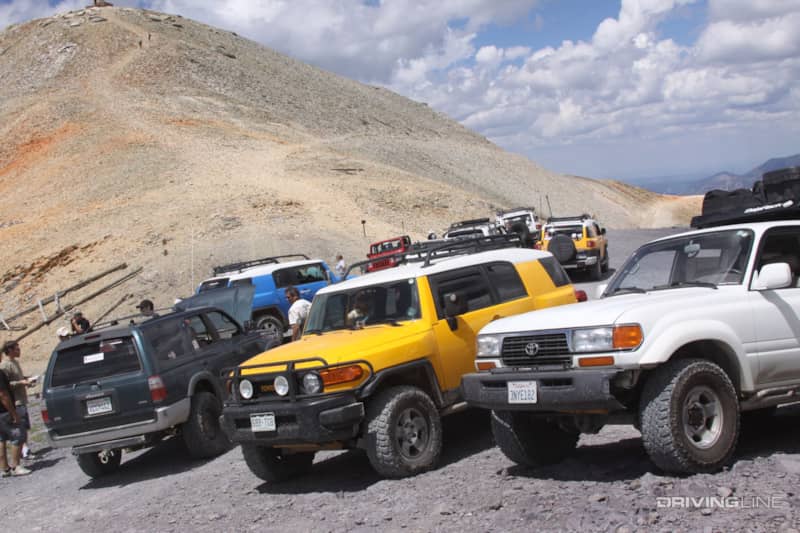 Plentiful parking at the top of Imogene Pass. It's the second-highest road pass in America at 13,114ft above sea level, but no brewery. Yet.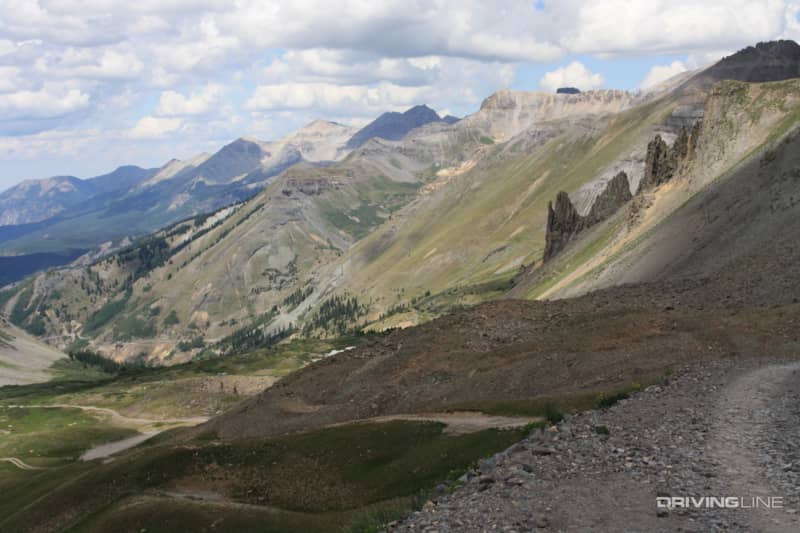 Running roughly west from Imogene Pass, the trail drops towards Telluride through the upper workings of the Tomboy, as well as countless other excellent hard-rock mines now obliterated by time or historical ignorance.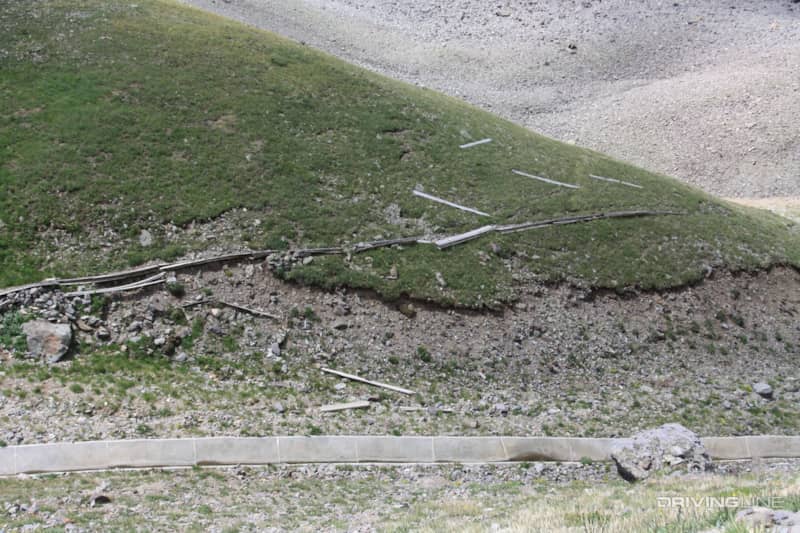 Some historic features still stand in protest of the damage caused by modernization. Here, a new cement drainage channel has done little to keep runoff from eating at a nearby hillside.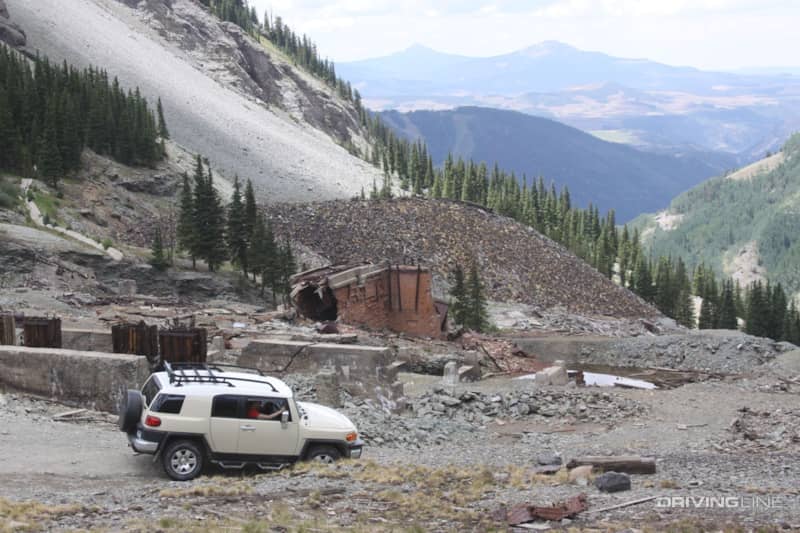 One of the FJ Cruisers in the group descends through the ruins of the Tomboy Mine, which operated for about 30 years after striking gold. Its expansive remnants are one of the few high-mountain mines that you can still enjoy easily.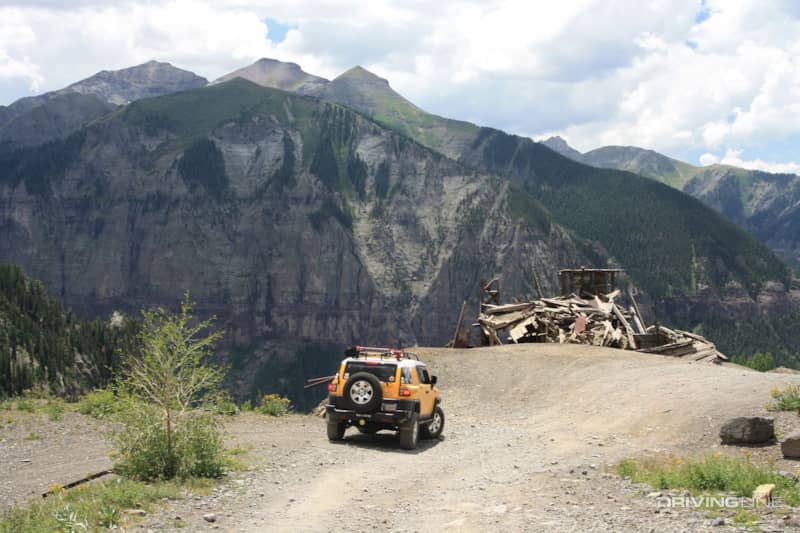 Just off Imogene Pass Road, the remains of a tram station – the cable-operated ore movers that used to lace these valleys – beckon a second look. Don't let your tour guide keep you from stopping and learning. This is your history too.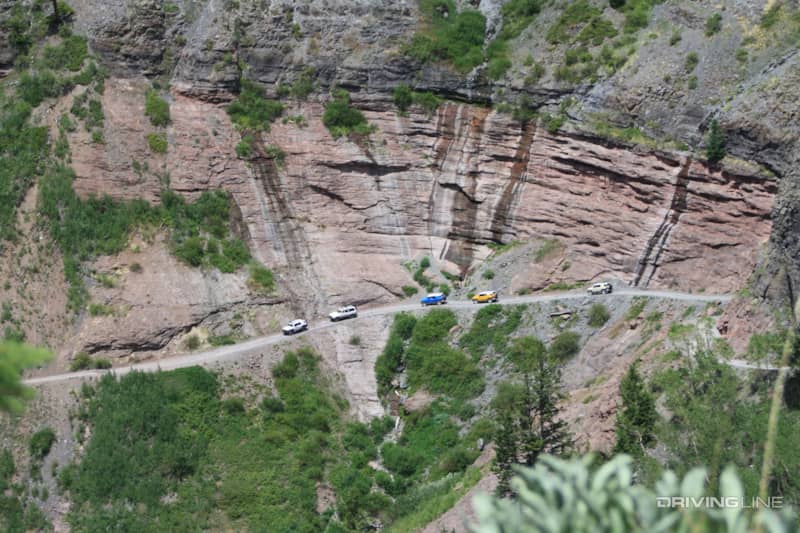 In one of our favorite shots from this run, we caught a clutch of FJs on the shelf-road that delivers Imogene into the town of Telluride.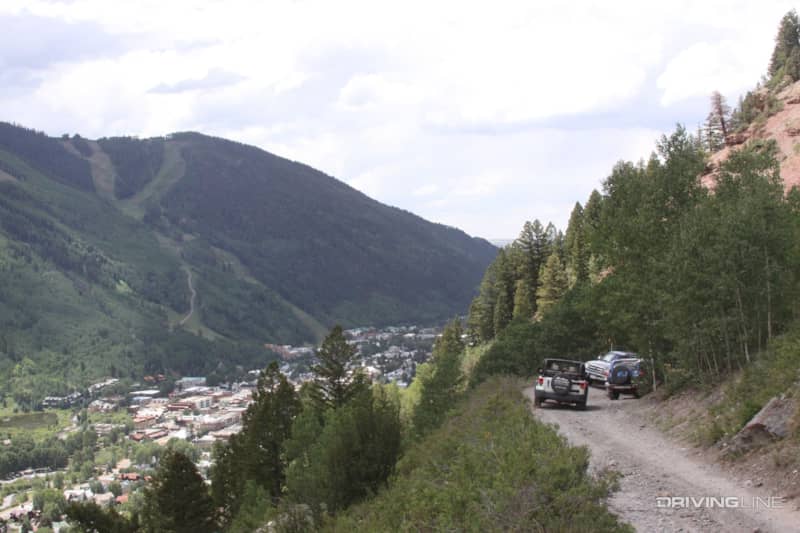 Further downhill, Telluride tourist traffic and locals headed up and down the grade intermingled with the FJs from Ouray. The residents of Telluride have gotten pretty schmaltzy and proud of themselves, and the wealth parked around town is unmistakable, but you can still find excellent spots to make the town fun (you just need to look).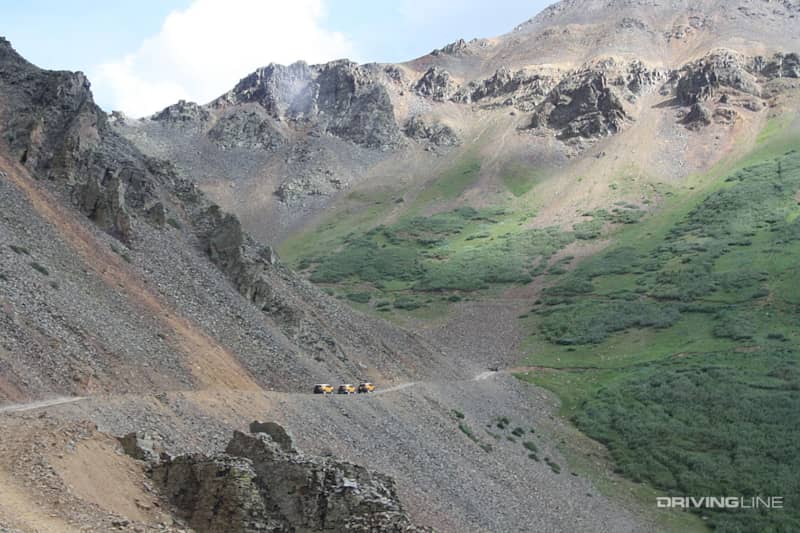 The Imogene Pass-to-Ophir Pass loop is a popular in-out route for folks visiting Telluride from Ouray. Ophir Pass takes 'wheelers through the town of Ophir (most avalanches per capita of any city in the US) and through the valley of Otto Mears' famous Ophir Loop. The remnants of which can be found if you know where to look.