Time to Trade in Your Diesel: Introducing the 2020 Atlis XT Electric Truck
Move over, Rivian. There's a new player on the field. Earlier today, Atlis Motor Vehicles unveiled their highly anticipated 2020 XT Pickup Truck—and we're nothing short of impressed. Even as hardcore truck guys, our editorial team was drooling at the spec list, and furthermore, the rugged and durable design of the new all-electric truck. Without any more delay, let's get down to the numbers and explain why we think the Atlis XT is our winner when it comes to pre-production electric pickup trucks.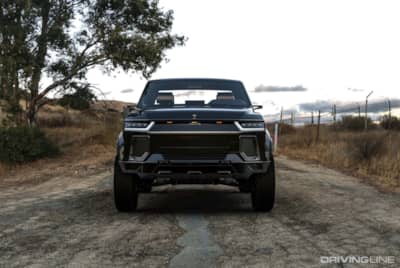 Standard Features
Let's begin with what each model of the XT comes with. Atlis promises a four-wheel drive system with independent traction motors at each wheel. This is a similarly-phrased system found in the Tesla semi-truck concept. Furthermore, the XT features independent front and rear suspension. Each axle has a single speed gearbox as well. When it comes to storage solutions, the XT offers a 6.5-foot and 8-foot bed with standard spray-in liner, but also features a massive front-trunk space where a traditional truck engine would sit. In itself, these features are compelling enough to anyone researching electric trucks.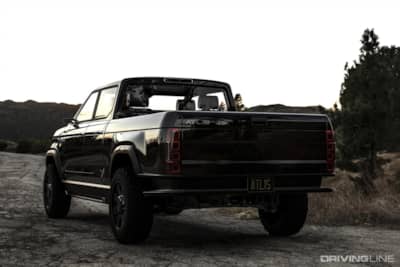 Power and Performance
Now let's get down to the specs and optional performance packages. The Atlis XT boasts a top speed of 150 mph and a 0-60 time of five seconds, which is a full two seconds slower than the Rivian RT1 electric truck released in late 2018. While not blistering by electric vehicle standards, the performance of the XT is still impressive. But Atlis gave us one more bit of info; the XT can reach 60 mph from a standstill in 18 seconds when loaded down to its maximum GCWR. Keep that stat in mind for the next set of specs.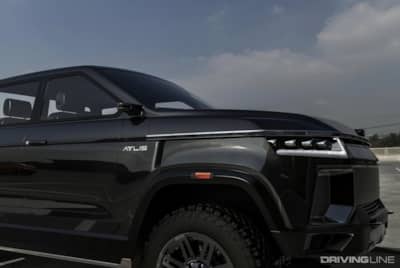 Towing and Hauling:
This is perhaps one of the most impressive aspects of the Atlis XT. It is claimed to have a maximum trailer towing capability of 20,000 pounds, and a maximum fifth wheel and gooseneck towing capability of 35,000 pounds. You read that right. You could tow a Navy ship anchor down the interstate if you wanted to. We're not sure on the legality of towing that much without a commercial driver's license, but it's got us excited either way. The maximum payload capacity is at 5,000 pounds, making everyday hauling tasks a breeze. It's being offered in both single and dual rear wheel configurations, and when combined with the electric motors, Atlis aims to pull a 35,000-pound load up a six-percent grade at 65 mph. Simply put, you'll never need a diesel light-duty truck again.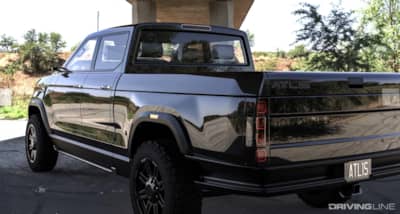 Suspension
The Atlis XT takes into account the activities of a normal truck owner. Hauling heavy loads requires proper leveling, which Atlis achieves with air springs and independent rear suspension. In addition to towing and hauling, Atlis took into account the growing number of trucks in the current market being offered with off-road ready packages. They promise an optional long travel suspension with 15 inches of ground clearance, but the catch is you can't get it with the higher payload and towing capacities.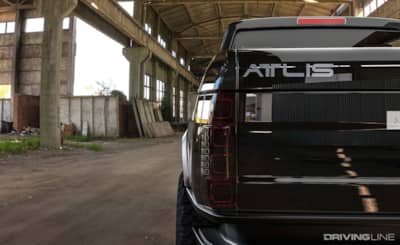 Charging and Range
Perhaps most important to prospective electric vehicle owners is the range and charging times. Atlis promises several ranges to their powerhouses: 300, 400 and 500 miles, all based on unloaded trucks with no cargo or trailer. This affirms the XT can be used as a viable daily driver as well as a weekend utility vehicle. If you use their proprietary Atlis Motor Vehicles Advanced Charging Station, you can charge the XT in just 15 minutes. But they give you the option to use other charging stations as well.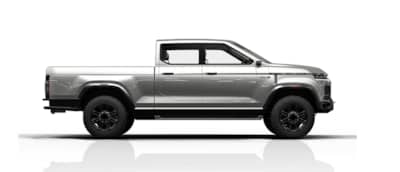 Styling and Tech
While the Atlis XT talks a big game for truck-guy capability and fun, it doesn't compromise when it comes to the aesthetics and technology of a modern electric vehicle. It doesn't look like some of the other electric pickup concepts we've seen. It looks like a beefy, modern truck that even the most hardcore domestic truck owner could appreciate. One of the most prominent features, or perhaps lack thereof, is the mirror-delete. The XT Pickup Truck has side cameras replacing the standard wing mirrors, and projects the HD video feed to displays located to the left and right sides of your steering wheel. In addition to the mirrors, there are standard backup camera and corner peek cameras, trailer hookup assist camera, fifth wheel and gooseneck hookup assist camera, and forward-facing camera for parking assist.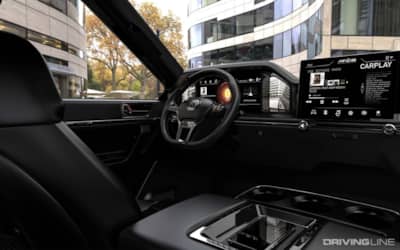 While not yet fully autonomous, the Atlis XT currently offers driver assistance with adaptive cruise control and optional parking and lane keeping assistance. Atlis promises future updates for autonomous capabilities. Inside the XT, you'll find a center-mounted touchscreen display that controls most of the vehicles settings, climate-controls and infotainment (allowing for both Apple Carplay and Android Auto). Atlis quotes the following for their dash display: "The unique UI behind the wheel ensures the user is in complete control and allows for various customization. This creates a personal connection as you will be able to create an aesthetic you want."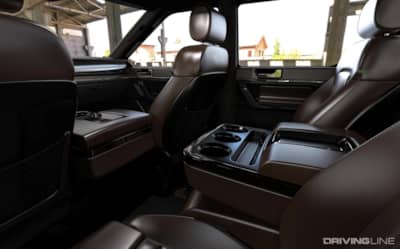 Options
Atlis isn't planning on just one variation of their XT Truck either. With interior options from vinyl floors and cloth seats to carpet floors and leather seats, you can get it as durable or luxurious as you want. The XT will come in two cab configurations, a 2+2 extended cab or 4-door crew cab. As stated earlier, bed sizes will be an available 6.5-foot or 8-foot box, with optional power outlets up to 240 volts and 40 amps. You can even get an air compressor built into the bed for airing up your toys, blowing out debris from the bed or airing up your own tires as you wind-down a day of off-roading.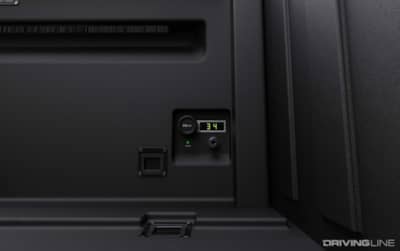 Verdict
Simply put, we're stoked. If Atlis can deliver on the promises made in this press release, we think this will be the favorite among the current options for future all-electric pickup trucks. The numbers are staggering, the technology is up to par with current high-end vehicles and it looks like something we would drive every day and turn back to look at whenever we park it. Atlis definitely did their homework on what truck owners need when they considered their bid in this market, and this first look is promising. The only bit of ambiguity remains the MSRP of such an awesome and capable truck. Will it compete with the Rivian's $60,000-90,000 mark, or will the Atlis XT sit above the six-figure mark? Either way, with brand-new, fully-loaded diesel trucks nearing $100,000, we wouldn't be surprised if prospective buyers considered the 2020 Atlis XT a viable option.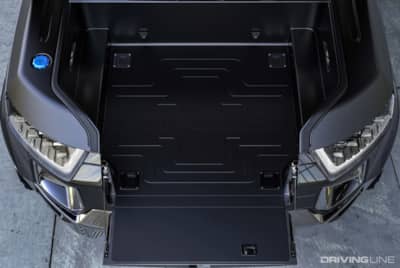 Stick with Driving Line for more updates and automotive news around electric pickup trucks, and look at our first look at the Rivian RT1!