Timeless: 1993 Honda Civic CX
The more time that passes, the more I'm amazed by just how immune to it the styling and technology of our favorite mid-'90s import cars remain. Twenty-five years is the difference between a 1959 Chevy Impala—with its 211 inches of garage-defying length, esoteric fins and curvaceous greenhouse—and a thoroughly neutered 1984 Cavalier. It's also the amount of time between John Cruz's 1993 Honda Civic CX and anything new today. It still looks right at home on today's roads and racetracks, alike.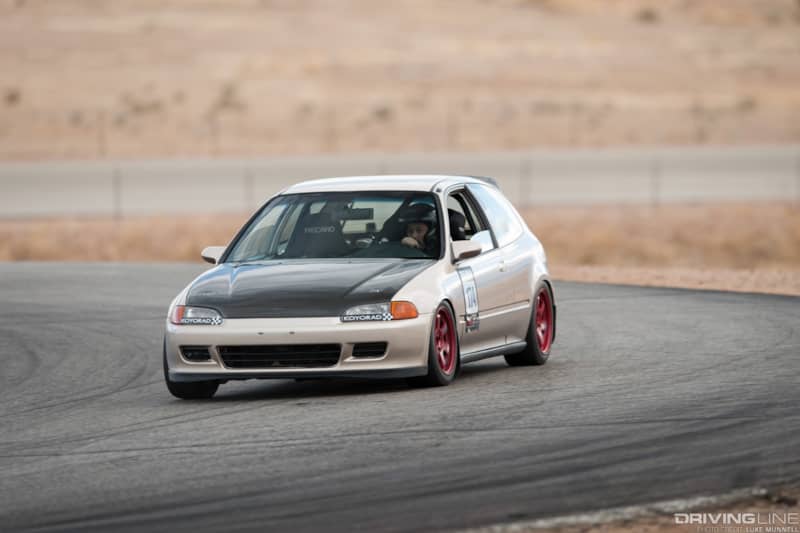 Like any clean, performance-modified EG, John's Civic looks as if it might be a recently completed build, just getting ready for its second life. But here's the real shocker: It really hasn't changed much at all in almost a quarter century.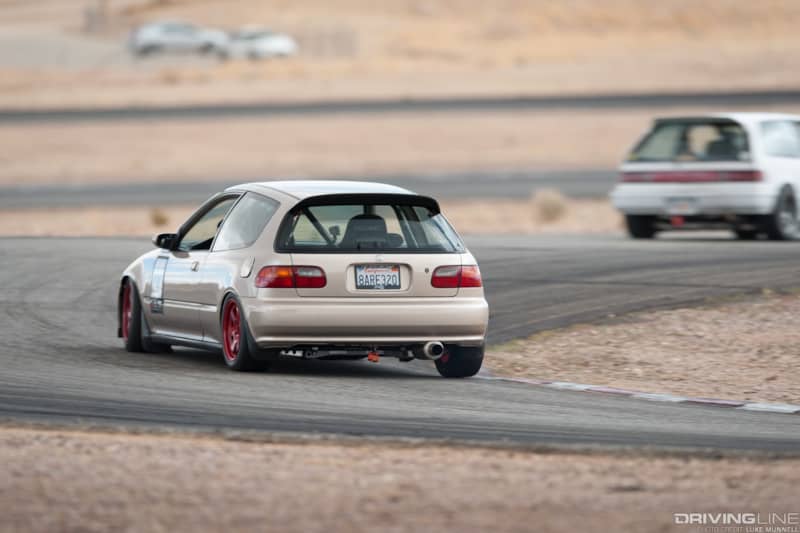 The Original EG
John's Civic was known in the late '90s as "Goldy" from SoCal's FF Squad and is one of the earliest custom-painted, engine swapped, junkyard-reclaimed EGs we're aware of. Its original builder, Dylan Huig, discovered this car back in 1995 at a salvage yard. It was a clean, yet bare-as-can-be theft recovery just begging for a second chance. Dylan bought the car, sourced used parts to piece it back together, added aftermarket upgrades and imported JDM components as he was able to. Then he painted the whole thing Cashmere Beige from a mid-'90s BMW.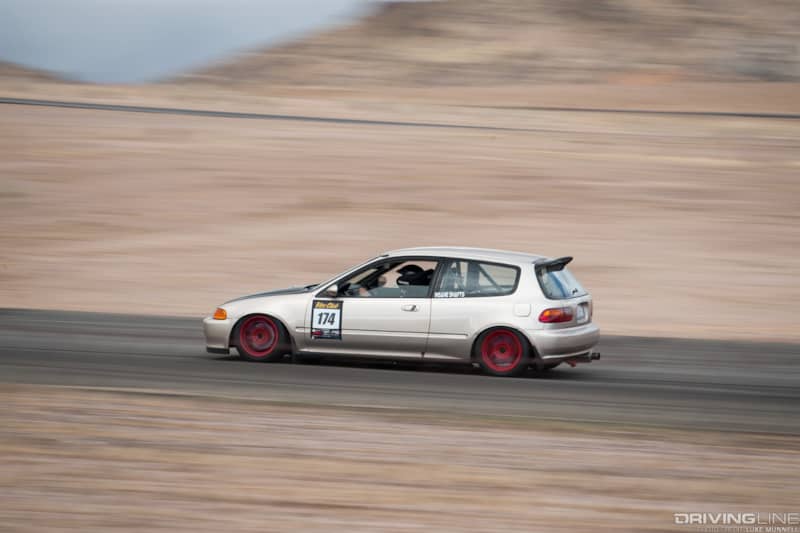 Almost immediately after reaching some stability in its build, Dylan, his biological brother Erik and their car brothers in the FF squad became hooked on track driving and racing, inspired by the very same late-'90s JDM videos many of us still ogle over today. You can see some of the FF Squad players recall their glory days in a couple of short videos of their own by searching "FF Squad" on YouTube.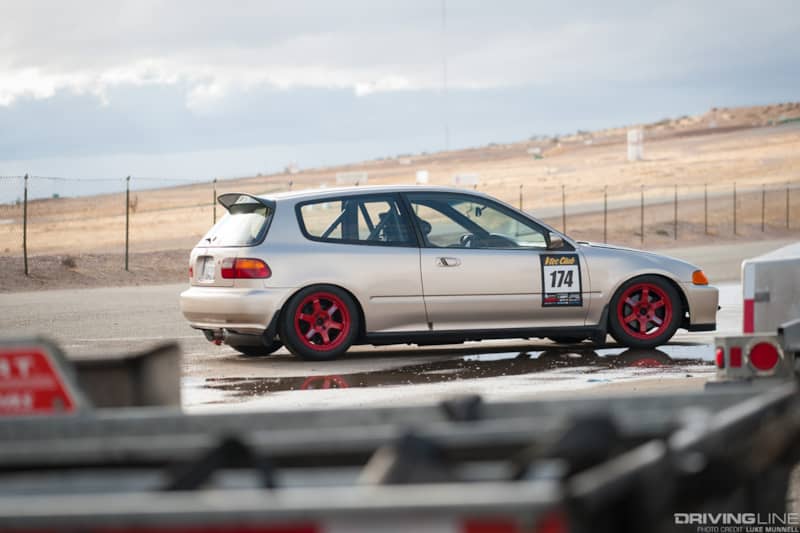 In the two videos, reminiscent of Bones Brigade's The Search for Animal Chin (on purpose?), Dylan, his brother Erik and crew co-founder "Katman" talk about their passion for performance, track driving and how it influenced them to break from the flashy, superfluous trends in import tuning back then and develop a cleaner style, one where form follows function and performance is paramount. One that, nearly a quarter-century later, remains the standard of today's most highly regarded builds.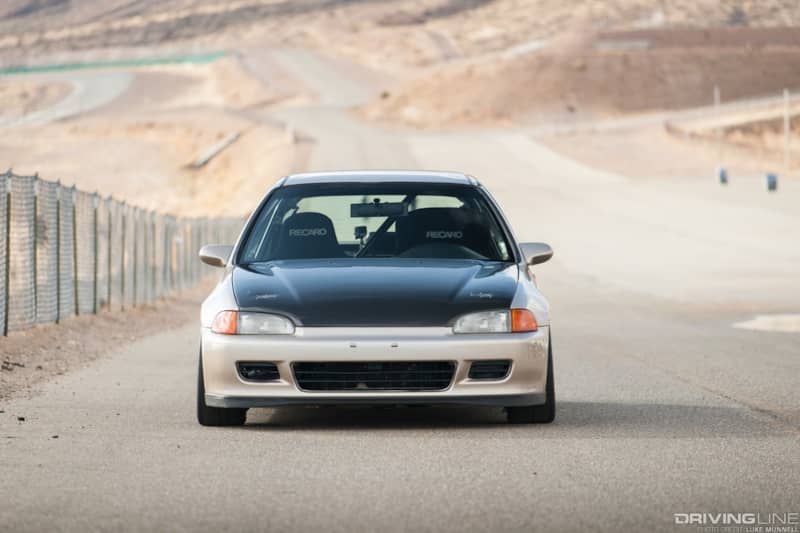 In a 2009 interview, Dylan mentioned that he'd owned 27 FWD Hondas to that point, and through it all he'd held onto his Goldy. He even sold it to a friend who used the car to develop a lot of parts still in circulation today, only to buy it back a short time later when the parting proved too sweet a sorrow.
Further revisions were made and good times enjoyed, and after a while, the Civic just sat, and sat…and sat, while attention was paid to other projects. When a killer deal came up on an Integra Type R and Dylan had to clear some space to take it on, he parted with Goldy one final time.
Allow us to re-introduce John Cruz.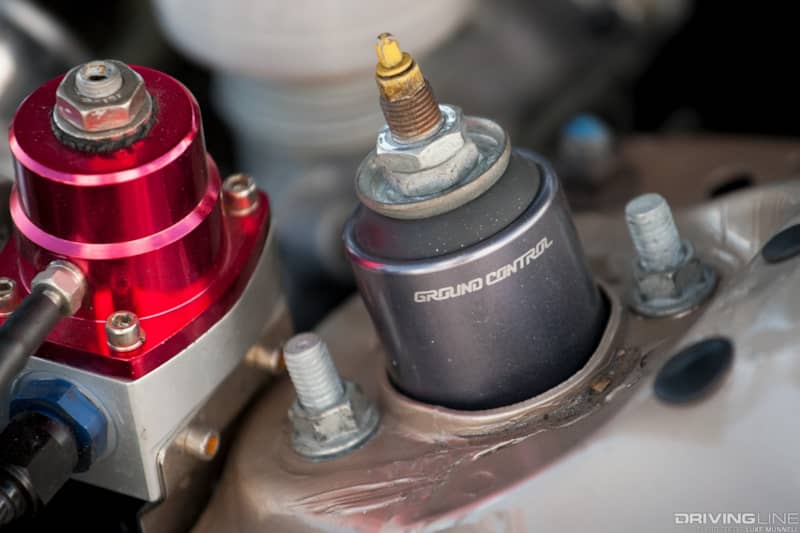 A New Life
Like Dylan, John has also owned too many cars to count, buying, restoring and flipping them for a living and occasionally getting to build one for performance and enjoyment along the way. He had just taken on a B-swapped EK hatch as a personal project when he caught an Instagram post by Dylan putting Goldy up for sale. Sight unseen (but familiar with the car's owner and their rich history together), John bought the car and swapped much of the EK's componentry over to Goldy, such as the suspension, engine and transmission, gauge cluster and more.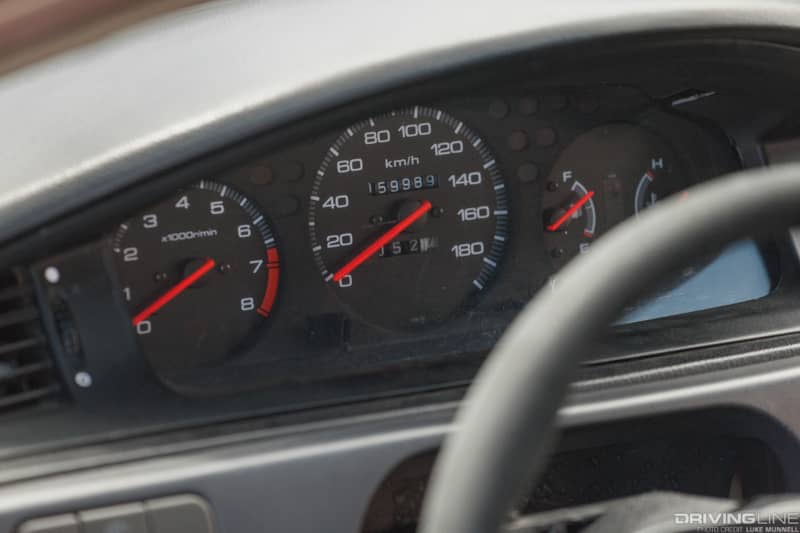 Dylan sold Goldy to John with little more than a set of Integra brakes at each corner, but John was able to buy back many of the car's original parts from Dylan.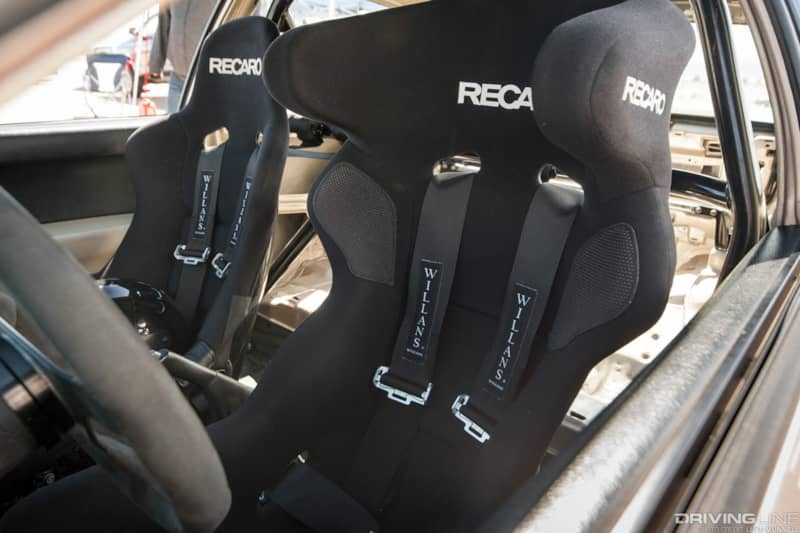 Understated Yet Effective Upgrades
Today the car has a mix of new and yesterday's proven parts. Hard Race front and SPC rear lower control arms meet the tried-and-true combination of Koni yellow dampers and Ground Control coilovers on the suspension. A Neuspeed strut bar compliments an ASR subframe brace and hollow 32mm sway bar at the rear. Inside, a Momo steering wheel and Boss hub look right at home with a Fast Line shifter and Battlecraft teardrop knob, and the Willans five-point harnesses perfectly compliment the Recaro front seats.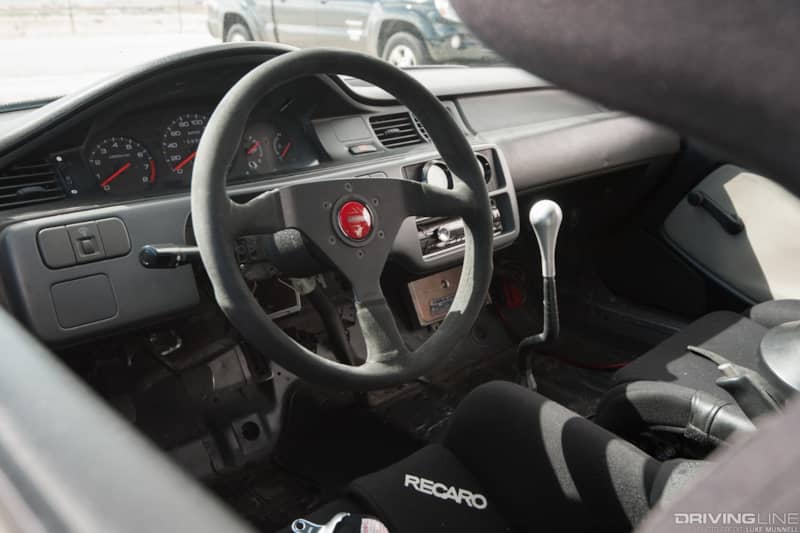 In true FF Squad spirit, things outside are functionally tasteful. The car's original gold re-spray from 1995 remains unchanged today, but John added a few more modern upgrades to reduce weight and drag, provide a modicum of downforce and freshen up the appearance, as well as some OEM and JDM bits for added spice.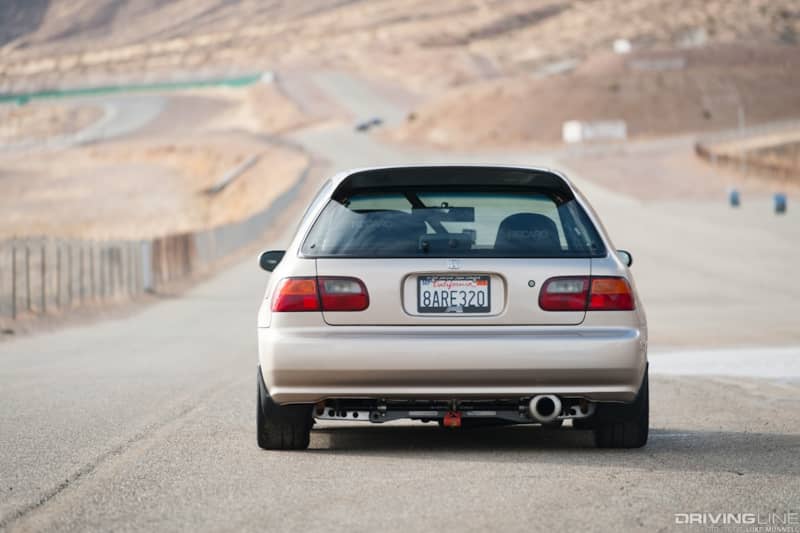 Under the hood, things get really fun, beginning with the engine. It's a GR-S B18C1 mated to a JDM Integra Type R 4.7 final-drive transmission, that's built for high-compression, naturally aspirated duty, but that's about all John knows. Just exactly how high the compression is, or what pistons/rods are responsible for setting it, or who handled the machining or assembly, is all a mystery.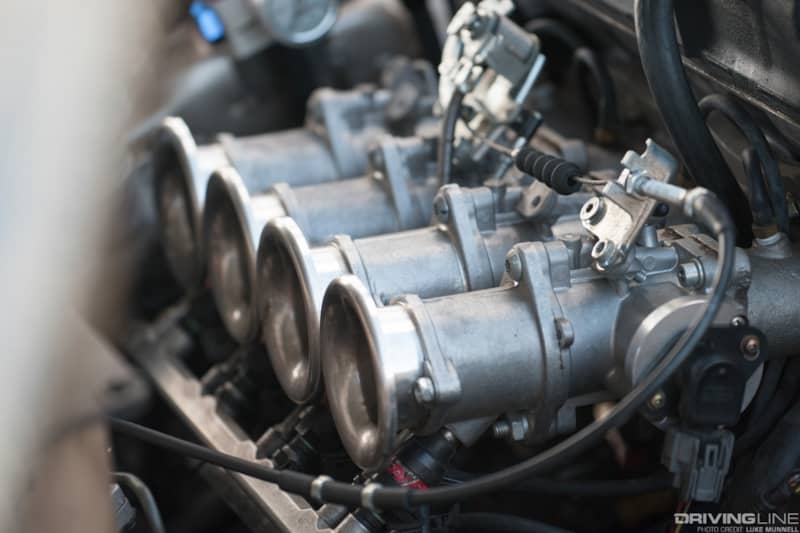 The same goes for the individual throttle bodies, which appear to be "Todas…or maybe they're made by OBX?" All John knows is that it was once tuned on 91-octane pump gas supplied by a Walbro 255L/hr fuel pump through 370cc/min RC injectors (and a truly vintage Summit Racing fuel-pressure regulator). It made enough reliable power and torque for his needs.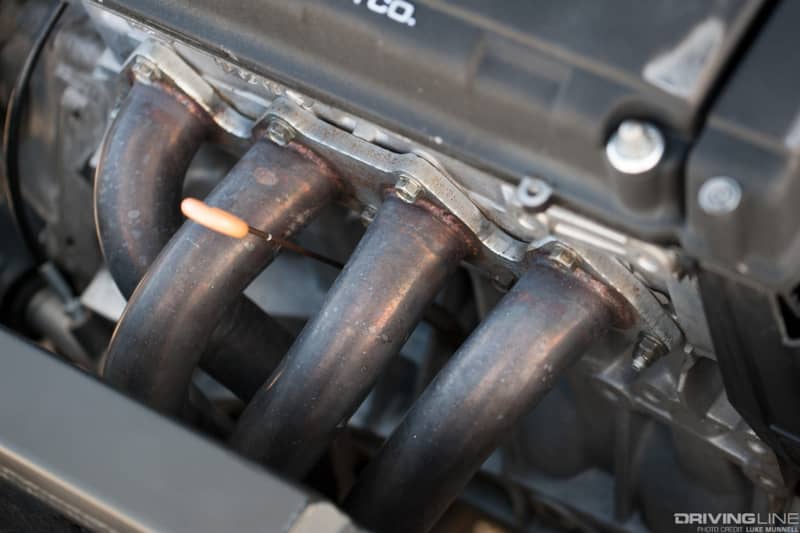 It might seem like a modest build, but John and Goldy clocked an unusually fast 1:26.1 on ultra-sticky Nitto Tire NT01 tires at Streets of Willow during this year's first round of VTEC Club competition, knocking off a grip of S2000s and more radical FWDs to take the Group A2 class win. In the intermittent rain. Crazy.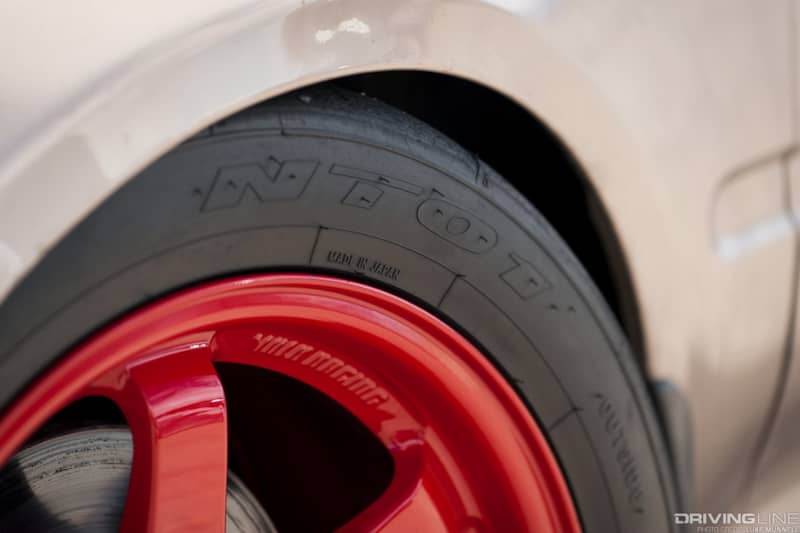 From its inception nearly a quarter-century ago, this Civic was meant to do exactly what it's still doing today: hang with the best at the track and look at home with the rest on the street. It was never intended to morph into some sort of Unlimited-class time-attack monster or shaved/stanced show queen. Its owners didn't plan on using it as a stepping stone to professional racing. They're just a couple of enthusiasts who share a passion for driving, and have discovered—and rediscovered—a timeless recipe for making it happen.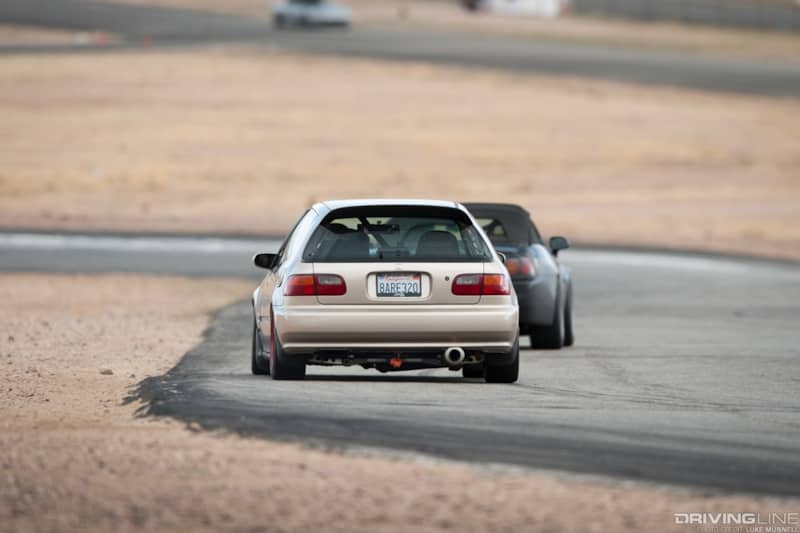 To see more from VTEC Club, check out our coverage of Round 1!
TUNING MENU
1993 Honda Civic CX
| | |
| --- | --- |
| OWNER | John Cruz |
| LOCATION | Rancho Cucamonga, CA |
| ENGINE | Honda B18C1 Integra GS-R engine, unknown individual throttle bodies, PLM 4:1 header, custom-fabricated exhaust with R-Crew muffler, Walbro 255 lph fuel pump, RC Engineering 550cc/min injectors, Summit Racing fuel pressure regulator |
| ENGINE MANAGEMENT | Hondata S300 ECU |
| DRIVETRAIN | S80 Integra Type R 4.7 final-drive transmission, flywheel; ACT six-puck clutch with OEM pressure plate |
| SUSPENSION & CHASSIS | Koni yellow dampers; Ground Control coilovers; Acura Integra front spindles, rear trailing arms; Hard Race front lower control arms; SPC rear lower control arms; Feels rear camber kit; ASR subframe brace, 32mm hollow rear sway bar; Neuspeed rear strut tower bar |
| BRAKES | Acura Integra front and rear brake conversion, Hawk HP+ front brake pads |
| WHEELS & TIRES | 15x8-inch, +35mm Volk Rays TE37 OG wheels; 225/45R15 Nitto Tire NT01 |
| EXTERIOR | BMW Cashmere Beige paint; Vision side mirrors; OEM Honda baseplates, front lip, mud guards; Spoon carbon fiber rear wing; Seibon carbon fiber hood; AeroCatch hood pins; JDM Honda headlights, corner lights; Solex key locks |
| INTERIOR | Recaro Pro Racer SPG driver seat, Pole Position passenger seat; Willans five-point harnesses; Autopower Race roll bar; Fast Line shifter; Battlecraft teardrop shift knob; Momo Monte Carlo steering wheel; Boss steering wheel hub; EK Honda Civic gauge cluster; AEM air/fuel gauge, oil pressure gauge |
| SPONSOR & THANK YOUS | "Joe from Nemo's Garage, Duane from R-Compound USA, Dylan from FF Squad, Henry "Big H" and Justin Tellez, everyone from FITTEDTHO and my girlfriend Sabrina Vega. I don't have any sponsors, haha." |