Track-Ready Muscle Car Showdown: 2019 Ford Mustang GT PP2 vs. 2019 Chevrolet Camaro SS 1LE
Track day and autocross enthusiasts face an embarrassment of riches on the current muscle car scene. There has simply never been a better time to head down to your local dealership and drive home in a V8-powered rocket that's been set up not just to crush the competition at the drag strip, as with the drag-focused performance packs of old, but also carve corners and hang with exotic sports coupes featuring significantly more extravagant price tags.
Two of the latest entries into the "it turns, too" segment of the muscle machine market also happen to be lifelong rivals and natural enemies on the gearhead scene: the 2019 Chevrolet Camaro SS 1LE and 2019 Ford Mustang GT PP2.
Assuming you don't bleed blue or wear a bowtie every single day of your life, which of these well-equipped track beasts is the better contender for your performance dollars? Let's take a deeper dive into both the 1LE and PP2 and move past the blind of brand loyalty for a more clear-headed look at what each has to offer.
2019 Ford Mustang GT PP2
The Mustang GT PP2 is the newcomer, Ford's answer to the stunning salvo that was the Camaro SS 1LE just a few short years ago. Although the Performance Pack 1 car already offered a slew of upgrades over the standard GT, it wasn't nearly as well received as the Chevrolet effort and as such didn't get the same level of traction among the track-day set. The Performance Pack 2 car attempts to rectify this by focusing on a few key areas that make all the difference in a high performance environment—particularly one where the car will be seeing session after session of abuse.
To snag the PP2 you need to order a six-speed manual coupe version of the Mustang GT, which comes standard with a 460hp, 5.0L V8 that also produces 420 lb-ft of torque. Like the PP1 Mustang, it offers a MagneRide magnetically-adaptive suspension system, a strut tower brace as well as a K-brace underneath the front end of the car, enhanced cooling by way of a larger radiator, a 3.73:1 gear ratio for its Torsen limited-slip rear and Brembo six-piston front calipers gripping 15-inch discs (with 13-inchers hanging out back).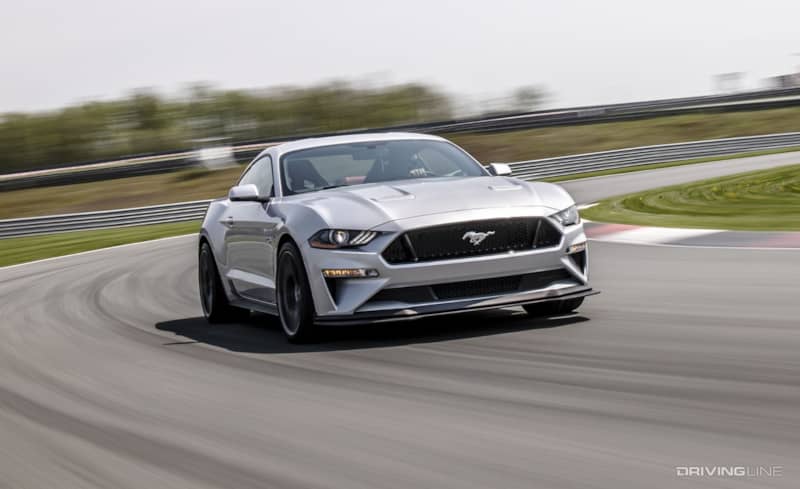 Performance Pack 2-exclusive additions include lightweight forged aluminum rims (19x10.5 up front, 19x11 at the rear), springs and swaybars that are stiffer than the original PP1 config, a more aggressive tune for the MagneRide system and all electronic traction and stability control features, and a different front splitter and rear spoiler.
Experienced drivers will no doubt latch on to the fact that it's the wheels and shock tune that are likely to make the most difference on the PP2 car. That said, one can only take advantage of that if the contact patches remain in contact with the asphalt as much as possible, which required the ones and zeros managing Magneride to be reprogrammed accordingly.
2019 Chevrolet Camaro SS 1LE
The 1LE appellation has been in around for nearly three decades, but there's no question that its latest iteration is by far the most potent. When found in SS flavor (yes, unlike the Mustang, you can spread the 1LE goodies out across all three of the Camaro's drivetrains), the adrenaline-soaked setup enhances the car's exceptional 6.2L V8 output (455hp and 455 lb-ft of torque) by way of carefully-engineered chassis and aero upgrades.
Like the Mustang, the 1LE benefits from a magnetically-adaptive set of dampers (Magnetic Ride Control), as well as six-piston front Brembo brakes that snag 14.5-inch two-piece rotors, stiffer springs and more twist-resistant swaybars than the standard SS. It also features an electronically-controlled limited-slip differential (3.73:1), a dual-mode exhaust and enhanced engine, oil and transmission cooling. Keeping a watchful eye over the entire enterprise is Chevrolet's excellent Performance Traction Management system that includes five different levels of vigilance (including a Race setting with its own fine gradients of intervention).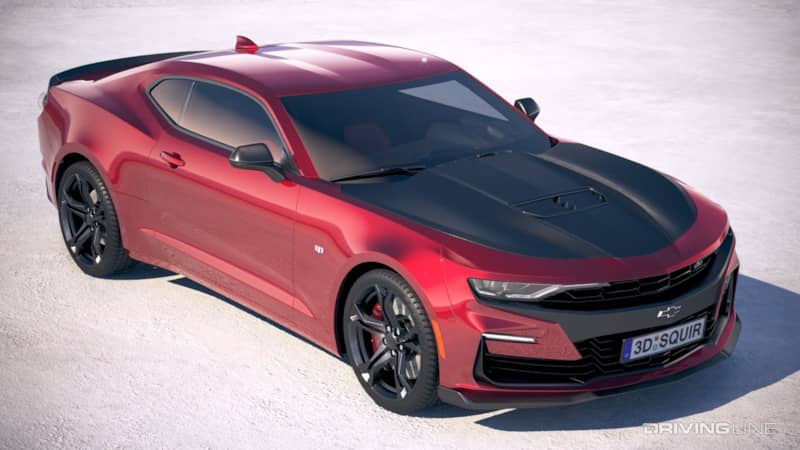 The 1LE sits on 20-inch rims and also offers more of a visual statement than the Mustang thanks to its standard flat black hood, which matches the black-accented spoiler and lip that come with the car. A six-speed manual is the only transmission offered with the SS 1LE.
Which One's Right For You?
As you might have gathered by now, both the Mustang GT PP2 and the Camaro SS 1LE follow a very similar playbook. Each car focuses on improving grip and suspension response as compared to their most street-oriented editions, adding serious electronics to manage both. Stability at speed, too, is enhanced by way of legitimate aerodynamic add-ons, and finally, the difficult cooling needs of powerful, relatively-heavy track car are also addressed.
By the numbers, the Chevrolet hits 60 mph from a standing start a little quicker (4.1 seconds) than the Ford (4.4 seconds), thanks in part to its well-tuned launch control system and slight weight and torque advantage. The quarter mile is a little tighter—less than 0.1 seconds separate the two cars—but on a race track, neither of those straight-line measures matter all that much.
Braking, on the other hand, is never optional, especially on a twisty road course. Despite both having Brembo brakes, the 1LE offers about 10 feet shorter of a stopping distance as compared to the PP2 when hauling down from 60 mph. On most horsepower-friendly tracks, the Camaro will also best the Mustang by at least a few seconds, with most drivers commenting on the Chevrolet's better body control and more intuitive chassis compared to the Ford. In fact, the 1LE is comparable in terms of lap times and feel to high priced imports like the Audi R8 V10 Plus, Porsche Cayman GT4 and Nissan GT-R.
One last note: The 1LE also happens to be a bit cheaper than the Mustang, too, stickering at just over $46k in Chevy showrooms as compared to right around $50k under the Blue Oval banner. More for less is a compelling argument in any automotive comparison, but taking into account how the Camaro punches way above its weight, it's clear that the PP2 needs a little more development time before it can unseat the 1LE.