Trail Tested: Jeep Gladiator Rubicon 35s [No Lift]
The 2020 Jeep Gladiator has disrupted the mid-size truck market in a monumental way. For off-road enthusiasts, the Rubicon version of the Jeep truck has the makings of the ultimate build platform. With solid front and rear axles, selectable lockers, and high-line fenders, it is in a league of its own and already boasting incredible aftermarket support. Like the JL Wrangler Rubicon platform, the Gladiator Rubicon's high-line fenders are intended to allow you to fit on a larger set of treads with a modest amount of lift.
While we've proven that you can, in-fact, stuff on a set of 35s on the JL with no lift, we wanted to test this same theory with the Gladiator. To do so, we installed a set of 35x11.50R17 Nitto Trail Grapplers. While a 12.50-inch-wide tire is more common in a 35, we wanted to retain the stock 17x7.5 wheels. Doing so would mean we would need to stick with a tire a touch narrower than usual as most tire manufacturers recommend having an 8-8.5-inch wide wheel at a minimum for a 12.50. Since we were opting for a Nitto, we knew we would be getting a true-to-size 35. This would help not only with ground clearance, but with filling out the very large wheel wells.
While you can watch our entire video review HERE, we're breaking down a few things we learned in addition in the article below.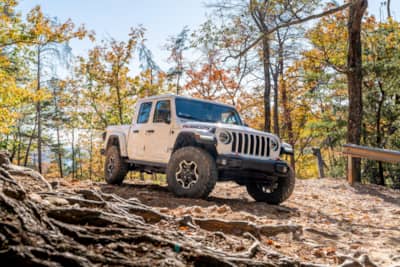 On The Trail
We wasted little time putting the Trail Grapplers to work as soon as we had the mounted up. Dropped to 12 psi, the mud-terrain radial bit and conformed beautifully on the trail. Given this Gladiator lives in the southeast, mud is typically part of the wheeling landscape. Thankfully, the Nittos require very little wheel speed to clear out.
15K and Counting
This Jeep serves as a daily driver, so it didn't take long before we started rolling on the miles. Before we knew it, the odometer of the Jeep had surpassed 17,000 miles (15,000 of those on Trail Grapplers). In terms of an overall difference between stock and these, we found the fuel economy went down to 15 mpg (about a 1.5 mpg drop over stock). We found power on road is down a little and a strong headwind can make keeping 8th gear more difficult at highway speed. It's not so much so that we'd want to swap out the factory 4.10 gears, but worth noting.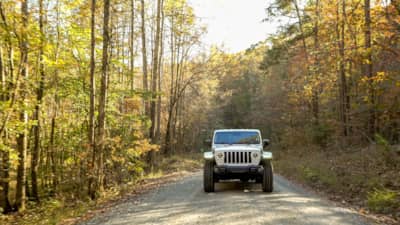 Practical Fitment
While we learned very quickly that the 35x11.50R17 was a great fit in the wheel well, we were also pleased to find that the full-size spare fits underneath with no issue as well. We've even seen a few Gladiators shoehorn a 37 under the truck using the factory spare wheel.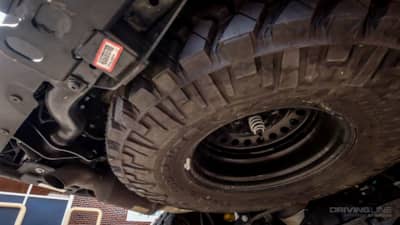 Checking Clearance
Our trail test proved that this was a usable combo off-road, but we still wanted to see just how close the tires came to rubbing on our local RTI ramp. While it can get very tight in the front, we still found the tires to have enough room where we would absolutely recommend this setup.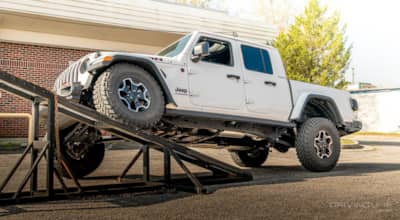 The Takeaway
While we'll have a full in-depth review of what it's like living with the Jeep Gladiator Rubicon, we were anxious to show you just how easy it is to run a larger tire on the new Jeep platform. From on-road handling and overall ride quality, we say this is an absolute improvement. The fuel-economy hit is a bummer, but that's to be expected. That fact that you can purchase a mid-sized truck direct from the factory and bolt up 35s is down-right amazing. We think Jeep has done a great job at giving off-road enthusiasts an incredible build platform. Be sure to check out our YouTube channel for more Gladiator content coming down the line very soon.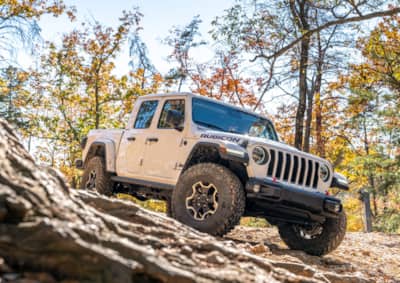 Looking for more Gladiator mods? Check out the First 5 We Recommend!