5 Easy Upgrades for the 2020 Jeep Gladiator Rubicon [Video]
It took Jeep over 20 years to get back into the truck business, but we're sure glad they did. As the only midsize truck fit with solid front and rear axles, removable top and doors, and an electronic sway bar disconnect feature, the 2020 Jeep Gladiator Rubicon is the pickup many off-roaders have been waiting decades to build. While we will have an in-depth review of the all-new Gladiator platform coming to you soon, in this article, we cover five easy upgrades that add versatility and convenience without voiding the warranty.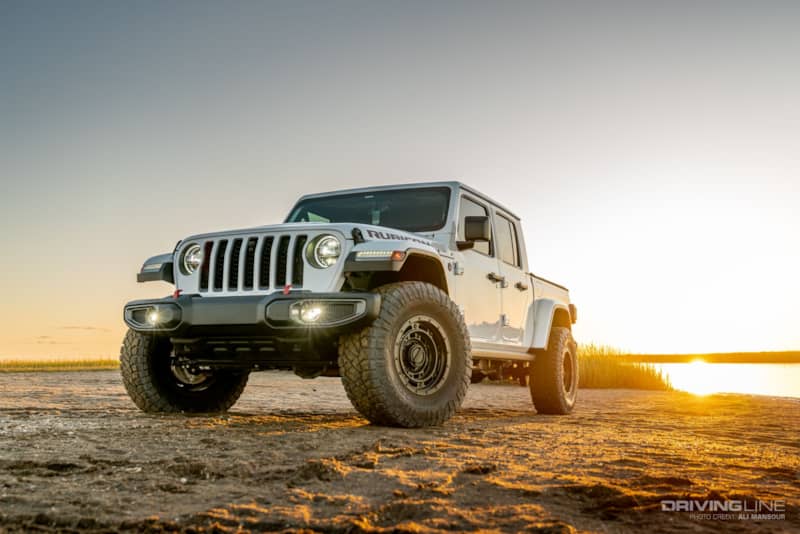 1. Mopar Mats
Our first modification is a must no matter if you're a mall crawlers or trail slayer. Yes, floor mats might not be the most exciting topic, but the Mopar mats are definitely worth mentioning. Built with molded insets for the drain plugs, the form fit mats are easy to clean and preserve your carpet for the long run.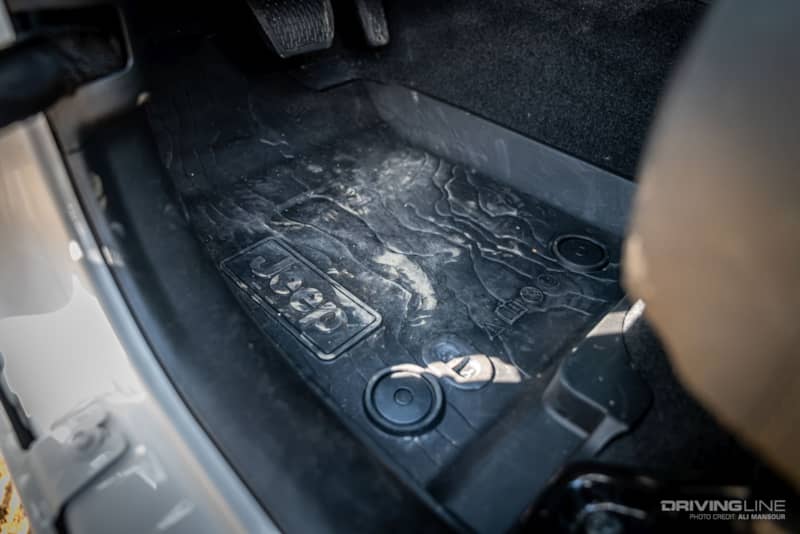 2. Keep It Covered
Having a family of four will quickly fill up the inside of the Gladiator cabin. So, to get a bit of extra storage, we opted for the Mopar Tonneau cover. The fabric cover is built with an over-the-rail design, creating a very effective weather-tight seal. For times we need to get a bit of extra bed room, we can easily roll it up and use the built-in straps to keep it in place. If we do find the need to remove it entirely, doing so only requires two bolts to be unfastened from the bed's bulkhead.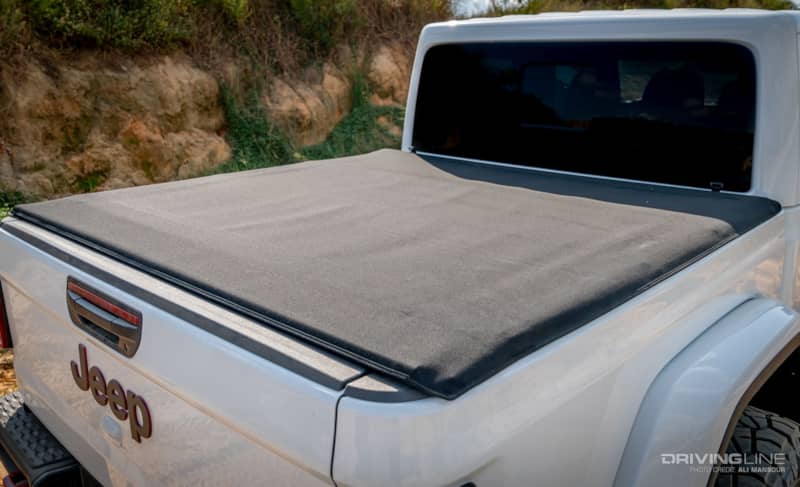 3. Grapple Line
Maybe this biggest departure from stock is our new tire and wheel package. While the Rubicon edition comes with a 33-inch-tall tire from the factory, they look a bit lost in the massive wheelwells. We replaced the OE treads with a set of 35x12.50R17 Nitto Ridge Grapplers. For a daily driven 4x4 that sees a mix of on-and off-road terrain, it's hard to beat the Ridge Grappler. Our new knobbies were mounted on a 17x9 Patton series wheels from Centerline. These cast-aluminum wheels have 4.53 inches of backspacing, which sets the tire and wheel package a couple of inches outside of the fender.
This equates to a little bit of rubbing at full articulation on the inside of the wheelwell. Since this truck primarily sees mild off-road scenarios, it's not enough of a worry to warrant modifying the fenders. Given that the Ridge Grapplers rest between that of an all-terrain and a mud-terrain radial, they are actually quieter than the M/Ts that came on this truck from the factory. In terms of power loss, the combination of the 4.10 gears and eight-speed automatic transmission has done a fine job of adapting to the larger treads.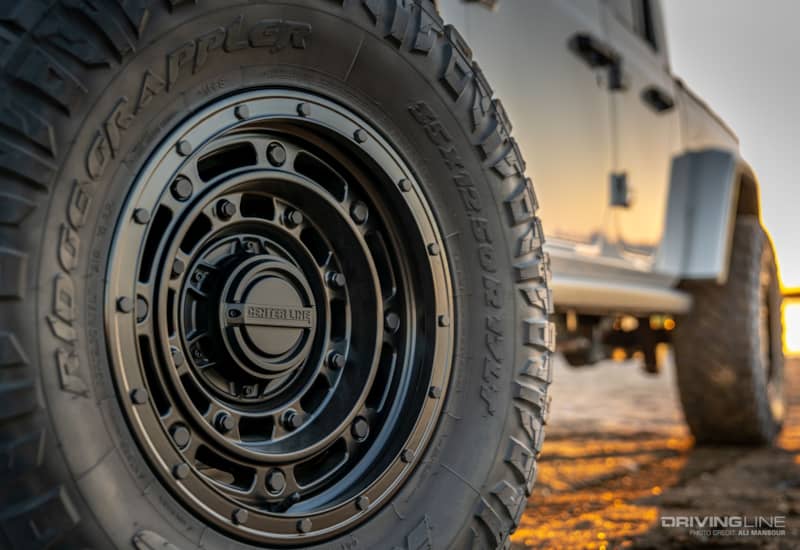 4. Flare Seal
Just like the Wrangler JL, the Rubicon Gladiator comes with the highline fenders from the factory. We love how much additional clearance the fender set provides as running 35s with no lift isn't possible on any other midsized truck. However, like the JL, debris can easily find their way in between the flare and the body of the Jeep. An easy way to combat this is with a small rubber tube seal. We picked up this bundle from Amazon. To install, simply cut it to length and use a plastic trim tool to move the seal inside of the gap. This isn't a perfect solution, but does make cleaning out the fender gap much easier.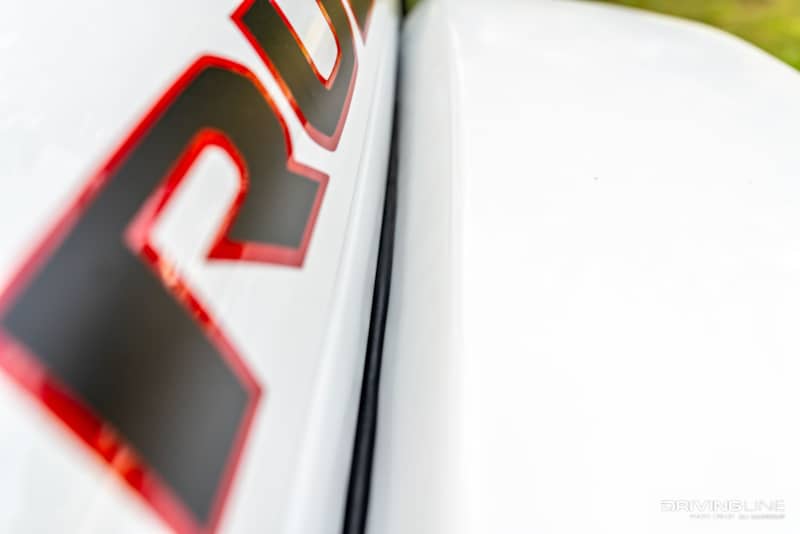 5. Sunrider
The fifth upgrade we recommend is more for hardtop owners than anyone else. If you purchased a Gladiator for the open top convenience, but find that leaving the hardtop panels at the house is a bit dicey and tossing them in the bed isn't wise, then we recommend checking out the Bestop Sunrider for hardtops. It replaces the two front hardtop panels with a one-piece soft top panel that can quickly fold back when you want to let a little light in or just enjoy the stars on a late night cruise home. It installs in about twenty minutes and surprisingly gave us a lower decibel reading on our iPhone app over the stock hardtop. We opted for the twill version, which is Bestop's premium fabric.
Bonus Mods
Some of you eagled-eyed viewers may have noticed that it's now black between the front and rear windows. This is a simple vinyl wrap material that was purely a cosmetic mod. If we decided to go back to stock, all we'll need to do is simply peel off the material.
Moving Forward
We'll have more Gladiator content coming soon. So, be sure to check back in as we'll have more upgrades and in-depth reviews that you can read here and watch on our YouTube channel.
Is the Hercules Gladiator coming? Spy photos of the 2021 Gladiator leaked.