Transformer: Chris Decker's '67 Chevy El Camino
Story By Mark Masker
Photos By
Chris Decker's `67 El Camino doesn't pack rockets or laser weapons but it is a bit of a Transformer. In the 22 years he's owned it, the car has known a few configurations: teenager's first car, drag racer, and versatile custom ride among them. Right now it morphs from drag machine to daily rider to bulletproof road tripper thanks to smart parts choices that allow just that.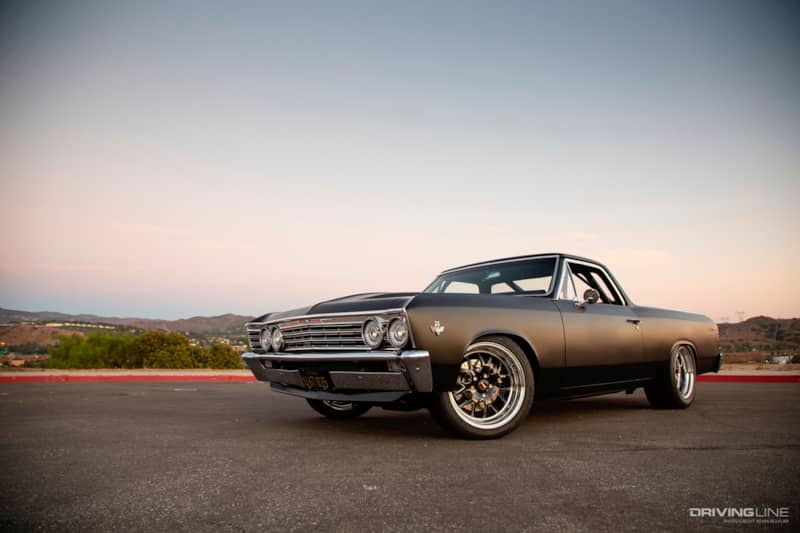 Back in 1998, though, the El Camino was just the first car for 16 year old Chris to putt around with in high school. Lots of his classmates drove Camaros, Mustangs, and old Novas. Blending in with them wasn't his style. It also helped that he already knew what he wanted: "As a kid, a family friend had a 1960 El Camino and I feel in love with El Caminos after seeing his car. When I had a chance to buy one from a friend of a friend, I could not pass up the opportunity. I generally like having things that don't blend in with the masses and this car was the perfect choice for me." The car sported a mild Chevy a small block 350 with a TH350 automatic transmission and a 10-bolt posi rearend. The drivetrain was decent but the same can't be said for the finish. Years in the sun hadn't been kind and gentle; the old red paint was tired and faded, as were the vinyl top and matching bed cover. It wasn't the hottest car around but it was perfect for a kid cutting his teeth in his first car: cheap and reliable.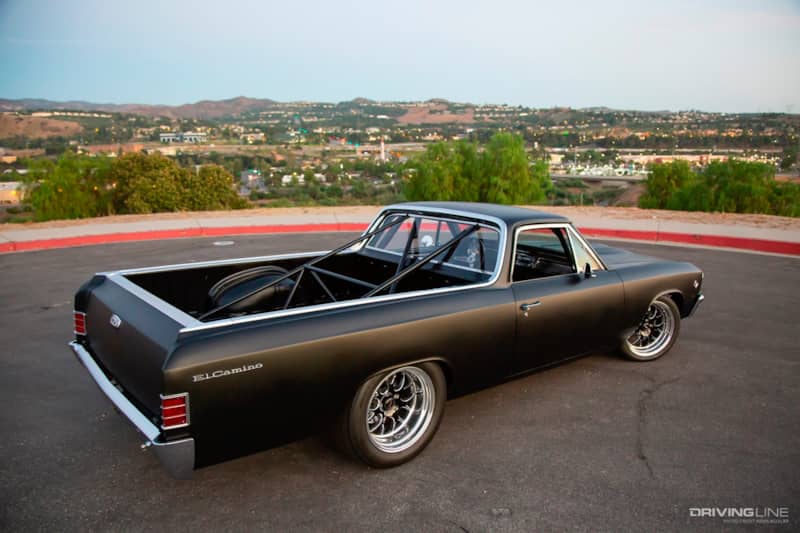 A powerhouse it wasn't, though. Kids, especially gearhead kids, love themselves some power. They can't always handle it, but they do love the ponies. Chris quickly outgrew that stock 350 and changed the cam, intake, carb, and headers all to satisfy his growing speed habit. But it wasn't enough. Right now, you should be seeing a pattern forming. Chris still wanted to go faster. At this point he brought a nitrous system to the mix. That was fun for a while and he'd occasionally race his El Camino at the dragstrip; his best time being 13.2 in the quarter mile. I'll give you three guesses as to whether or not that quenched the need for speed.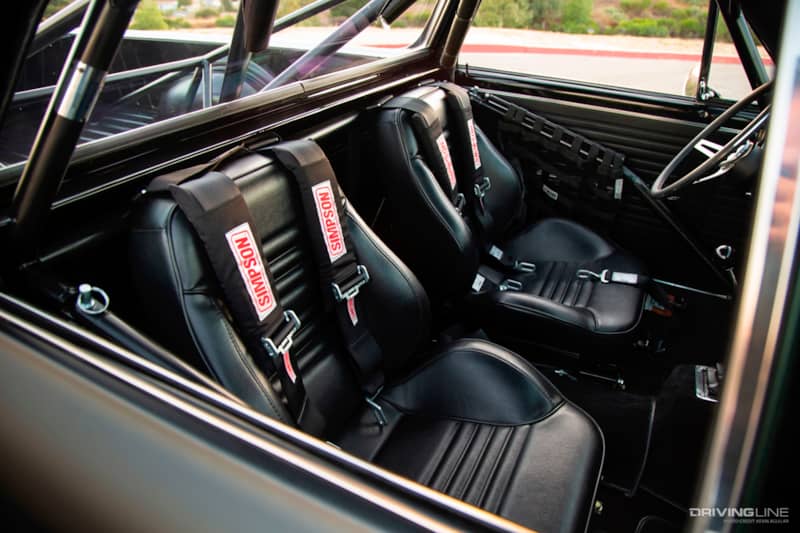 If your definition of "quenched" is "hell no," you're correct. Chris Decker had taken that small block 350 about as far as he'd wanted. Four years after he'd put the nitrous setup on it, Chris found himself shoehorning a big block 427ci into the frame, making around 600 HP and using a TH400 transmission. He quickly discovered that the old `67 El Camino frame and suspension weren't designed for warp drive. Chris now had too much power far too little chassis strength. It was time to cage the car.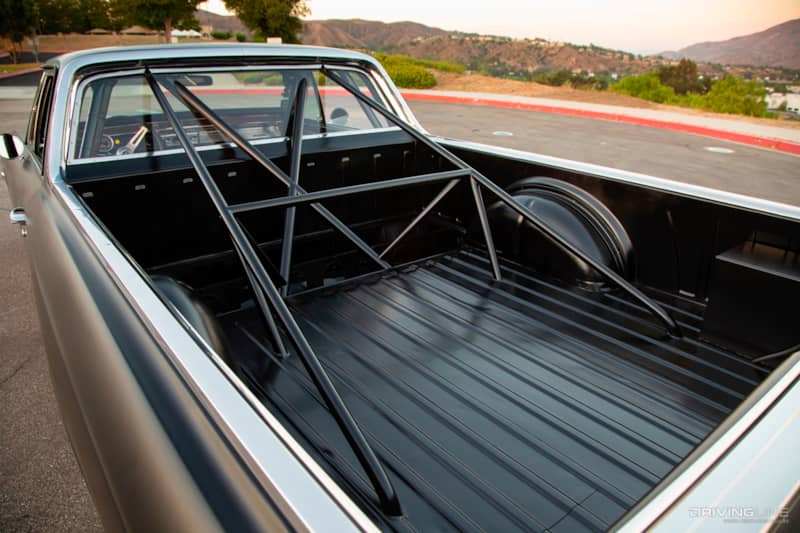 To that end, Chris bought a chromoly cage kit from Chris Alston in Sacramento and started caging the El Camino with a buddy. They also inadvertently re-enacted the plot to Risky Business: "We did not have a place of our own so we did it while my friend's Dad was out of town so we could use his TIG welder," Chris says. "Unfortunately we did not finish before he came back home but he was nice about the situation and I was able to finish the roll cage at his house." It took about three weeks of working after school and work to cage the car but the results were worth it. The El Camino would now go 10.8 in the quarter mile. That was how the car stayed until 2007 when, yup, you guessed it. Chris itched for more horsepower. This time Chris had Steve Schmidt Racing from Indianapolis build a 523ci BBC race engine making 900 hp and able to safely incorporate an additional 300hp shot of nitrous. At this point the ElCo was basically a race car. It didn't see much use except for local cruise-in car shows or days at the drag strip. The car was a handful on the street and downright mean at the track.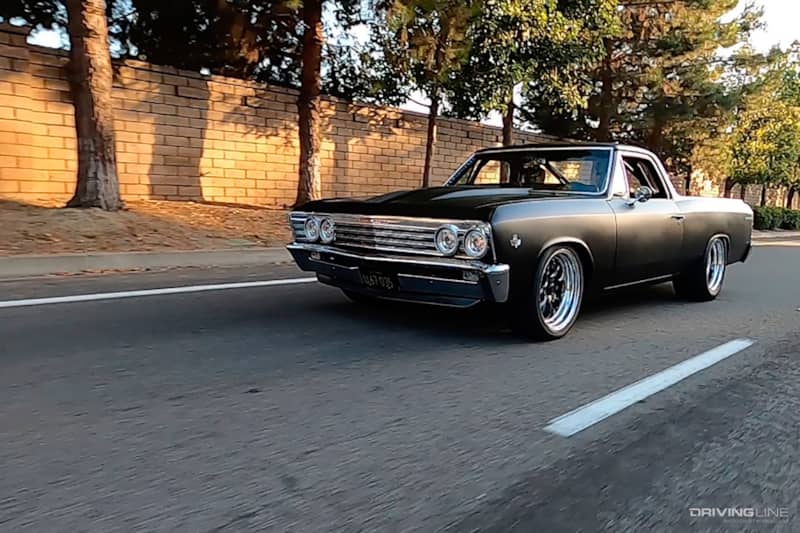 At this point Chris' life started changing and with the onset of the affliction we call "adulthood" his priorities changed, too. He started a family. The poor race car sat forlornly alone, hoping to get back out someday. In time Chris got to a point where he got back to it, though. "After we had our first child and I finished remodeling the house it was time to get back to enjoying my car. I quickly realized that I had a car that I could not share with my son. At that point I sold the BBC and all the components that bolted on to it and the entire drivetrain and even some interior parts, the wheels, and the hood." He started over with the car and the goal of taking his son for a ride in it. "I still loved drag racing but also wanted to be able to take the car up a windy mountain road," he elaborated. "I used this to plan the current build. I have a set of skinny wheels and tires for the drag strip that match the wheels that are on the car as well as wider fronts for many other uses. I decided that I had to have adjustable shocks to help me give the car a different attitude for each type of driving condition."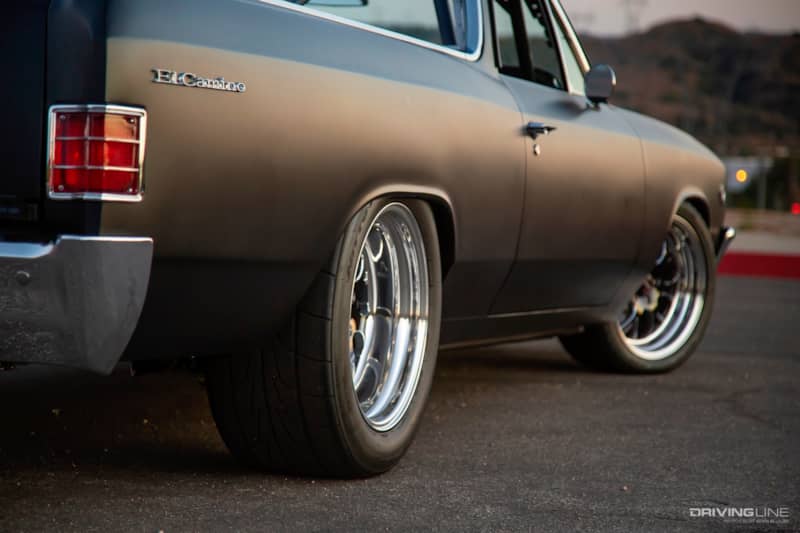 Out went the race engine, in went a Chevy LS3 376ci. Not exactly in stock form, though; a Texas Speed Stage 3 camshaft and double valve springs, Edelbrock Victor Jr intake manifold, Fitech EFI (custom, soon available for the general public), K&N Extreme air cleaner, Sanderson headers, and MagnaFlow mufflers all play into Chris Decker's need for speed. The engine work was also an inside job in that Chris took care of it himself in his own garage, without the need to wait til his buddy's dad went out of town again. It makes 538 horsepower at the rear wheel at 6850 rpm and 455 lbs-ft torque at 3547 rpm. On the drivetrain side, you'll find a Tremec T56 Magnum XL transmission, Luk clutch, Hurst shifter, Detroit Truetrac Quick Change differential, and Mark Williams 3-inch aluminum driveshaft.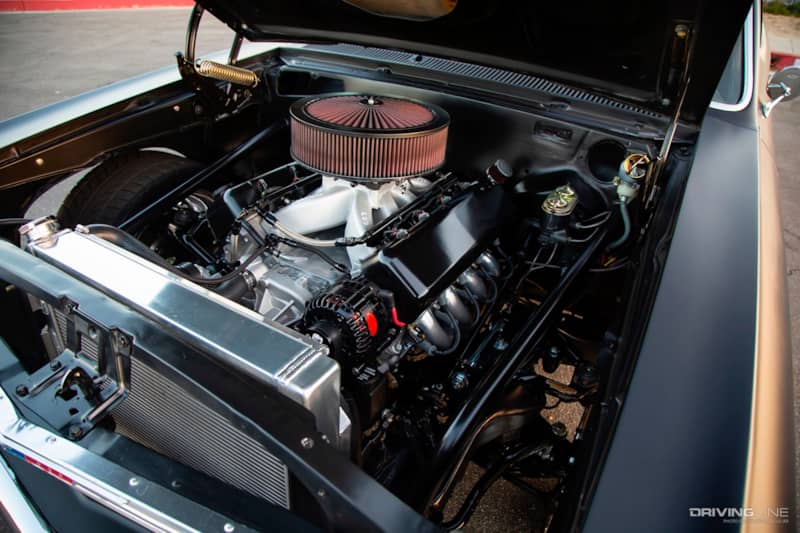 Making a versatile custom called for adjustability in the suspension department if Chris wanted to go from drag racing to all-day cruising and anywhere in between. The El Camino already had the 14-point chromoly cage. What Chris brought into the project at this point were four-link Hotchkis boxed trailing arms and adjustable upper trailing arms, Hotchkis 1 5/16-inch diameter anti-roll bar, Eibach Global West coil-over conversion springs, and QA1 coil-over double adjustable shocks. He custom tailors handling up front with Global West arms and knuckles with Eibach springs, Global West anti-roll bar, and QA1 coil-overs double adjustable shocks too.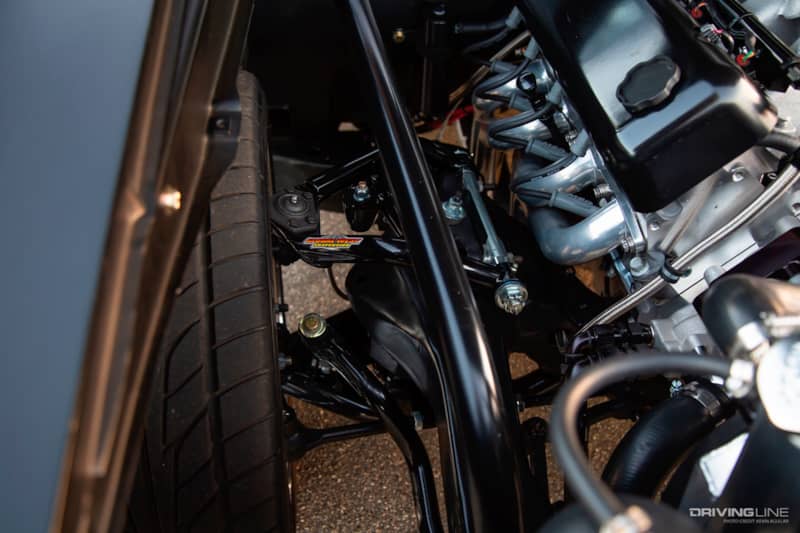 All of that sets the stage for a fun, versatile modern custom in classic El Camino clothing. Chris Decker didn't skimp in the wheel department, either. His beloved elky eats miles on Weld Racing wheels (18x8.5-inch front, 18x10-inch rear) shod in Nitto NT555/NT555R tread (245/40R18 front, 305/45R18 rear). "I'm impressed with the way the Nitto 555R drag radial tires behave. This car was inspired by Big Red, but I wanted it to be versatile. The soft compound hooks up really well. It also has very consistent behavior on the road. I like the overall feel of the tires and they have good traction and grip." Chris installed Wilwood Forged Dynalite Pro Series 4-piston brakes out back and Wilwood Forged Dynapro 6-piston brakes up front to rein in the ponies as needed.
If the El Camino doesn't look cherry stock on the outside that's because, well, it isn't. Not only were the rear wheel wells stretched an inch from their drag racing days, Chris also shaved the antenna, gas door, and side moldings to smooth out the look. His car also runs a Glasstek fiberglass hood and he zapped down the PPG DP90 paint himself.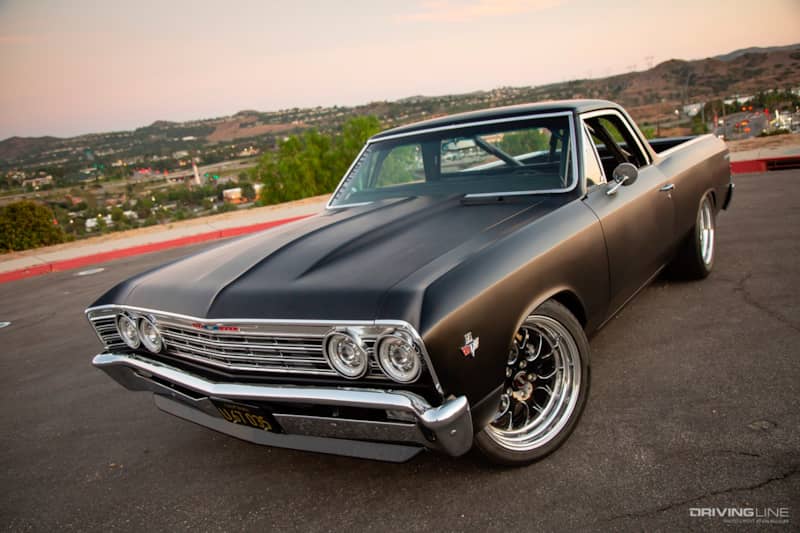 Seeing as how he planned to do more than run track days, Chris gave the interior new love to reflect that. Not only did he install Autometer gauges, he gave the car a real upgrade soundwise thanks to the Retro Sound head unit with Pioneer 6.5-inch speakers up front and their 6x9-inch JL Audio rear counterparts. You'll also find Protouring seats with Simpson Racing seatbelts in it as well.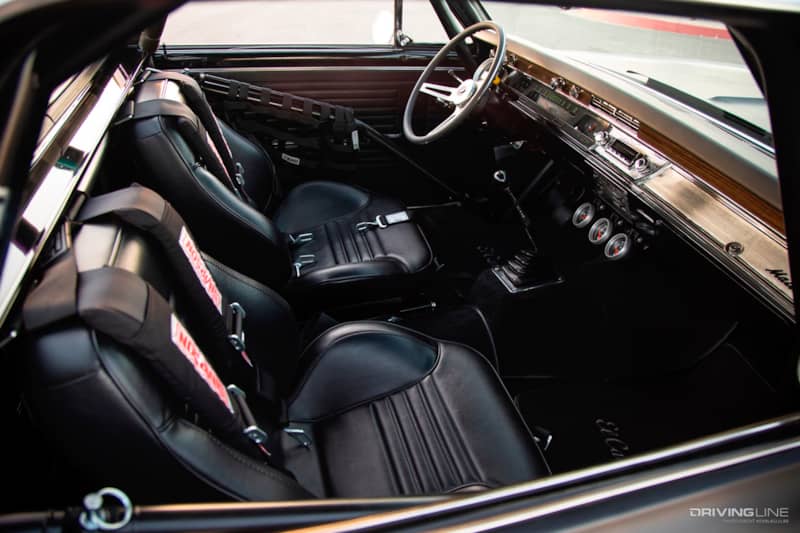 All of which was done in Chris' very own garage. This is the third rebuild of his El Camino and it took a year and a half to make it all happen. For as many great memories he has of this car, some of the greatest are because of his family. His mother for the support she provided when he was a kid starting out, his wife's understanding during the rebuild, and, most memorably, taking his son for a ride once the car was finished. And he can still take it to the track when he feels like being a kid himself.
Take a look at the El Camino's custom cousin, a '67 Chevelle on steroids.