Ultimate Callout Challenge 2018: Drag Race Coverage
For three years now, the Ultimate Callout Challenge has brought the strongest-running, multi-purpose diesel trucks in North America together to battle it out in three completely different forms of competition: drag race, chassis dyno and sled pull. While rules allow competitors to alter their suspension, drive train and power train configurations between events, the challenge in making a truck weigh as little as possible for the drag strip doesn't exactly jive with the kind of configuration that wins in the dirt—and winning on the dyno means throwing obscene amounts of nitrous at an engine that makes 1,500-plus hp without it. Needless to say, there are some wildly innovative vehicles that sign up to compete at U.C.C. and they're all living on the ragged edge.
In 2018, Lucas Oil Raceway in Indianapolis, Indiana would once again serve as the host venue for the three-day affair. Just like in 2017, the action kicked off at the facility's renowned quarter-mile drag strip on Friday. However, air and track temperatures were much warmer this year and more competitors seemed to have done their homework before showing up in Indy. Before the day was through, we saw six trucks in the 9s, eight in the 8s and Firepunk Diesel's Pro Street Dodge venture into the 7s. There were several oil downs, but you'll have that when 6,000-pound trucks are making triple-digit boost and applying 2,000hp to the track.
Below, you'll find the 10 quickest trucks from this year's Ultimate Callout Challenge. Not all of them would survive their trip through the quarter-mile, but the ones that did earned a date with the chassis dyno the next day. That coverage comes your way next!
1. Lavon Miller: 7.88 at 181 mph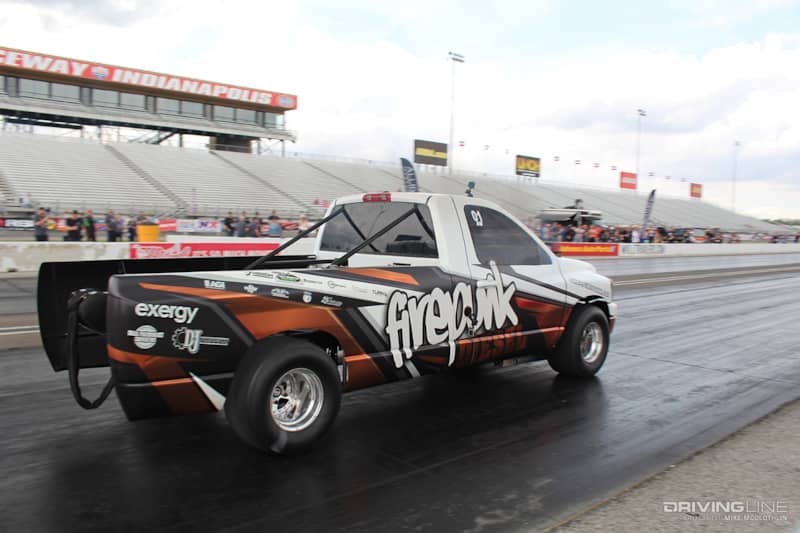 With the Pro Street diesel record (a 7.99) already under their belts, it was an unspoken certainty that Lavon Miller and the Firepunk Diesel team were the favorite at the drag strip. They didn't disappoint. Right out of the gate, Lavon catapulted the 4,600-pound Dodge to an 8.12-second quarter-mile at 180 mph, setting the bar incredibly high. On subsequent passes, a few fueling issues surfaced, which Miller and team were eventually able to iron out. Then, just before dusk, Miller lit up the scoreboard with a 7.88 at 181 mph. While the truck never broke traction on the pass, the first half of the race definitely looked like a handful for Miller. After powering side-to-side in its lane and nabbing a 5.19-second eighth-mile, the truck looked to be on another 8.1-second pass. Once it settled in, things got downright serious on the back half, with Miller picking up 37 mph.
2. Jared Delekta: 8.07 at 180 mph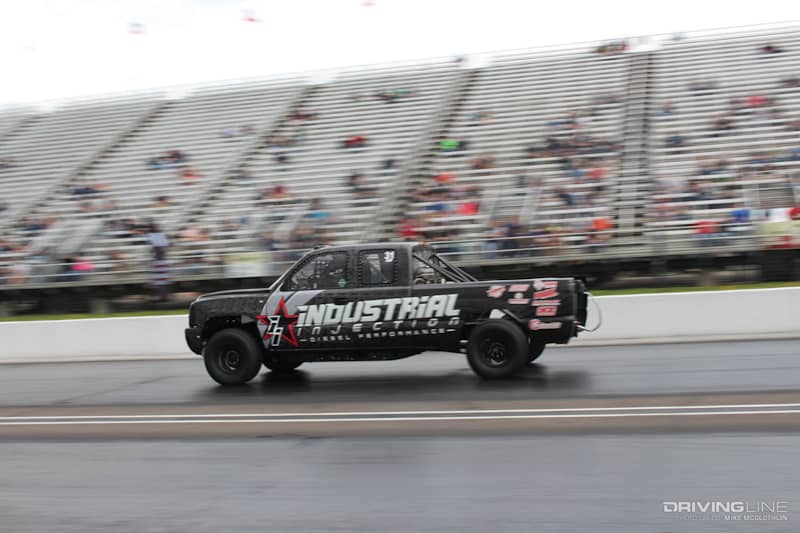 One of the most highly anticipated trucks at the event was the insanely quick, Cummins-powered Chevrolet Silverado HD campaigned by Industrial Injection and driven by Jared Delekta. Coming into the event, the truck had already been as quick as 8.53 at 167 mph—but now it was rumored to be at least 600 pounds lighter. With the "all it's got" tune uploaded, Delekta gave the track everything he had. The "DeMaxed" Chevy's 8.07 at 180 mph would stand as the quickest pass for nearly five hours before Lavon Miller and the Firepunk guys were able to put together the aforementioned 7.88-second run.
3. Chris Buhidar: 8.57 at 165 mph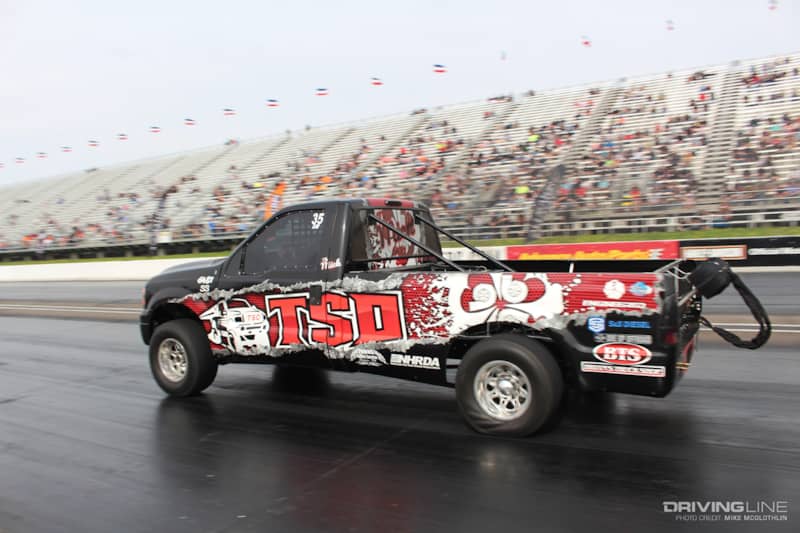 Chris Buhidar of Truck Source Diesel might've been new to competing in U.C.C., but as part of Wade Minter's crew the year before, he likely took notes on what it takes to not only be competitive, but survive the event. As a former NHRDA Super Street champion racing his triple-turbo'd, common-rail Cummins-powered '00 Ford, we had a hunch he would be one of the top five trucks. He certainly delivered at the drag strip, wasting no time clicking off an 8.57-second pass at 165 mph. Although further efforts to get through the 1320 any quicker proved futile, Buhidar was in great shape heading into the dyno competition on Day 2.
4. Donavan Harris: 8.58 at 167 mph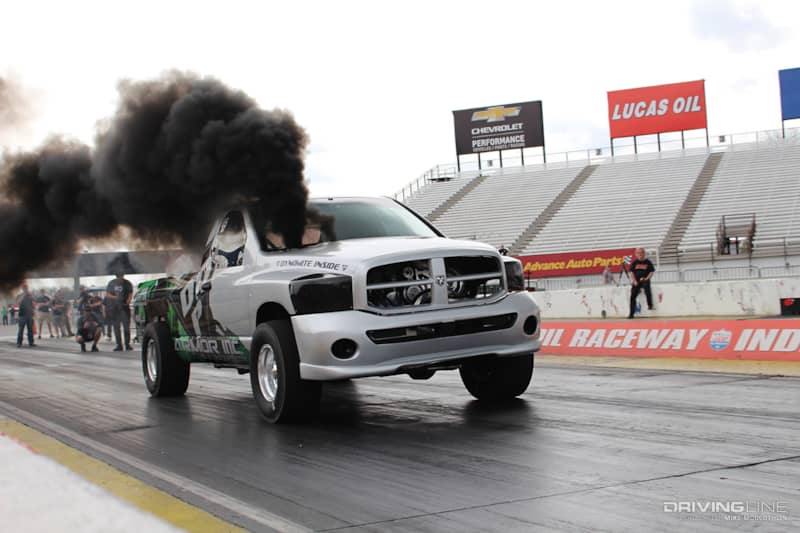 Thanks to having one of the most well-rounded trucks in attendance, Donavan Harris is no stranger to finishing near the top in every category. In fact, he took fourth place at both U.C.C. 2016 and U.C.C. 2017. Looking to improve in 2018, Donavan definitely hit his goal at the drag strip. His 8.58-second run at 167 mph beat his best pass at the 2017 event by almost a full second—and he also picked up an incredible 22 to 23 mph in 2018.
5. Josh Gruis: 8.74 at 160 mph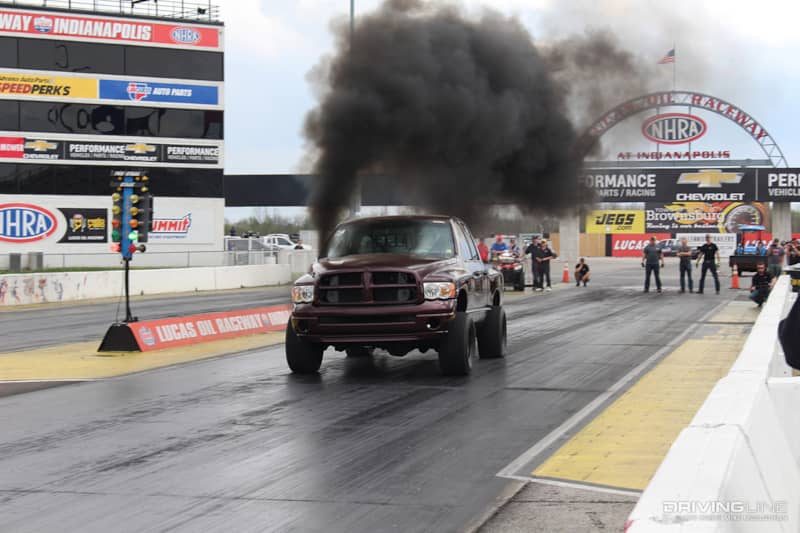 After a 9.79-second best in 2017, it was nice to see Josh Gruis and his '04 Dodge put nearly a full second on his previous U.C.C. time. Prior to his 8.74-second pass, Gruis went 9.15 at 155 mph, but he seemed to know it wasn't going to be enough to keep him at the front of the field. Just one hour later, he returned to the staging lanes and ran nearly a half second quicker. In the grand scheme of things (and thanks to such tight competitor grouping), the difference between the 9.15 he ran prior to his 8.74 was fifth place vs. eleventh place. It's also worth noting that Gruis' 8.74 makes his compound turbo'd, Cummins-graced Ram the fastest steel bodied four-door in North America.
6. Cody Hale: 8.81 at 156 mph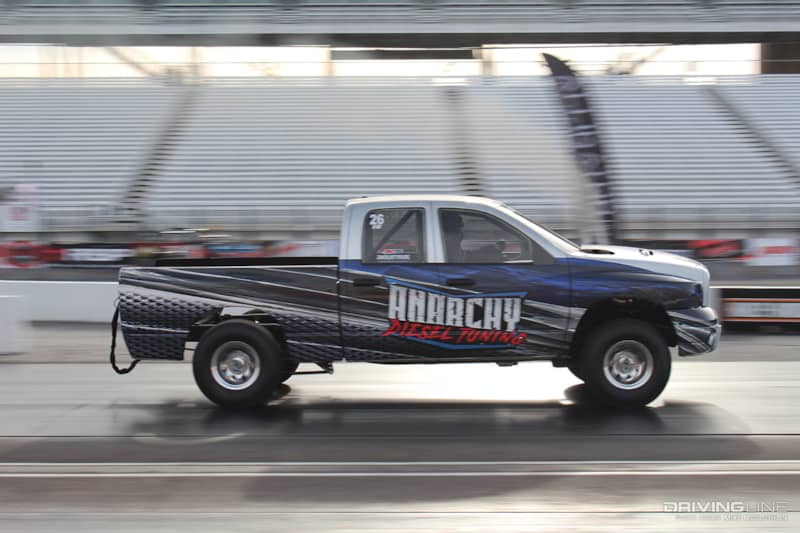 Right behind Josh Gruis was Cody Hale's '06 Ram ¾-ton. Packing massive compounds, huge fueling and diesel drag racing ace Emilio Blanco behind the wheel, the 6.7L Cummins-powered Dodge from the Anarchy Diesel camp turned in an 8.81-second effort. The dip into the 8s was more than a second faster than the team's best pass a year prior and, believe it or not, was the truck's very first time hitting the track. The guys at Anarchy literally wrapped up the build the night before U.C.C., pulled it on the trailer and hauled everything to Indy.
7. Shawn Baca: 8.88 at 157 mph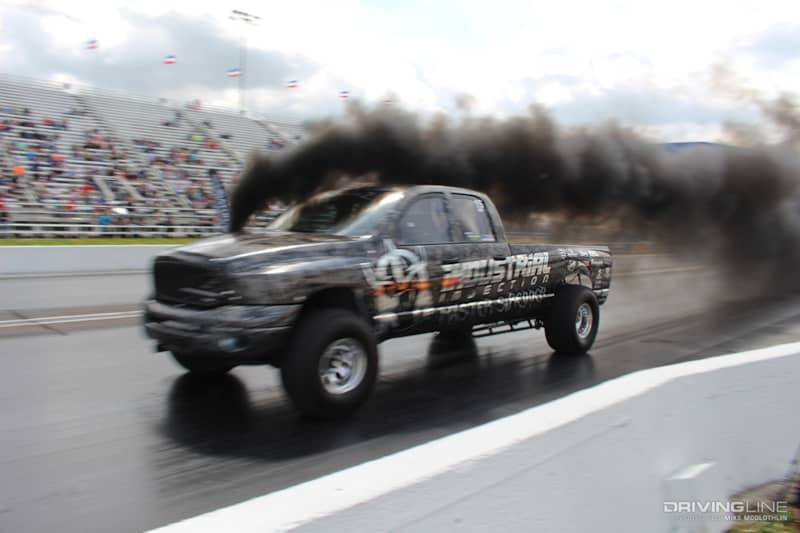 Yes, this blurry image is the best shot we could muster of Shawn Baca's earth-rotating Dodge Ram coined the "Master Shredder." After cutting a neck-breaking 1.39-second 60-foot, the 6,500-rpm Cummins-powered beast blew past us like a maglev train on its way to an 8.88-second quarter-mile at 157 mph. Now in his third year of competing at the Ultimate Callout Challenge, this pass marked Baca's best elapsed time to date and also illustrated that he and the Industrial Injection crew have begun to iron out all the quirks that've plagued this 2,500hp monstrosity's drag strip efforts in the past.
8. Wade Minter: 8.89 at 158 mph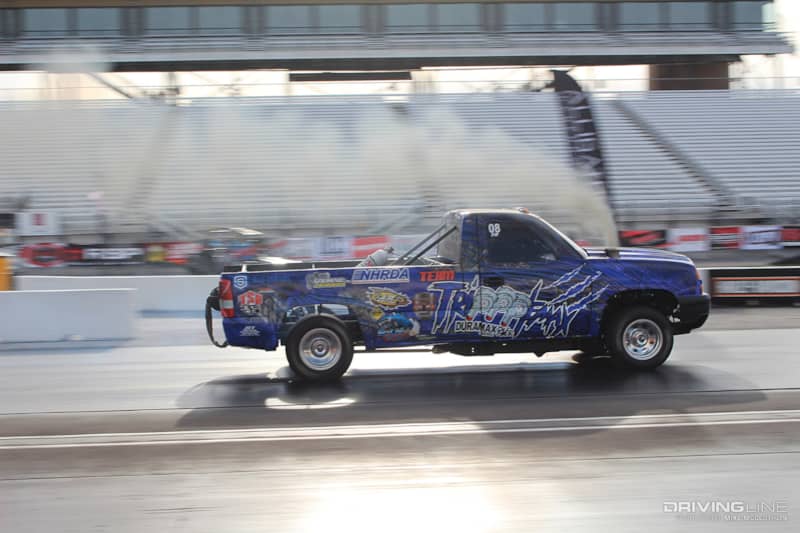 No stranger to 8s, Wade Minter piloted his triple-turbo'd, SoCal stroker Duramax-equipped, "Ill Tempered" Silverado to an 8.89 as the action on the drag strip began to wind down for the day. Earlier on, his '06 Chevy 3500 would suffer a damaged high-pressure turbocharger. However, Minter and his Truck Source Diesel crew were able to source a replacement charger and get back to the staging lanes. Had Minter not been able to return to the action, he would've had to settle for eleventh place on the day.
9. Justin Andres: 8.94 at 154 mph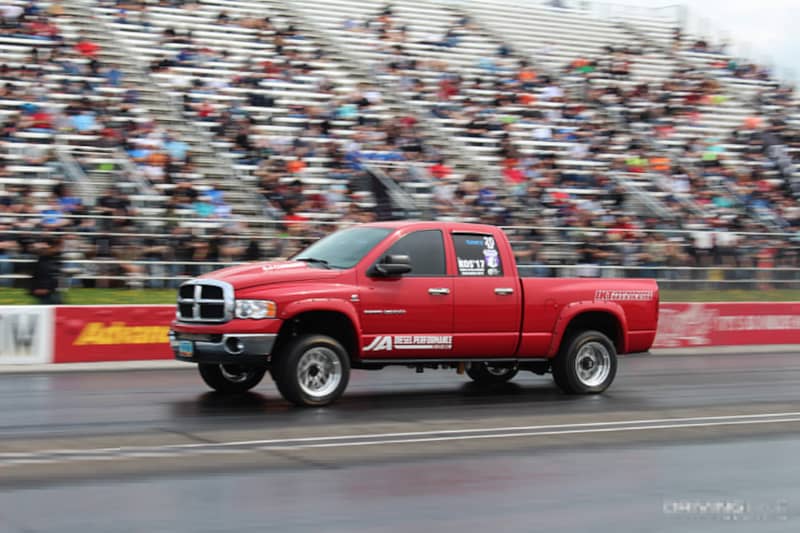 Justin Andres once had a goal of building a street-driven diesel capable of running 9s. Well, he blew past the 9s and found himself running high 8s in his full weight (6,800 pounds), original interior, four-door '05 Dodge Ram 2500. Sporting a sleeved 6.7L Cummins from Freedom Racing Engines (technically making it a 6.2L), tuning from Done Right Diesel Performance and a two-stage, triple-turbo arrangement from HSP Diesel, Andres' 154-mph pass meant that more than 1,700hp was making it to the ground—and we're told this is the fastest street-going, full weight diesel truck in the U.S. Unfortunately, an engine issue made this his last pass for the weekend—but we'll definitely be on the lookout for this flame red Dodge at future events.
10. Anthony Reams: 9.06 at 148 mph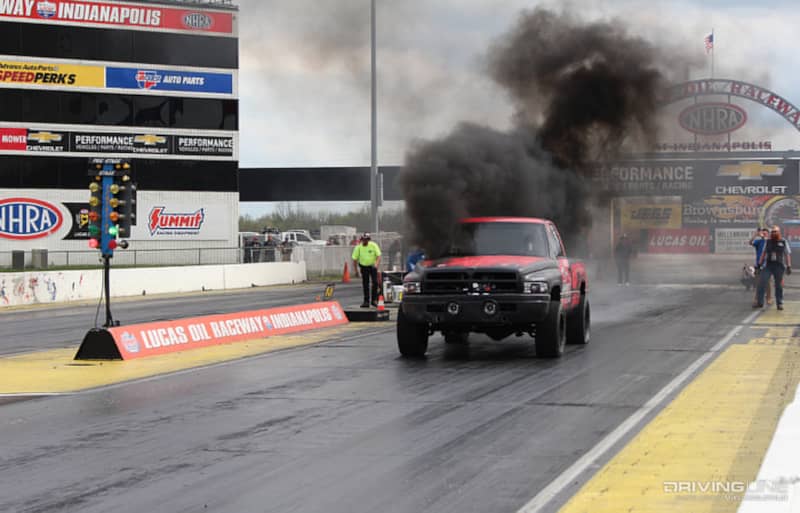 When it came time for a small town shop to perform on a national stage, the St. James Diesel Performance team from mid-Missouri delivered. After coasting to a 9.6-second quarter-mile on the truck's first pass, driver Anthony Reams was able to snag a 9.06 at 148 mph. The second-gen Ram is powered by a triple-turbo'd common-rail Cummins, backed by a competition-prepped transmission from Firepunk Diesel and weighed in a 5,800 pounds.
Last But Not Least: Derek Rose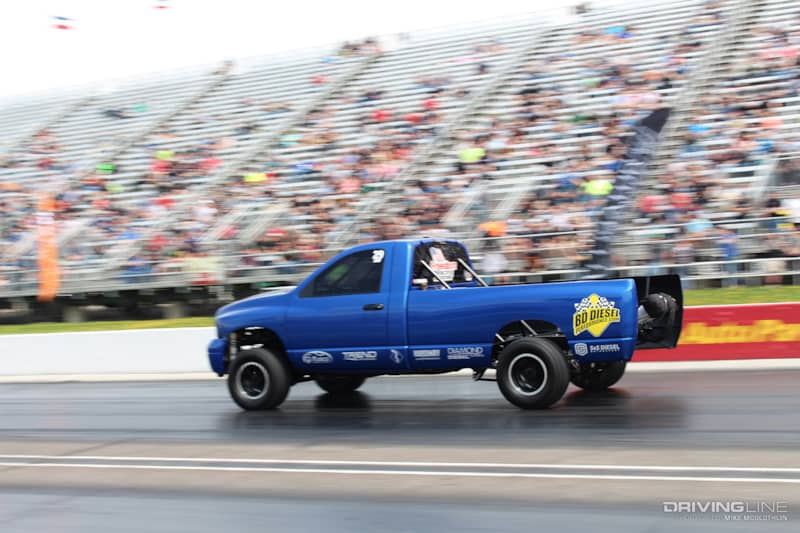 This bonus round is brought to you by Derek Rose of DNR Customs. Why is Rose's standard cab, center-drive Dodge included at the tail end of our list, even though he finished outside of the top 10? Because, just as in the previous two Ultimate Callout Challenge competitions, he would be right in the thick of things until all was said and done. When the action moved to the chassis dyno on Day 2, he would absolutely kill it with a monstrous 2,378hp/3,479 lb-ft showing. Stay tuned for our dyno coverage, up next.
To see another crazy fast truck, check out our feature on Jake White's 1996 F-250!