Ultra4 Glen Helen Race Recap [VIDEO]
A record-high of 76 4400 Class vehicles had registered to compete in Ultra4's Glen Helen event, which meant the drivers would have to battle it out in preliminary heats to earn one of the forty transfer spots to the main event. The Glen Helen course is very unique in that it combines multiple facets of off-road racing including the official off-road short track with big-air jumps and tight bowl corners, wide-open, high-speed flat sections and steep, unforgiving hill climbs.
Despite watering down the course throughout the race, the track was very dry and slick and competitors battled visibility issues as the dust-clouds never seemed to dissipate.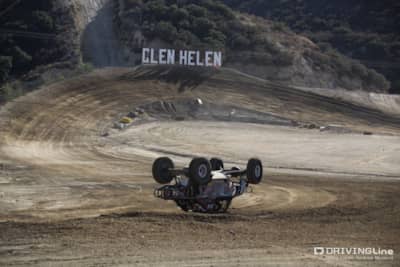 The variety of obstacles took their toll on competitors and, as the race progressed, the course began looking like a graveyard with abandoned vehicles littered throughout. At the end of the 2-hour main event, just four of the forty drivers completed all 20 laps.
Of the four, it was reigning King Loren Healy in the brand new #67 ATX Wheels/Nitto Tire buggy who came out on top, 2:05.8 ahead of anyone else. Less than a month ago, this new machine was an untested and untamed beast. Loren decided to build a second car, for races such as this one, when Ultra4 announced earlier this year that teams would be able to run two different vehicles throughout the season. While it was his trusty solid-axle buggy that led him to victory at King of the Hammers, an independent front suspension (IFS) is more suited to high-speed tracks such as Glen Helen - and Loren knew it would be worth the investment. With only a few short test sessions prior to the race, Loren didn't know what to expect at this race.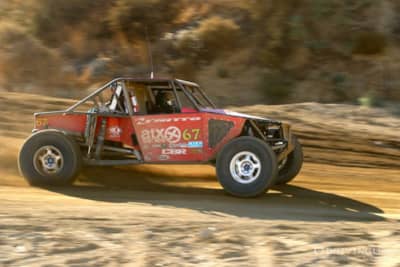 So when Loren went out and set a quick qualifying time at Glen Helen, everyone came to the realization that he may be a whole lot closer than he thought he'd be. Setting the fastest lap was one thing, but going out and dominating the first preliminary race was what really sent shockwaves through the pits. Entering Glen Helen as the National Championship points leader, the mindset quickly changed from just maintaining his lead to extending it.
When the green flag flew Saturday evening, Loren took off and never looked back. While rival Levi Shirley kept Healy honest throughout the race, he was never able to apply any direct pressure with the exception of when Loren pitted to refuel. Upon re-entering the track, Healy quickly chased Shirley down and made an epic pass on the outside of a big bowl corner. From there, it was just about putting in a few more solid laps and minimizing the mistakes. As Loren came to the white flag, he was pumping his fist in excitement and brought it back around to the checked flag and his second Ultra4 series victory of the season.
As friends, family and competitors came over to congratulate Healy on his dominating victory, one thing became apparent: Loren was in as much shock as everybody else. He felt the car still could be tuned a bit better and that he could have driven it even harder if he needed to. This isn't good news for his fellow teams and drivers. The victory also solidified his stranglehold on the points Championship, Loren's ultimate goal this season.
The rest of the Nitto Tire team had more than their fair share of issues at Glen Helen. Nick Nelson, the two-time defending champion of this event, qualified 2nd before his engine came apart in the preliminary race.
Rick Mooneyham was quick all weekend but had problems just three laps into the main event finishing 38th.
Randy Rodd didn't necessarily have the speed to win, but managed to complete 17 of the 20 laps en-route to a 12th place finish.
Last but not least, Jason Scherer missed all of practice and qualifying on Friday as the Rage4th team attempted to rebuild the motor after blowing up while testing earlier in the week. Also in a freshly-built vehicle, as you've read about the build here on DrivingLine, Jason is still working out kinks but has shown what amazing capabilities his new buggy has.
Despite no time on the track before Saturday's prelims, Jason wheeled his #76 Rubicon Express Nitto Tire buggy to a 16th starting position in a field of 40. Scherer tore through the field and managed to race his way up to third place before trouble struck. As he was running down the two leaders, a lapped vehicle veered into Jason on a high-speed straightaway. The contact sent Jason into the rocks that flung his car up onto a tractor tire, completely destroying the left front in the process.
Despite the DNF, Jason was credited with a 20th place finish. Enjoy the video of the action, the gallery above, and awesome video coverage from Ultra4. Next up is another Ultra4 Western Regional Series race, American Rock Sports Challenge, August 22-23rd in Tooele, Utah.