ULTRA4 Off-Road Racing Course Lives Up To Its Name At The 2022 Tear Down In Tennessee Regional Race
Story By Matt Holt
Photos By
The blistering heat made this race so much more intense that anyone expected. Most of the 80 racers start rolling in Tuesday morning and start setting up camp, getting the cars ready, and begin practicing.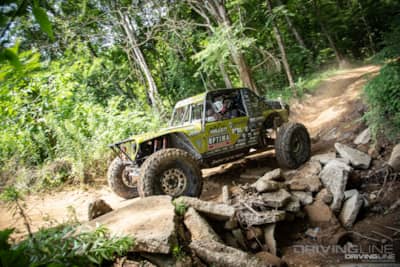 The near 100 degree temps along with the sauna like humidity made it almost unbearable to even be outside! Ultra4 crews were setting up the course and spectator areas, Rock Racing TV was getting cameras put in the woods for the live show, and racers were arriving, but no one was thrilled about the heat.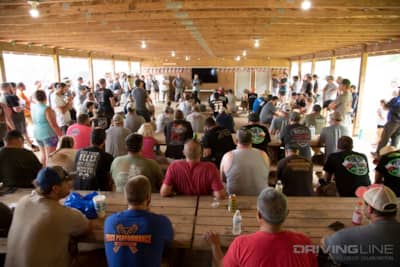 Even the park staff at Adventure Off Road Park and residents of South Pittsburg, Tennessee were not a fan of the heat and were hoping it would cool off soon. Trying to beat the heat was Team Indiana who found time cool off in the river for bit of a pool party.       
PRACTICE & QUALIFYING
Thursday rolled around and cars were out and about trying different parts of the course and trying to out think their opponents at what line would be the smoothest or the fastest. Practicing the course is important for several reasons, the biggest is knowing what lines are available so that the racer can be the fastest, however, being too creative can get you in hot water sometimes as well.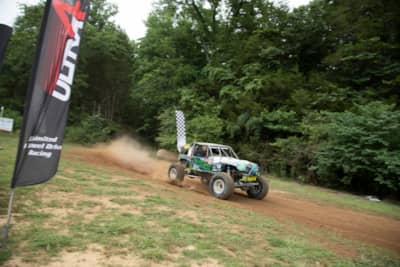 Racers also want to make sure the course is burned into their brain so that on race day when they are flying at Millennium Falcon pace with pure tunnel vision, they are 100% confident on where they are going. For most racers practicing is a slower pace and they may even get out and walk around to see it from a different angle and try to come up with a faster route. Some may take the same part of the course and run it over and over so they know how fast they can push it and when and where to start braking. 
However, this can be a problem, at most parks they allow spectators to go out and four wheel the whole park including the race course up until qualifying and racing starts. Therefore there was a 25 MPH speed limit put on the race course and qualifying track as to keep it safe for everyone. There are several drivers meetings though the week to make sure everyone is on the same page and get crucial updates out to the racers and pit crew and as the drivers meeting was happening on Friday right before qualifying the sky turned dark and dropped a decent amount of rain, dampening the dusty track but most importantly cooling the temp down by almost 20 degrees! Everyone was thrilled and the races started setting fast times shortly after. They qualifying course is a much smaller and easier version of the race course, so it's very intense and fast paced and a blast to watch. Drivers push hard and some too hard like Cameron Mink who rolled his SXS in qualifying trying to claim that number one spot.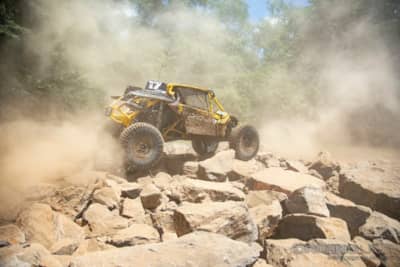 RACE DAY
JT Taylor, Ultra4 Race Director, is no stranger to setting up very fun, yet technical courses, so when he was walking the 6 mile course throughout the week he added several very, and I mean very, bumpy rock sections that would beat a racer and their car to death.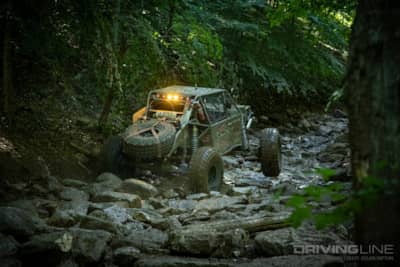 He also added a few high speed sections, a bit of short course, a small rock garden, and a 25 MPH area in front of the hot pit. Lastly he added a Joker line, which is a extremely difficult down or uphill section that racers must take at one point during the race on any lap of their choosing. Coming down Riot Hill was that optional course that most drivers decided to take on the first lap so that it wouldn't get congested later in the day. Casey Ryan (driver) and Camryn Schooley (co-driver) didn't make it that far however, after cutting both 37" DOT driver side tires in the sharp rocks they chose a smoother downhill section with a line they had spotted earlier when pre-running, after starting down they got hung up and realized they had no reverse, which led to them getting out and winching and finally just sending it downhill to get free, they had to follow out a production crew on a bypass to make it back to camp. Which gave Casey a quick break to get ready for co-driving for poll sitting, and later winner, Erik Miller, who Casey stated that, "he was so precise with every corner and wasn't even pushing the car that hard, we were basically trail riding." And Casey wasn't alone with his flat, almost every DOT tire class had a flat tire by the first lap which surprised some that the rocks were that jagged and sharp for a woods course, some teams had only brought 2 spares, like Paul Wolf who ended up borrowing a set of Nitto Trail Grapplers from Erik Miller who both ended up respectfully first and second for the day, which goes to show the level of camaraderie in the sport we all love so much!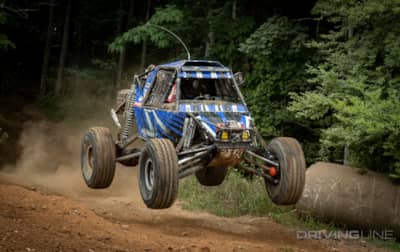 One of my favorite parts of the day was watching the awards for the 4500 class where Troy Digby took 1st place, and yet his car was still broken in the woods, how could a driver who didn't ever finish the last lap win you ask, well, he went the farthest on the last lap with Cody St. Clair breaking right behind him, and exiting through the bypass claiming 2nd place.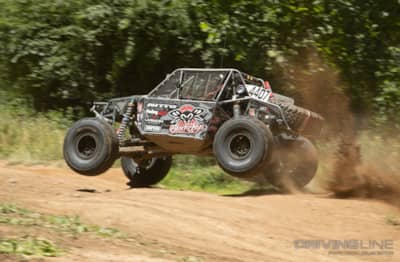 Troy said him and Cody literally battle side by side throughout most of the course and he said, "It was a hard day of racing that was just crazy!" The course workers were watering the track between races to help keep the dust down, and the temps since the rain were warm but bearable. A special shout out to the Canadian race crew who made the 16 hour drive down from Ontario to race and compete against the USA U4 crews and see how they stack up, unfortunately they were flying though the tight woods course and clipped a tree, breaking the steering, but still enjoyed coming down and having fun racing.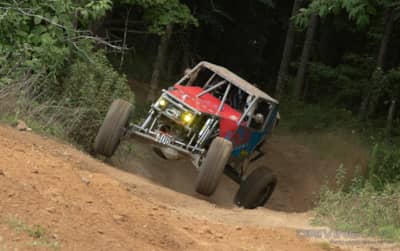 Ryan Webb and his young son from Kryptonite Kustoms Crew were maybe the smallest race team this weekend racing a 4800 and 4400 car all by themselves, they finished 5th in the 4800 class which put them in the money. 
AJ Stratman racing UTV rolled over being able to see the finish line still landing him a 3rd place spot. The weekend was awesome it was great to all the racers having so much fun despite the heat and such battle ridden race cars, all in all, it was a great weekend. 
2022 Ultra4 Tear Down in Tennessee RACE RESULTS
UTV Stock Production
1.) Jeremy Blackburn
2.) Aaron Lynch
3.) AJ Straatmann
UTV Pro Modified
1.) Jamie McCoy
2.) Jay Shaw
3.) Mike Park
UTV Open
1.) Scott Raymer
Stock Sportsman
1.) Jason Dehn
2.) Roger King
3.) Marc Zaboth
4600
1.) Jon Schaefer
2.) Mick Henson
3.) Cody Lusk
4500
1.) Troy Digby
2.) Cody St. Clair
3.) Shawn Rants
4800
1.) Evan Sherman
2.) Trevor Fults
3.) Buddy Carlton
4400
1.) Eric Miller
2.) Paul Wolf
3.) Tad Dowker