Ultra4 vs Rock Bouncer: Which is the Real King of the Rocks?
In the world of extreme off-road racing, there are only two types of 4-wheel drive vehicles that can competitively traverse trails that you couldn't even hike up. The first is known as an Ultra4 car, engineered to compete in both long distance desert races that require intense rock crawling skills, like King of the Hammers, as well as short course races and everything in between. The other is known simply as a Rock Bouncer, and its main purpose is to make it to the top of steep, loose and rocky hills as fast as possible. At first glance, you might have a hard time telling the two apart, but they are quite different in as many ways as they are the same.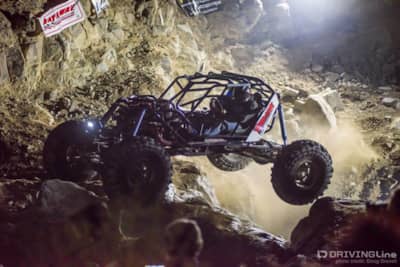 Driving Style
Perhaps the biggest difference between Ultra4 cars and Rock Bouncers is how they are driven. Ultra4s require a degree of finesse; racers must choose their lines carefully to navigate boulder-ridden trails with ease and keep their pace up. They are piloted by some of the best drivers in the world, who take calculated steps that lead to a desired outcome. Much like the game of chess, Ultra4 driving requires thinking 10 steps ahead to succeed. On the other hand, driving a Rock Bouncer is more like playing checkers. Rock Bouncers don't care about finesse. It seems the best way to drive one is point the nose at the top of the hill and put the hammer down to wide-open. While Rock Bouncers have to be skillful in knowing exactly what is happening with their rig at any given moment and making small corrections to keep the rig moving uphill, they put a lot of trust in their equipment to both take incredible abuse and keep them safe when things don't go as planned.
Here is a Rock Bouncer, bouncing its way up a competition hill. 
Here is Erik Miller in his Ultra4 car, taking a slightly more calculated, but fast approach. 
Chassis
When it comes to physical differences between Ultra4s and Rock Bouncers, the most striking can be the shape and look of the vehicles themselves. Ultra4 cars tend to have engineered chassis that resemble most competition off-road vehicles. On the other hand, Rock Bouncers usually have intricately designed chassis, with brightly powder-coated metalwork. Many Rock Bouncers have an artistic feel to them and sometimes resemble an alien exoskeleton or something you would find in a Mad Max film. Ultra4 cars tend to have a shorter wheelbase than their Rock Bouncer counterparts, and much of the chassis is paneled in with sheet metal, unlike the Rock Bouncer's exposed cage.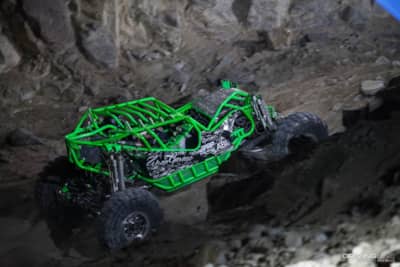 Drivetrain
You may be surprised to find out that Ultra4 cars and Rock Bouncers commonly share many drivetrain components. They both normally have front-mounted engines, automatic transmissions with manual valve-bodies, abuse-ready gear-driven transfer cases and 1-ton or larger axles. The most common engine and transmission combinations you will find in both cars is the small block Chevy mated to a Turbo 400 transmission, although we have seen variations of powertrains in both divisions that are capable of producing in excess of 1000hp.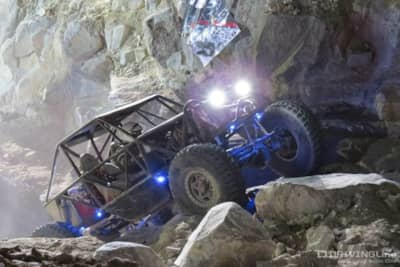 Suspension
Although much of the drivetrain between the two remains the same, their suspension setups differ greatly. Rock Bouncers are not built to take the hard hits of fast desert driving, nor do they rely as much as Ultra4s on articulation. They seem to just "bounce" over the rocks (obvious of the name). Rock Bouncers normally have tubular upper and lower control arms, often in a 4-link pattern, with a single 2.5-inch coilover bolted from the chassis to the axle itself in each corner. More common in the rear of Ultra4 cars is the 4-link suspension system with trailing arms. This means the shocks and coilovers are mounted to the control arm itself (normally the lower control arm, however, Loren Healy's new 4400 car has them mounted to the upper control arm). This provides for better shock tuning and versatility for fast-paced desert driving. As we've recently covered, many Ultra4 cars are moving to an independent front suspension, where Rock Bouncers are almost unanimously in favor of solid-axles.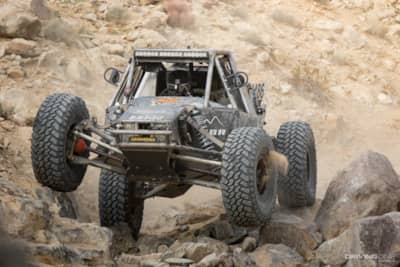 While many Ultra4 cars call The Hammers their homeland, the Rock Bouncers make their home in East of the Mississippi. The National Rock Racing Association is divided into three divisions, Central, Northern and Southern. Each year many of the top competitors in those divisions head west to Johnson Valley to compete head-to-head against some of Ultra4's best competitors in an event held each year at the Nitto King of the Hammers, called "The Shootout." Although not built for the jagged rocks and boulders of the Mojave Desert, the Rock Bouncers can definitely hold their own in this arena. And while both kinds of racers are purpose-built to perform in different environments, these extreme 4x4s always draw a huge crowd no matter where they are.