Unique Diesel Swaps: A '70 K15 Duramax and a CAT-Powered '93 F-350
Swapping a diesel into a vehicle means it can be used for anything. Towing, daily driving, drag racing, sled pulling, off-roading, the versatility that comes with converting to diesel power is endless. Of course, all diesel conversions garner attention—and we've got two builds, from two completely different YouTube personalities to show you. One has been made as lightweight as possible with 5-second eighth-miles in mind and the other weighs 8,000 pounds and packs a yellow surprise under the hood. The former is a '70 K15 sporting an LB7 Duramax with a giant turbo and plenty of nitrous. The other consists of an old body style Ford F-350 with a Caterpillar 3126 shoehorned between the frame rails.
It's all-out horsepower vs. medium-duty work ethic in this Unique Swaps installment. Which head-turner would you choose?
Wyatt Stengel's K15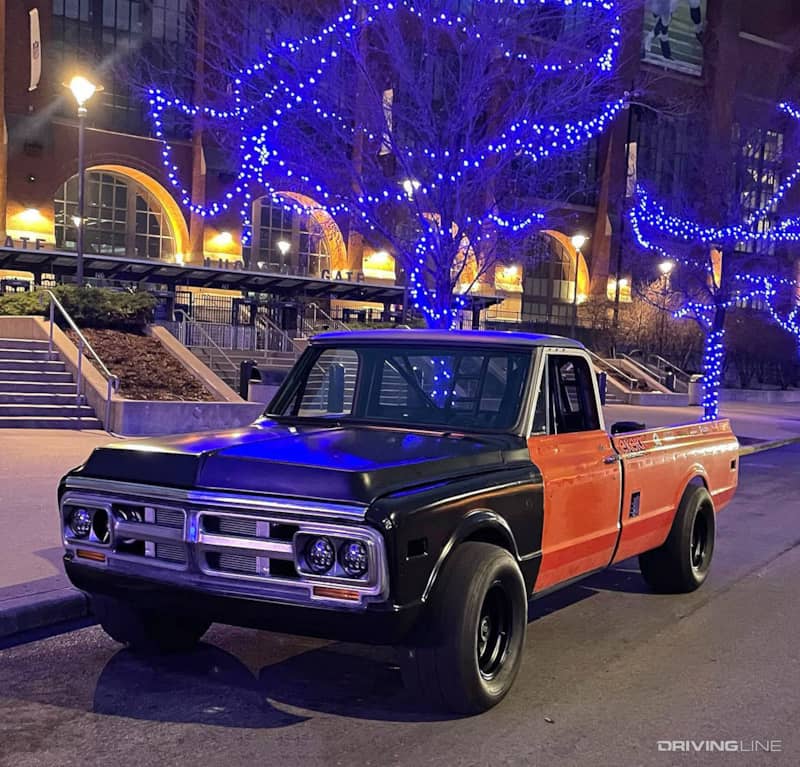 As part of the supporting cast for the BoostedBoiz—a YouTube channel with 1.16 million subscribers—Wyatt Stengel brings something other than turbo'd import material to the brand. In this case it's a '70 GMC K1500 with a nitrous-huffing Duramax in the engine bay. Bought brand-new by Wyatt's great-uncle back in 1970, it's been in his family for more than 50 years. But after an unfortunate accident roughly seven years ago, Wyatt decided to use what was left of the totaled GMC and build a race truck. The body sits on an '03 GMC Sierra 2500 HD frame that's been back-halved and the truck meets the 25.6 SFI chassis spec that's required for fast, heavy trucks. It's four-wheel drive and usually rolls on Nitto drag radials.
Owner-Built LB7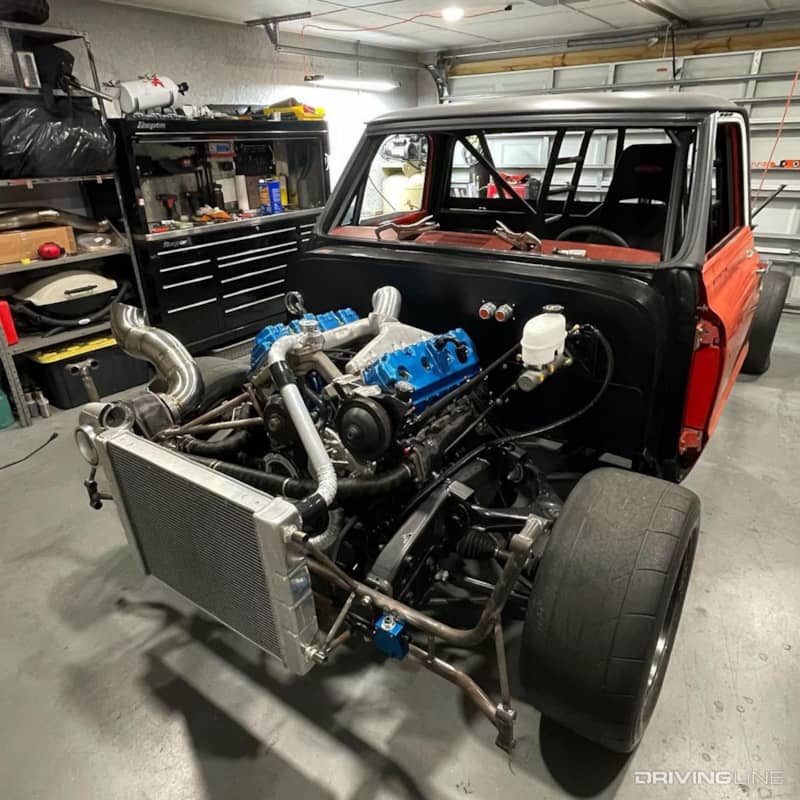 Wyatt built the engine himself. It's a factory crankcase LB7 Duramax that's been graced with a Callie's crankshaft, Carrillo rods and Mahle forged-aluminum pistons. The valvetrain upgrades consist of an alternate firing order camshaft, upgraded pushrods and dual valve springs in factory (yet ported) heads. The heads are anchored to the block by way of ARP Custom Age 625+ head studs. Here you can spot the '03 IFS, the Wagler street manifold up top and the piping that feeds to, from and around the remote-mounted turbocharger. Six2Six Performance proved invaluable in helping Wyatt get everything wired up.
1,000 HP On Fuel, 1,500 HP On The Squeeze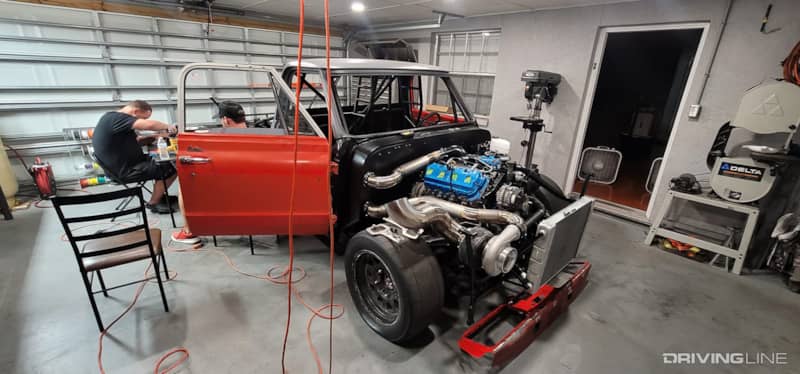 Rather than try to finagle the giant T6 turbo into the lifter valley, Wyatt remote-mounted it near the passenger side wheel, and its 85mm compressor wheel pulls air in through the inner headlight in the grille. Boosted air is routed to an air-to-water intercooler in the cab before feeding back through the firewall and into the heads. Three kits of nitrous and dual 10-pound bottles of capacity came courtesy of Nitrous Express, with Exergy Performance providing the fuel and Bosch Motorsport engine control unit. A single 14mm stroker CP3 feeds a set of 250-percent over injectors and Exergy fine-tunes the MS 25 Sport stand-alone ECU. A 220-gph 5G AirDog low-pressure fuel supply system is along for the ride as well.
All-Business Interior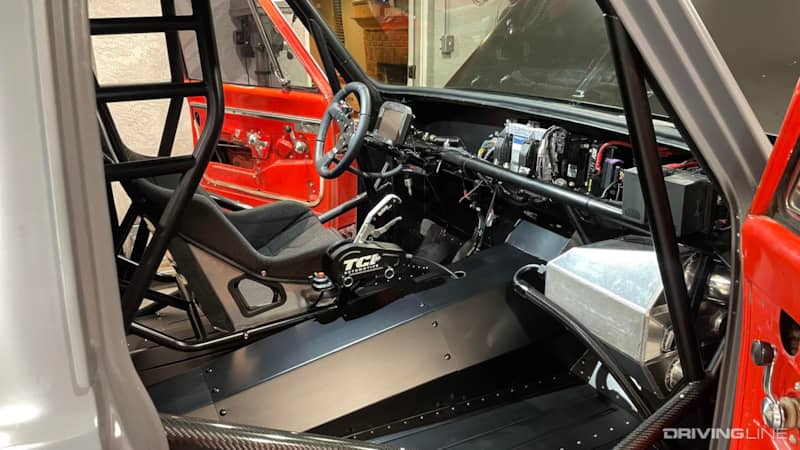 The clean, well-executed craftsmanship of the build continues into the cab. Beneath the fabricated transmission tunnel sits a 4L80E that was assembled by Wyatt's friend, Joel Knauber and that sports a D3 transbrake from Jake's Performance. Other names that lent a helping hand in the build were Dirty Hooker Diesel, Ticon Industries, Vibrant Performance and HTP Welders. Thanks to their help, Wyatt plans to run the 5.90 Index class on the Outlaw Diesel Super Series circuit when possible—and then turn things up while playing on his home turf in Bradenton, Florida.
Deboss Garage's "F-Tree Kitty"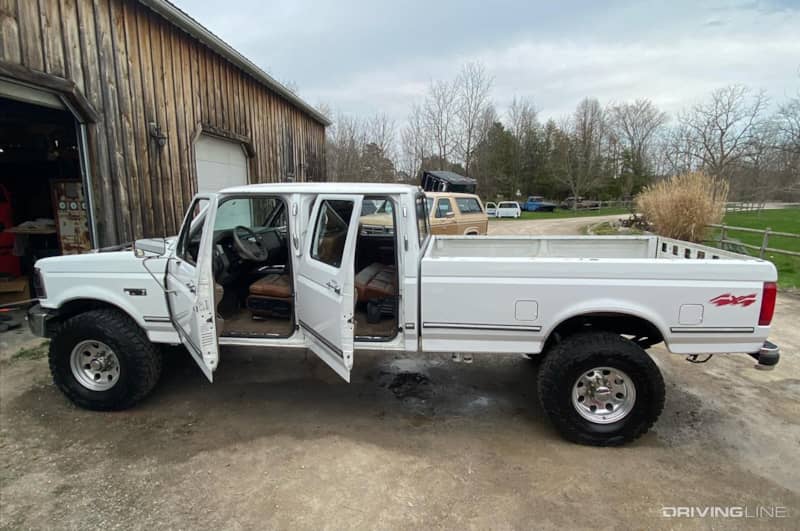 Rich Bosch is the face of Deboss Garage, a YouTube channel that's grown to more than 641,000 subscribers thanks to his wild projects, mad mechanical skills and tremendous on-camera relatability. In 2019 he set out to build what many consider a dream truck: an old-body style F-350 with a Caterpillar engine (#FTreeKitty). And the icing on the cake (for many viewers, at least) ended up being his decision to run an Allison transmission behind the yellow inline-six. Now, three years later, that truck is driving. And hundreds of thousands of people are watching.
Bye Bye Big-Block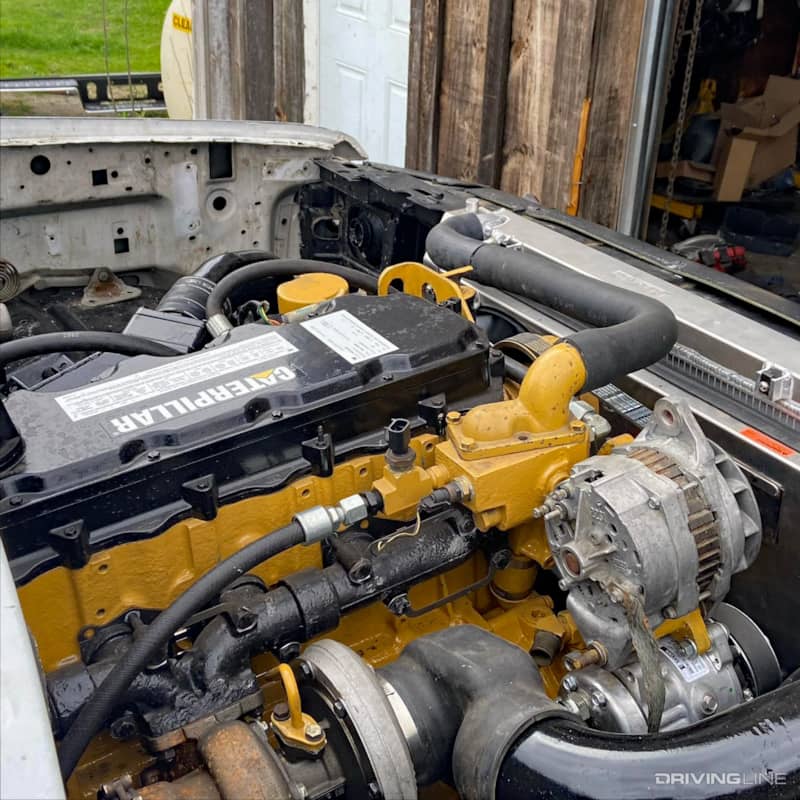 To squeeze the 3126 (7.2L) Cat between the frame rails and firewall, have it clear the front axle, not sag the front suspension and function you'll need to watch the YouTube series. However, for a quick recap you should know this: the truck came from California (rust-free and 460-powered), the 3126 has been rebuilt, the 2000 series Allison was built by Xcalliber and a Firestone air suspension system helped solve a few suspension issues and worries. The amount of measuring, mock-ups and problem-solving that went into this project is mind-numbing, but the end result is one of the cleanest, rarest and coolest diesel swaps in the world.
King Ranch Interior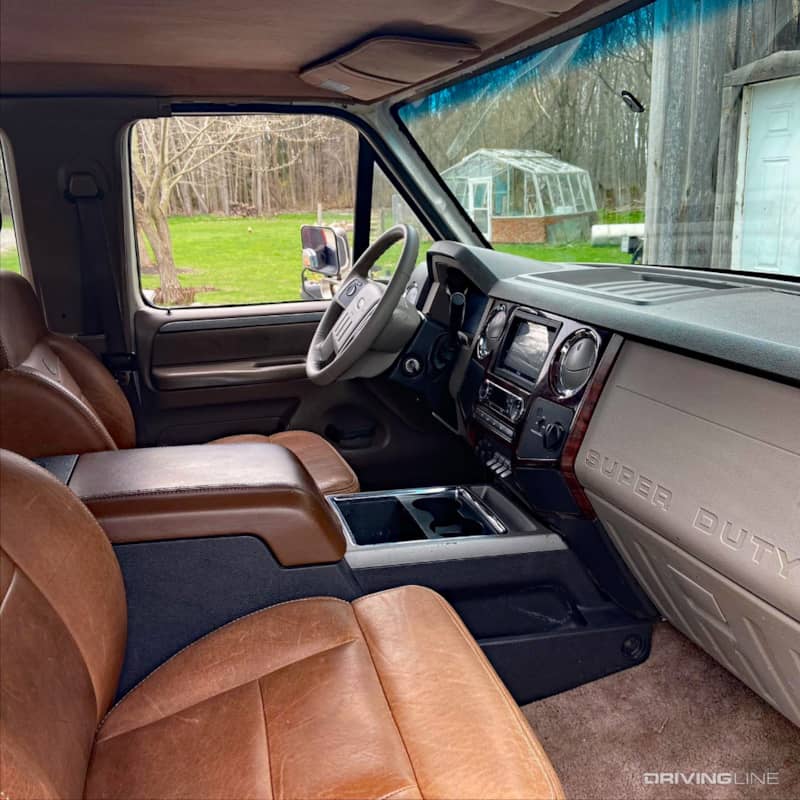 Injecting some Super Duty into the OBS Ford cab, a full-on King Ranch interior (complete with the center console) was installed. Also notice the '08-'10 Super Duty dash, which features a custom, 12-inch gauge cluster from Holley. Prior to all of this work, Bosch fully insulated the cab, because with a modern day plush interior you might want to have modern day sound deadening, too. The extend of the work performed in the interior proves that the truck was intended to be driven and not just a conversation piece. Not everyone has the time or the skill to pull off a swap like this, which is why the Deboss Garage channel is so entertaining. Check it out if you haven't ventured over there yet!