Diesel High-Boys: A Growing Trend We Hope Never Ends
They're arguably the most recognizable trucks in the world of classic automobiles. The '67 to '77 Fords are known as either bump sides ('67-'72) or dent sides ('73-'77), with 4x4 F-250 models—best-known as the coveted High-Boys—continuing to be highly sought after by collectors, hobbyists and restoration specialists. Over the past decade, people have also been dropping diesels into them at an increasing rate. How perfect. In recent years, we've stumbled upon several of these grassroots-type, old-school diesel conversions—and you can read all about them below. They might not all be numbers-matching High-Boys, but the following owner-built trucks combine two of the best automotive qualities you can ask for: timeless looks and eternal durability.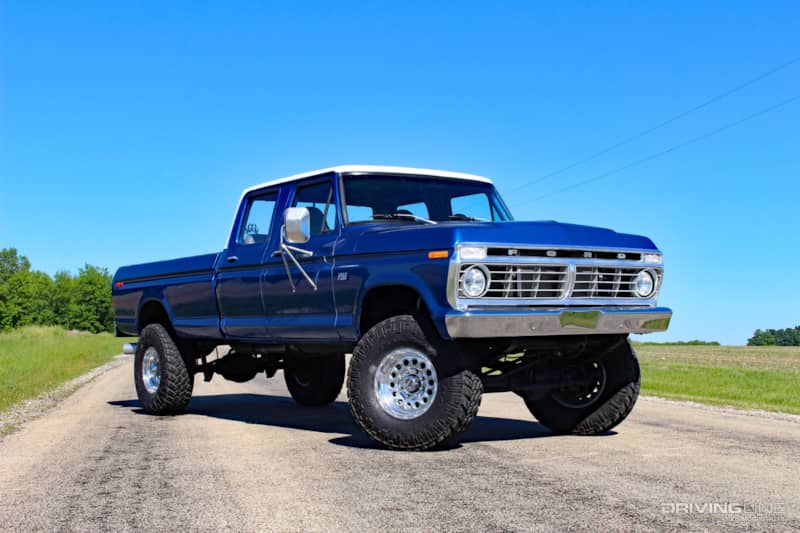 Cody Fordahl's '72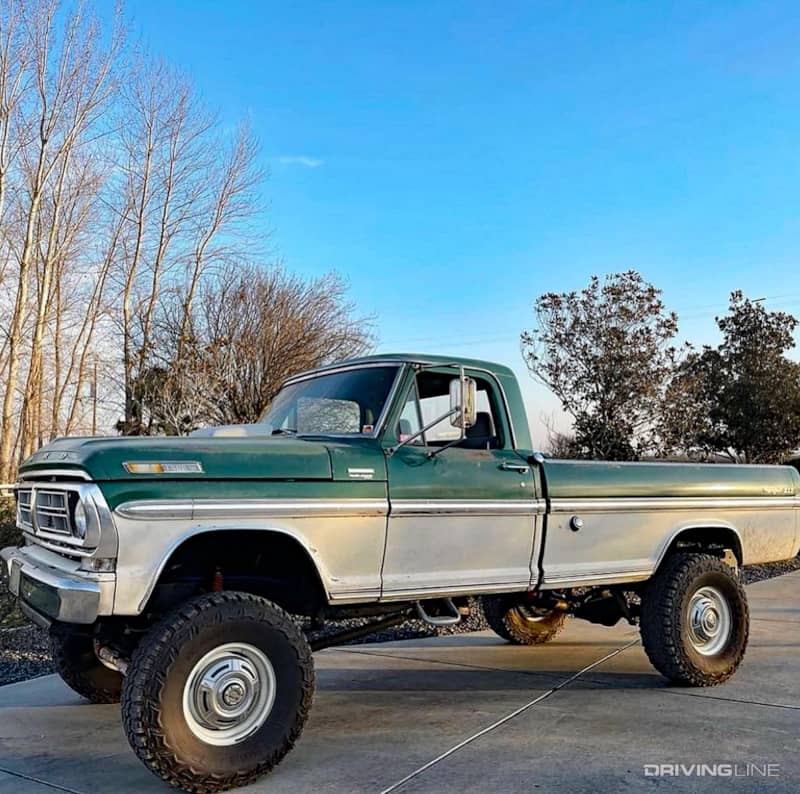 With a side bed tool box on the passenger side, High-Boy historians will quickly point out that Cody Fordahl's '72 F-250 isn't a "true" High-Boy. But with a legitimate High-Boy chassis, divorced transfer case and Dana 44 open knuckle low-pinion front axle it's close enough for us! Fordahl's minor Patina'd bump side sports 4-inches of overall lift, factory 16-inch wheels and 35-inch tires. A master fabricator, Cody performed all the work on this trapped-in-time beauty.
7.3L Turbo-Diesel Power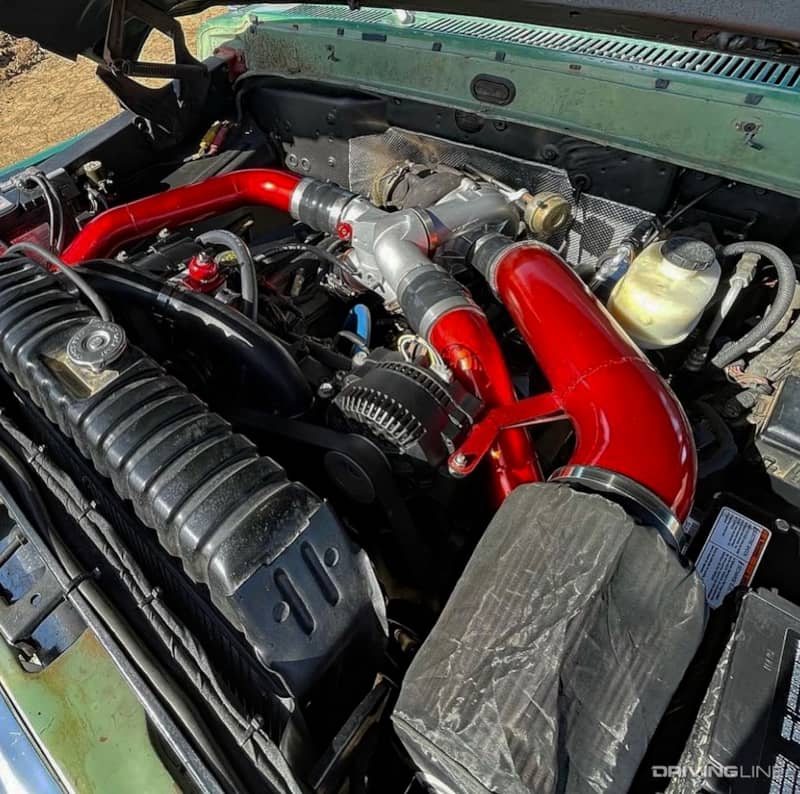 Cody selected a 7.3L Power Stroke V-8 for propulsion, a '97 model year engine which he intercooled and juiced up with a homemade electric fuel supply system, a Hydra chip with Jelibuilt Performance tuning and a billet compressor wheel inside a factory Super Duty turbo. In addition to fabricating his own intercooler piping and 4-inch exhaust system, Cody built a stand-alone wiring harness to make the electronically controlled (and HEUI-injected) 7.3L run. The Power Stroke is backed by a ZF-5 five-speed manual transmission.
A Solid Driver, But Not Finished Quite Yet
If the hard-hitting sound of the 7.3L Power Stroke doesn't give it away, the intercooler behind the front grille is a dead giveaway that a turbodiesel lurks under the hood. But although the engine swap and exterior mods are complete, Cody is far from done with this project. Future plans entail going through the interior from head to toe and adding a Vintage Air system, Dakota Digital gauges, carpet, seals and seats. For now, his '72 makes for a fun, head-turning daily driver and Cody even reports that the truck returns a respectable 16 to 18 mpg—about double the fuel economy it saw back in the day. A 36-gallon transfer tank serves as the truck's main fuel cell.
Jared Jones' '78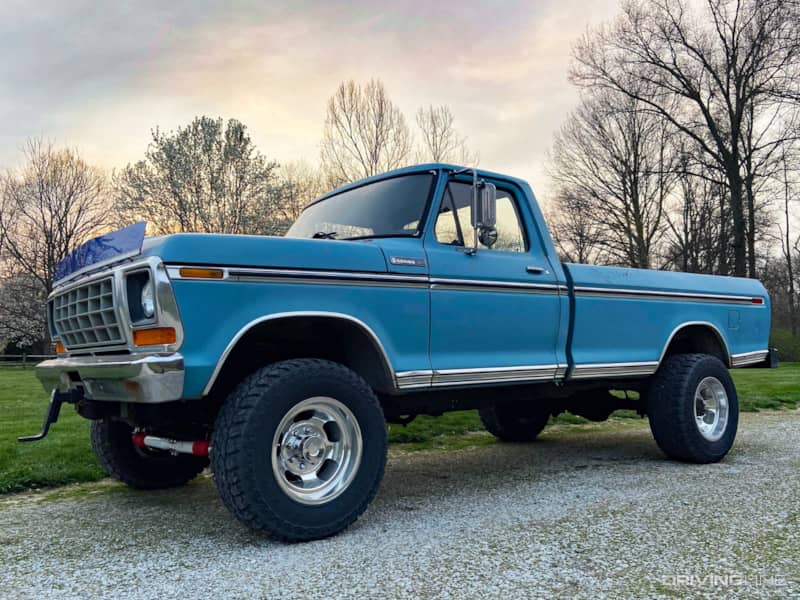 Ushering in the dent sides is Jared Jones' '78 F-250. But his truck's backstory is one of the wilder ones on our list. It began life as a two-wheel drive F-100 with an automatic transmission. Now, it sits on a '94 second-gen Dodge frame, is four-wheel drive and—if you noticed the B-series badge—even boasts a 6BT Cummins under the hood. Rubber measuring 33x12.50 and 17x10-inch US Mags wheels give the old-school Ford its tough stance and era-appropriate look.
Compound Turbo'd 5.9L Cummins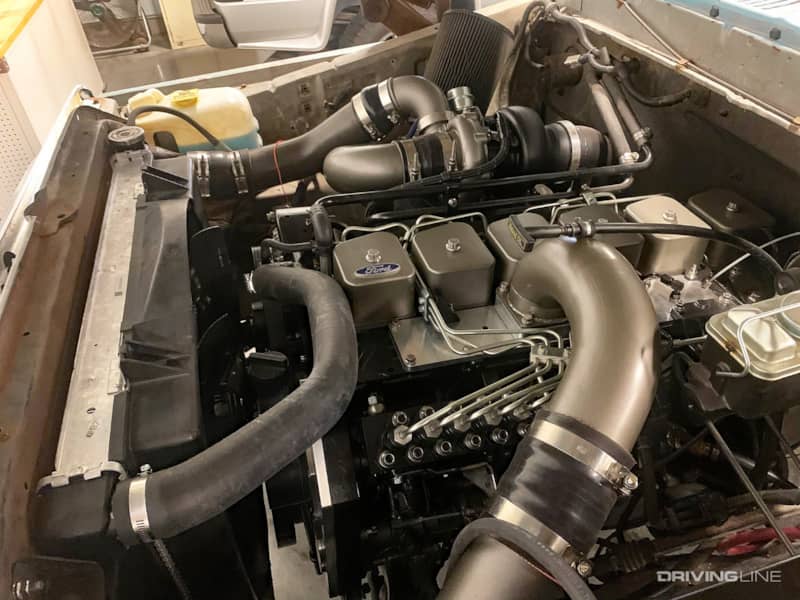 Coincidentally, Jared works for Scheid Diesel Service and also happens to pilot the world's quickest diesel-powered dragster, so it stands to reason that the Cummins in his Ford packs a few extra ponies. The P-pump aboard his 5.9L has been benched at Scheid and also treated to 5,000-rpm governor springs and .093 stainless steel injection lines. It feeds a set of SAC style Scheid Diesel injectors equipped with 5x.013-inch nozzles. A compound turbo arrangement, pieced together with a BorgWarner S475 and a 57mm high-pressure unit, crams plenty of boost into the engine. The Cummins itself was assembled using ARP fasteners throughout and the valvetrain benefits from a Scheid street cam, Trend Performance push tubes and Hamilton valve springs and retainers.
NV5600 & Dual Disc Clutch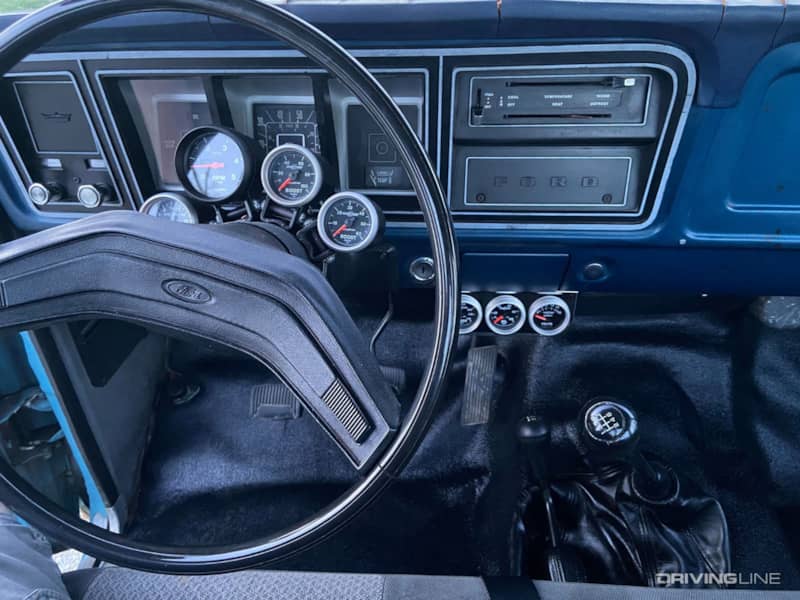 Inside the cab, you'll find a shifter that's linked to a 2005 model year, Dodge Ram-sourced NV5600 transmission. A second-gen Dodge transmission crossmember from Maverick Diesel sits in place of the factory '94 crossmember. The six-speed manual—which is known for its durability, even with high-horsepower and torque in the mix—benefits from a McLeod Racing street twin clutch, which ensures efficient power transfer occurs. The Auto Meter analog gauges you see here help Jared keep tabs on rpm, boost, water temp, oil pressure and voltage.
Jack Burris' '77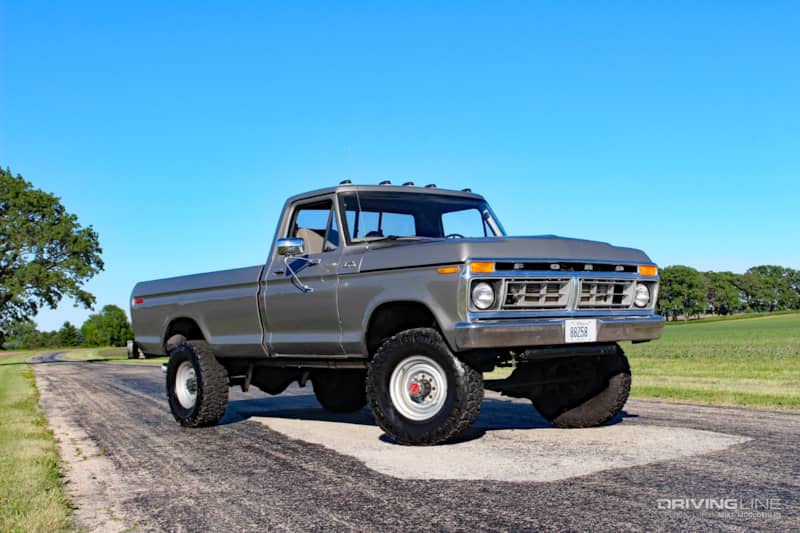 Jack Burris' '77 F-250 also began its life as a two-wheel drive dent side, but that didn't stop him from attempting to transform it into a High-Boy look-alike. Jack obtained the truck when he was just 14 years old and, with the help of his father (who built the next truck on our list), immediately set to work on the four-wheel drive conversion and the Cummins swap. The original bed and body now sit atop an authentic '77 model year High-Boy frame, axles and suspension, and a divorced NP205 transfer case makes four-wheel drive functionality possible. The mechanical 5.9L Cummins is bolted to a Getrag G360 five-speed manual that benefits from a South Bend 3250 dual disc clutch.
P-pump-Swapped 5.9L Cummins
Plucked from a first-gen Cummins, the'91 model year 6BT was stripped of its VE rotary injection pump in favor of the highly desired P7100. Then Jack intercooled the engine with an air-to-air unit from a 7.3L Power Stroke application. Internal upgrades made to the 170,000-mile Cummins include the addition of 60-pound valve springs and ARP head studs. The P7100 benefits from 4,000-rpm governor springs and a #0 fuel plate, with the pump ultimately sending fuel to six 5x0.013-inch injectors. A BorgWarner S300 turbocharger with a 66mm compressor wheel forces 45 psi of boost into the hungry Cummins.
Steve Burris' '73 F-250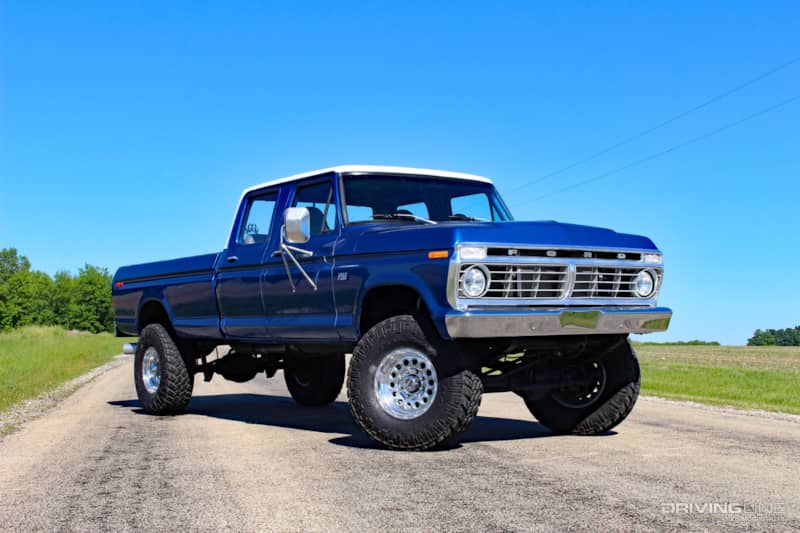 An electrician by trade and a self-taught fabricator, auto body expert and proficient mechanic by night, Steve put all of his skillsets to work in building this flawless High-Boy replica. A modern day powertrain includes a '99.5 model year 7.3L Power Stroke, a ZF-6 manual transmission and Super Duty axles join forces with a heavy duty, '99 Super Duty chassis for a truck that is both powerful and capable of towing and hauling nearly anything a late-model diesel pickup can. Of course, the 17x9 Rockcrushers and 37-inch Nitto Trail Grapplers make Steve's crew cab High Boy creation one of the toughest-looking dent sides we've ever seen.
More From

Driving Line
Ready to see a High-Boy get resurrected from the dead? Check out our 3-part Homebuilt High-Boy series right 

here

.