5 One-of-a-Kind Diesels: Unique Swaps, Volume 1
The promise of improved fuel efficiency, million-mile durability and endless power potential make the modern diesel engine a very popular choice for swap projects. Over the years, we've seen oil burners transform fullsize trucks into 30 mpg fuel sippers, 1,000 hp tire melters, and uber-reliable daily drivers. Along the way, we've come across some truly unique vehicles. While we've seen countless 5.9L and 6.7L Cummins mills swapped into Ford trucks — and we're big fans of that trend — this isn't the place for them.
Instead, our unique swaps series is designed to showcase five exclusive diesel conversions at a time. Worthwhile candidates range from compact, half-ton, and heavy-duty trucks to passenger, pony and muscle cars. From driveway-builds to full-on shop projects and budget builds to no-expense-spared works of art, these finished products are proof that the diesel swap hobby is alive and well.
NovaMax
John Fyffe's '63 Chevrolet Nova is a Duramax-powered, no-frills, 7-second-capable drag car — and a rolling work of art to boot.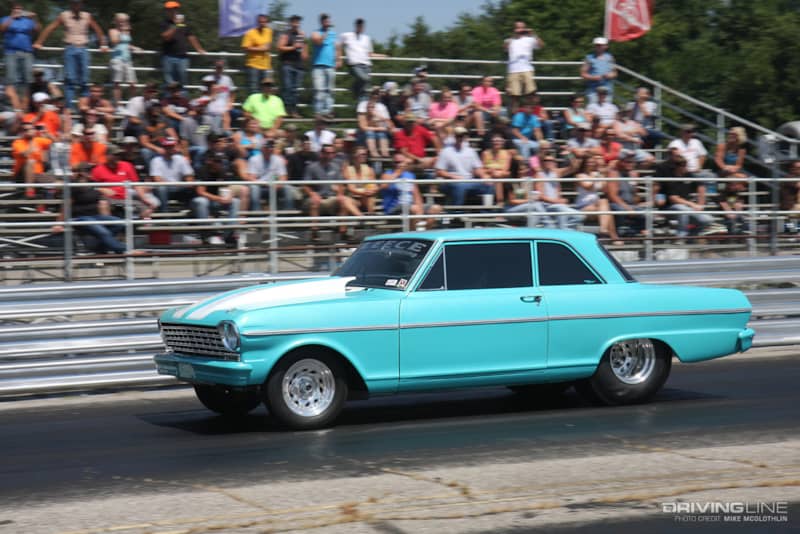 Put together by the folks at Fleece Performance Engineering, the classic Chevy was built to go fast, first and foremost. The car makes use of a full rollcage that's certified for 6.50-second quarter-mile passes and its suspension is modernized and optimized for racing thanks to front and rear coilover shocks from Chris Alston's Chassisworks.
Twin-Turbo
The LB7 Duramax under the cowl hood of John's Nova was put together by Fleece Performance Engineering.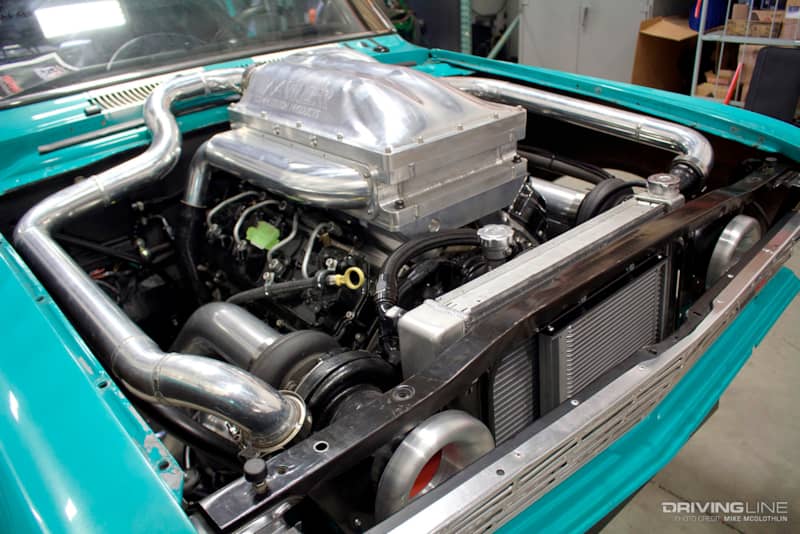 It features a wild, water-to-air intake from Wagler Competition Products up top and breathes through a twin turbo arrangement that utilizes parallel 63mm BorgWarner S300-based chargers. Gears are shifted via a Chrysler 47RH with Sun Coast parts and a manual valve body. Thanks to the potent engine and turbo combination, well north of 1,200 hp makes it to the rear tires.
IH Power
Did you know that, like Cummins, International made a 5.9L inline-six? As a Ford loyalist, Matt Hadden had reservations about swapping a Cummins between the frame rails of his '95 Ford F-350.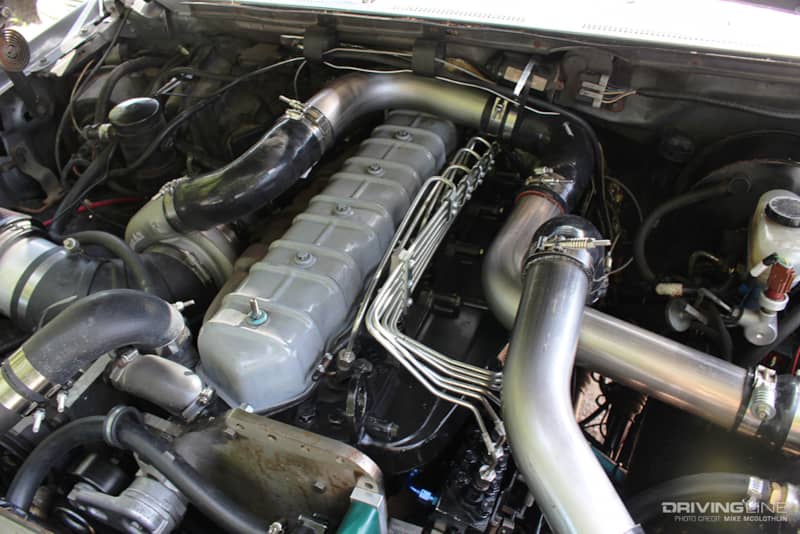 This engine, coined the DT360, allowed Matt to keep the Ford/International relationship alive yet make a reliable 700 hp at the same time. Sourced online with 100,000 miles on the odometer, Matt began the process of slowly finagling the commercial IH 5.9L into place.
Big Boost
The best part about the DT360 was that, like a 5.9L Cummins, very little had to be done in order for the engine to handle big power.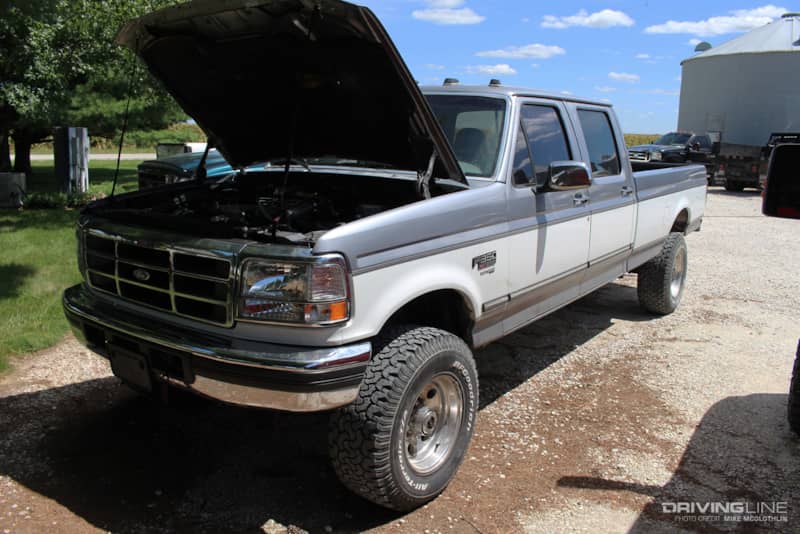 Speaking of power, the engine is graced with a Bosch P7100 (P-pump) thanks to an adapter hub from Scheid Diesel, a set of 5x18 injectors, and an S467.7 turbocharger from Barder Turbo Service. As for boost, let's just say Matt can peg a 60 psi gauge almost instantly, along with breaking the rear tires loose at will.
'49 Willys
After four straight years of hard work, Gerry Rommel's '49 Willys pickup turned out masterfully. He and his wife performed all body work, painting, and stuffed the engine bay with a 4BT Cummins (inline-four).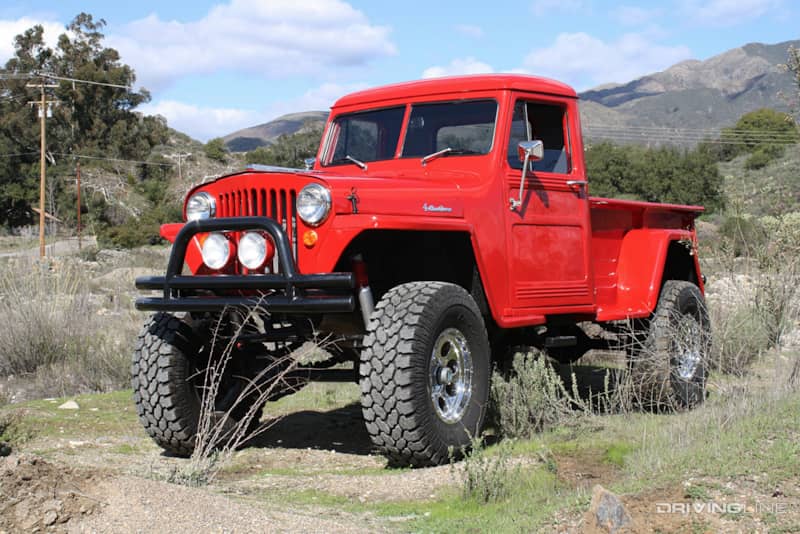 Modern conveniences include power front disc brakes, Rancho RS9000 adjustable shocks, and a Line-X spray-in bed liner.
4BT Edition
Fueled by a rotary style Bosch VE injection pump, the 1993 model 3.9L 4BT parked under the hood is non-intercooled, benefits from a Fluidyne radiator and is backed by a Turbo 400 automatic transmission.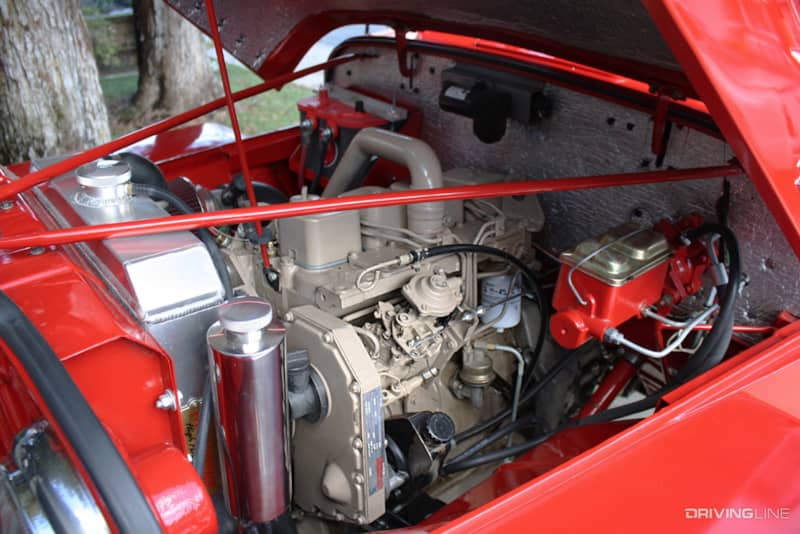 An NP205 transfer case handles 4x4 selection duties, and the Dana 44 (front) and Dana 60 (rear) axles sport 3.55 gears. The front bumper was built by Smittybilt using 3-inch tubing.
Runs Like a Deere
This extraordinary project stemmed from the Engineering Design Shop program at Ross High School in Hamilton, Ohio. After obtaining the '01 Ram 1500 with a blown transmission and in relatively rough overall condition, students got to work on the body, frame and powertrain.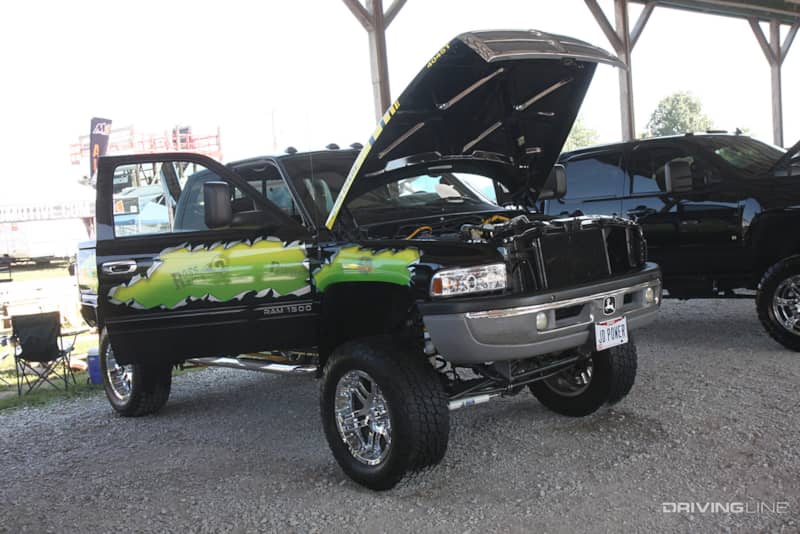 The engine of choice? A 4.5L PowerTech diesel from John Deere, which would be mated to a 47RH Chrysler automatic (instead of the electronic 46RE the truck came with).
4.5L PowerTech
The 4045T inline-four John Deere PowerTech oil burner is turbocharged yet non-intercooled, makes between 110 and 125 horsepower, and actually came out of a straw chopper.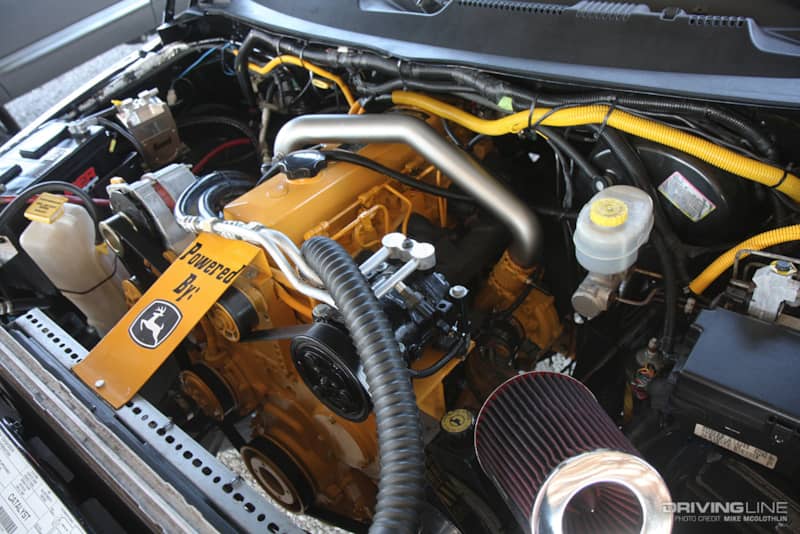 To get the 47RH linked up to the little Deere, a one-off adapter plate was made and a custom flex plate designed. Even while sporting a 5-inch BDS Suspension lift and 35-inch Nitto Terra Grapplers, the clattering Ram half-ton can still knock down 24-mpg with ease.
Ranger 4BT
As the owner of Diesel Graveyard in Racine, Wisconsin, Mike Frost spends his life keeping diesel-powered truck owners supplied with the parts they need to stay on the road. And (of course) he comes across his fair share of deals on engines.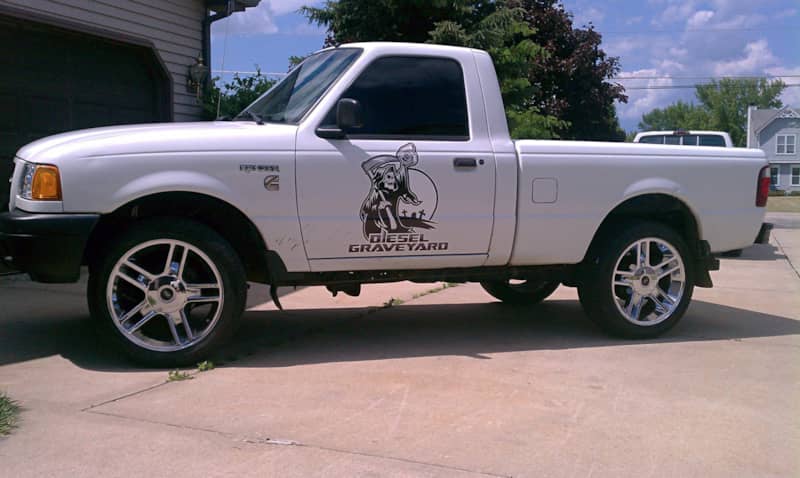 Hence, the Ford Ranger you see here being the recipient of a 4BT Cummins. The Cummins badges were a nice touch, and we're fans of the 20-inch Harley Davidson wheels, too.
30-MPG
In Mike's case, getting his hands on a P-pumped version of the 4BT meant he had something special. The inline P7100 Bosch injection pumps found on the 4BT are no different than the six cylinder versions you can find on its 5.9L, big brother engines — and they can move quite a bit of fuel.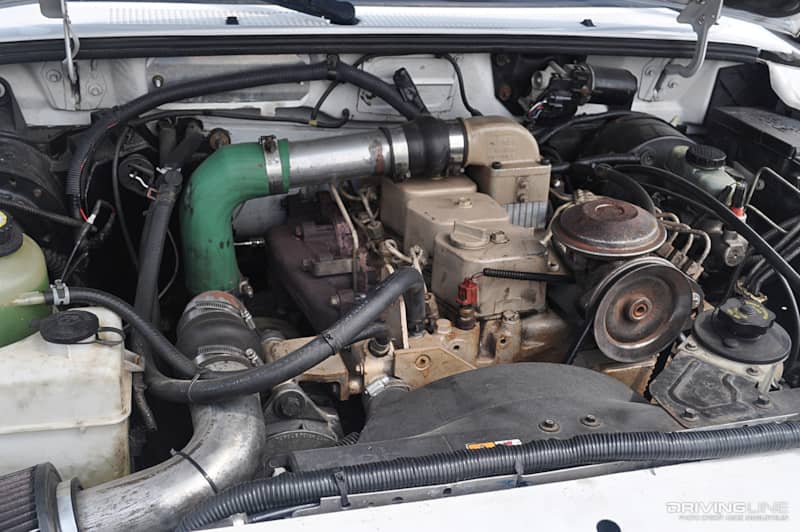 In addition to helping the compact pickup get great fuel economy, the mechanical injection pump allowed him to crank up the baby Cummins' power output using nothing more than a few common hand tools.