16 Sweet Hondas From SEMA 2016 You Need to See
For two decades now, Honda's been no stranger to SEMA's annual Las Vegas trade show. While the big blocks still outnumber the B-series, turn any corner within the convention center's Central Hall, and you'll likely find a Honda.
Behold, the 16 best Hondas that Las Vegas wanted you to know about, in no particular order. 
1. PTP Turbo Blankets EK9 Civic Type R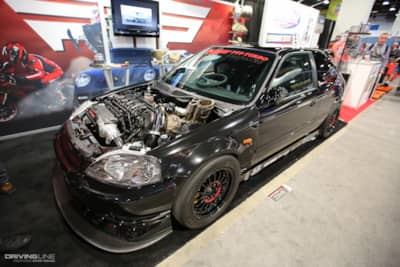 You weren't expecting to see a 16-year-old Civic Type R, left-hand-drive and all, and you weren't expecting to see one with a 2.4L K-series engine swap good for nearly 1,100 hp. The Kinsler intake, the Wilson throttle body and the PPG dog box make this CTR every bit as impressive as it is unattainable to you.
2. Injen FK2 Civic Type R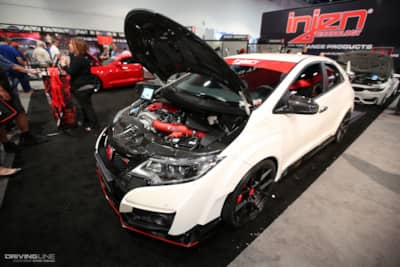 With all the talk about Honda's impending 2017 Civic Type R, you also weren't expecting to see the company's soon-to-be-overshadowed European-only model, this one outfitted with the few bits that intake maker Injen and its exhaust system counterpart, Invidia, have got to offer.
3. 2017 NSX GT3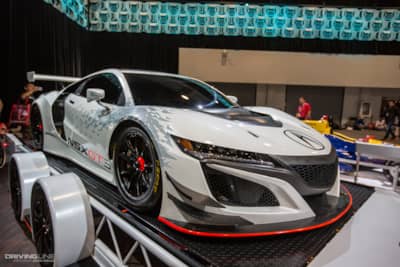 Everyone dreams about to going racing and Honda's has prepared something dreams are made of this year with its purpose-built GT3 racer. Here, the powerplant is said to be similar to the production NSX's but is paired with a sequential gearbox that does away with the AWD architecture and its electric motors in favor of a much more hoonable RWD layout.
4. 2017 MDX Tow Rig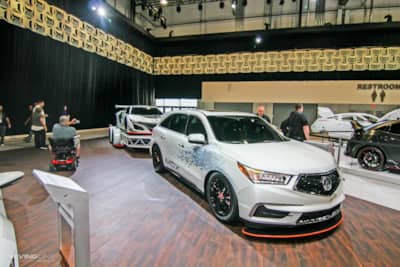 Every race car needs a proper tow vehicle, and if you're Honda, that proper tow vehicle comes by way of an MDX with livery to match the GT3 car it'll be hauling around. You won't be able to miss its lowered stance and 20-inch wheels along with its NSX-like and orange-outlined front splitter that's about as purposeful as the fake carbon fiber it's been wrapped within.
5. 2016 GRC Civic Coupe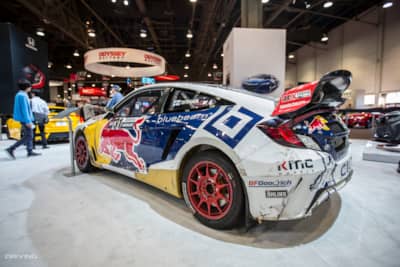 An engine good for 600 hp that's been spun around for a longitudinal and all-wheel-drive layout means the 10th-gen Civic can be the Red Bull Global Rallycross car that Honda and Swedish builder Olsbergs MSE says it is. This was Honda's first year on the circuit where it finished third in the season-long manufacturer's championship.
6. Team Honda Research West 2017 Civic Coupe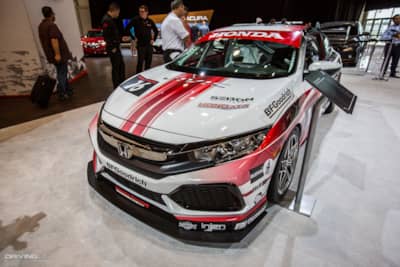 The same people who brought you the 2016 Civic your sister wants now bring you this racing concept. It's been built with an FIA-spec roll cage and is set to compete in domestic and international endurance sports car events, the first of which will be its debut at NASA's USAF 25 Hours of Thunderhill in early December.
7. 2017 Civic Type R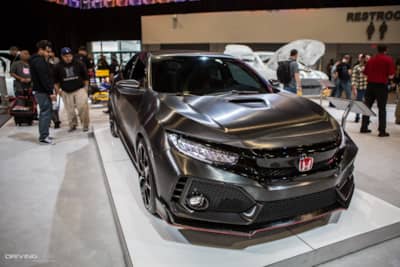 Perhaps the most anticipated Honda of the show, it was there where North America's first-ever Civic Type R made its U.S. debut. You think it looks like a WRX, Honda won't tell you what's underneath its hood and yet you want one anyways. That's mostly because of its angular lines, brushed-aluminum-looking wrapped exterior and winged carbon-fiber splitter up front. And its red badge. You've always wanted something with a red Honda badge that you didn't have to glue on yourself.
8. Tjin Edition 2016 Civic Coupe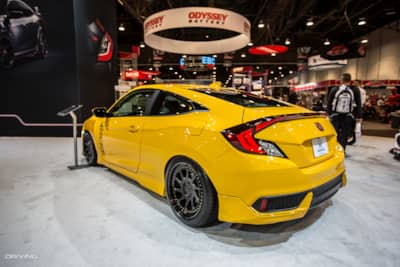 As it does every year, American Honda made its Central Hall space available to key models that have been modified by way of select tuners, like Tjin Edition, who turned out one of four 2016 Civic Coupes, this one tastefully modified by way of its yellow exterior, its Rotiform wheels and its mix of subtle aero like the HFP (Honda Factory Performance) side skirts and Apollo Top One Auto Part front spoiler.
9. MAD Industries 2016 Civic Coupe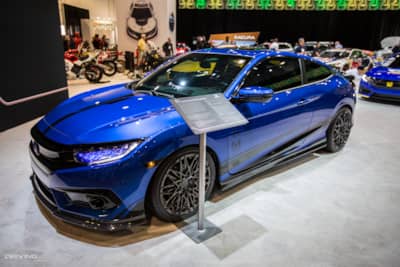 Show car builder and customizer MAD Industries also took its stab at Honda's newest two-door, fitting it with a Carbon 2 Carbon exhaust and aero, Aegean Blue BASF paint, Eibach springs and 19-inch Rotiform wheels.
10. SEGA Sonic 2016 Civic Sedan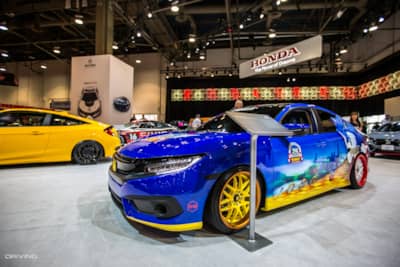 Honda says that SEGA's take on its Civic four-door, which was designed by builder Fox Marketing, pays homage to the game-maker's classic, Sonic the Hedgehog. Its BASF Candy Sonic Blue paint, red rims with their gold rings and yellow accents inside all agree but don't make this Civic any faster than when it rolled off that assembly line.
11. 2017 HFP Civic Hatchback Concept
Parked alongside all of Honda's race car goodness was the sort of Civic hatchback you're more likely to find yourself behind the wheel of. The company's HFP (Honda Factory Performance) Concept was shown wearing every available HFP bit possible, from it's sizable rear wing to its larger brake rotors to its 19-inch rims, all soon to be available from your friendly Honda dealer.
12. MAD Industries 2017 Ridgeline Black Edition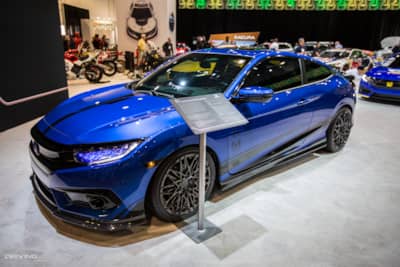 MAD Industries complemented its Civic coupe buildup with an all-new Ridgeline, this one paired with a MAD-modified CB500F sport bike out back. MAD dropped the Ridgeline and fitted it with 22-inch Niche wheels painted gloss black.
13. 2011 Rocket Bunny CR-Z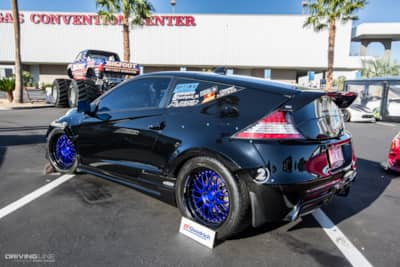 The Rocket Bunny aero makes this CR-Z something you won't mind looking at and the K-series engine swap underneath its hood makes it something you'll want to drive. Away went the wuss-like 1.5L hybrid mill that's neither sporty nor all that efficient, and in went the TSX's 2.4L longblock along with a six-speed gearbox from Honda's eighth-generation Civic Si, all by way of Hasport engine swap mounts.
14. Hush Performance Drag Civic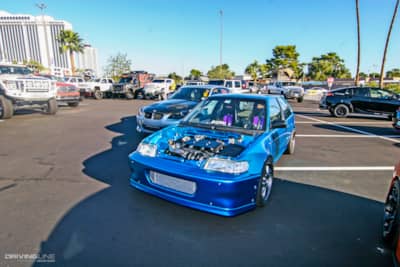 Import drag racing is back, and so are near-30-year-old Civics. At least so long as people like Hush Performance keep racing them and keep making parts for them, like this one here with its three-piece fiberglass front end and its built-up and boosted LS-VTEC assembly underneath its hood that's good for a very streetable 410 hp.
15. Big Mike / Torco 1992 Prelude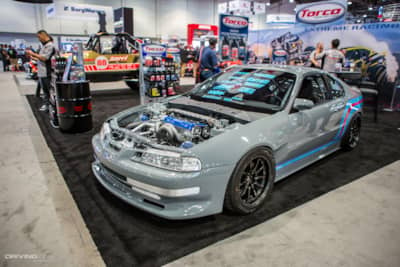 Now in its third rendition, the early '90s Prelude owned by the man known simply as Big Mike is motivated by a modestly turbocharged and seldom-used 2.0L, twin-cam F-series engine. This Prelude's fully prepared to go racing, too, with its Wilwood brakes, its AiM Sports dash and its color-matched roll cage.
16. Seibon 2016 Civic Sedan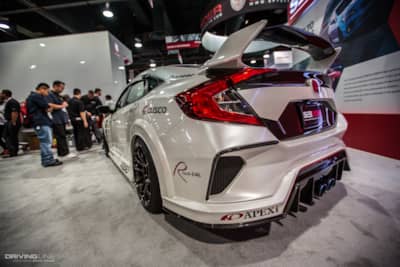 It's no surprise that Seibon — a company that's embraced cars like the Civic since the brand's inception — has already got a mix of its carbon-fiber aero bits available for Honda's 10th-generation model. Aside from the redesigned hood, skirts, fenders and bumpers, though, the sedan's been fitted with ZE40 rims from Volk Racing, an A'PEXi N1 exhaust, AP Racing brakes and Hondata's FlashPro engine management for cajoling just a little more power out of that turbocharged 1.5L.
(Photos: Byron Yoshida, Aaron Bonk)