What to Expect From the 2017 Civic Type R
Honda wasn't always the producer of uninspiring Civic sedans with belt-driven transmissions and tan interiors like you thought. Not too long ago they were knee deep in Formula One on the brink of releasing a supercar aimed right at Ferrari. Not too long ago they were about to unleash a series of variable-valved four-cylinder engines that would power some of the world's fastest grassroots race cars. Not too long ago, Honda began developing the first Type R.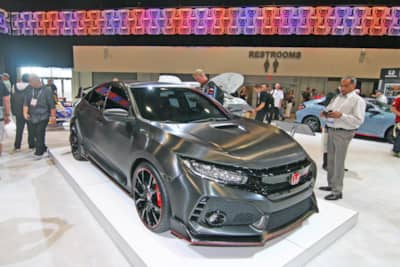 Following the release of the already impressive NSX, Honda introduced the NSX-R, a title that meant performance would overrule comfort, echoing the Formula One cars the company was so entrenched with. With its unmistakeable red badging and exclusive Championship White paint, Honda's Type R had arrived; for everyone except North Americans that is.
Honda's first Civic Type R — the overseas-only EK9 — set the precedent for what the badge would mean some 20 years later: something that's almost always lighter, handles better and goes faster than whatever car it originates from. And in many cases it'll also be free of the sort of nonsense that won't make you go any faster, like A/C or a radio. Since then, a total of five generations of Civic Type Rs have been released — none of which you could easily get your mitts on — and every one of which makes the impending CTR's US debut all the more exciting.
Civic Type R Timeline:
| Years | Horsepower | Torque | Engine Code |
| --- | --- | --- | --- |
| 1997-2001 | 182 hp | 118 lb-ft torque | B16B |
| 2001-2005 | 212 hp | 149 lb-ft torque | K20A |
| 2007-2011 | 222 hp | 159 lb-ft torque | K20A |
| 2009-2012 | 198 hp | 142 lb-ft torque | K20A |
| 2015-2016 | 306 hp | 295 lb-ft torque | K20C1 |

What We Know
So far Honda's done a pretty good job remaining tight-lipped about its upcoming Type R. However, by most accounts, a full-fledged production model is believed to be revealed at the 2017 Geneva International Motor Show and will go on sale that same year. That said, based upon the brand's track record of Civic concepts that don't look all that different from production versions, we can expect the CTR you'll be able to buy to look an awful lot like the CTR prototype you see here from last month's SEMA Show in Las Vegas.
Honda representatives have even confirmed that the production version is very similar to what you'll be able to buy. They've also confirmed that it'll go into production sometime during the second half of next year, that it'll be manufactured at the company's Swindon plant and that you'll be able to drive one home yourself very soon. Honda hasn't revealed much else.
We know the car will be based on the brand's tenth-generation Civic hatchback, we know it'll be a whole lot more intimidating looking than a base-model Civic sedan and we know it won't be sold with that high-reflection, brushed-aluminum-looking wrap the prototype wears. The prototype's flared fenders, its hood scoop that presumably feeds air to some sort of top-mount intercooler and its Ferrari-like triple-tipped center-exit exhaust all seem likely. They are present on at least two road-going test mules.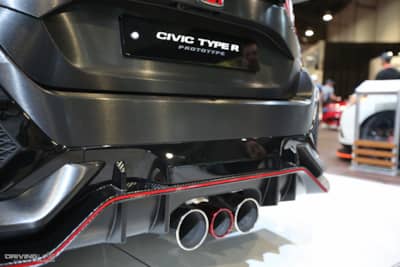 The prototype's 20-inch wheels with their 245 section-width tires and its massive air ducts up front built to widened bumper also seem plausible considering the outgoing Type R's already aggressive aero and 19-inch rims. 
Nobody will be surprised to hear that the red H badge of honor will present itself up front either or that it'll be positioned above what's said to be a slightly more tame version of the prototype's ultra-wide front bumper with its massive diamond-mesh-covered air intakes. Smoked lenses for the LED headlights will likely remain, as will the red-accented carbon-fiber front splitter, side skirts and rear diffuser.
A first for any Civic, the CTR prototype also features vortex generators up top that reduce wind turbulence as air passes over the prominent rear wing — a wing that, when it came to the NSX-R at least, proved purposeful, effective and is good at helping do things like taking back the Nurburgring's FWD record that was lost to VW. All told and unlike previous Type Rs, this one appears to rely on aggressive looks and, presumably, more horsepower instead of the previous Type R mantra: weight reduction above all else.
Inside, there's no evidence of a parking brake lever, which you won't like, but there's traditional Type R fare everywhere else. Carbon fiber accents throughout, metal pedal assembly pads and red-accented performance seats, all of which any bonafide Hondaphile will most certainly approve of.
The new Type R's rear end might also be the best we've seen in over a decade. Gone are the previous Civics' torsion bar suspensions and in goes something fully independent that Honda fans have long been used to.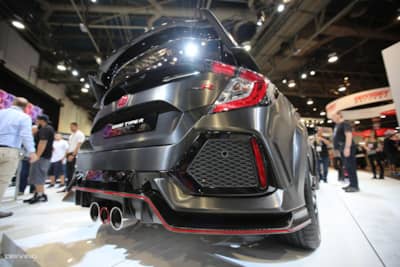 What We Think We Know
The truth is, we've got no idea how much power the new CTR's good for, nor how exactly it'll transfer whatever it's got to the pavement. But we can guess.
Take the FK2 CTR's powertrain, for example. It's a one-off, 306 hp, turbocharged K-series engine that Honda developed just for the Type R and yet didn't introduce it until the ninth-generation Civic's final two years. Developing an entirely new powerplant and replacing one that survived such a short lifespan doesn't make any sense. Snake-charming another 36 hp out of it in order to stay afoot of Ford's Focus RS, however, does. And that's exactly what insiders expect of the 2.0L mill. In fact, those same insiders say that the car's 0-60 mph time is seven-tenths of a second quicker than the FK2 model, or about five seconds flat.
We also don't know for certain whether or not the CTR will remain FWD, but nobody who knows better is betting against that. Speculation tells us that power will be sent to both front wheels by way of some sort of mechanical limited-slip differential and managed by way of a six-speed manual gearbox.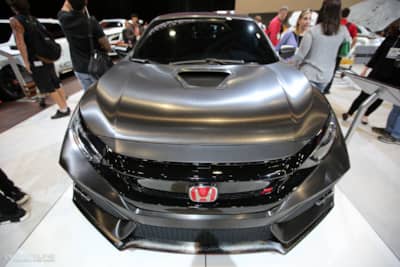 The first Civic Type R that was introduced to Japan in 1997 wasn't tremendously different than any other Civic. Like the US-spec Integra Type R, getting a Civic CX or DX to perform like a CTR (or better) was only an engine swap away. As the Type R ages, though, it strays further away from the Civic it's been based upon and, if all assumptions prove true, this CTR couldn't stray much further and yet still remain a Civic. And for Honda fans, that's a very good thing.
(Photos: Byron Yoshida)