2017 NHRDA Desert Diesel Nationals
For years, the National Hot Rod Diesel Association (NHRDA) has kicked off its racing season in Arizona. The mild winter climate of the greater Phoenix area yields temperatures in the mid 70's by the time the NHRDA rolls through in late March, and dozens of drag racers — hungry to get back on the track — show up to compete.
This year would be no different, as the event attracted racers from the West Coast, diesel-rich Utah and (not surprisingly) Texas, among other western states. Wild Horse Pass Motorsports Park in Chandler, Arizona, would be the host venue, with its quarter-mile drag racing facility being opened up to some of the nation's fastest diesel-powered vehicles, and a portion of its off-road course serving as a sled pull track.
The two-day event treated spectators to a top-notch, dirt-shredding truck and tractor pull, lightning-quick quarter miles, and even saw history being made on the dragstrip as a new Pro Street record was established. Drag racing classes ranged from 19-second street-driven semis to eight-second full-size pickups, and everything in between, while the sled pull boiled down to a game of inches. Last, but not least, one truck slated to compete in the upcoming Ultimate Callout Challenge — a ragged-edge drag race, chassis dyno and sled pull competition — graced us with its presence.
Below, we'll take you down victory lane and also spotlight some of the wilder rides we came across.
Triple Crown Weekend
It was a busy, yet successful, weekend for Amalee Mueller. The night before the races, she would pilot this second-gen Dodge to two first-place finishes in the sled pull. After taking top honors in both the Limited Pro Stock and Pro Stock classes, Amalee would show up to do battle in an '04 Ram the following morning. On the asphalt, she ended up stealing the show in the Super Diesel category (11.90 Index), promptly collecting her third trophy (and payout) of the weekend.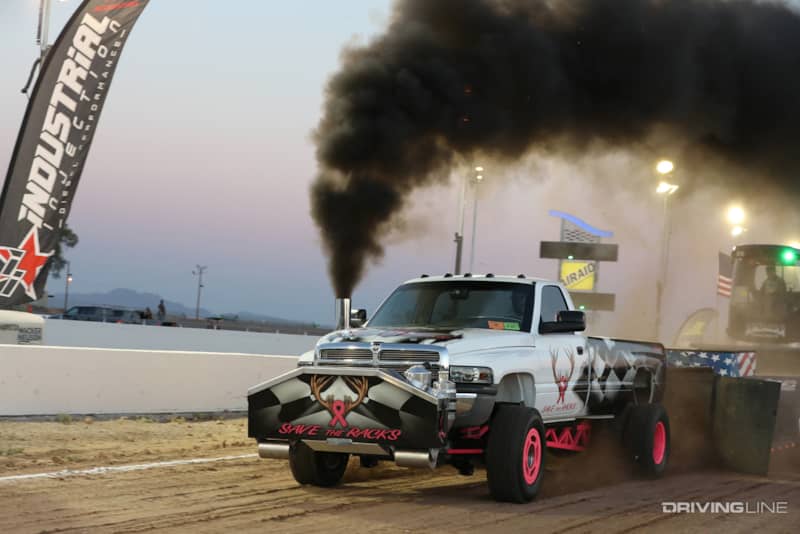 Dirt Slingin'
Tom Hansen and the Hybrid pulling crew from Utah were on hand for the sled pull and took second place in the Pro Stock Class with a 289.21-foot effort. The Edge-sponsored '05 Ram sports a 6.7L-based Cummins built by Industrial Injection, serves as a test-mule of sorts for Industrial's turbo program and is tuned by Starlite Diesel.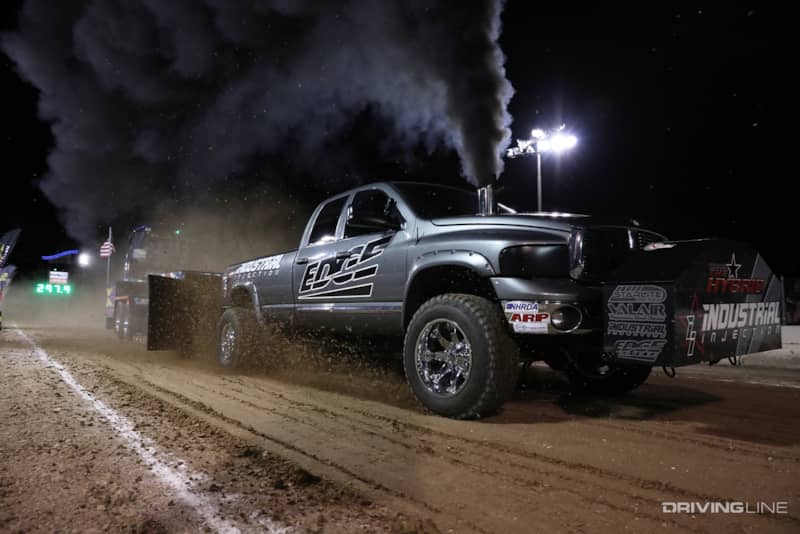 Pro Street Winner
After an 8.40-second pass got him booted off the track at the last NHRDA event he attended (due to running faster than his chassis certification), Dustin Jackson was at it once again with his Cummins-powered '94 Lightning. This time, the SVT F-150 was legal to go 7.99, and it was evident he'd been emboldened by it.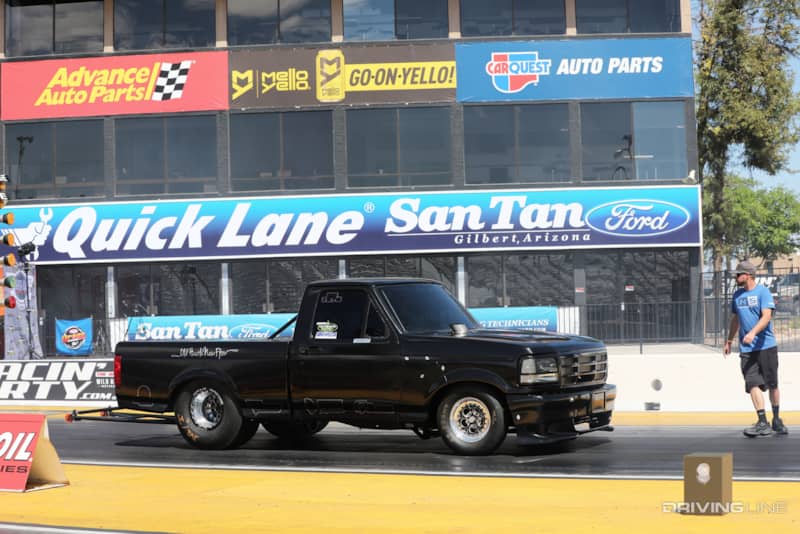 A New Record
Showing everyone that the truck could run consistently in the 8.40's, Dustin's Lightning clicked off an 8.42 at 159 mph right out of the gate and then backed it up with an 8.49 at 157 mph. In the process of awing the crowd, he also set a new NHRDA Pro Street record. We don't think Dustin is done yet, though. By summer's end, we expect him to be much deeper in the 8's.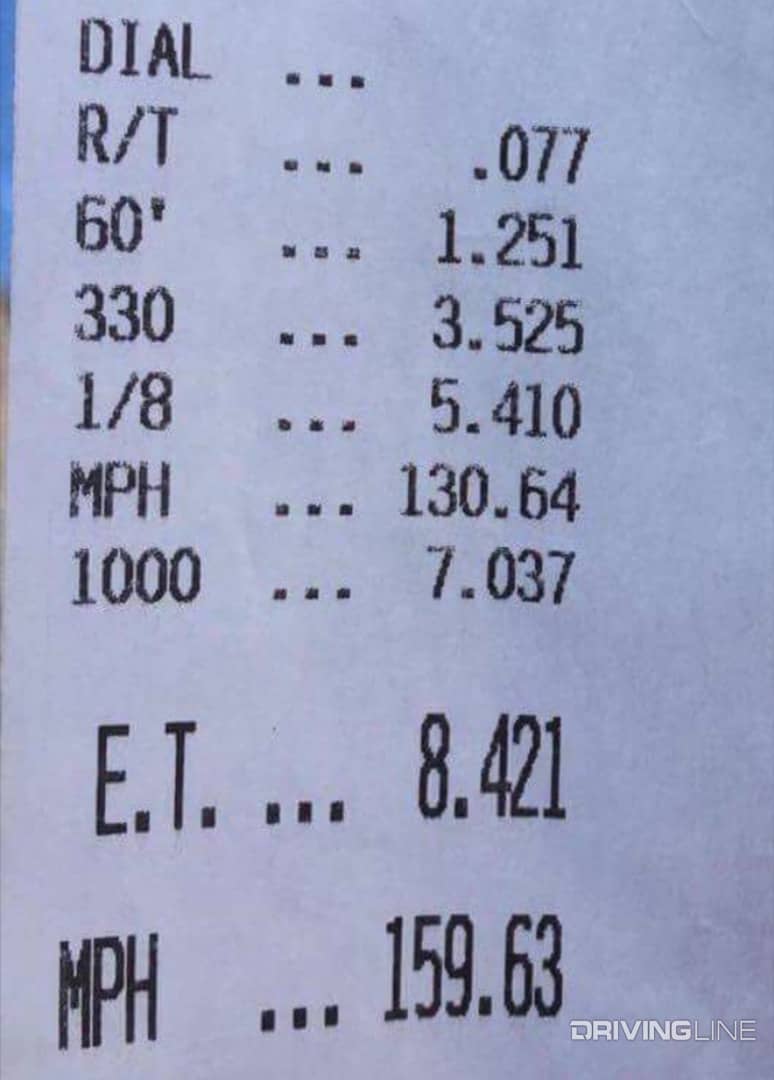 Super Street Winner
Two-time NHRDA champion Chris Buhidar trekked out to Arizona from Texas to defend his Super Street title. After earning the top qualifier position with a 9.53-second pass at a blazing 149 mph, Chris would cruise to the Super Street class win in the finals with a 9.90 at 130 mph. We look forward to seeing more of his triple-turbo'd 5.9L Cummins-powered '00 Super Duty as the season progresses. With a 9.02-second pass under his belt in 2016, we may just see the truck dip into the 8's this year.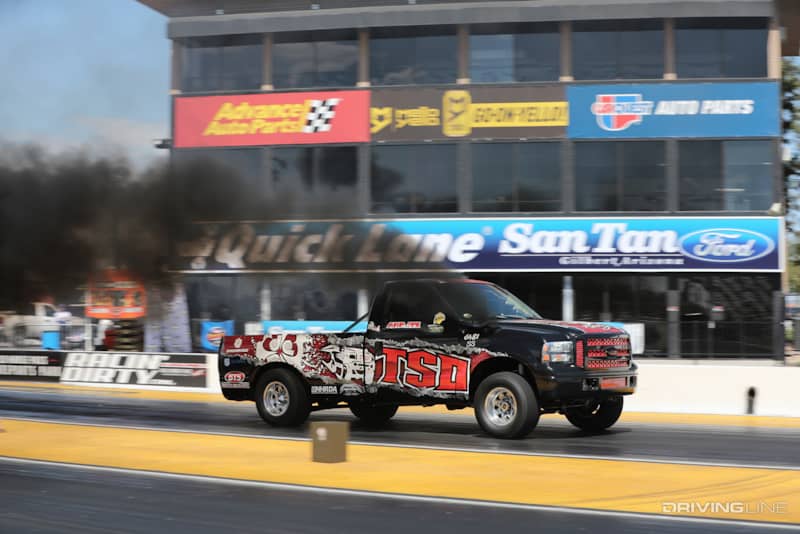 Super Street Runner-Up
After pushing an 8,500-pound Super Duty with a 6.0L Power Stroke to the brink, Ron Reiswig got into the Cummins game several years ago and hasn't looked back. His silver standard cab is good for mid 10's in the 1320, and Ron put it through its paces in the Super Street class. Even though he would eventually lose to Chris Buhidar's aforementioned '00 F-350 in the finals (a shot from their heads-up race is shown below), Ron's Dodge would put up an impressive 10.44 at 135 mph.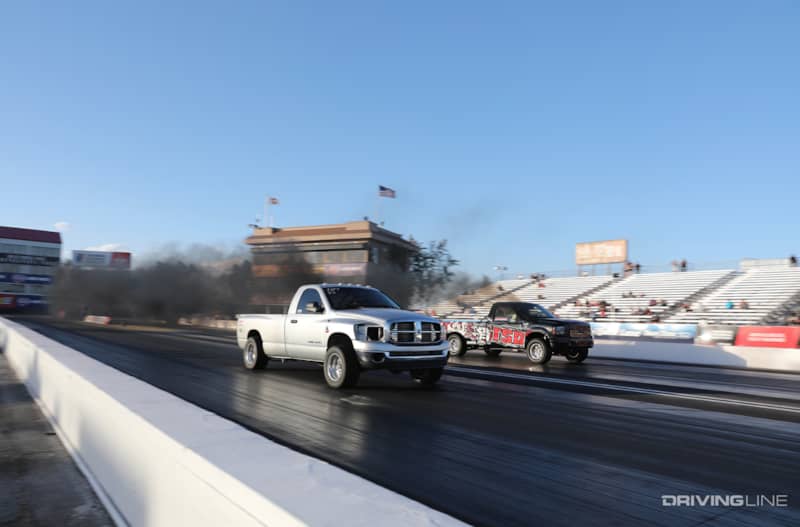 '31 Fodge
This head-turning rat rod belongs to Larry Stawn of Redding, California. His unique creation consists of a 1931 Model A Ford sitting atop a narrowed chassis sourced from a 1997 Dodge Ram. The drivetrain that was robbed from the Dodge included a 12-valve 5.9L Cummins, 47RE automatic and four-wheel drive. And thanks to the goodies Larry's added to it, boy, does this thing run strong. Cutting 1.5-second 60-foots, it literally leaps off the line. Down track, the pair of turbos onboard combine for 85 psi of boost, and the "Fodge" runs consistent high 10's in the 124 mph range. Fittingly, Larry spent the day running 10.90 Index and would eventually take home Second in the class due to breaking out with a 10.70 in the finals.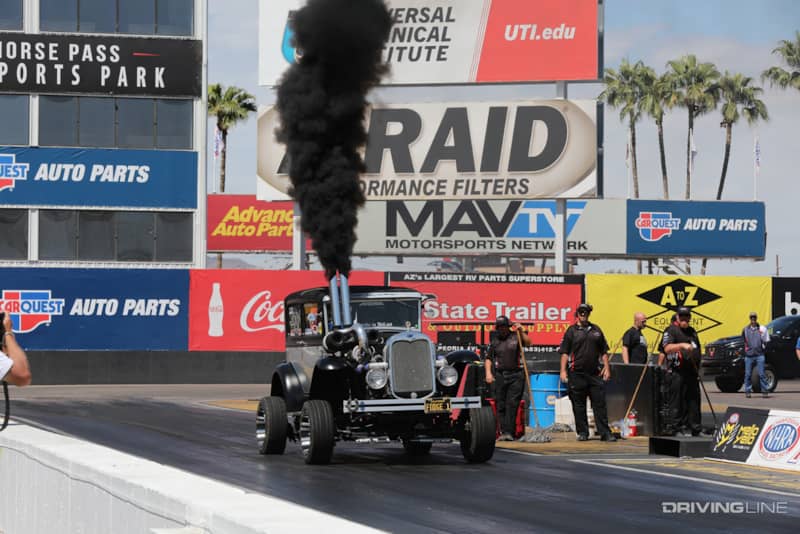 Semi in the 12's
Wayne Talkington's '63 Kenworth made the call for the NHRDA's Hot Rod Semi class and didn't disappoint. The Detroit-powered (A892) KW's 12.26 at 110 mph was good enough for the No. 1 qualifier position, and Wayne would go on to take the win later in the day (courtesy of a 12.77 at 110 mph to the other lane's 13.51 at 108). Weighing in at 5 tons, Wayne's truck makes use of a twin-turbo arrangement, nitrous oxide and approximately 1,000-rwhp in order get it down the track that quickly.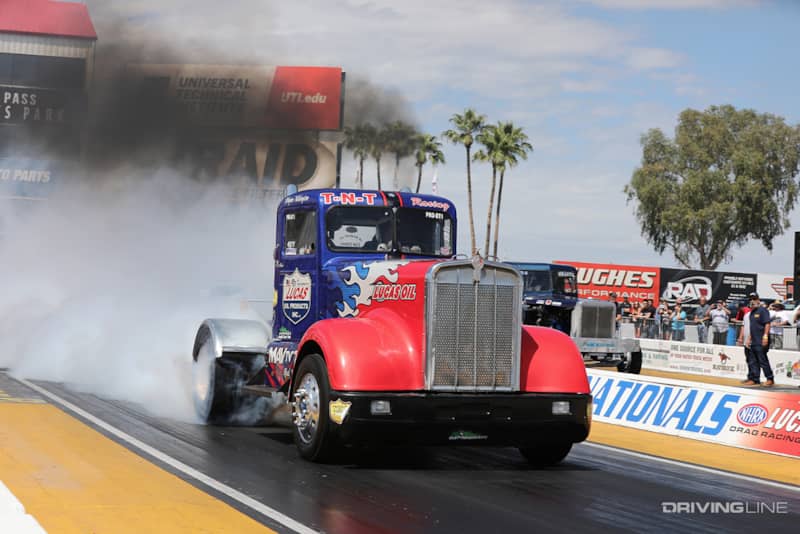 4 Tons of Fun
Using the event as a test and tune of sorts for his upcoming participation in the Ultimate Callout Challenge, Randy Reyes trailered his 7,800-pound Dodge dually 700 miles for a few test hits. Believe it or not, his '06 Ram has run 9's in the past! Unfortunately, an all-out effort broke the intermediate shaft (which was made of high-strength, maraging steel, no less) in the transmission — but that didn't stop Randy from pulling the 48RE, rebuilding it and reinstalling it in the parking lot. Once it was back together, Randy was able to make one more pass before the test and tune portion of the day's events concluded, which ended up being a very respectable 10.9-second run on a conservative tune.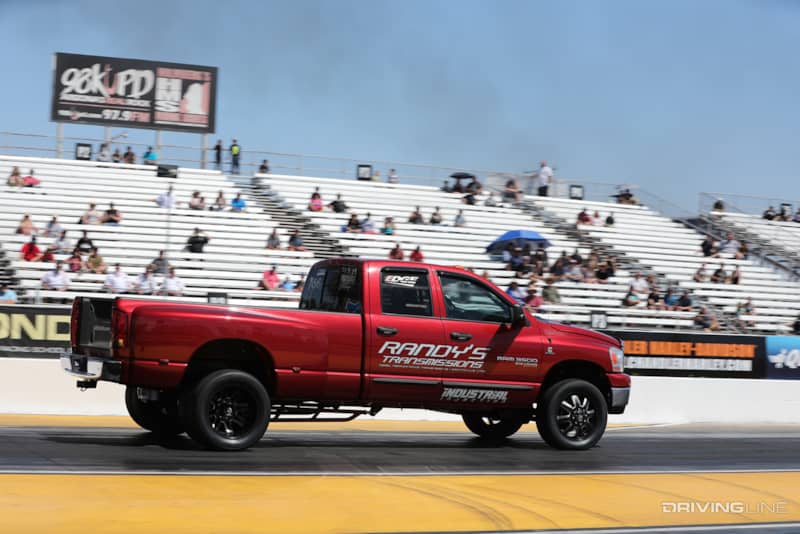 Street Semis
In addition to Wayne Talkington's 12-second monster tearing up the Hot Rod Semi class, a Big Rig Bracket category was available for lower horsepower, everyday working rigs. Local trucker Brandon Hight and his '05 Peterbilt (far lane) would finish at the top of the class after beating out fellow competitor Brandon Hogenes in the finals.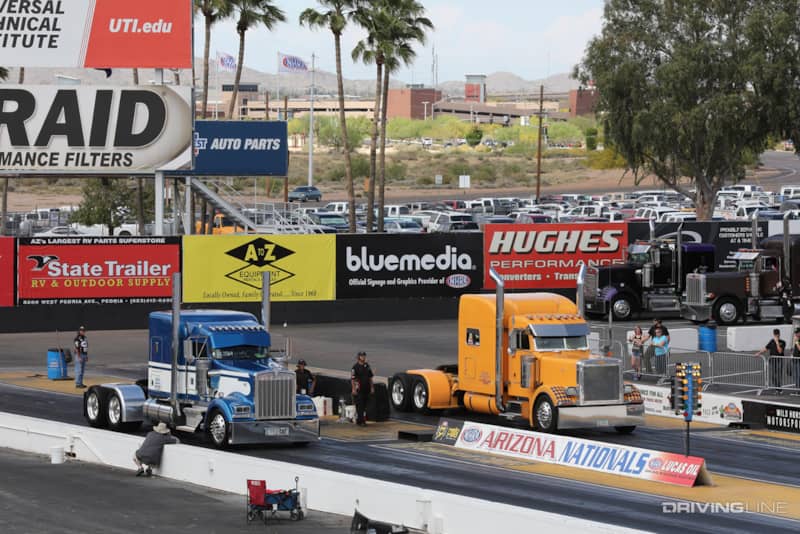 11-Second Street Truck
Mike Dillehay has been an avid diesel drag racer for more than a decade, and the SoCal native rarely misses a chance to attend the Desert Diesel Nationals. After signing up to run the Super Diesel category, his 6.4L Power Stroke propelled him and his '08 F-250 through the traps in 11.92 seconds during qualifying, making him the No. 1 qualifier in a class where a perfect pass is an 11.90.
Dyno-Melter
One of Industrial Injection's dyno-melters showed up at the Desert Diesel Nationals. This one is company owner Brett Williams' ride: an '01 Chevy Silverado 2500 HD packing a Duramax fitted with huge compound turbos, big fuel, and capable of laying down more than 2,000 hp at the wheels. We believe its best pass to date has been a 9.63-second quarter-mile, but at a warp speed of 158 mph.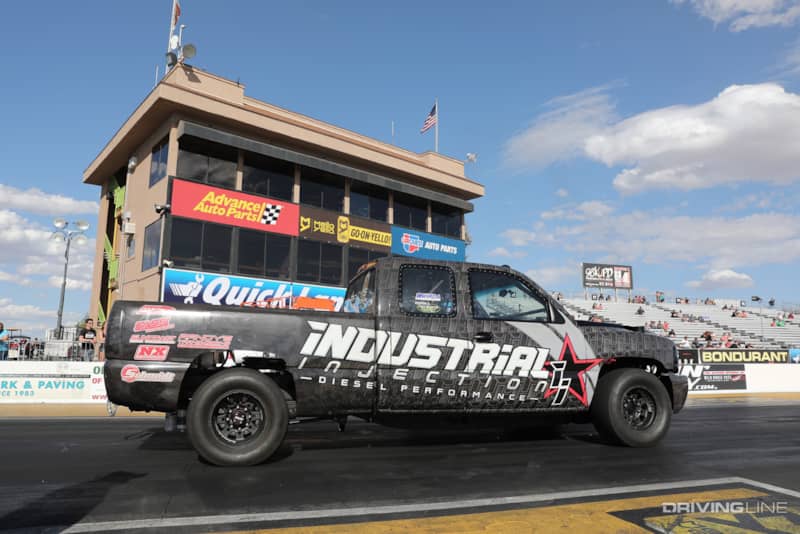 (Photos courtesy of the National Hot Rod Diesel Association)