2022 Formula Drift Round 7 Utah Motorsports Campus: Ken Gushi Wins, Aasbo and DeNofa Take Second and Third
Story By Joey Redmond
Photos By
Formula Drift 2022 Round 7 fired up at Utah Motorsports Campus for the first time in series history. The exciting, new track features high-speed entries above 100mph which marks a new competition element for the Formula Drift series competition. The new course's elevation and varying weather conditions created havoc up and down the paddock, but overall it turned out to be one of the most thrilling events of the season.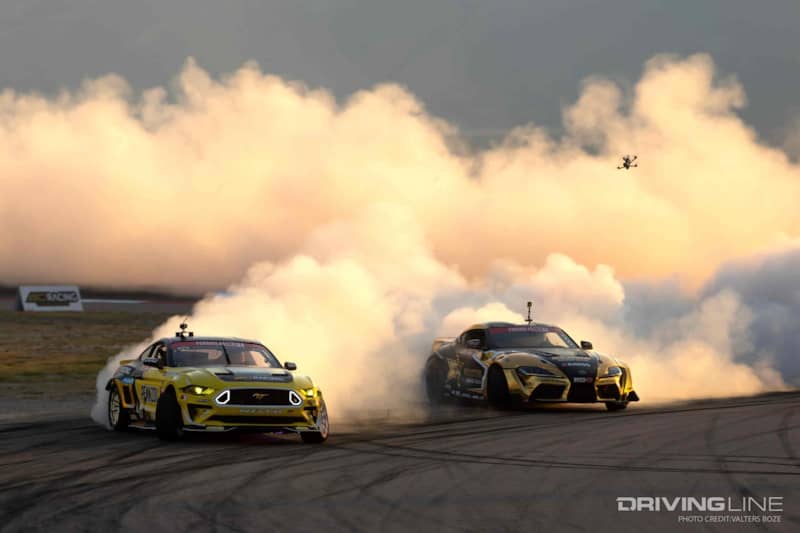 Qualifying
Fredric Aasbo took home the number one spot for the day with a flawless run in his Papadakis-built Toyota GR Supra on Nitto NT555 G2 tires. Dylan Hughes was just behind him in second place in his BMW. First place in season points, driver Matt Field, struggled with grip on the new course and found himself in 20th place at the end of qualifying.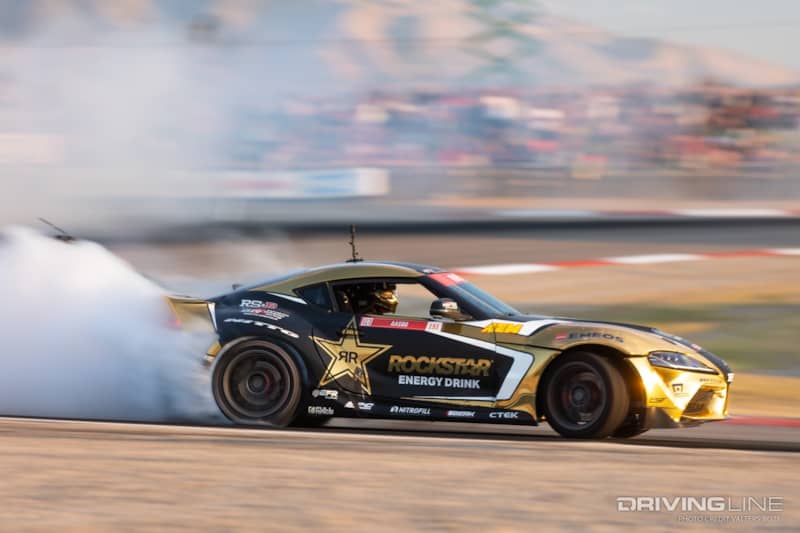 High Speeds Find the Top 32
Fredric Aasbo opened Top 32 with a battle against Alec Robbins—Aasbo followed the line and angles of the track so well he wasn't going to be beat. Alec Robbins dropped a tire trying to scramble away which gave Aasbo the win.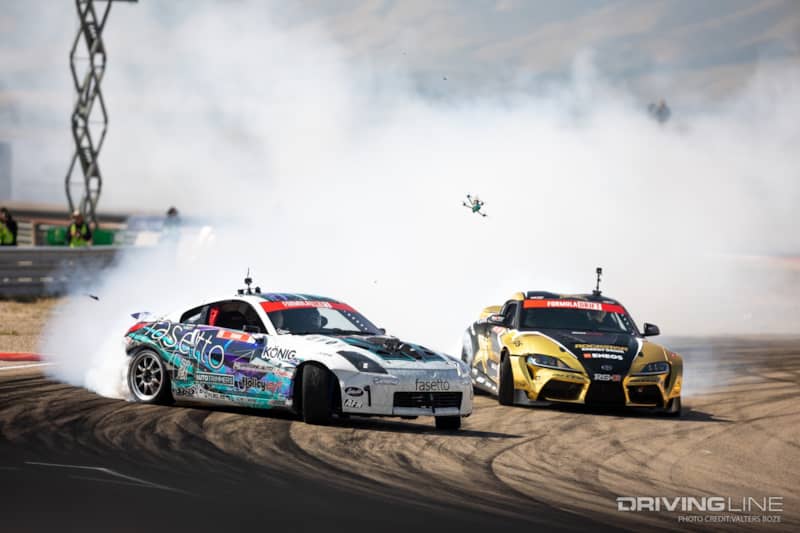 Chelsea DeNofa faced off against former champion Michael Essa in the next round. Chelsea DeNofa entered the course at 103.8 MPH and seemed to leave Michael Essa's BMW behind. His BMW eventually gripped up and straightened up and was never able to catch back up to DeNofa. Michael Essa's handbrake broke on the first lap, and he managed to fix it quickly and return for a second lap. At the end of their two laps, DeNofa was given the win from all three judges.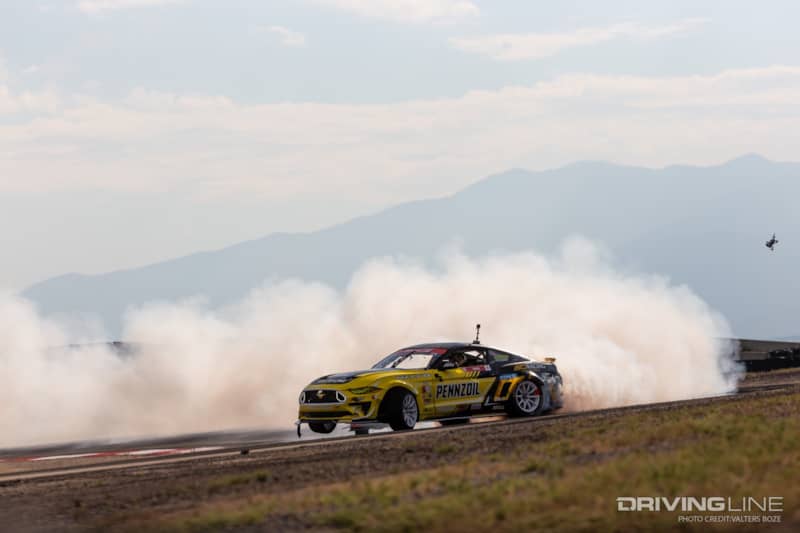 Ken Gushi fought a tough battle with Kyle Mohan, but then Kyle Mohan's Mazda broke down just before the finish line giving Ken Gushi the advancement into the next round of competition.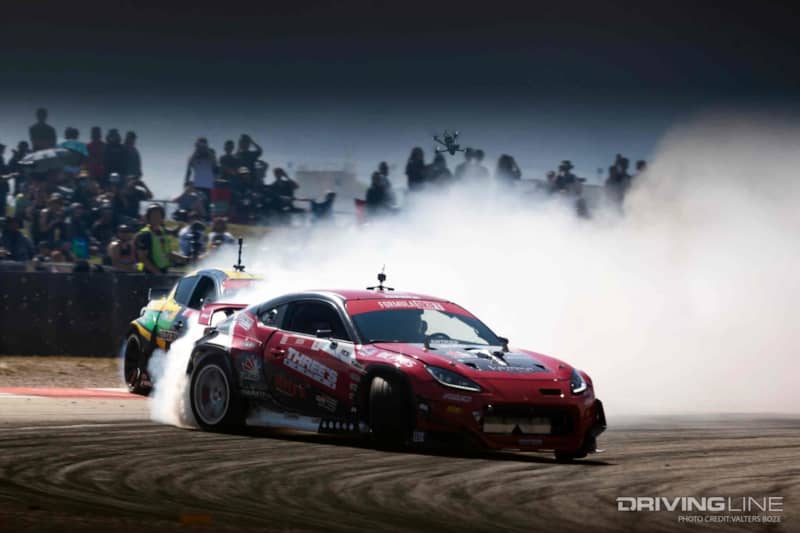 Rome Charpentier really pushed Matt Field in their Top 32 battle and the judges all called One More Time, so they were set to run again. Their One More Time battle was close, but Championship Points leader Matt Field came out on top. 
Crashing in the Top 16
The start of Top 16 saw Fredric Aasbo face off against Kazuya Taguchi who was a tough competitor. Fredric Aasbo really won the battle in the follow position, but Kazuya is a strong contender this season after already winning Round 5 in St. Louis.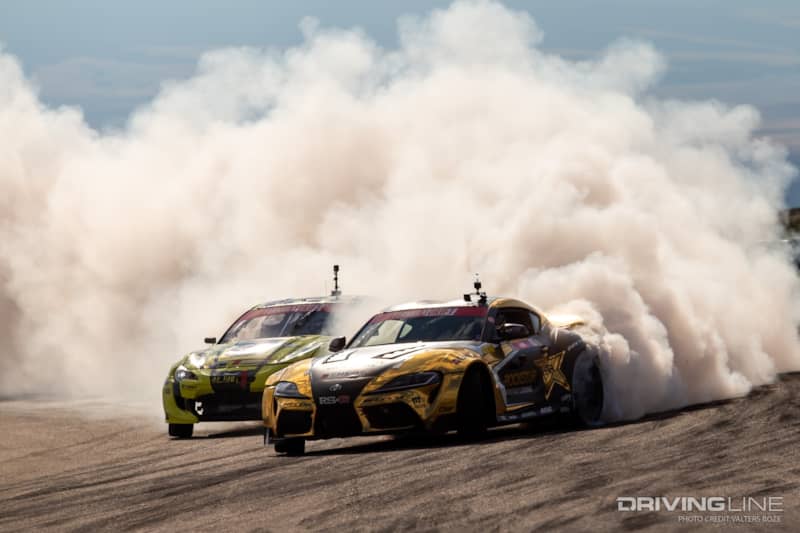 Chelsea DeNofa and Taylor Hull had an exciting battle and the judges landed on One More Time as their decision. The One More Time battle got interesting as Taylor Hull debeaded a tire and then Chelsea DeNofa smacked into him in the chase position. The judges ruled that Taylor Hull scrubbed speed and was set at fault. This meant Chelsea DeNofa moved into the Great 8.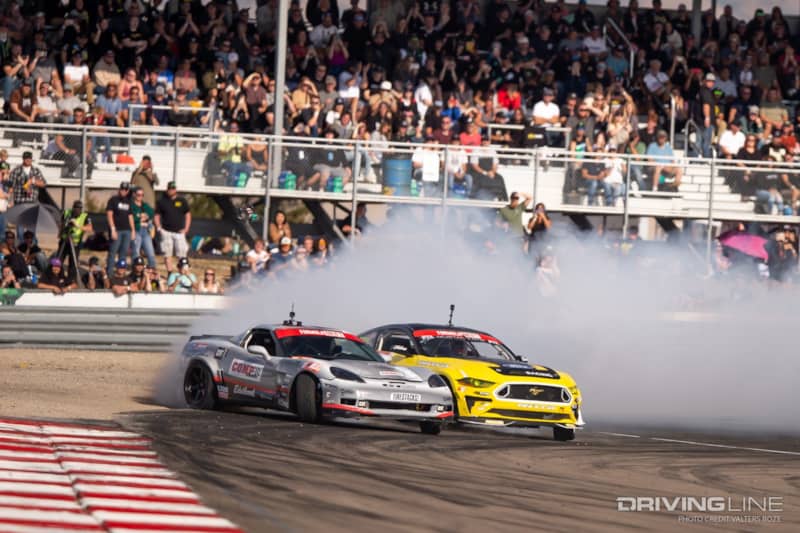 Ken Gushi then lined up against the Championship Points leader Matt Field in the Top 16. Gushi entered the first turn at 99.4mph and then was run over by Matt Field with some major car to car contact—Field planted his wheel right into Ken Gushi's door. Matt Field's team scrambled to fix the Corvette during a five-minute competition time-out. They fixed the car, but Matt Field spun on his lead run and Ken Gushi moved to the Great 8.
Greatness in the 8
Fredric Aasbo started off with a smooth run and Mike Power fell right off course and went through a fence covered in sponsor banners! He flew off the course but was completely fine as staff quickly came to check on him. Fredric Aasbo ran a safe chase run and was given the win due to Mike Power's big mistake. Fredric Aasbo headed for the Final Four.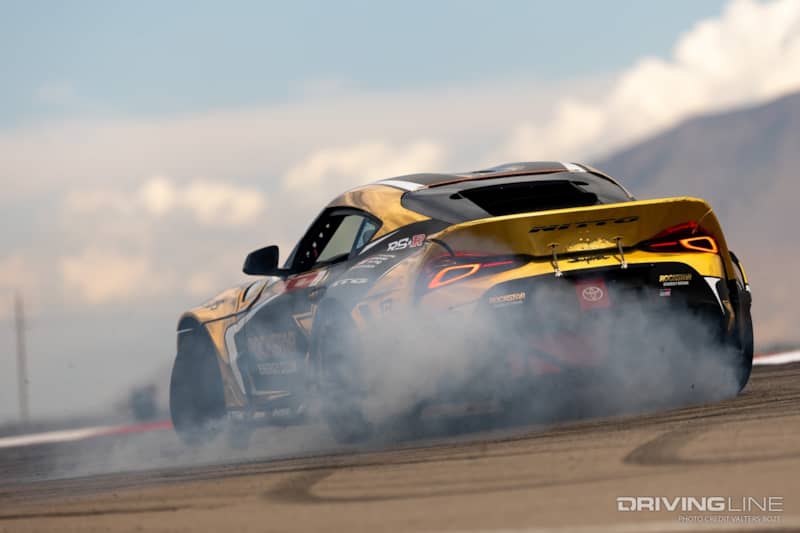 Chris Forsberg and Chelsea DeNofa come together for an impressive tandem battle. DeNofa entered his lead run at 108.7 mph which was the fastest entry seen at that point in the day. Chris Forsberg just couldn't keep up and got lost in Chelsea's Nitto tire smoke on his follow position lap. All three judges give Chelsea DeNofa the victory on this one.
Ken Gushi battled Dylan Hughes and was looking good, but then Hughes ran into him on the course. This gave Ken Gushi another victory as he completed both of his laps. Ken Gushi now found himself in the Final Four for the first time in awhile.
Chaos in the Final Four
In what was probably the most entertaining battle of the day, Fredric Aasbo led the battle against Chelsea DeNofa as both drivers warmed up their Nitto NT555 G2 tires in preparation for competition. Fredric Aasbo put down a very solid qualifying-like run as DeNofa performed decently in the chase position. When it was Chelsea's turn to lead, he broke the track entry speed record with a blistering 109.8 mph entry speed! Fredric Aasbo punted Chelsea DeNofa in transition and Fredric Aasbo's tire came off in the collision, but he managed to complete the entire run with just three tires while losing fenders and bumpers during the lap. Fredric Aasbo was given the victory because Chelsea DeNofa pushed a little too hard and had a few mistakes due to his insane speed.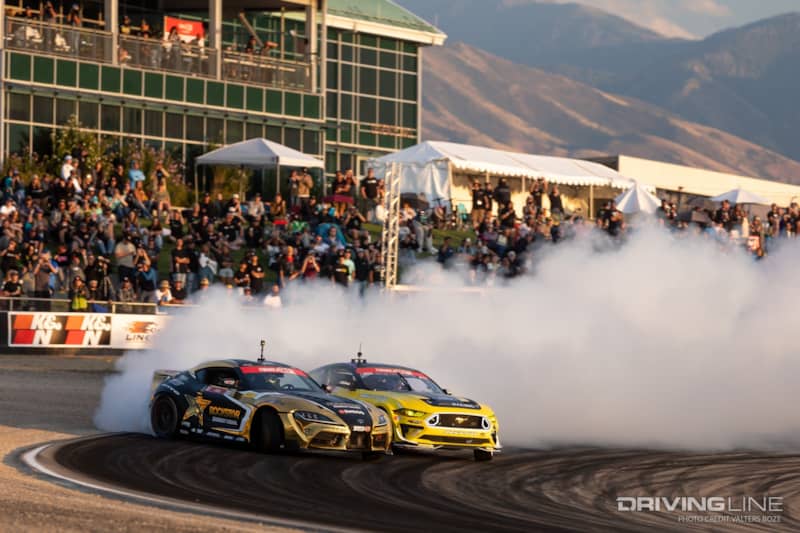 Ken Gushi faced Simen Olsen in an all Toyota Supra battle for a chance at the win! Simen Olsen had a huge correction behind Ken Gushi's Toyota Supra in the first lap putting him way behind. Ken Gushi tucked in on the chase and felld way behind towards the finish line. The judges still favored Ken Gushi's performance in the runs, with two judges voting for the majority and a pass into the final.
A Final Battle that Never Happened
Unfortunately, due to the collision in the Final Four with DeNofa, Fredric Aasbo's team couldn't fix his Toyota Supra in time to compete in the final battle. Therefore, Ken Gushi took his third career Formula Drift victory at the end of the night. Here are the top three from FDSLC 2022:1. Ken Gushi, 2. Fredric Aasbo, 3. Chelsea DeNofa.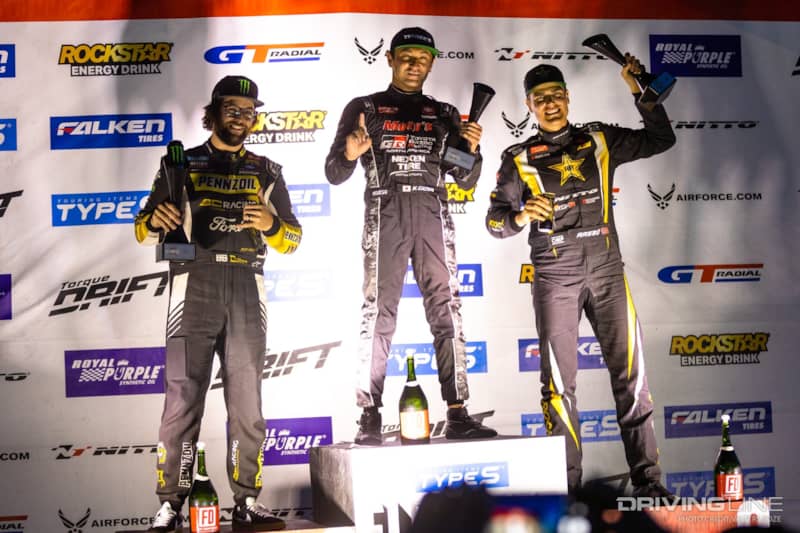 In an unusual manner, we've had seven different drivers win the seven events of the 2022 Formula Drift season—which shows how good the drivers are this season. Ken Gushi returned to the podium for the first time since Irwindale Speedway 2019 where he took home an event win.
The Formula Drift Championship is very close with just one round left at Irwindale Speedway. Matt Field is in the lead with 558 points and Fredric Aasbo is just 14 points behind him with 544 points meaning either of these guys could win the Championship by making it one round further than the other next month on October 14-15.