2023 Formula Drift at Englishtown Raceway Park, Round 4: Adam LZ Grabs First Career Win!
Story By Joey Redmond
Photos By
Englishtown Raceway Park brought out another year of wild weather patterns forcing drivers to change setups constantly over the weekend from dry to wet and back to dry. Rain came heavy during the halftime break washing off all the laid-out rubber on course to finish up the evening. E-Town Raceway is the most unique course in the Formula Drift series as it is a big figure eight course built over a former NHRA dragstrip with grandstands all around it creating a drift bowl of sorts — which is great for track visibility.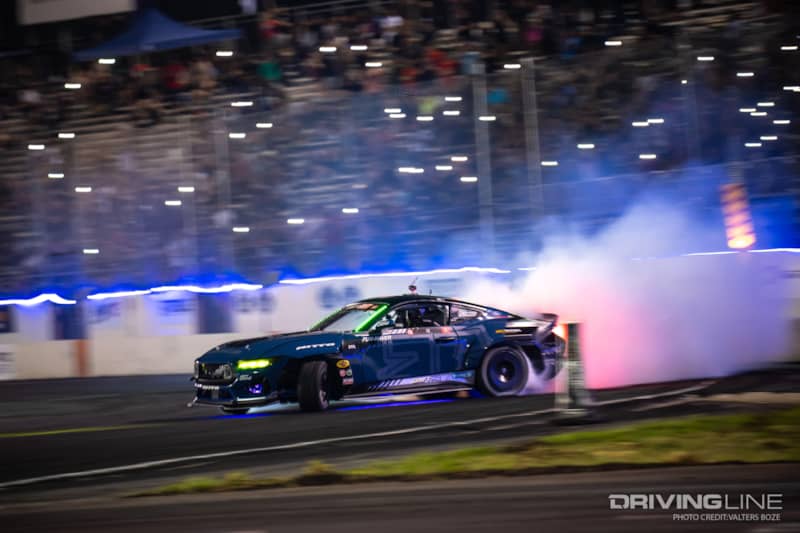 Qualifying
Fredric Aasbo dominated qualifying and took home first place by a large margin. Ryan Tuerck continued his hot qualifying form and landed in second place with his GR Corolla. Chelsea DeNofa had a notable struggle due to the weather and only managed to qualify in 27th place which was abnormally low for him.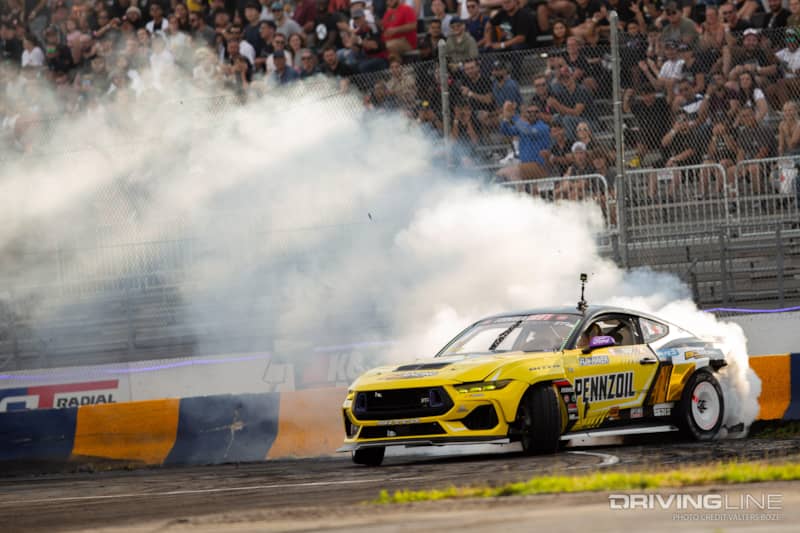 Troubles in the Top 32
Fredric Aasbo got caught in the rain with his Toyota Supra and made a big mistake against Toyota teammate Ken Gushi in the first battle of the race weekend. Aasbo had a huge correction giving himself an incomplete which resulted in his early elimination from the event and Ken Gushi moved on to the next round.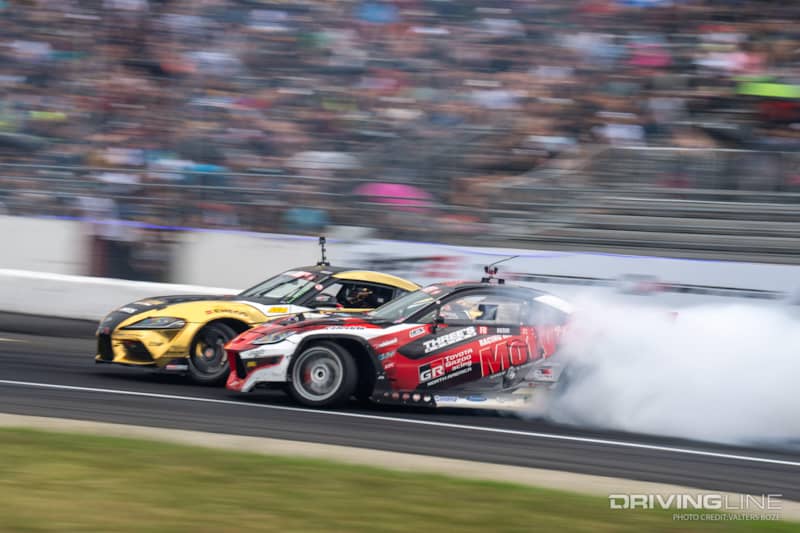 Ryan Tuerck advanced in a battle against Kyle Mohan.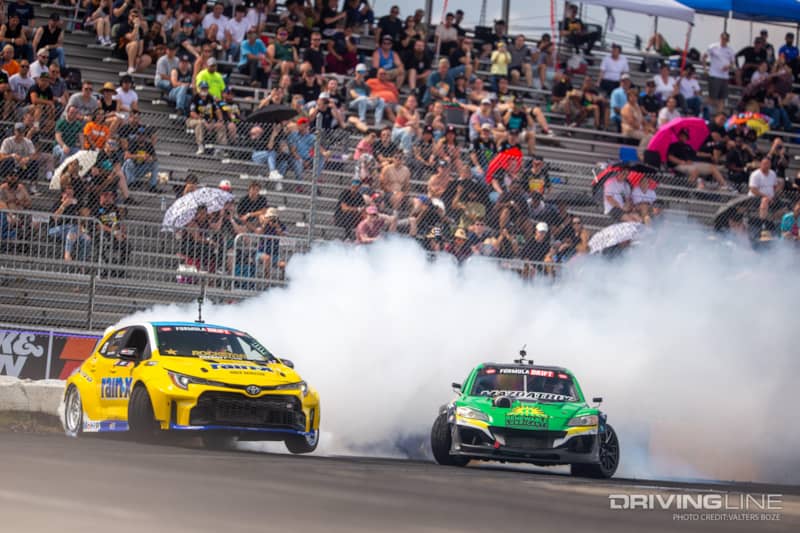 James Deane really had a hard-fought battle with Nick Noback where James Deane barely took the win in his RTR Ford Mustang.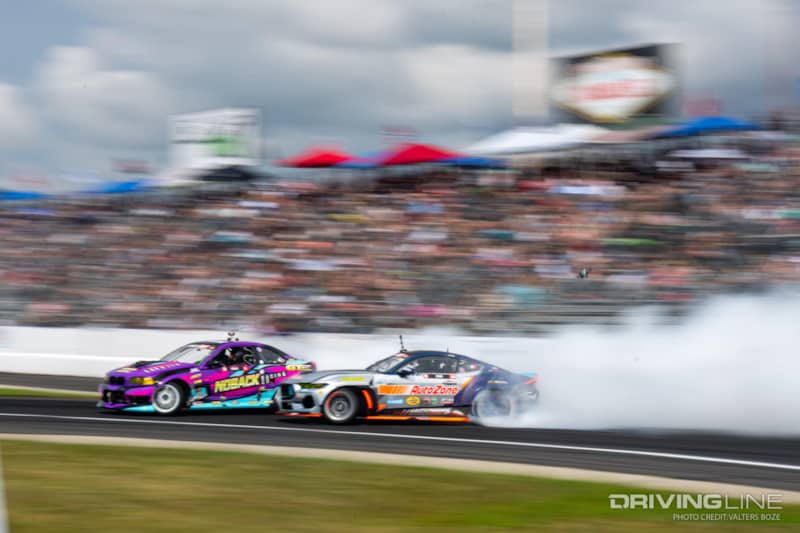 Chelsea DeNofa won a controversial battle against Daniel Stuke that appeared straight forward at the time but was forced to repeat the battle due to a protest being filed. The two drivers repeated the battle before Top 16 started and Chelsea DeNofa just dominated Stuke's 240SX and was given the clear victory for a second time in a row. Adam LZ made quick work of Mike Power and was now set to face RTR Mustang teammate Chelsea DeNofa next up in Top 16.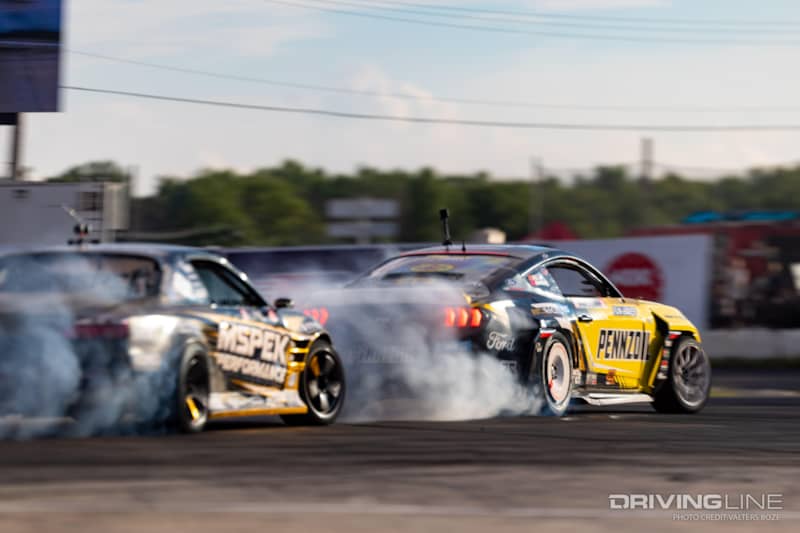 Mustang RTR Showdown in the Top 16
Ryan Tuerck battled young Branden Sorensen in a back-and-forth competition but secured the victory and has another appearance in the Great 8.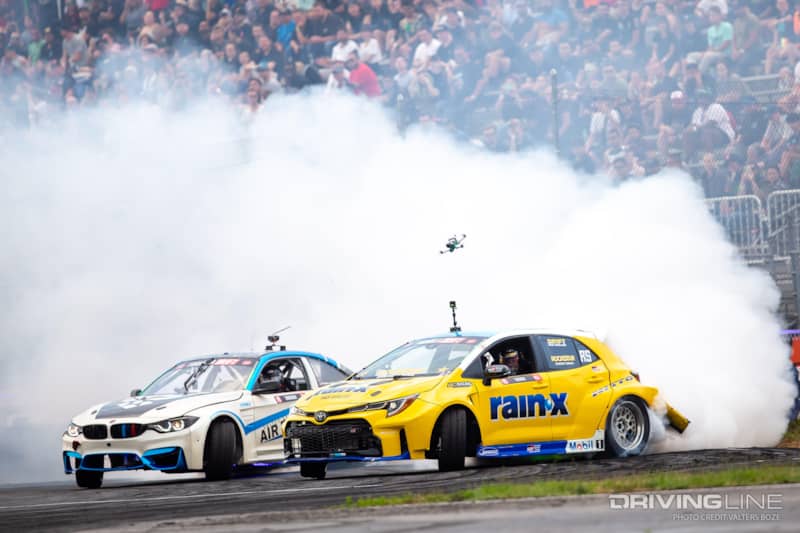 James Deane and Travis Reeder threw it down, but James Deane was looking unstoppable and pulled off a victory.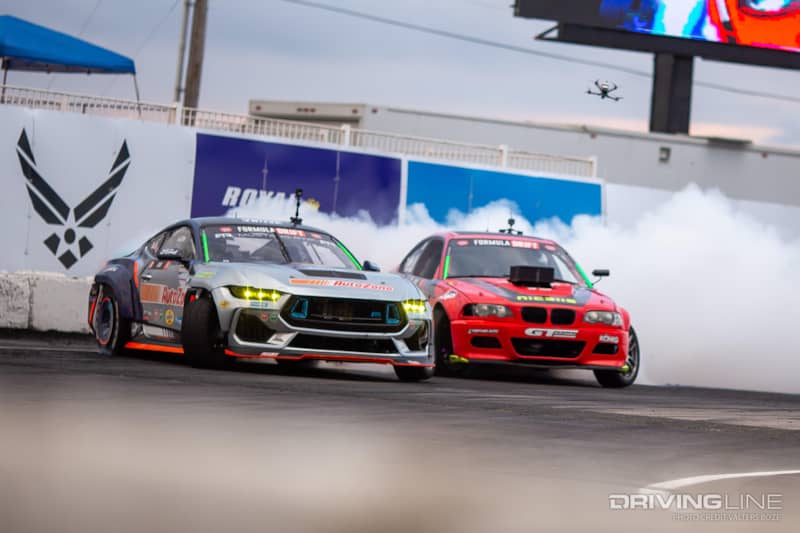 Chelsea DeNofa and Adam LZ both warmed up their Nitto NT555 G2 UHP tires and faced-off with the potential to be the battle of the weekend! Chelsea started as the chase driver and came in a little hot following Adam LZ's amazing lead run and smashed into him on one of the big turns. Adam LZ then performed a better chase run while Chelsea DeNofa struggled to have a smooth lead run as the two V8 Mustangs roared around the New Jersey track. The judges were split but the majority gave Adam LZ the victory sending him to the Great 8.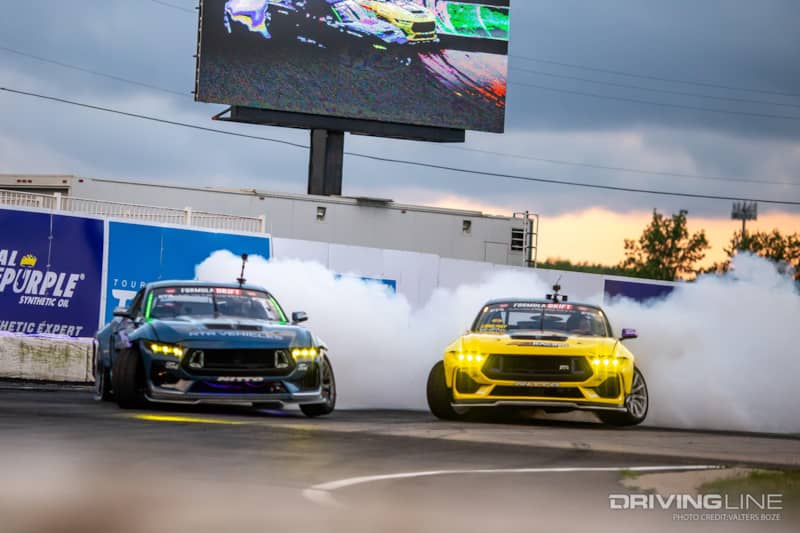 Adam LZ Again in the Great 8
Ryan Tuerck pushed a little too hard trying to battle James Deane and sent his Corolla off course with two wheels through the dirt which hurt his scoring for the battle. Ryan Tuerck really went aggressive on the chase run and was smashing into the Mustang RTR of James Deane as they followed along the course. Ryan Tuerck just went a little too aggressive at the finish line and spun-out James Deane by smashing his front wheel. It was an incredible battle under the lights in New Jersey. The judges gave James Deane the victory and his first trip to the Final Four in the 2023 Formula Drift season.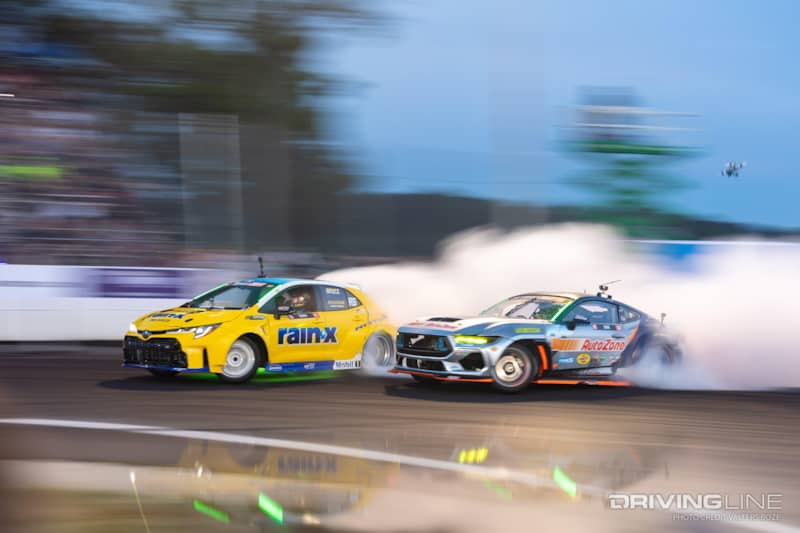 Next, Adam LZ faced off against Brazilian driver Joao Barion in his Corvette. A true battle of American Muscle that was much closer than most fans in the crowd anticipated. Judges gave Adam LZ the win across the board as the crowd went crazy!
New Faces in the Final Four
Simen Olsen and Matt Field started off this round of battles. Simen Olsen making his first career appearance in the Final Four versus the 2023 points leader Matt Field in his Chevrolet Corvette. The two drivers really had a throw down that was so evenly matched the judges called it a One More Time! On the return battle between these two guys Matt Field just lacked the aggressive driving we expect to see this late in a Formula Drift event. Simen Olsen got the win on this One More Time battle which set him up for the final.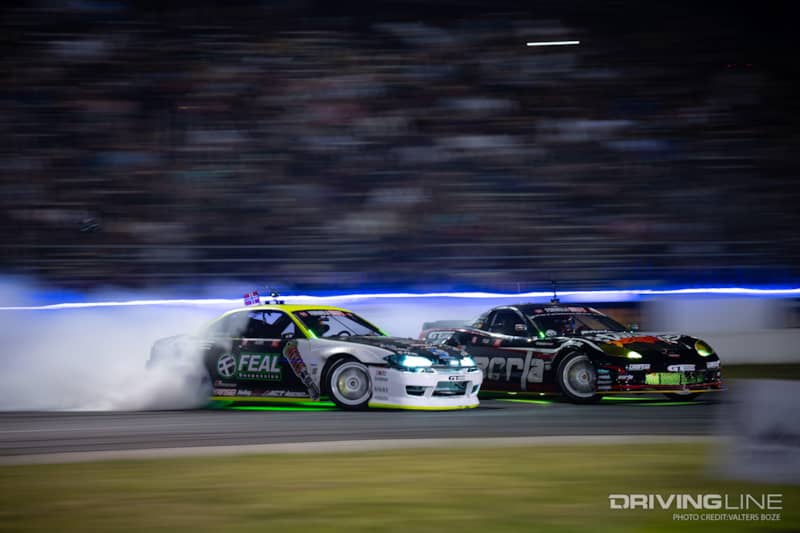 Adam LZ looked alright in his chase run but the three-time champion James Deane was so dialed on his lead run it was hard to see a path where Adam LZ could take a big advantage. However, Adam LZ had looked so good on his lead runs all weekend it was going to be a big moment and he delivered! Adam LZ took off and did an insane, nearly backwards entry onto the track and managed to hold onto it while staying in drift, but it also sent James Deane off the course! Deane's mistake sent Adam LZ to his first career Formula Drift final battle!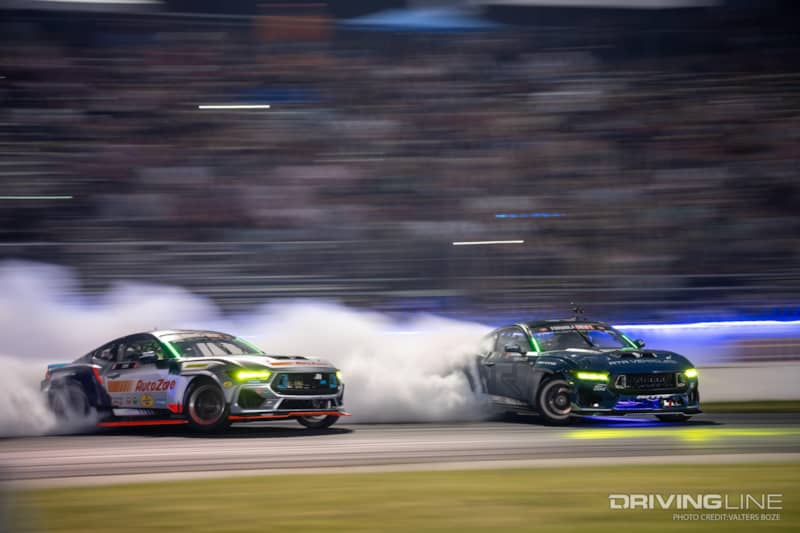 First Final Battle for Both Drivers
Simen Olsen and Adam LZ both made a final debut under the lights at Englishtown Raceway Park in New Jersey. Matt Field secured third place on the podium with his qualifying position as the Olsen and LZ were set to face off. Both young drivers were Rookie of the Year on their debut seasons and have shown a ton of promise as they grow in Formula Drift. Adam LZ threw sparks into turn one as his Mustang RTR squated and he put down some wild transitions in the Mustang making Simen Olsen scramble to chase in his S15 Silvia. Simen Olsen positioned his car so deep into Turn 1 they both hit the wall and continued drifting through the lap. The judges all called a "One More Time" to see these guys battle again. Adam LZ brought out his reverse entry to start the lap making it challenging to stay in proximity with him while looking incredible. The smoke settled on the One More Time Battle and Adam LZ was announced the winner of Formula Drift Round 4 at Englishtown. That made it three wins in a row for Vaughn Gittin Jr's RTR Ford Mustang team with three different drivers winning each round.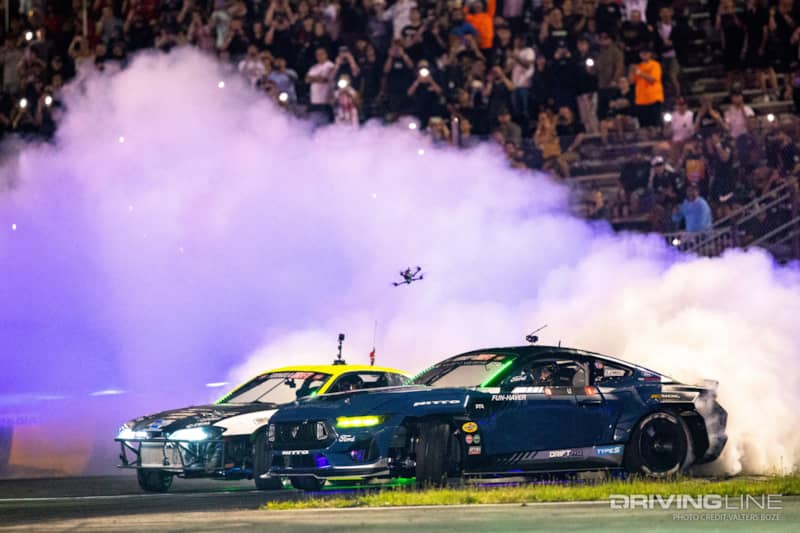 Adam LZ is now the 33rd driver in Formula Drift series history to win an event in the twenty-year series history. The last first-time winner was Kazuya Taguchi back in St. Louis during the 2022 season. Adam LZ now enters the elite class of drivers who have managed to take home a Formula Drift victory which puts him among the top drifting drivers in the history books. Adam LZ has an hour vlog uploaded to his YouTube channel if you want to get a unique experience what it is like for a pro driver to have an amazing weekend and take home the win.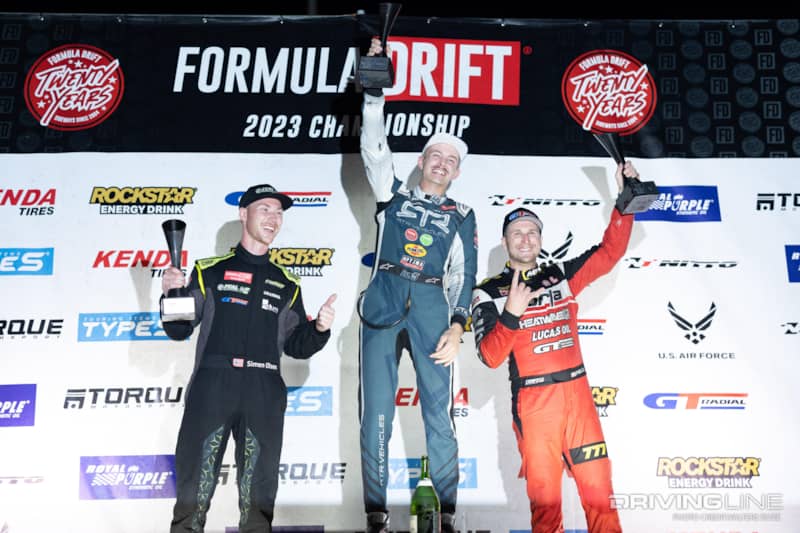 The series is set to return for Round 5 in St. Louis, Missouri on July 14th-16th at Worldwide Technology Raceway.
More From

Driving Line
Chelsea DeNofa Wins Again! 2023 Formula Drift Round 3 at Orlando Speed World