Chelsea DeNofa Wins Again! 2023 Formula Drift Round 3 at Orlando Speed World
Formula Drift 2023 returned to competition after a short two-week break to central Florida at a sold out and packed Orlando Speed World!  The fans and energy all around the first oval track event of the season could be felt within miles of the place. The Championship Points race remained wide open as the drivers set up their cars for qualifying on the fast-paced switchback oval they run at OSW.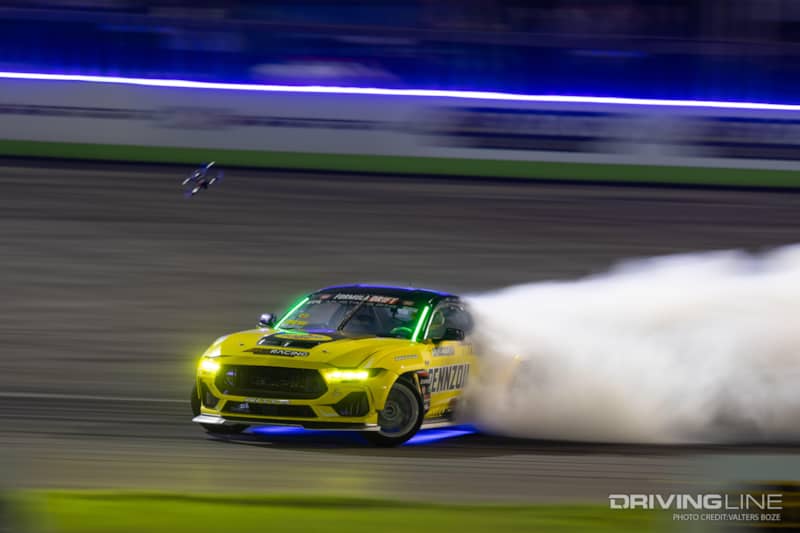 Qualifying
Ryan Tuerck put on a show in qualifying by taking home the top spot after dominating the qualifying session in Long Beach earlier this season.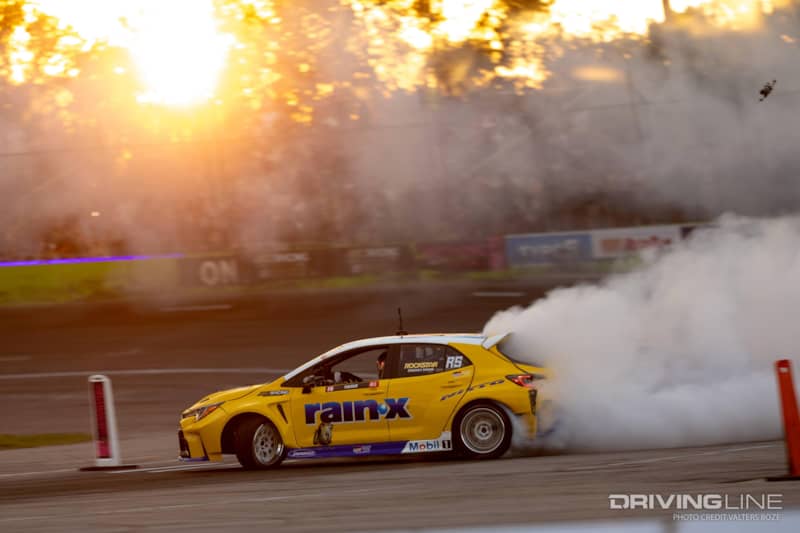 Under the lights we had Chelsea DeNofa land the second qualifying spot of the night in his RTR Ford Mustang.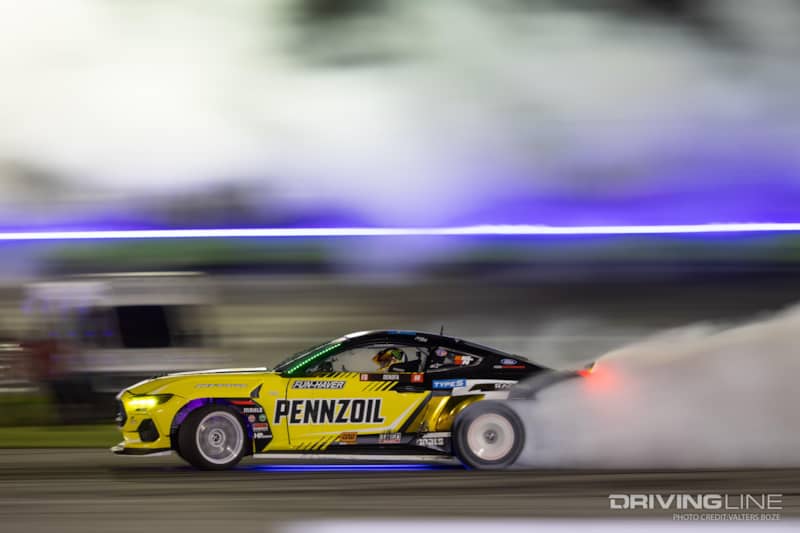 Taking on the Top 32
The Top 32 is a bit unique and challenging at Orlando Speed World because it happens in the late spring daytime which puts a ton of heat and wear on the cars and tires with the hot and abrasive track surface. Ryan Tuerck started off with a hard battle against Dean Kearney in his Dodge Viper. Dean Kearney made lots of mistakes and ended up going off course twice giving Ryan Tuerck the win and advancement into the Top 16.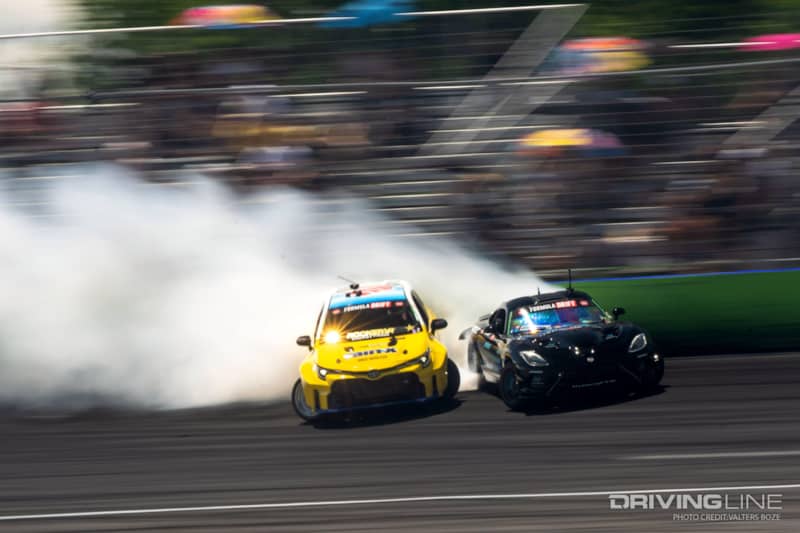 The next battle was Adam LZ taking on the Championship points leader Matt Field in another hard-hitting battle. Adam LZ took a low line on his chase battle but came back at the end of this chase battle to bump doors with Field. Adam LZ crushed his lead run, but it wasn't enough to take the victory against Matt Field and he is eliminated on the night.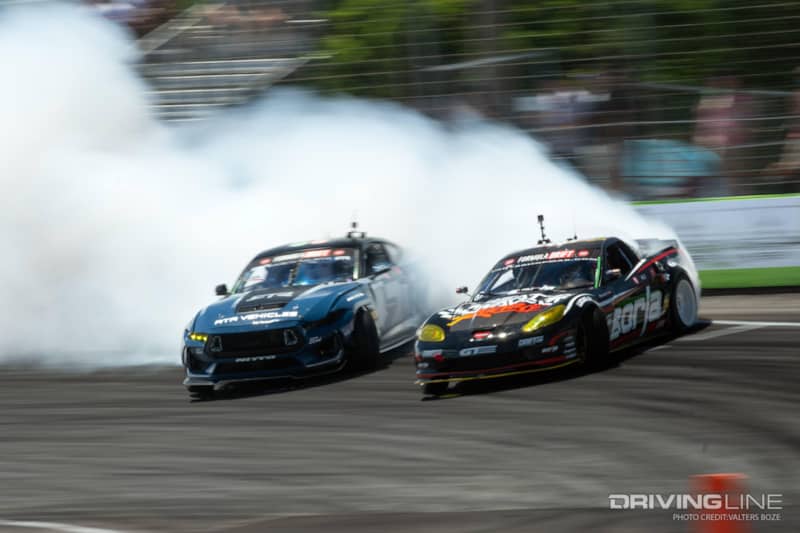 Fredric Aasbo destroyed his differential on his chase run with Ken Gushi but Ken Gushi broke before the finish line as well and the tandem battle was given to Fredric Aasbo based on his performance in the lead run.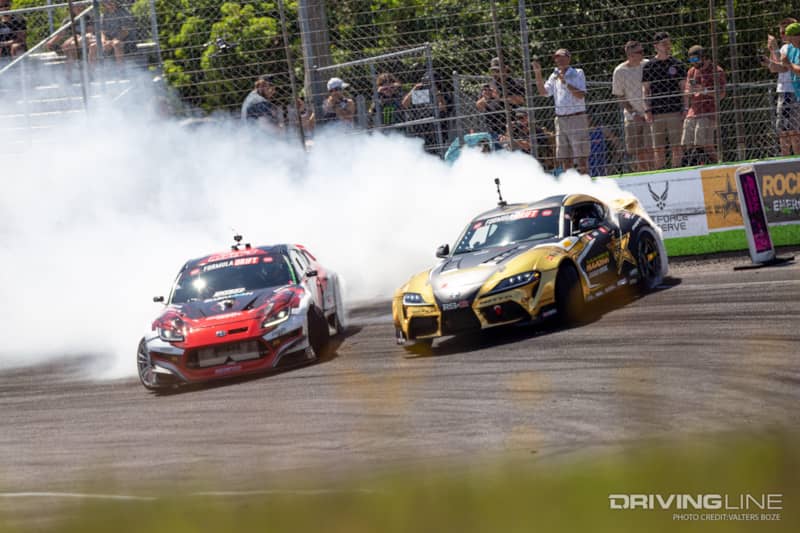 Chelsea DeNofa got pushed by rookie Alex Holovnia to a OMT on the first battle. The second battle had Holovnia crash into the bank wall and Chelsea DeNofa crashed right behind him in a wild fashion. Both drivers were OK and Chelsea DeNofa advanced into the Top 16 to face Chris Forsberg.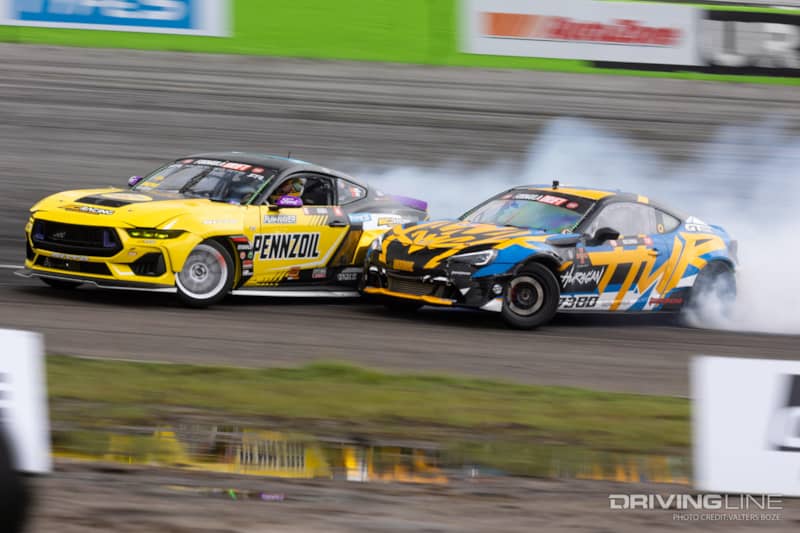 James Deane dominated Robert Thorne and made no mistakes in his RTR Mustang to advance as well.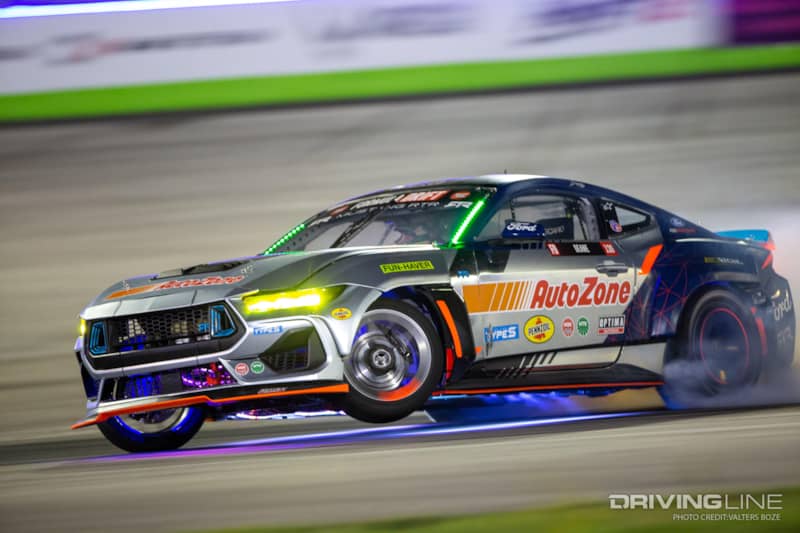 Top 16 as the Sun Sets
Ryan Tuerck and Matt Field started off the main event but the judges couldn't pick a winner and called a One More Time. They met again and Matt Field shot off a huge fireball mid run that caught his rear bumper on fire during the lap. Even with that happening, the judges sent it to a third One More Time battle. On the third battle, Ryan Tuerck was given the victory after another extremely close battle between the two drivers!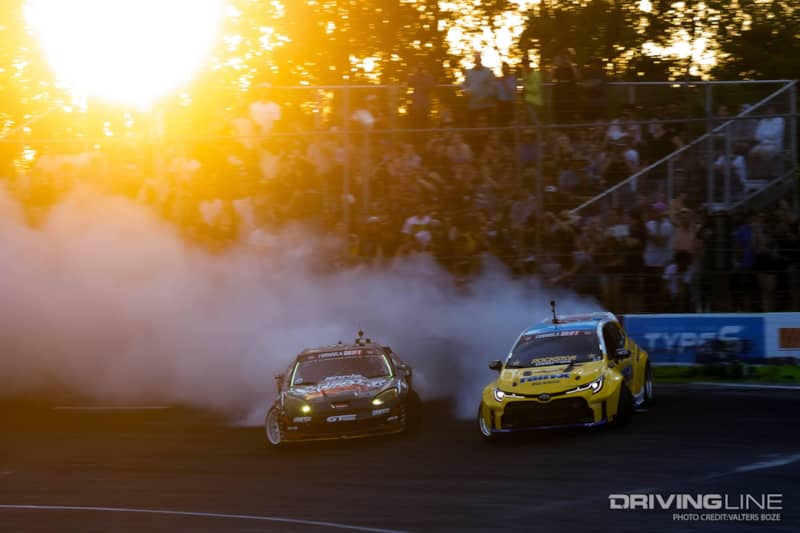 Jonathan Hurst really pushed Fredric Aasbo in his Toyota GR Supra in a battle where the judges barely gave the victory to Fredric Aasbo. Chelsea DeNofa dominated three-time Formula Drift Champion Chris Forsberg in their battle. Chelsea DeNofa chased so close he was bumping his Nitto NT555 G2 tires into Forsberg's new Nissan Z chassis repeatedly as he took home the win!
James Deane then took down Odi Bakchis in his return season to Formula Drift with his Mustang RTR.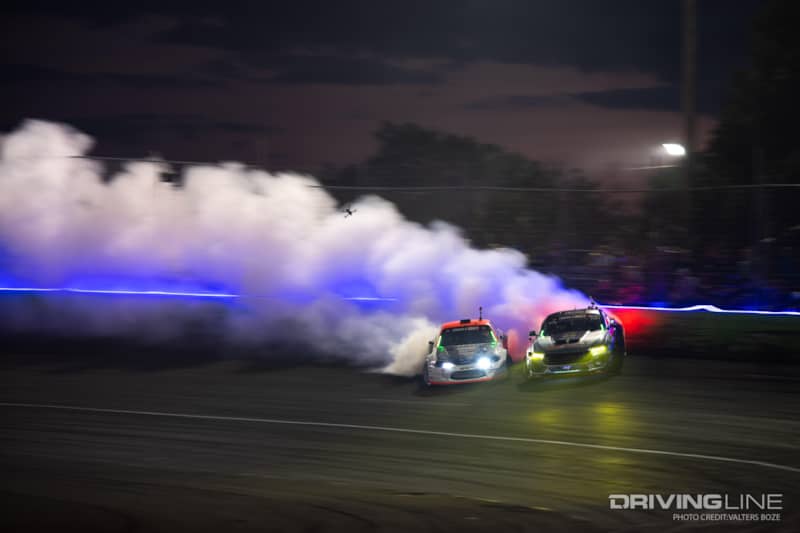 Big 8 Battles
Ryan Tuerck took on Dylan Hughes to open the Great 8 and fell just a bit short as Dylan Hughes put down a much better lead run in his BMW compared to Ryan Tuerck, which ended his night. Fredric Aasbo ran next and took on a fellow European, Simen Olsen, in his Nissan Silvia. Fredric Aasbo finally had a solid tandem battle on the weekend and won, which advanced him to the Final Four.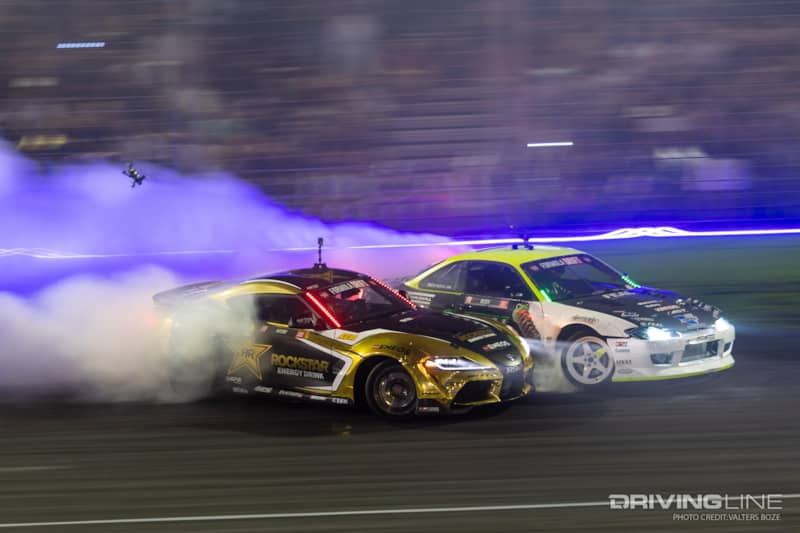 Chelsea DeNofa then met his RTR Mustang teammate James Deane in the Great 8 and these two put on one of the best shows of the year. Chelsea DeNofa even stuck his hand out the window as he crossed the finish line telling James Deane that he was number one. The judges agreed on a decision that gave Chelsea DeNofa the move into the next round.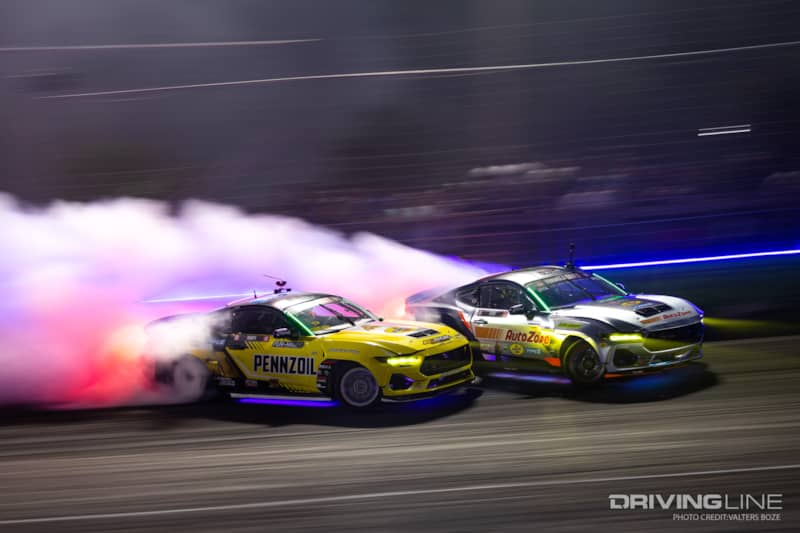 Four Different Car Manufactures in the Final Four
Fredric Aasbo faced Dylan Hughes in his BMW and tossed in a wild flick entry onto the bank to start off his lead run and the judges gave Fredric Aasbo a split call that put him into the final battle of the night.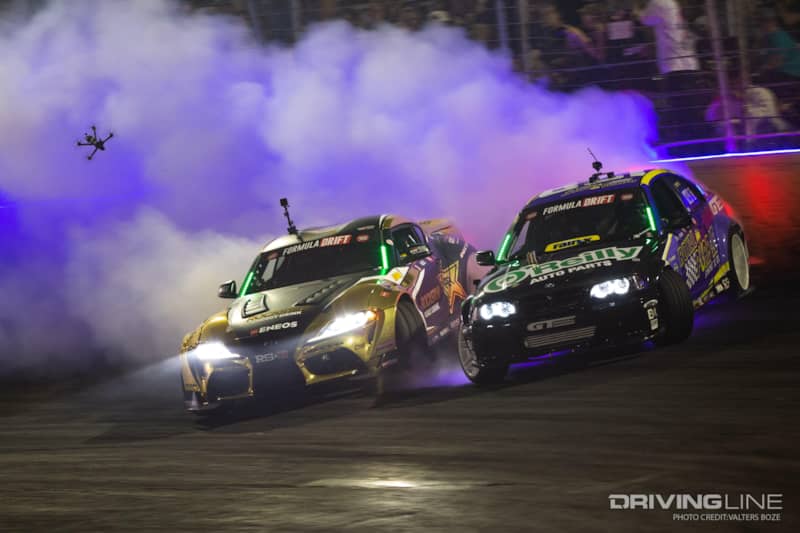 Kazuya Taguchi then faced Chelsea DeNofa and slammed right into him coming off the bank throwing DeNofa off the course completely. This huge mistake gave Chelsea DeNofa a victory and put him into the Finals against Nitto Tire teammate Fredric Aasbo.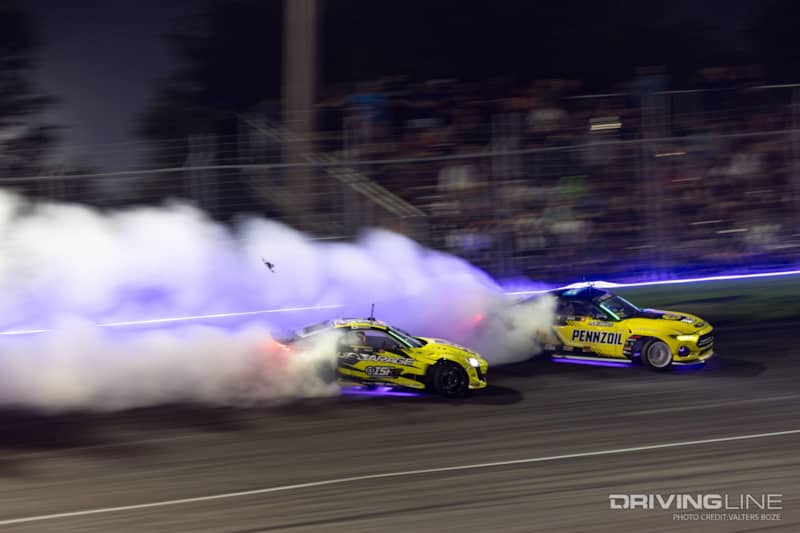 Final Face-Off
Fredric Aasbo secured the top Formula Drift Championship points spot before these guys faced off and Chelsea DeNofa could bring himself into second place just 13 points behind Aasbo with a victory that would allow him to pass Matt Field as well. Chelsea DeNofa lead first and delivered a very high scoring lead run as Fredric Aasbo bumped him around the ending of the course while dialing in a ton of angle. Fredric Aasbo's lead run went off course a good bit in the last section of the course resulting in a huge advantage to DeNofa. The cars were called back to the track and Jarod DeAnda announced that Chelsea DeNofa was the winner!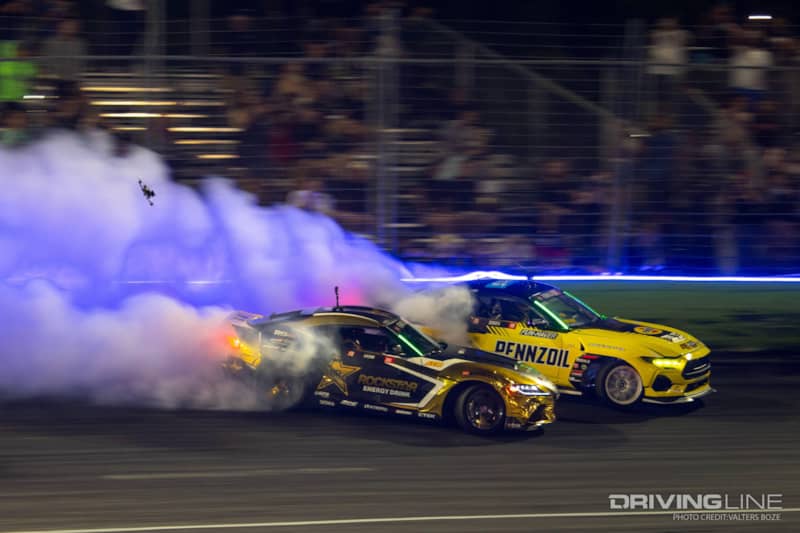 Chelsea DeNofa secured his eighth career Formula Drift victory placing him tied for sixth all time in event victories with Daijiro Yoshihara. This marks the second time Chelsea DeNofa has won an event at Orlando Speed World after bringing home the victory in 2021. He is now just one victory away from being in the top five most winning Formula Drift drivers of all time.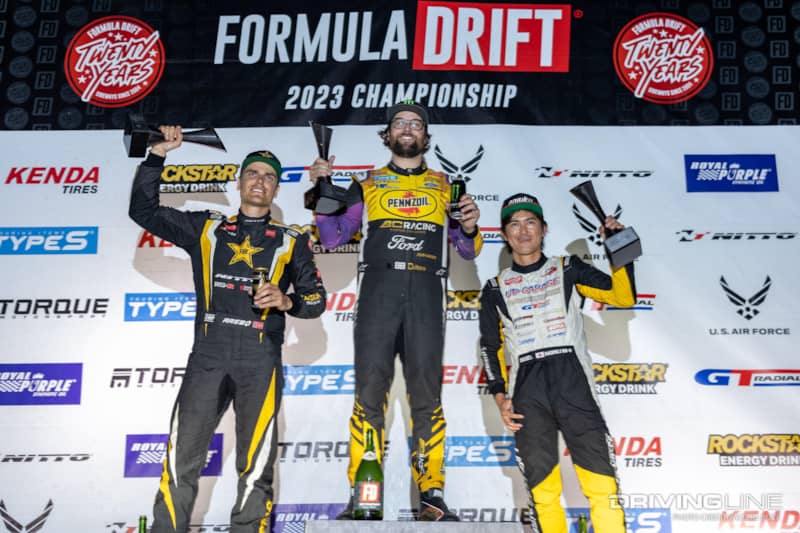 Fredric Aasbo holds the Championship Points lead with 196 points with Chelsea DeNofa now just 13 points behind him with 183. Matt Field is just three points behind Chelsea DeNofa as we head to Englishtown Raceway Park in New Jersey next month—we hope to see you there!