Matt Field Wins 2023 Formula Drift Rd. 1, The Streets of Long Beach
Story By Joey Redmond
Photos By
Formula Drift kicked off the 20th season with a record attendance in Long Beach, California on the Streets of Long Beach for Round 1 of the 2023 Formula Drift Championship Series. They expanded seating for the venue yet still sold out for the season opener. The Formula Drift series also launched a Hall of Fame this weekend which will include a permanent monument in Long Beach, California. Former champions Rhys Millen and Samuel Hubinette were both inducted to the Hall of Fame at Round 1 this weekend—but let's get to the day's competition.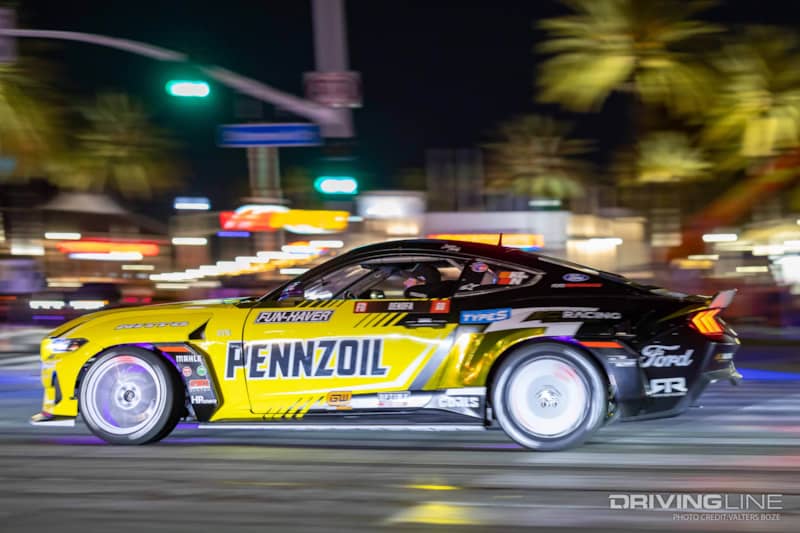 Qualifying
Ryan Tuerck smoked his Nitto NT555 G2 tires through the treacherous track and qualified first with an insane 98-point run that was the highest scored qualifying run at Long Beach in history. Ryan Tuerck also qualified first in 2022 at Formula Drift Long Beach and managed to win the entire event in his Toyota GR Corolla.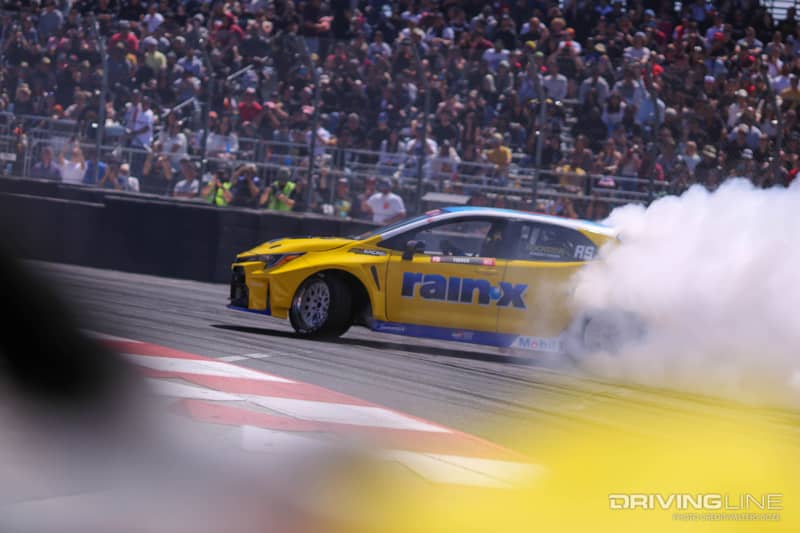 Top 32: RTR Mustang Battle Kicks Off the Season
Ryan Tuerck and James Deane earned a bye run into the Top 16 so they didn't make run during this part of the event. Fredric Aasbo had a tough battle with Mike Power in Top 32—they both had mediocre lead runs, but Aasbo took home the victory on his chase run as he was more aggressive and closer in proximity.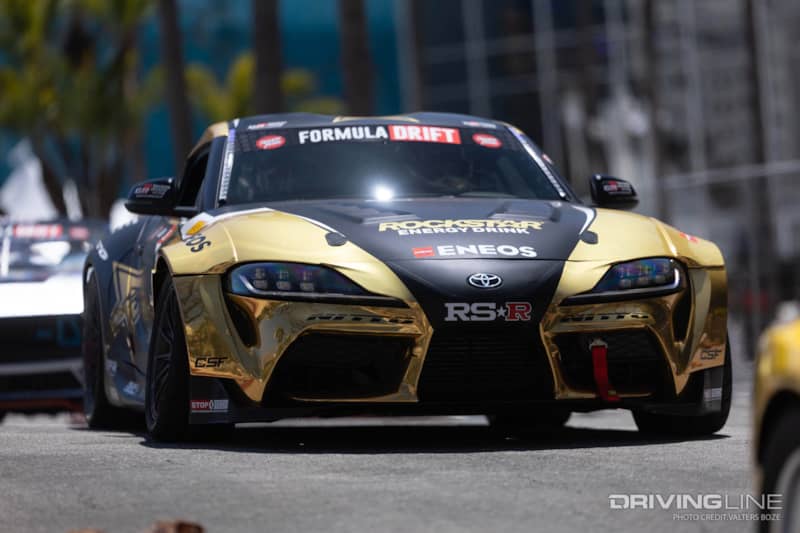 Team Nitto drivers and RTR teammates Adam LZ and Chelsea DeNofa faced off against each other in a clash that debuted their new S650 chassis Ford Mustangs.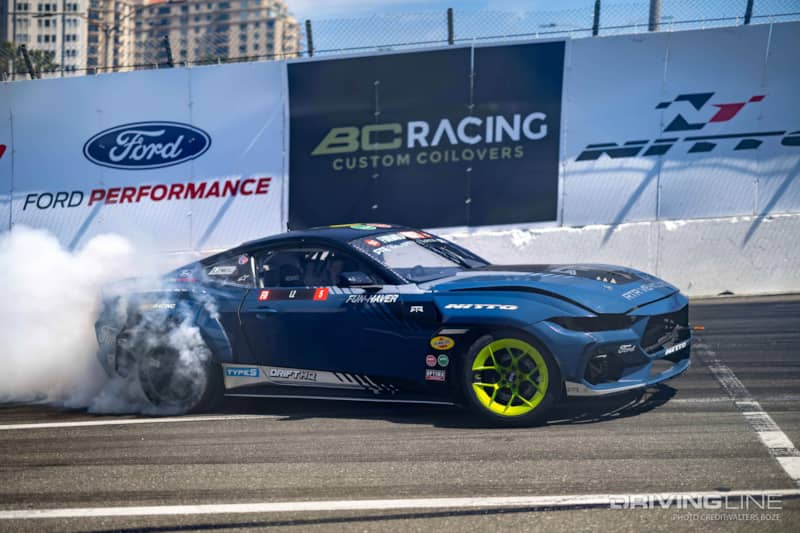 Adam LZ did a great job on his chase run keeping up with DeNofa but on his lead run he smashed the rear of his Mustang into turn one throwing him off his line for the entire rest of the lap. This allowed Chelsea DeNofa to move into the Top 16.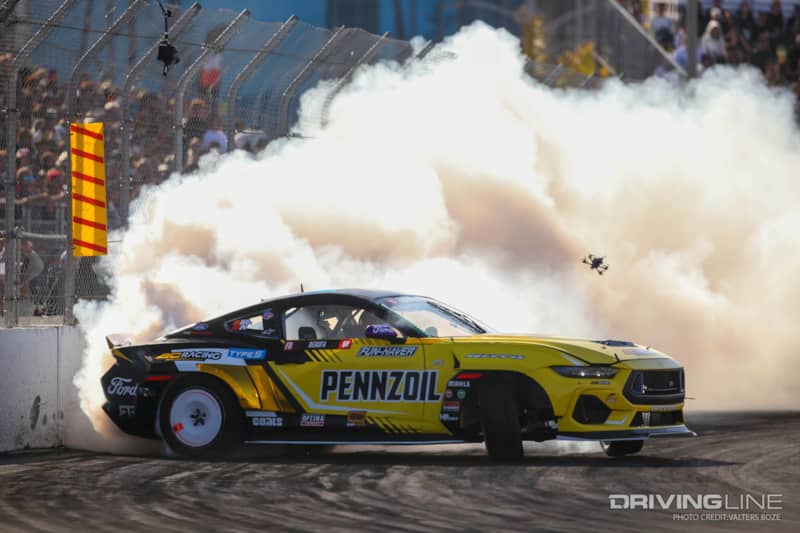 Matt Field and Chris Forsberg wound up in the best battle of the Top 32 that was so close the judged were forced to call One More Time. The OMT battle saw Matt Field taking out the three-time Champion Chris Forsberg early in the event weekend.
Top 16: The Return of Three Time Champion James Deane
Ryan Tuerck and Jhonnattan Castro had an exciting battle, but Castro pushed a bit too hard in his lead run and buried his Toyota GR86 into the wall hard and Ryan Tuerck was close (but not too close) behind. Tuerck managed to spin his Corolla around and avoid some serious car to car damage as Castro crashed right in front of him.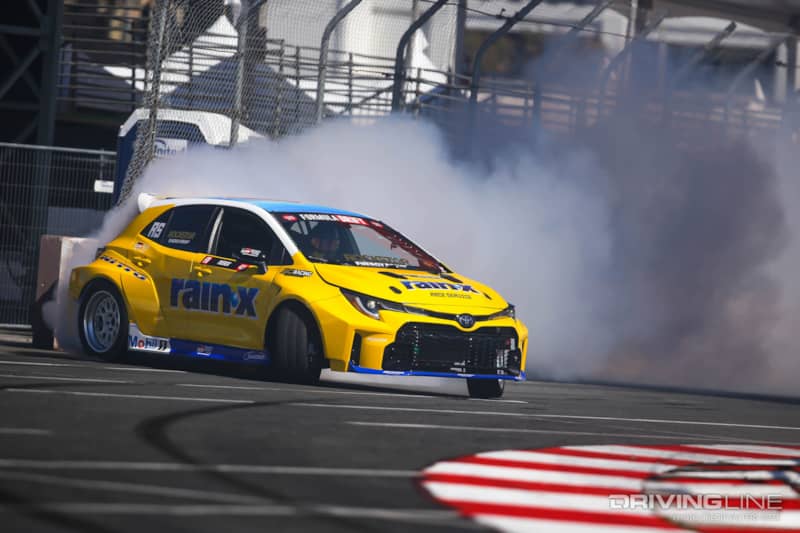 Daniel Stuke welcomed James Deane back to America for his Top 16 battle and return to the sport in the US after he won three Formula Drift Championships in a row a few years back. James Deane looked right at home in his right-hand drive RTR Ford Mustang, and with no surprise to anyone, advanced to the Great 8.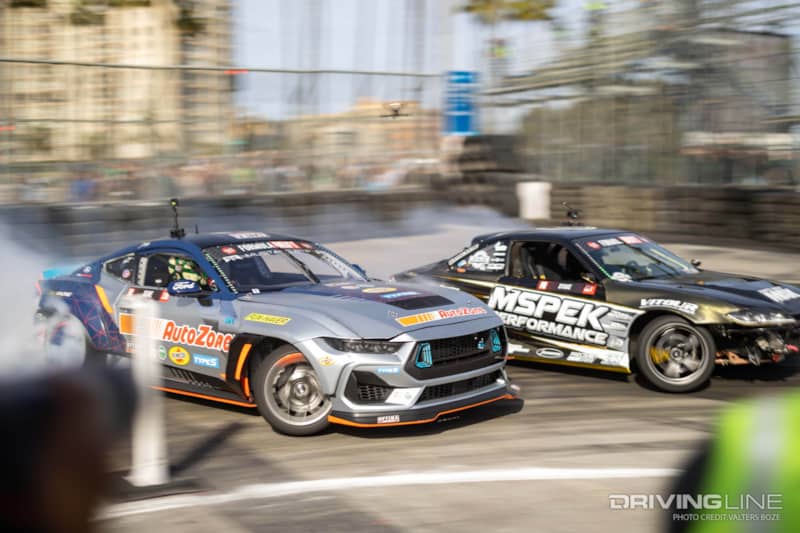 Fredric Aasbo's also advanced after beating Trenton Beechum in his Top 16 tandem battle. Chelsea DeNofa took out Simen Olsen in a close battle between those two drivers.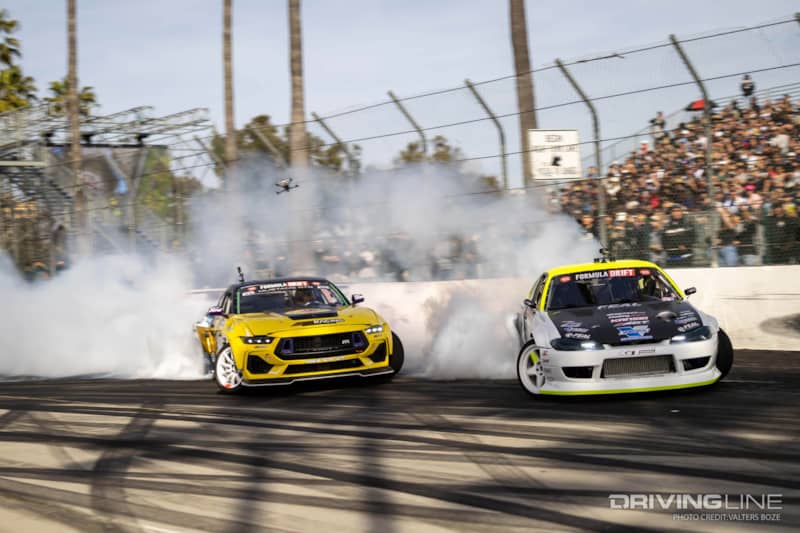 And following up that battle, Matt Field had a tough American muscle car showdown with Dean Kearney and his Viper, but Matt Field took the win and moved into the Great 8.
Great 8: Fredric Aasbo Takes on James Deane
Ryan Tuerck kicked off the Great 8 with a battle against Jonathan Hurst. Ryan Tuerck looked like he was on his way to a Final Four battle but in the last turn of his follow lap, Ryan tagged Hurst's BMW causing him to over rotate the car. The judges deemed Ryan Tuerck at fault for the accident and that gave Jonathan Hurst his first career Final Four appearance.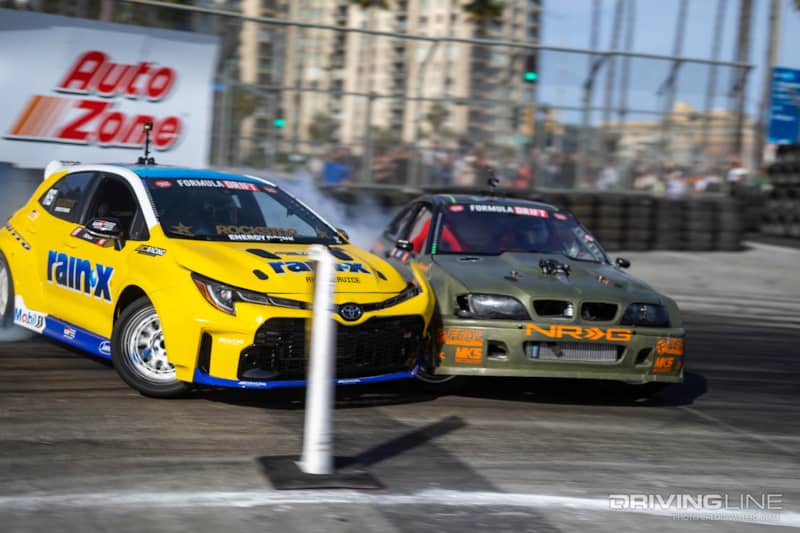 James Deane came out of the entry in his RTR Mustang and ripped off the rear of his S650 Ford Mustang right in front of Fredric Aasbo as his rear RTR wing shot 20+ feet in the air and landed behind Fredric's GR Toyota Supra. Aasbo put down an amazing lead run and James Deane struggled to keep up with Fredric Aasbo's Toyota GR Supra. James Deane flicked his Mustang into the last turn in an attempt for closer proximity but stalled out the Mustang RTR a bit in the process and handed Fredric Aasbo an easy-to-call victory for the judges.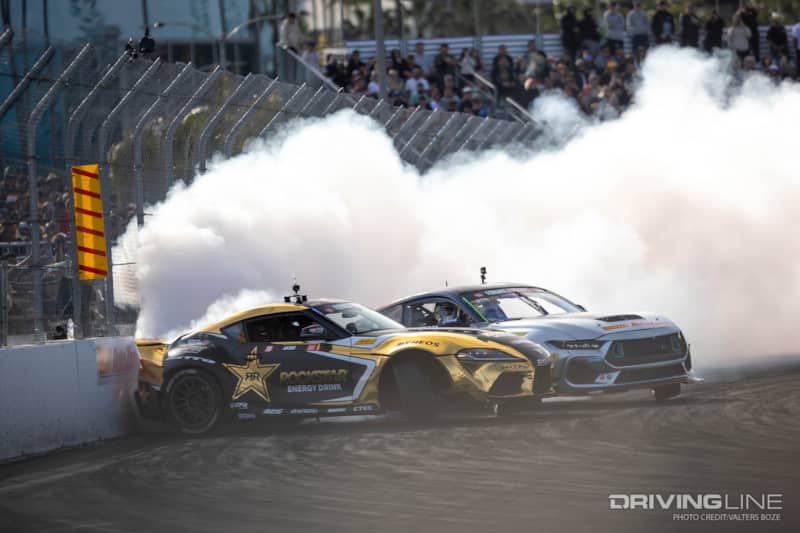 Chelsea DeNofa looked aggressive on his lead run against Matt Field but spun the car at outer zone two against Matt Field. DeNofa did a great job in his chase battle, but it was not nearly enough to overcome his big mistake in the lead run. Which led to Matt Field returning to the Final Four to face off against Fredric Aasbo.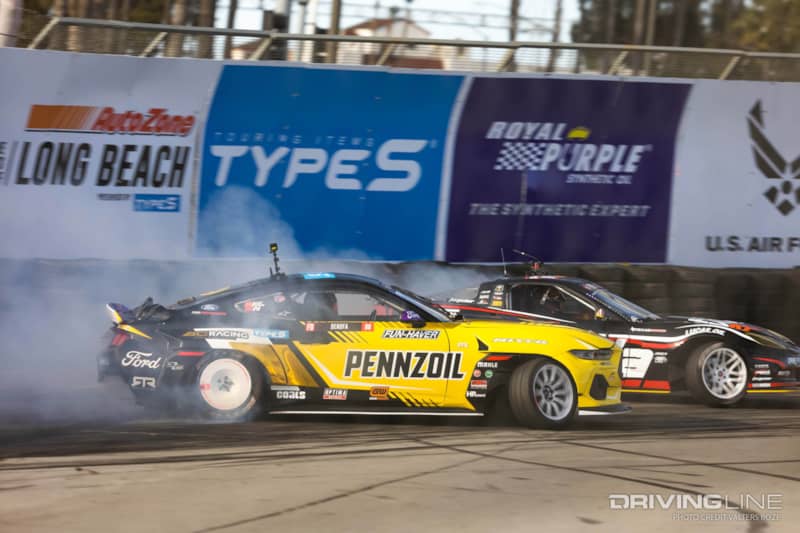 Final Four: Fredric Aasbo/Matt Field Controversy
As Fredric Aasbo entered Turn 1 he smacked the wall hard but kept his momentum going into outer zone two. Matt Field crashed in his Chevrolet Corvette behind him, and the judges had a hard time figuring out who was at fault for the accident. In an interview Matt Field claimed the two drivers hit wheel to wheel creating the accident but alternative video angles confirmed that wasn't the case. The judges made a tough and probably controversial call that Fredric Aasbo was at fault due to his decel light coming on for a moment as he slapped the wall in outer zone one. Matt Field finished the tandem battle with a sloppy entry and a missing front end from his huge smack with the wall, but the judges awarded him the victory since they found he was not at fault for the accident. Due to Fredric Aasbo qualifying in seventh place, he locked in a third-place finish and the last spot on the podium to start off the 2023 Formula Drift season.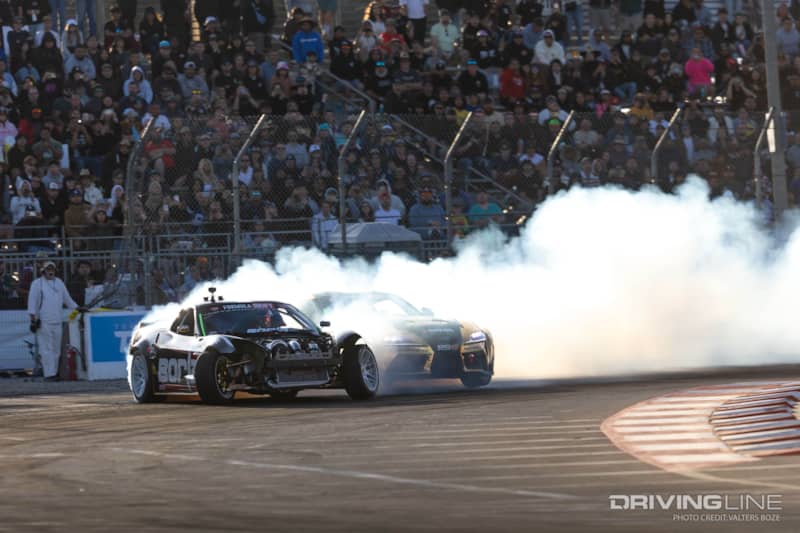 Final Fight: Matt Field Wins It!
Matt Field had a tough bracket and won every challenge that came his way throughout the day. The final battle put him against Rome Charpentier in a winner take all battle. Rome put on a great show for his first career final battle. Matt Field pushed his Corvette to the limit and ran one of the best two laps we have seen to date. The judges gave the whole event, and the start of the 2023 Formula Drift season, to Matt Field.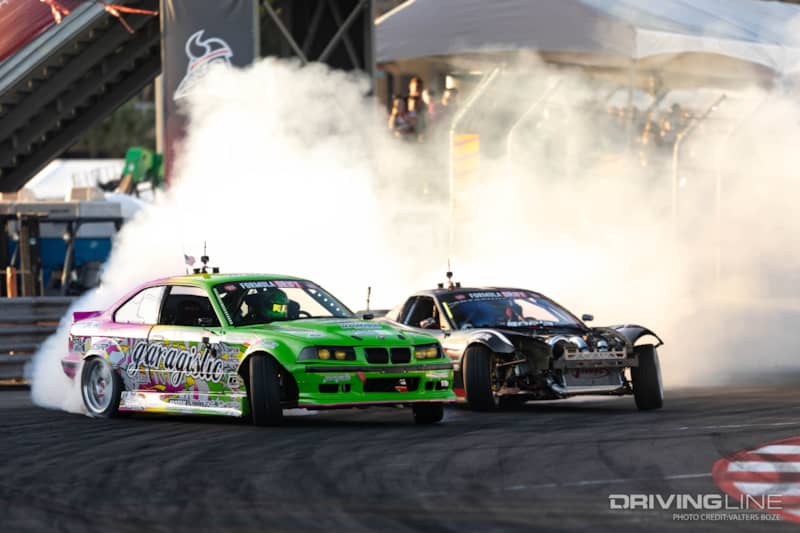 Matt Field at Englishtown and is his fourth career Formula Drift victory. Field finished the 2022 Formula Drift season in second place just 37 points behind the 2022 Formula Drift Champion Fredric Aasbo.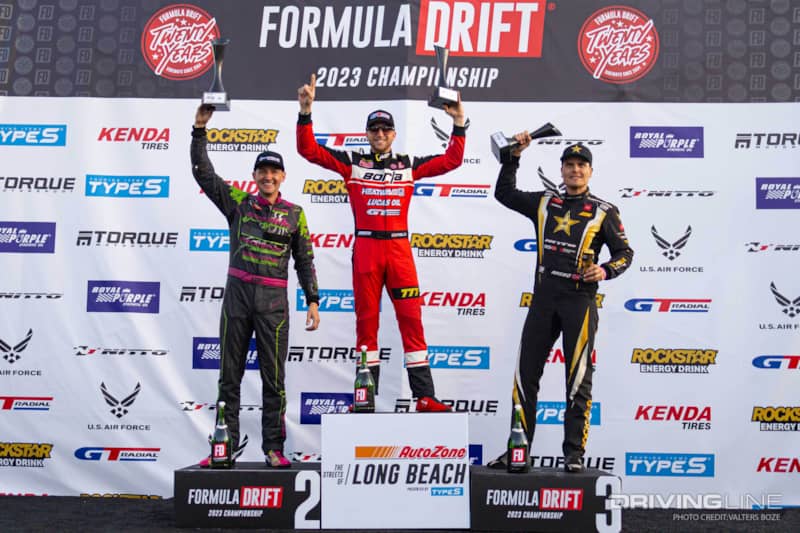 The action-packed Formula Drift 2023 Championship season will continue next month at Road Atlanta, May 12-13.