3,400+Lb/Ft of Torque Diesel Trucks On Mud Grapplers: Turning Dirt at U.C.C. 2021
We've filled you in on why so many truck pullers prefer the Mud Grappler over other tread patterns in the past, but that doesn't mean the trend has cooled off any. In fact, at this year's Ultimate Callout Challenge several competitors entrusted Nitto's extreme terrain mud tire when it was time to hit the dirt. In a competition like the U.C.C. sled pull—where cut tires are permitted—finding trucks on Mud Grapplers is a pretty big deal. And while the Mud Grappler wasn't able to move the iron sled the furthest at U.C.C. 2021, they were mounted under the Second and Fourth Place finishers—both of which are highlighted below.
But first, we'll take a look at a full-blown puller—a beautiful square body '76 GMC we found sitting in the DPI Expo. It's big, it's Duramax-powered, it's on Mud Grapplers and it was built to do one thing and do it very well. And if you find yourself in northern Illinois this summer, you might even be able to catch it in the act!
Legally Altered, Mudder-Equipped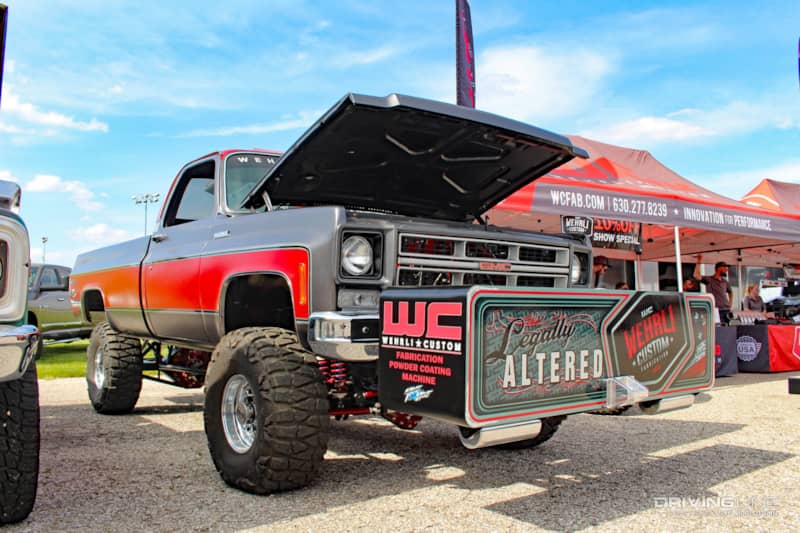 You can find Jason Wehrli's '76 GMC tearing up the Illini State Pullers' circuit within the 6300-pound Altered Stock Truck class. It's a fairly unique category in truck pulling, whereby diesel and gas-powered trucks are allowed to go head-to-head, so long as a specific set of rules is adhered to. As for tires, only DOT-approved will do, and the maximum size is 35-inches in diameter. Jason's tire of choice? The Nitto Mud Grappler, of course. He campaigns the 35x14.50 version that fits his 15-inch Keizer aluminum wheels.
The Big-Block Eater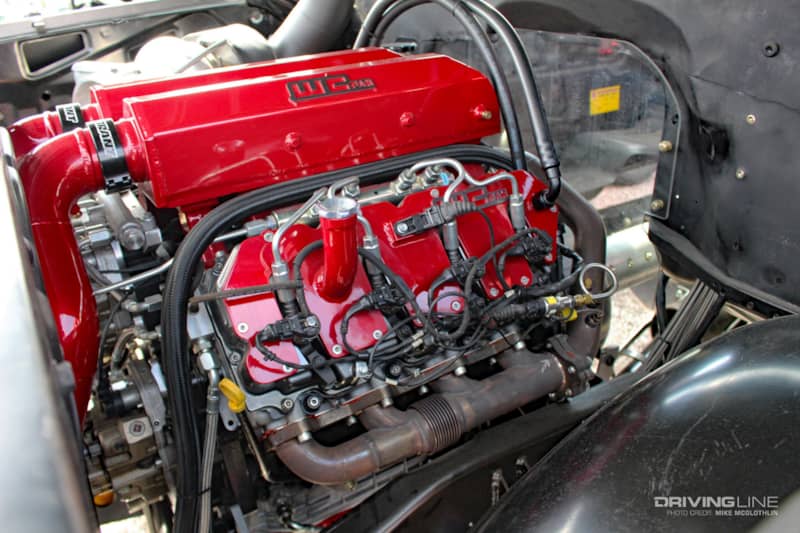 The Illini State Pullers rulebook states that diesel engines competing in the 6300-pound Altered Stock Truck category must be 450 cubic inches or less—which makes the 6.6L-based Duramax an ideal candidate to run. It's a diesel but not super heavy and can be made to push serious horsepower, which is needed against gas engines that are allowed a larger displacement limit (480 ci). As the owner of Wehrli Custom Fabrication, a lot of Jason's own craftsmanship and manufacturing capabilities made it into the engine build. Just check out the individual runner intakes up top and the billet front cover, which can accommodate as many as three reverse rotation CP3 pumps.
Smooth Bore Turbo: Big Flow, Small Package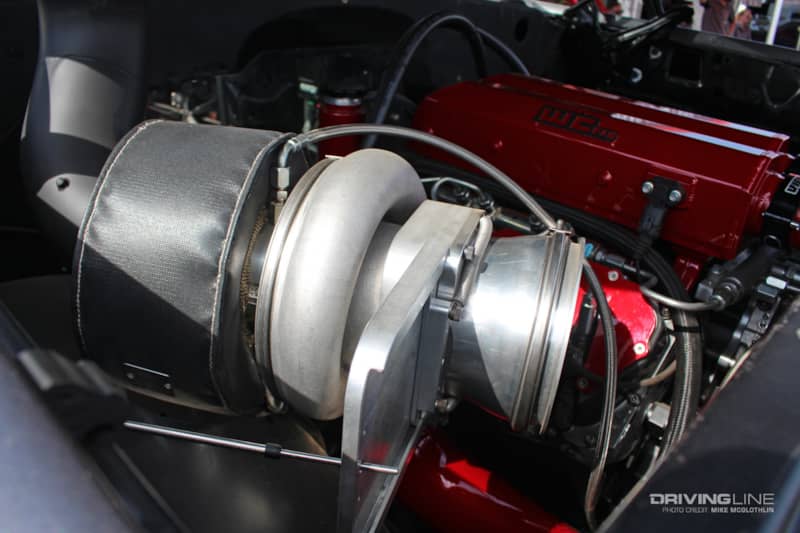 Class rules also dictate that diesel engines in 6300-pound Altered Stock are forced to breathe through a smooth bore turbocharger with an inlet measuring 2.6-inches (or 66mm). The term "smooth bore" means that no MAP groove is allowed—and that translates into a turbo that is fairly restrictive. But thanks to turbo technology constantly evolving in the diesel world, this little 66mm snail probably moves a lot more air than you think.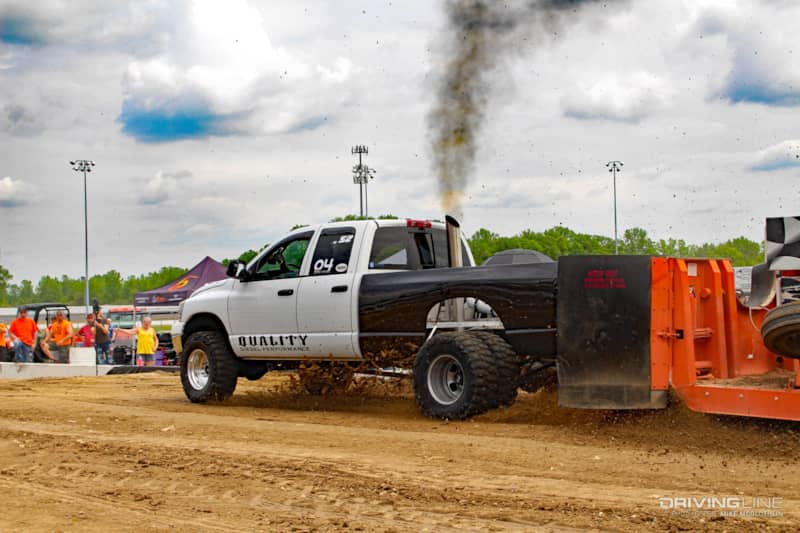 Nothing says you're having fun quite like a 76-year-old man behind the wheel of a pulling truck. Sure, the Quality Diesel Performance team competed on the drag strip and on the chassis dyno at U.C.C., but they are most at home in the dirt, hooked to the iron sleigh. Before competitor Brian Shew threw the keys to his elder, Jon Shew, he and his team bolted dual rear wheels and six Mud Grapplers onto the common-rail Dodge. With Jon behind the wheel, the truck hooked smooth and dug its way to a 314.30-foot, Second Place finish.
NT420S On The Dyno, Mud Grapplers In The Dirt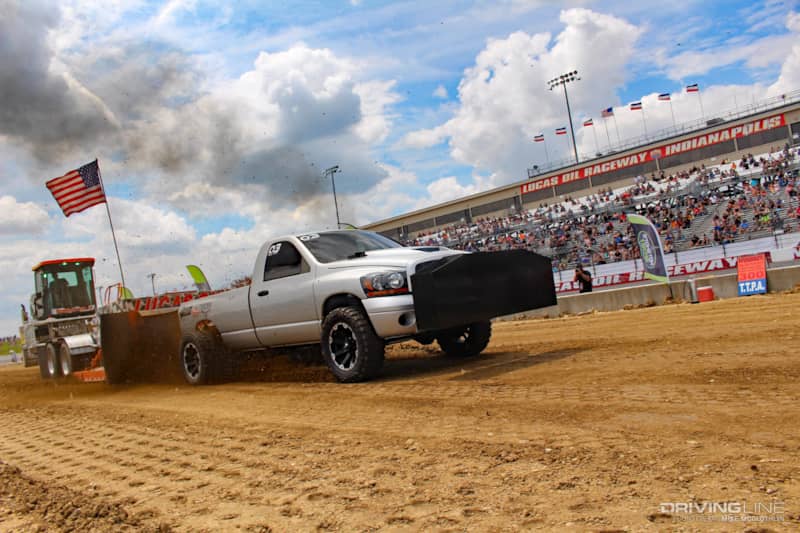 Right on the heels of Third Place sled pull finisher Trevor Peterson was Justin Andres' Mud Grappler-equipped Dodge. Just 24 hours prior, he used a pair of Nitto NT420S all seasons to lay down 2,220 hp and 3,404 lb-ft of torque on the dyno. While the dyno tune-up (and a slew of other things) was changed considerably before his date in the dirt, Justin's Dodge had just enough power—and especially traction—to carry the sled 306 feet and change.
A Drag Racer Goes Pulling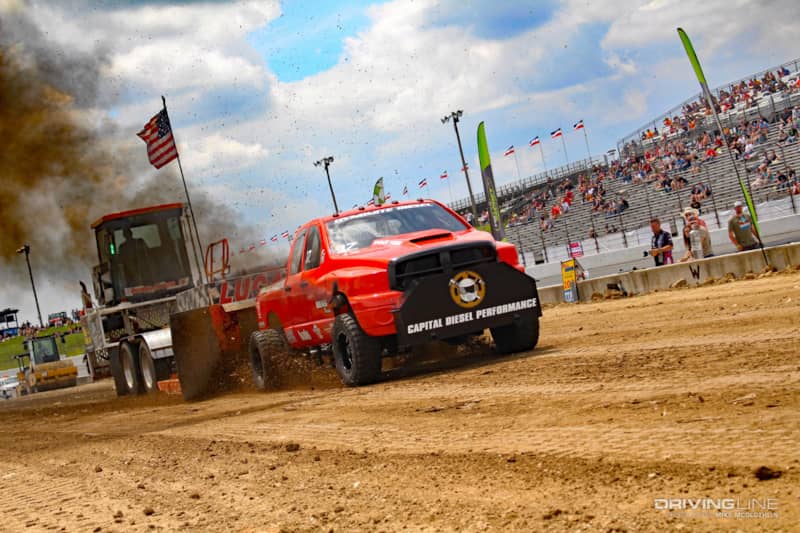 It was clear from Day 1 at U.C.C., when he ran a 5.56-second eighth-mile right off the trailer, that Kenny Bruner was definitely a drag racer, but the verdict was still out as to whether or not he'd done much sled pulling. Either way, Kenny had a good idea which tires would yield the best performance in the dirt. He and his bright orange third-gen Cummins arrived in the pulling pits riding on six Mud Grapplers, then proceeded to yank the sled 280.58 feet. Incredibly, Kenny lost the truck's transfer case on the drag strip on the first day of U.C.C. (a rare failure in the diesel world). If it weren't for Fleece Performance Engineering's Evan Rusk, Kenny and his team would've been dead in the water and looking at a very long, 40-hour drive back to NorCal.
Behind The Scenes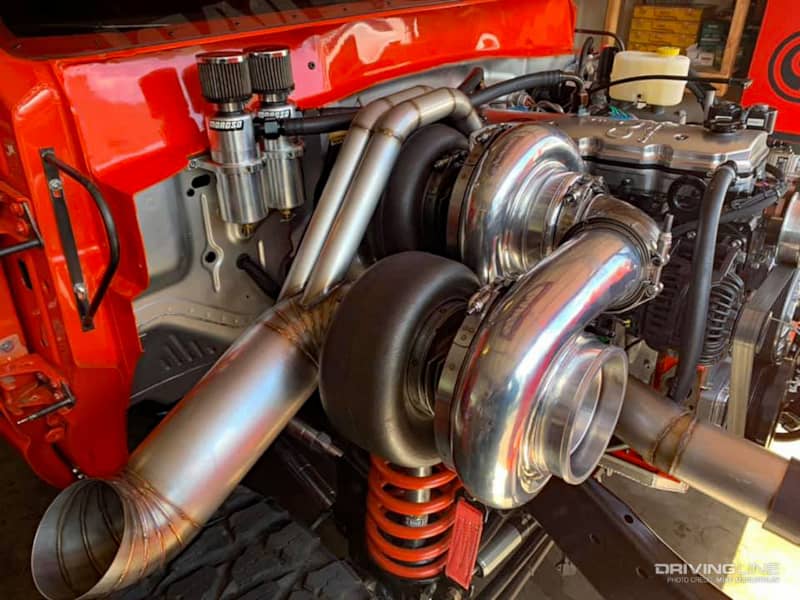 Under the GTS Fiberglass front clip, Kenny Bruner's common-rail Cummins sports a beautifully-executed set of compound turbos. The compounds are big and Kenny fabricated the system himself—and just look at that wastegate piping! All the air is matched by a pair of 12mm stroker CP3 high-pressure fuel pumps and Super Mental injectors from Dynomite Diesel Products. Sprinkle in a healthy dose of nitrous and it's easy to see why he made the Top 10 or better in each test of strength U.C.C. threw at him.
More From

Driving Line
You can find out how the rest of the U.C.C. '21 field performed in the sled pull right 

here

.