Ultimate Callout Challenge 2021: The Tightly-Contested Event All Comes Down To The Sled Pull
By dawn of U.C.C. Day 3, only 13 of 19 trucks had survived the war thus far—and the 40,000-pound sled wasn't about to cut them any breaks. Overnight, nearly every competitor had converted to a dual rear wheel setup, with six wheels digging always a better combination for this type of event. And instead of weighing in as light as possible for the drag race, front weight boxes were bolted on and ballast was added with every crew trying their best to meet the 8,000-pound maximum. As for the track, it had been a hot, dry weekend, so even though it'd been watered everyone knew there would not be a lot of moisture (i.e. bite) to the pulling surface.
As we alluded to in Part 2, the points chase was tight after the dyno competition. Justin Zeigler was out in front of Second Place Chris Buhidar by less than 85 points. One small mishap resulting in a bad hook from Zeigler could jeopardize the entire weekend, erasing his 5.30-second, Second Place eighth-mile pass at the drag strip and the big win on the chassis dyno. As for Buhidar, he needed a strong performance out of his Ford with the sled in tow or he would (literally) come up short.
Then there was the Third Place wildcard, Turba Tom Borrell. If Borrell somehow pulled off an incredible hook while both Zeigler and Buhidar fumbled, he could steal the overall win in dramatic fashion. If you thought all of this was front-and-center on competitors' minds the morning of the sled pull, you're right. Let's find out exactly what happened.
First Place: Tony Burkhard
Distance: 319.00 feet
When the Dirty Hooker Diesel team showed up with cut tires aboard their Silverado, no one was surprised. After all, the guys at DHD regularly campaign a highly competitive, Duramax-powered Chevy in the Pro Stock diesel truck class—a category that allows for cuts, mandates a massive 3.6-inch turbocharger and requires somewhere in the neighborhood of 2,000 hp to even be remotely competitive. As expected, their truck killed it in the sled pull, dragging the sled 319 feet before finally spinning out. In the process, Tony Burkhard bounced back hard from an 11th Place finish on the dyno and shook up the overall standings.
Second Place: Brian Shew
Distance: 314.30 feet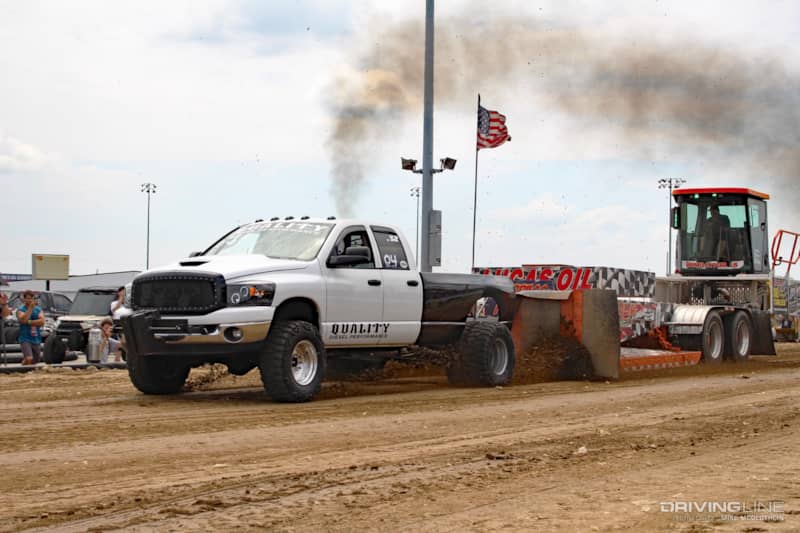 The last day of competition highlighted the fact that a few truck pullers had been lying in wait for their time to shine. Brian Shew's team was made up of avid truck pullers from northeast Indiana and their crew cab Dodge definitely looked the part. With six Nitto Mud Grapplers helping it claw its way along, the third-gen Cummins dug out to a distance of 314.30 feet—good enough for Second Place in the sled pull. Their strong effort in the dirt brought them from the back of the pack in terms of overall points to 12th out of 19 trucks.
Third Place: Trevor Peterson
Distance: 308.71 feet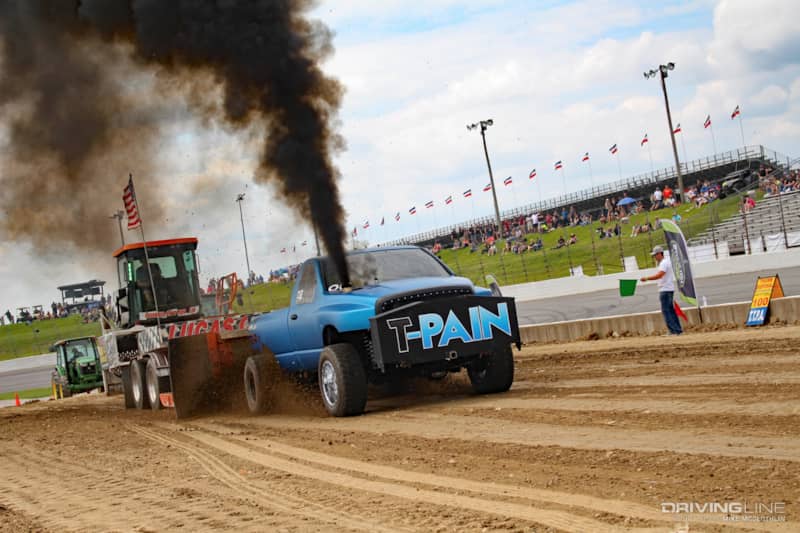 In what was only his fourth time ever pulling in this truck, Trevor Peterson made it look easy. Despite prepping his Ram on the morning of the sled pull and then drawing the number 2 hook, he didn't appear rushed in the least and put in a solid 308.71-foot effort. In the process, he came back up the points ladder, and ended up Fifth Place overall at U.C.C. 2021. On top of that, the truck drove into the trailer under its own power for the long ride back to Utah.
Fourth Place: Justin Andres
Distance: 306.59 feet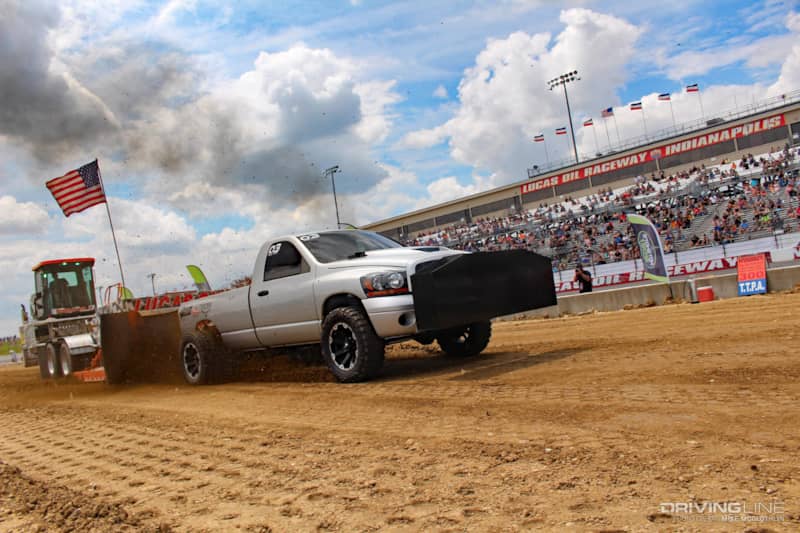 Justin Andres turned to Mud Grappler tires for a helping hand in the dirt as well, and cruised to a 306.59-foot distance. His Fourth Place finish with the sled attached also locked him into Fourth Place overall. If you can believe it—and just to illustrate how serious the competition is at U.C.C.—Andres' Dodge ran a 5.96-second eighth-mile at the drag strip yet still finished outside the Top 10 on Day 1. On Day 2, he forced his way back into the points by producing the highest torque number on the dyno (3,404 lb-ft), along with 2,220 hp. With plenty of U.C.C. experience now on his side, look for Andres to potentially make a run at the overall win in 2022.
Fifth Place: Chris Buhidar
Distance: 299.65 feet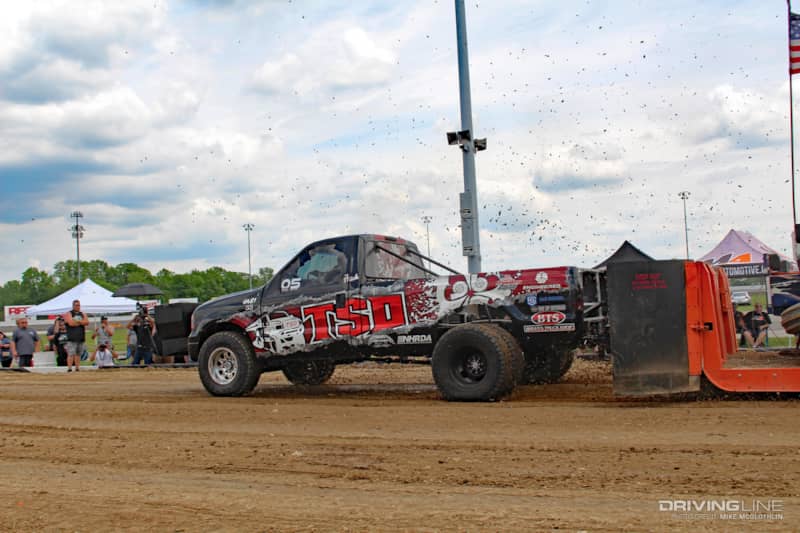 When front-runner Justin Zeigler went 290.35 feet, it meant that if Chris Buhidar could lug the sled 319 feet or more, he would have the points needed to steal the win—and it all came down to the last hook of the entire event. In the photo above, you can see Justin Zeigler looking on as the sled brings Chris to a halt near the 300-foot mark. No doubt, it was an anxious moment for both of these competitors. Buhidar hoping his Ford would keep clawing its way forward and Zeigler desperately wanting him to come up short. Buhidar definitely made up ground thanks to Zeigler's shorter hook, just not enough to take the win. He would lay claim to Second Place overall at U.C.C. 2021.
Sixth Place: Evan Moser
Distance: 298.06 feet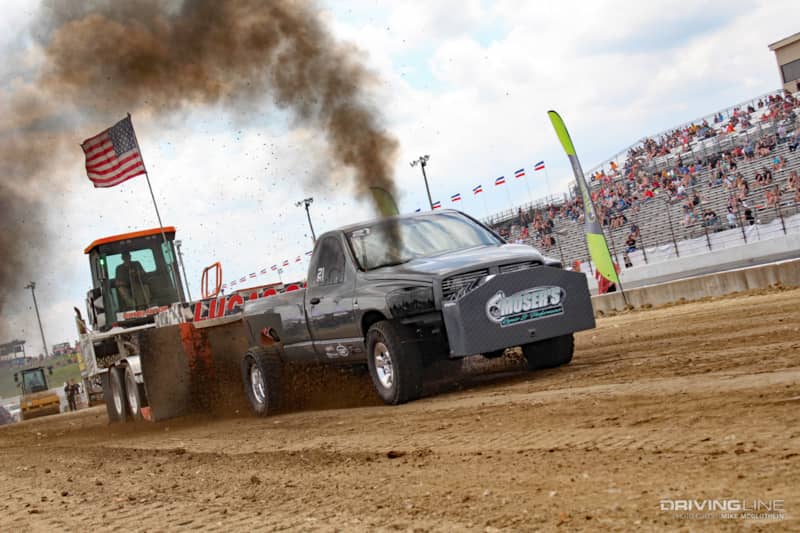 Thanks to his near-300-foot hook, once again Evan Moser and his regular cab third-gen Dodge collected a Sixth Place finish. That made it three Sixth Places in a row. Overall, he finished less than 7 points behind Turba Tom Borrell and took home Seventh Place at U.C.C. 2021. Moser's battle-worn Dodge appeared hurt when it idled off the pulling track, but it made it through all three grueling events—which is more than can be said for six competitors who were unable to attempt hooking to the sled on Sunday. Hopefully this young gun returns in 2022.
Seventh Place: Wade Minter
Distance: 294.35 feet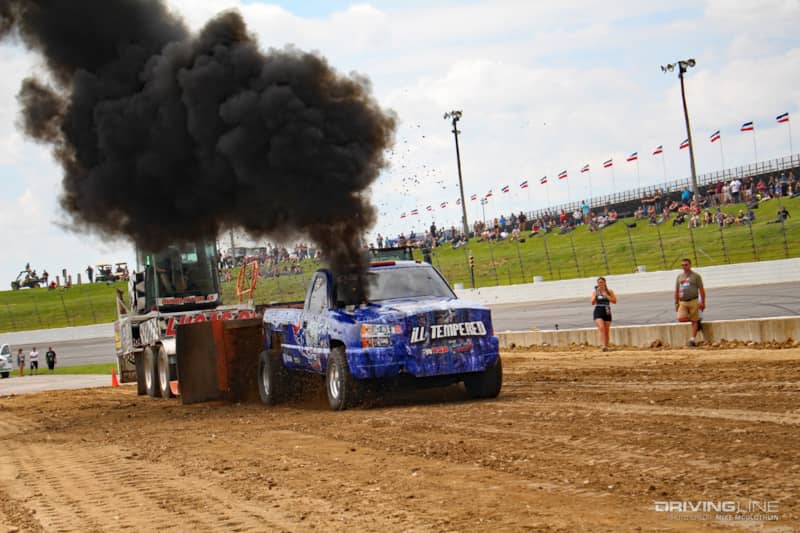 Wade Minter has always turned in respectable performances in the sled pull event. This year was no different, with Minter's triple-turbo "Ill-Tempered" Duramax traveling 294.35 feet before finally spinning out. His Seventh Place in the sled pull meant an Eighth Place finish overall—a solid showing for the Duramax crowd (which is yet to win the Ultimate Callout Challenge crown). Minter finished consistently across the board this year (fourth in the drag race, eighth on the dyno and seventh here) and also laid down the most horsepower and torque of any Duramax competitor on the dyno.
2021 U.C.C. Champion: Justin Zeigler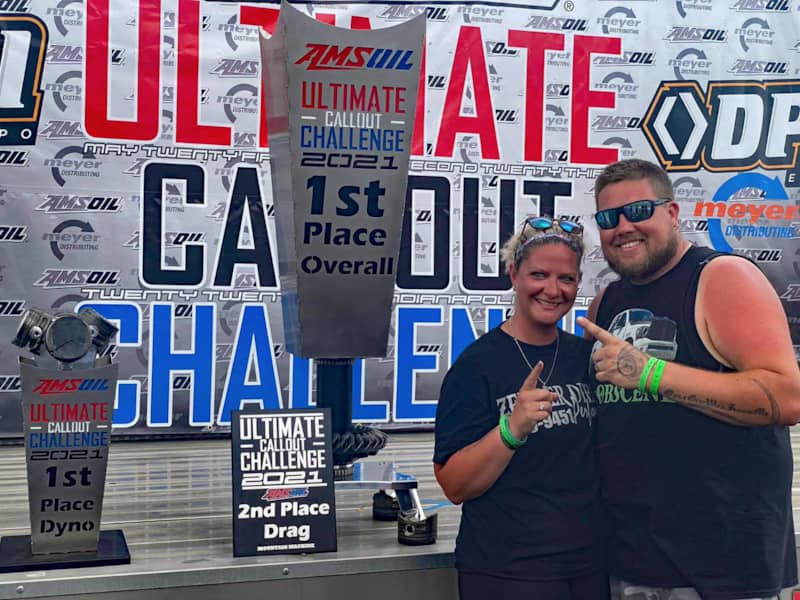 Not only did Justin Zeigler survive the sled pull, he finished Ninth Place with a 290.35-foot hook, which ended up securing him the overall win. On Day one, he and his truck ran a blazing 5.30-second eighth-mile to kick off the event with a Second Place start. Then on Day 2, he laid down the highest combined horsepower and torque on the dyno and began to pull away from the field. The points cushion he gained from being so dominant in the first two days made the difference (and it turns out he's not too bad of a sled puller, either!). It will be interesting to see what changes (if any) Justin makes before coming back to defend his title in 2022. For now, Justin, his wife and his dedicated team have earned the right to celebrate.
For complete 2021 U.C.C. Standings, visit http://ucc21.com/event/
More From

Driving Line
Ready to try your hand at sled pulling? The start of summer means the next three months will be chock full of opportunities to play in the dirt. Find out everything you need to know to get started here.