30 Years of Covering Le Mans - Part Two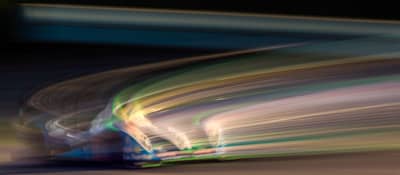 It is hard to imagine in these times of record attendance and bulging grids, but the very existence of the Le Mans 24 Hours was threatened during the early 90's. Having been annually attending the race as media since 1984, I was beginning to feel like I knew what was going on (Read Part One here)... Issues both on and off the track were causing problems. An almost fatal alliance with the FIA had led to financial disaster for the Automobile Club de l'Ouest (ACO), as the sports governing body mandated modifications to the Mulsanne Straight portion of the track and it was decided to add a new pit/paddock complex as well. It took a rescue package from regional and local authorities to stabilize matters. The situation was almost as bad on the track - a rule change to Group C requiring massively expensive Formula One style V10 3.5 litre engines sent starting numbers plunging, from 49 starters in 1990 to 28 in 1992.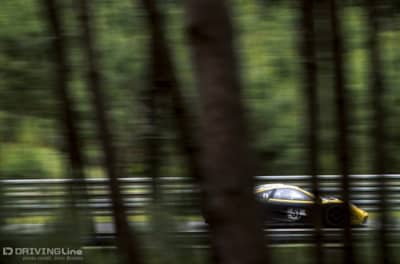 From this low point the only way was up. With the demise of Group C and the World Championship, the race now focused on the GT classes. Relatively affordable and accessible compared to the factory prototype programs, the GT class also benefited by MacLaren's building of the F1 GTR. Bringing additional privateer teams into the mix, the amazing F1 GTR also had the halo effect of drawing others into the mix. Being in the right place at the right time - I managed to get the job from Harrods to be photographer for their McLaren car run by David Price Racing. This was my first time to get so close to a team.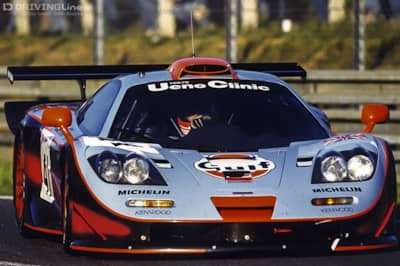 One things tends to lead to another, and I soon had a deal with Gulf Oil and the crazy idea that I could leave "real" work to become a full time motorsport snapper. Maybe I could make money at this caper, what a fool believes!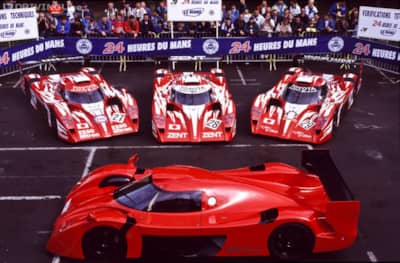 While Formula One budgets soared to stratospheric levels, the marketing departments of car manufacturers were once again looking to Le Mans for exposure and a reasonable ROI. This trend was given a substantial boost when the American Le Mans Series was launched - access to the biggest market on the planet attracted werks efforts from BMW, Mercedes Benz, Nissan, Porsche and Toyota while others such as Audi, Corvette and Viper waited in the wings. Of course the factories could not help but spray their money around like drunken sailors on shore leave, the results of this excess are perhaps best illustrated by the street legal version Toyota's  GT-ONE. Absolutely no one was fooled into thinking that was anything other than a pure racing car.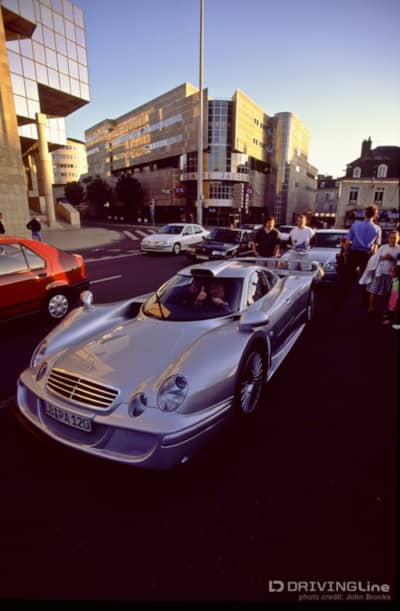 Similar madness was seen from Mercedes Benz, Nissan and Porsche before this episode in conspicuous consumption was quietly dropped (much to the relief of accountants responsible for controlling marketing budgets).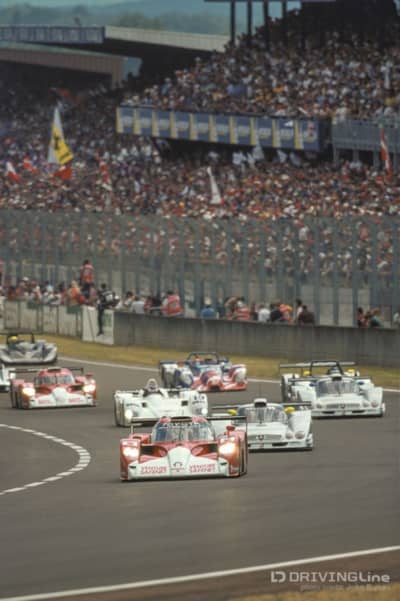 The 1999 24 Hours of LeMans race was fantastic affair, both in anticipation and reality. Toyota were perhaps the favorites over Mercedes Benz - but BMW had been working away quietly in the background, on race pace rather than outright speed. Their own secret weapon, Hitco carbon fiber brakes, allowed them to go the distance. They were too strong for the opposition...who incidentally crashed off the course, and worse...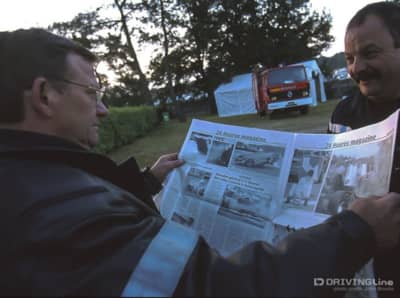 That year's race certainly made worldwide headlines, but not for the reasons that either the ACO nor Mercedes Benz would appreciate.  With the whole image of endurance racing tarnished, many manufacturers were scurrying for cover.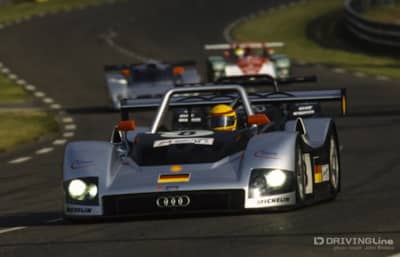 But one of the new arrivals was in this for the long haul. With a stellar record in rallying and touring cars, Audi had their eye on the big picture - replacing Mercedes Benz and BMW as the go-to choice for prestige and performance motoring. How did that pan out? Well in 1999 Audi sold a tad over 600,000 vehicles worldwide and last year nearly 1.5 million - yet there are still those who think that Audi gets little benefit from their Le Mans record and that they should join the Grand Prix circus instead. Audi's first shot at Le Mans in 1999 was a bit under-cooked.  Running a very conventional, old school sports prototype that was a generation behind the missile of eventual winners BMW. It didn't help that while Audi read and complied to the letter of the rule book, others merely used it as a jumping off point.  There was also Audi's unfortunate last minute decision to dilute their efforts by running a brace of coupés that were nowhere near race ready.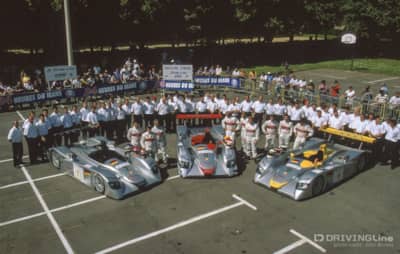 One thing I'd heard about Audi was that they never made the same mistake twice. So 12 months later we were all back in France - well not all. Mercedes Benz had left (jokes about flying cars and all). Joining them at the exit door were Toyota and BMW, bound for glory in Formula One - and Nissan, bound for bankruptcy until bailed out by Renault. Audi more than succeeded in proving their competency, nabbing all 3 podiums at the finish in the 2000 24 Hours of LeMans.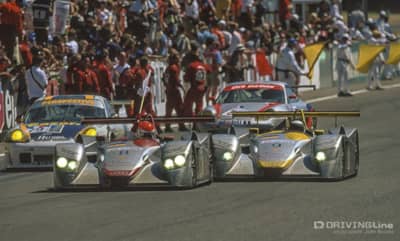 Continue Reading the final Part Three.