Audi R18 e-tron Quattro: Evolution of an Icon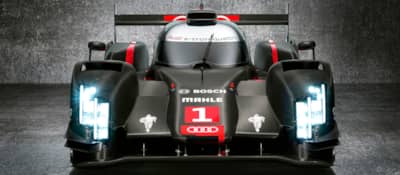 What jumps to mind when you think about the Audi R18? It was the fastest car on Xbox's Forza Motorsport 3 driving simulator game, and the real deal R18 Prototype was so successful at LeMans the French probably wanted to adopt it. Now you'll need to think green… two shades of green. While the name remains the same, everything from the ground up on the 2014 Audi R18 e-tron Quattro is new, and there is also a good deal of leading-edge technology on the loose behind the car's seductive silhouette. At first glance, the new hybrid sports car appears like a continuation of the R18 line. However, due to the new FIA World Endurance Championship LMP1 regulations that will come into effect in 2014, Audi Sport had to re-develop every single component.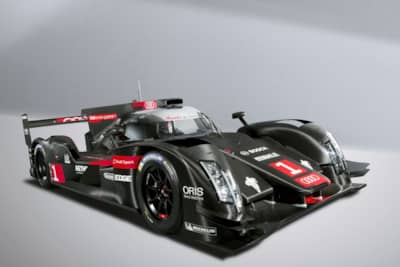 All photos courtesy of Audi Motorsports The car's powertrain will knock your socks off. Audi's highly evolved, midship-mounted, turbo diesel V6 is up to its old tricks, powering the rear wheels. But the new R18 goes to battle with up to 30 percent less fuel than its immediate predecessor. In addition to the internal combustion engine, the powertrain concept, for the first time, features the integration of two hybrid systems. As in the past, a Motor-Generator-Unit (MGU), during braking events, recovers kinetic energy at the front axle, which flows into a flywheel energy storage system. The big groundbreaker has to do with the turbocharger. For the first time ever, the engine's turbocharger is linked to an electrical machine, which makes it possible to convert the thermal energy of the exhaust gas flow into electric energy… for instance when the boost pressure limit has been reached. This energy also flows into the flywheel energy storage system. When the car accelerates, the stored energy can either flow back to the MGU at the front axle or to the innovative electric turbocharger to reduce lag. Wow! Electric motor forced induction is not a new concept but the performance and durability of the motor has long been its Achilles' Heel.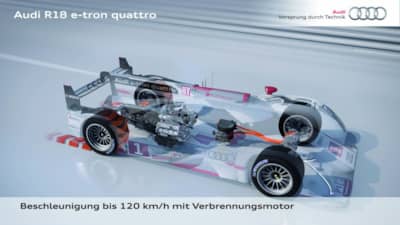 The R18 may not look totally dissimilar to the previous iteration, which we loved seeing at SEMA, but changes in aerodynamic rules result in a significantly different car. In fact, the incoming R18 features a 10-centimeter slimmer body, accommodates slimmer wheels, is 20 millimeters higher, and has larger cockpit dimensions than the outgoing version.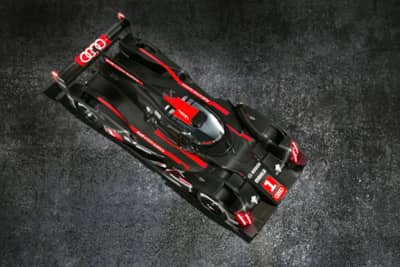 At the world premiere of the new Audi R18 e-tron quattro, Audi unveiled another technical highlight of its new LMP1 sports car. It will be running laser light for the first time in the Le Mans 24 Hours and in the FIA World Endurance Championship (WEC).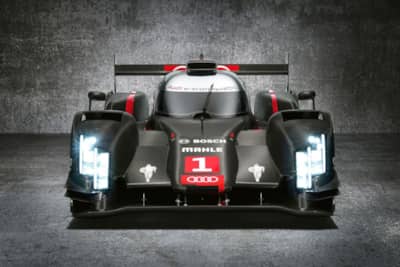 The innovative laser light complements the main LED. A blue laser beam backlights a yellow phosphorus crystal lens through which the light beam is then emitted that provides even more homogenous lighting of the road. This intriguing innovation, that Audi says may filter down to its production cars, are, themselves, a good reason to tune into LeMans 2014. The WEC will see Audi Sport Team Joest compete as the title defender in the 2014 season. In all eight races of the 2014 WEC, the World Champions will be running with two Audi R18 e-tron quattro cars. For the season's pinnacle event at Le Mans on June 14 and 15, a third R18 will be fielded. -Evan Griffey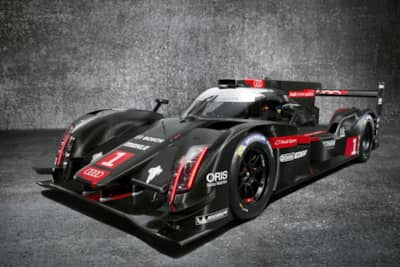 All photos courtesy of Audi Motorsports