35-inch vs 37-inch Tires for the Jeep Gladiator Rubicon
It seems almost comical the torment we put ourselves through when weighing out what tire size should be our next upgrade. If you found this article, you too are likely weighing out the pros and cons of one of the most common tire size dilemmas for the Jeep Gladiator platform—35 versus 37. At a glance, a 37-inch-tall tire compared to a 35-inch-tall tire doesn't seem like much of a difference. However, experience has shown that those two inches can make a sizeable impact on the Gladiator.  
Having tested a variety of different tire sizes on the Gladiator platform, we decided to weigh in on the debate. For this article, we will focus on the Rubicon models fit with the 3.6L Pentastar and eight-speed automatic. That's not to say our advice won't be applicable across some of the other editions, but we simply have more time testing on aforementioned Gladiator. So, let's get to it.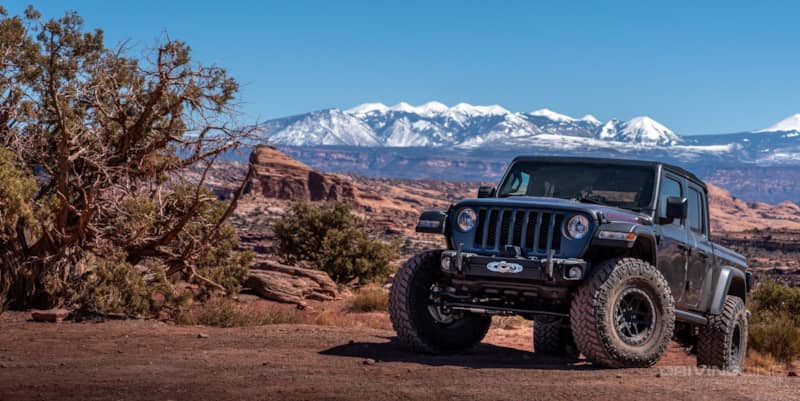 Size Matters
The first thing that you must keep in mind about tires is that not all are built alike, and this is especially true when talking about size. This means one company's 35 might not be the same height as another. We tend to gravitate toward Nitto tires as the company's Grappler series of LT tires are the most true-to-size of those on the market. For a 35 on the Gladiator, true-to-size makes less of an impact. But, when you move up to a 37, it absolutely does. More on that later.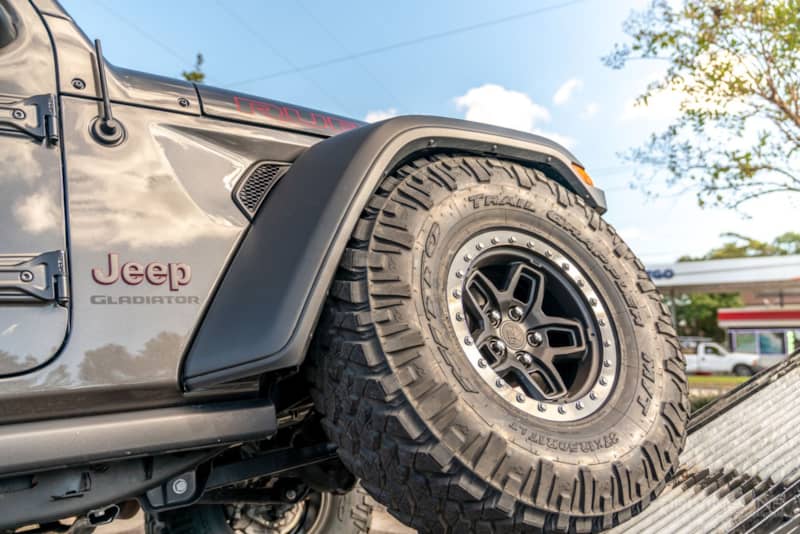 Stock Wheels
If you are simply looking to run a 35 on the stock 17-inch Rubicon wheel, your best bet is to find a 35x11.50. The slightly narrower width will keep you within spec for the stock 7.5-inch wheel width. We've tested this in a 35x11.50R17 Nitto Trail Grappler thoroughly with no lift and found it cycles without issue off-road. While you can run a 35 or 37 on this wheel, keep in mind that to stay within the tire manufacturer's recommended specs, you'll need to run avoid running a 12.50-inch-wide tire.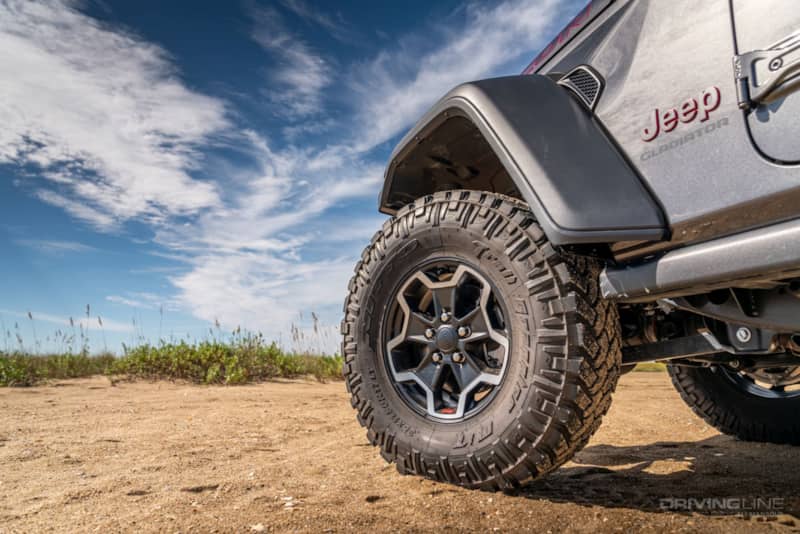 No Lift
It's worth mentioning that on the Rubicon (and Mojave) Gladiators, you can run a 35-inch-tall tire without the need to lift the truck. That's a huge point for the 35 debate and for those simply looking to fill out the wheelwells a bit more, it's a great way to go. Picking the right aftermarket wheel with the best offset and backspacing is critical for this to work without issue. You can learn more about that in a separate article here.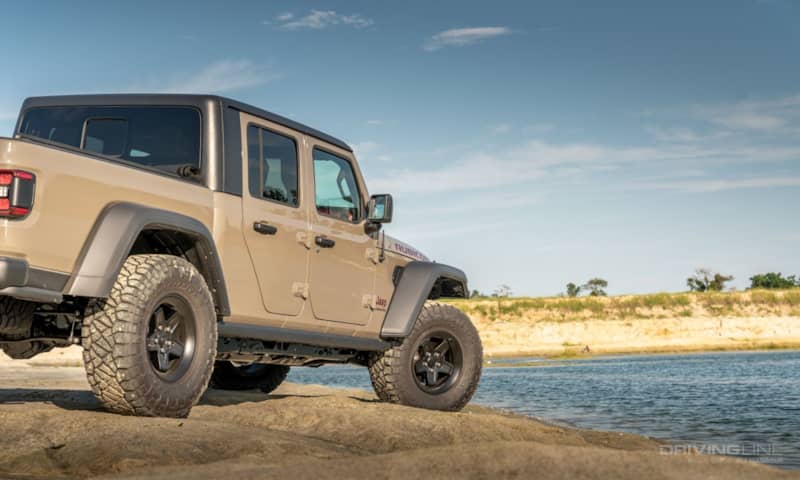 Weight
Every pound you add to your Jeep makes an impact on the performance. In general, we've found the difference between a 35 and 37 to be around five pounds. So, the weight savings between the two tires is fairly low. Now, to put this weight into more perspective, consider that the stock 285 Load Range C mud-terrains that come standard on the Jeep Gladiator Rubicon weigh in at 50 pounds (without the wheel). The 37x12.50R17 Load Range D Nitto Trail Grappler shown here weighs 85 pounds. That's a 35 pound jump, which is a significant bump in un-sprung mass.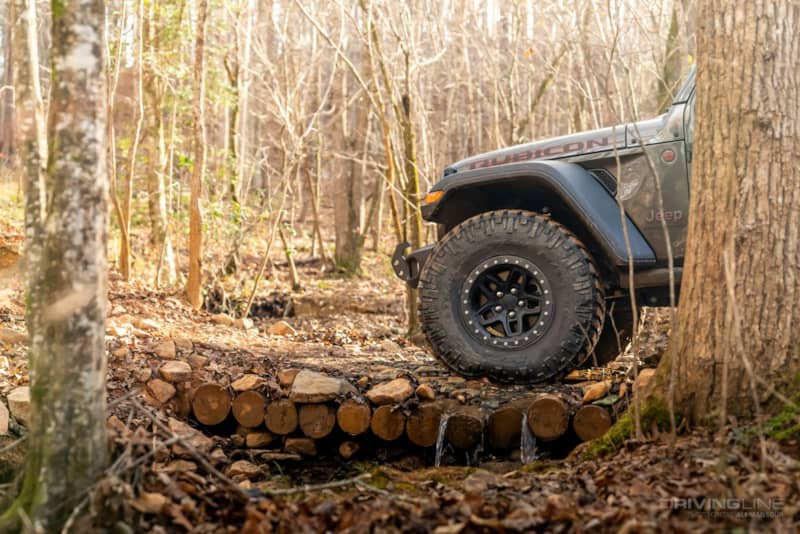 Power
The Rubicon and Max Tow Gladiators comes with 4.10 differential gears from the factory. Thanks to the 4.10 gears, we've found moving up to a 35 doesn't make as big of an impact to the power and fuel economy of the Jeep. Moving up to a 37 however will often lead to the Jeep not utilizing overdrive gears as easily or as often. In fact, with 4.10s and 37's we found that our Jeep rarely shifted into eight gear. To combat this correctly, you'll want to invest in a set of aftermarket differential gears. Generally, you'll want either a 4.88 or 5.13 for a 37-inch-tall tire. We comprised an entire video on this topic, which you can watch here.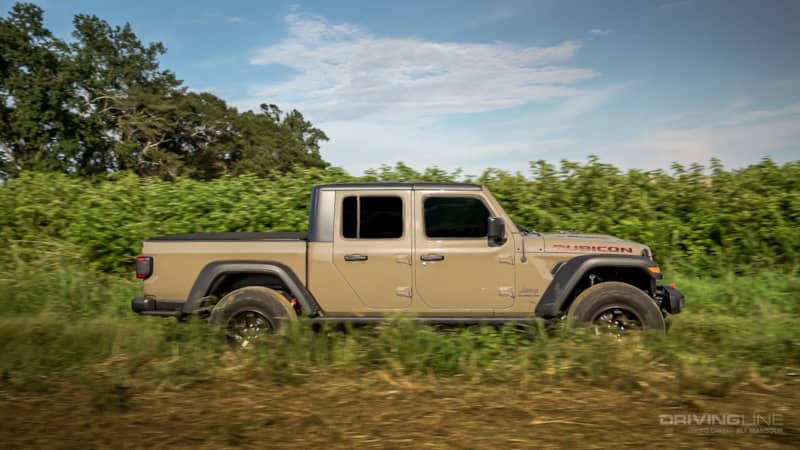 Low Lift & 37s
If you are dead set on 37s, but worried about having to add a tall lift to the vehicle to accommodate them, don't. On the Rubicon platform, all you need is a 1-inch front spacer and 1-inch bump stop and you can run a 37-inch-tall tire. Yes, you may find it rubs slightly off-road and backspacing is critical for this setup. The good news is however, that thanks to a massive wheelwell you can easily put on a 37 on the cheap. You can watch our full trail test on this setup here.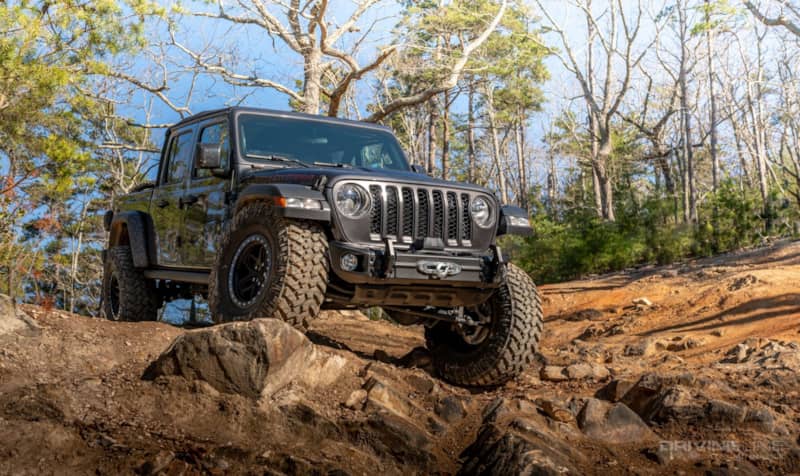 Fuel Economy
The Gladiator in stock form isn't the most fuel-efficient vehicle. Adding on heavier and taller tires isn't going to help this. Moving up from a 35 to a 37 with stock 4.10 gears, we found our average daily economy dropped from 16.5 to 15. For a normal commute, this didn't make a major difference. If you have a longer highway commute with speeds over 65mph, you will find that spread to be more dramatic from the 35 to the 37. It's also worth mentioning that swapping to a 4.88 differential put our economy back to where we were on 35s. Depending on your commute and how your Gladiator is modified will all play a factor in your overall fuel economy.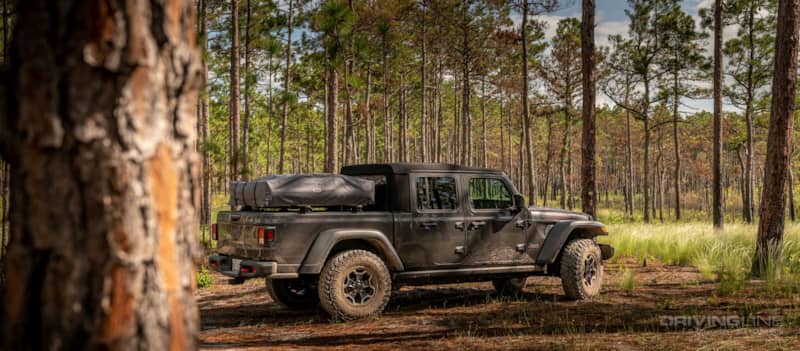 Spare Tire
Remember how we mentioned a true-to-size tire earlier? This will play a major role in determining if you can fit a 37 in the stock spare tire location. You have approximately 36.5 inches to work with under bed of the Gladiator. This means any 35 on the market will fit without issue. In our experience with the 37 however, we've found that most true-to-size ones will not work stock. Yes, there are aftermarket track bars and suspension modifications you can do to make this work. If you are just looking for easy, the 35 is the better solution.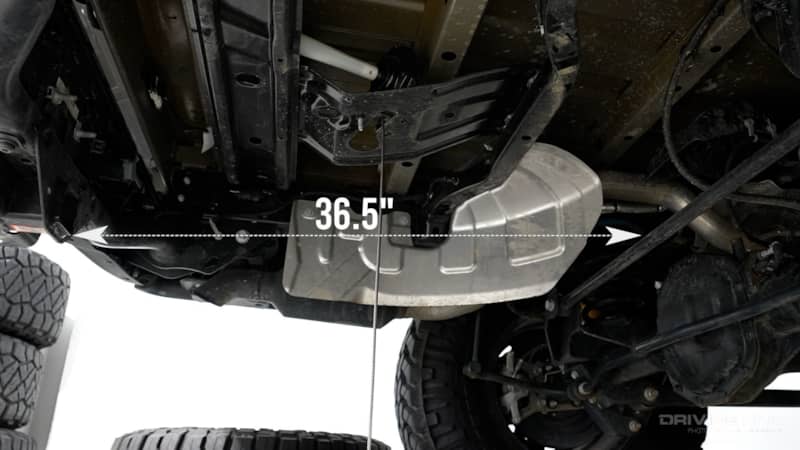 Off-Road
If you are planning on spending some real trail time with the Gladiator, then we highly recommend moving up to a 37-inch-tall tire. The Gladiator is very long and benefits great from a sizable lift and tall tires off-road. Hand's down, if you want to hit more moderate trails, make the move to the 37 for sure. If you are just doing easier off-roading where breakover isn't going to be as critical, a 35 and stock lift height will be perfectly fine.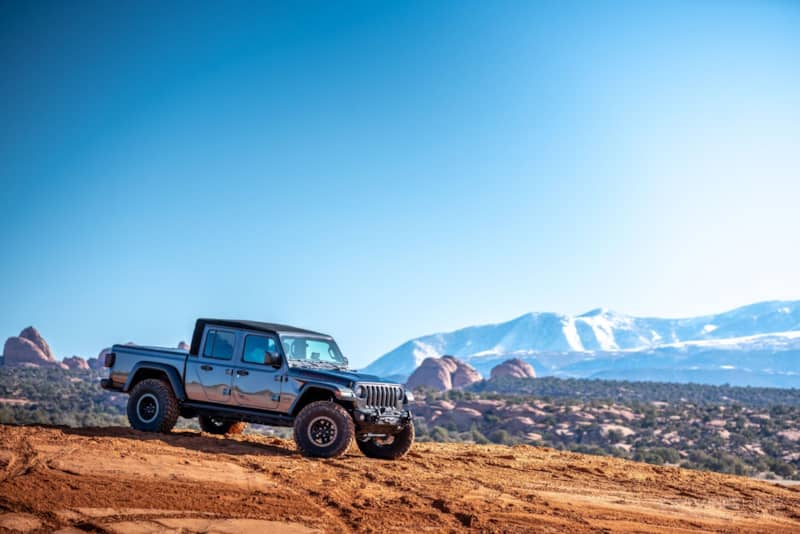 Calibration
No matter what tire you decided on, be sure to calibrate your Jeep's computer so it knows you've made the change. This is not only critical for having an accurate speedometer but will help with shift points for your transmission. There are a few modules on the market that will allow you to modify these parameters among other things. We've been using the Tazer JL Mini for years with good luck.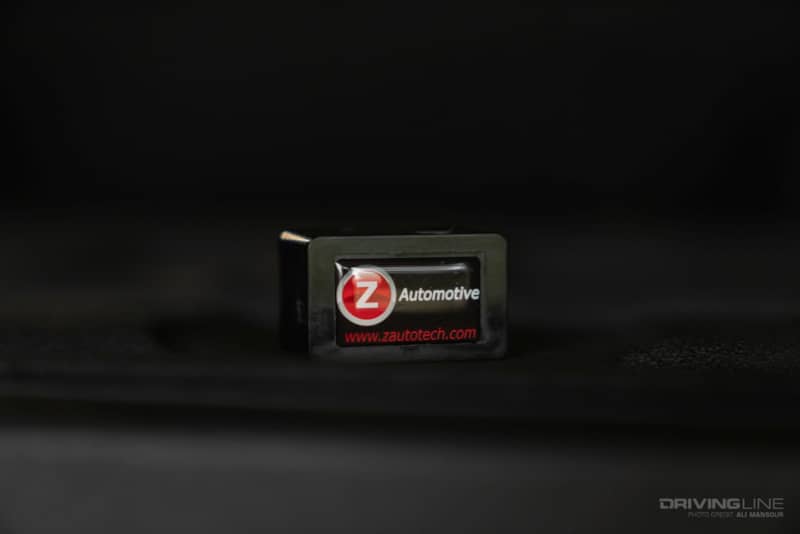 Final Thoughts
Jeep did a great job of fitting the Gladiator with massive wheelwells. There's no question that the truck looks better with larger treads and performs much better off-road with the taller rubber underneath. Without question, a 35-inch-tall tire is by far the more practical and easier way to go. On the Rubicon/Mojave you don't need a lift, the 4.10 gears are adequate, and the spare tire location accommodates the 35 without issue. The 37 is going to require a larger investment on your part to do it the right way. Ultimately, it comes down to how much you feel you'll off-road your Gladiator. If you love a good trail challenge, the taking the leap to a 37 is the way to go.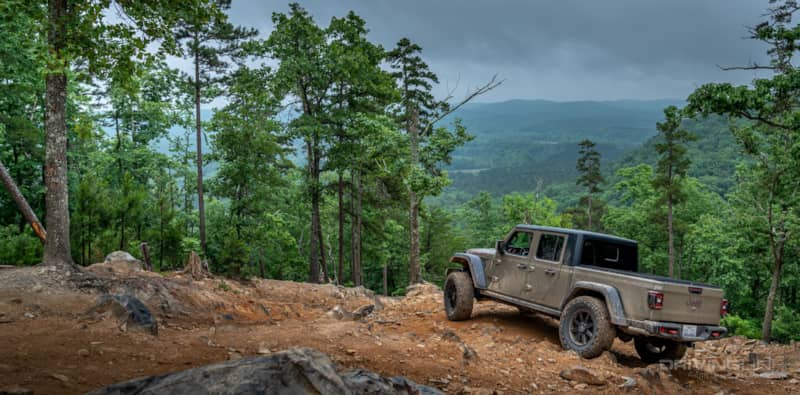 More From

Driving Line
Ready to give your Gladiator better trail legs? Watch this before you buy a suspension.