4WP Battle in Bluegrass: The Ultra4 Eastern Series Kicks Off with a Nitto Podium Sweep
There's nothing better than a full podium sweep and that's exactly what Team Nitto pulled off at the first Eastern Series race of the 2021 Ultra4 Racing Season—the 4WP Battle in Bluegrass. Coming off of a sweep at Moab just two weeks ago, we couldn't be more excited about how the U4 season is going so far for our Nitto drivers!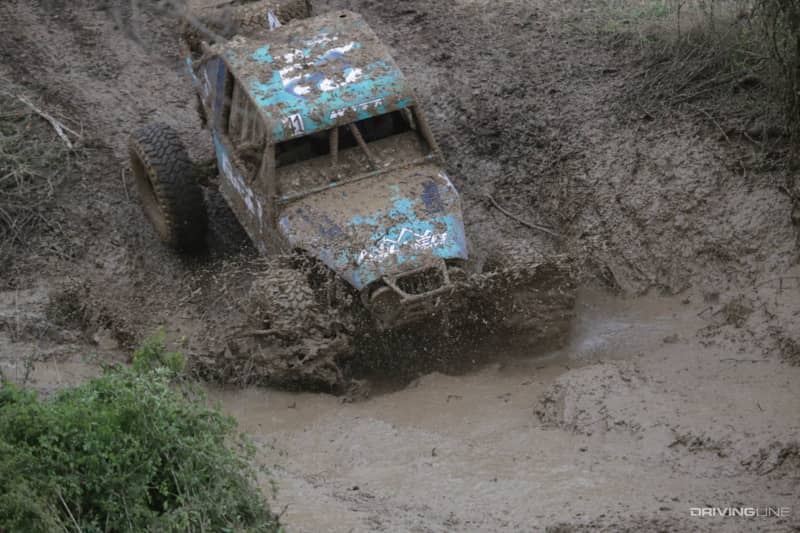 The 4WP Battle in Bluegrass kicked off on Thursday, April 15th at Rush Off-Road in Rush, Kentucky. With 7000 acres and over 100 miles of trails, Rush Off-Road offers some of the best East Coast racing—from rock outcroppings and go-fast sections, to plenty of tree-lined single track—making for a challenging course for both East and West Coast competitors.  
Qualifying
Friday afternoon's qualifying kicked off bright and sunny at 3:30pm ET with the Spidertrax 4600 Stock class hitting the 3/4-mile qualifying course first. With 10 cars registered, Jon Schaefer quickly put down the time to beat third off the line, completing his qualifying lap in 2 minutes and 39.751 seconds. Ultimately, that time stuck, putting Schaefer at the front of the pack for Saturday's race, followed by Marc Zabboth with a time of 2 minutes and 43.344 seconds, and Joseph Edmonds with a time of 3 minutes and 13.243 seconds. 
Next Up was the Can-Am 4900 UTV Class, the biggest race class of the weekend. Taking on the same qualifying course, times were much quicker for UTVs with the top 21 drivers completing the course in under Schaefer's 2 minutes and 39 seconds. Long-time racer, Dustin Robbins secured the pole position in the class with an impressive 2-minute and 4.293-second run. Qualifying closely behind him was Zach Tanner with a 2-minute and 5.904-second lap, followed by James Cantrell with a 2-minute and 9.555 run, despite a bit of a tumble at Trail 39, the last downhill before the finish line.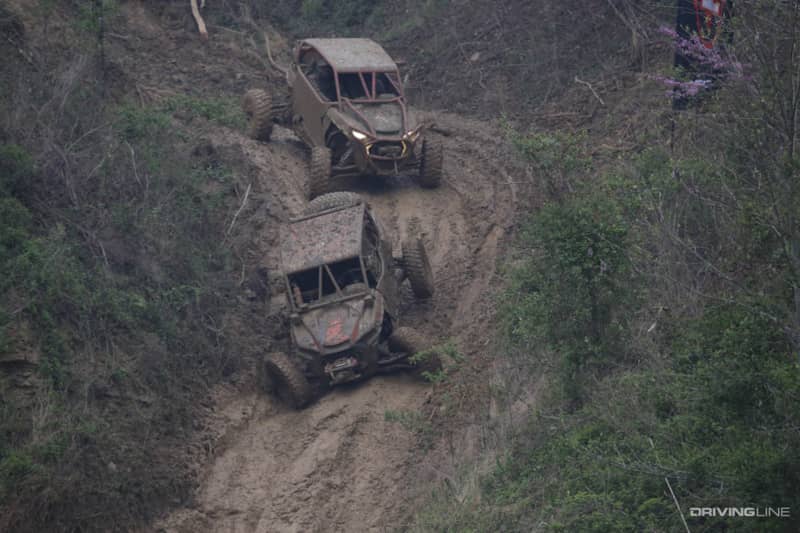 For the Yukon Gear & Axle 4500 Modified Class qualifier, it was Duane Garrettson who proved to be the quickest, setting the pace at 2 minutes and 33.131 seconds. Almost 30 seconds behind him was Jesse Oliver, with a time of 2 minutes and 57.893 seconds, followed closely by Cody St. Clair with a time of 3 minutes and 0.649 seconds.
No surprise, East-Coaster and Team Nitto driver Casey Gilbert was the shining star of the Branik Motorsports 4800 Legends Class, putting down a pole-setting qualifying lap of 2 minutes and 3.766 seconds, a faster time than the quickest UTV by over half a second and over 10 seconds faster than his closest 4800 Class competitor. Gilbert's impressive lap was the second fastest qualifying lap of the day across all classes!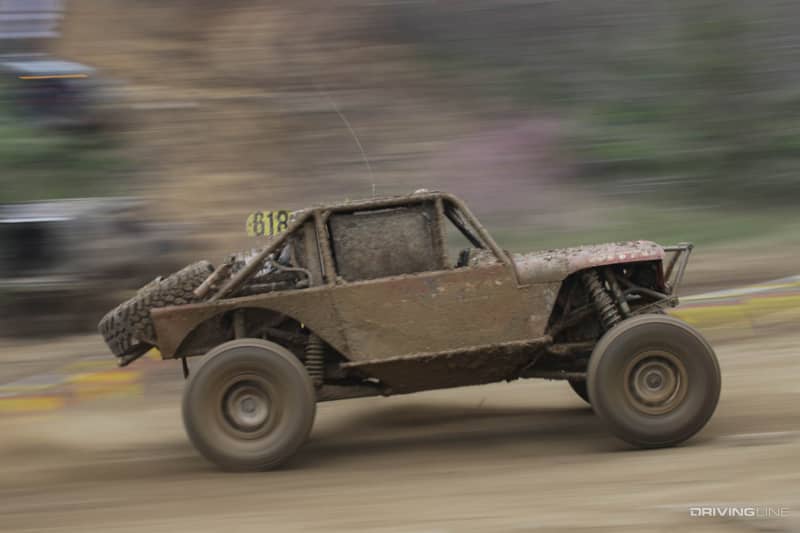 Trevor Fults secured second place in qualifying with a 2-minute and 15.00-second lap, followed by Shaun Rajski with a time of 2 minutes and 17.874 seconds.
Last but certainly not least, the 4400 Unlimited Class took to the course, making quick work of the short qualifying loop. When all was said and done, it was West-Coaster Jason Scherer who put down the fastest lap, securing the pole position with a 1-minute and 57.613-second time, the fastest lap of the day. Following not too far behind was Nitto driver Bailey Cole, with a lap time of 2 minutes and 4.050 seconds. Taking third place was fellow Nitto driver, Erik Miller with a time of 2 minutes and 5.824 seconds.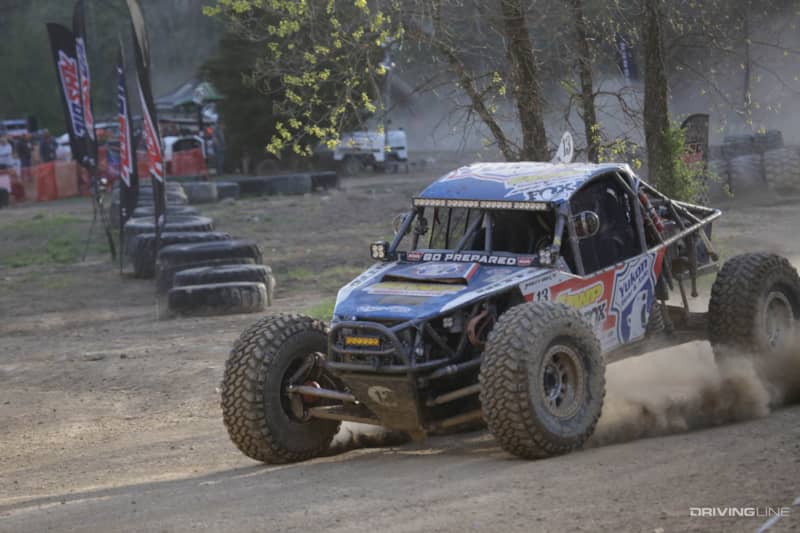 Josh Blyler secured fourth position out of the gate for Saturday's race right on Miller's heels with a time of 2 minutes and 5.997 seconds, making three previous King of the Hammers Kings in the top four. Fellow Team Nitto drivers Chad Owens, Rusty Blyler and Kevin Porterfield finished in 6th, 8th and 9th position respectively, for six Nitto drivers in the top 10.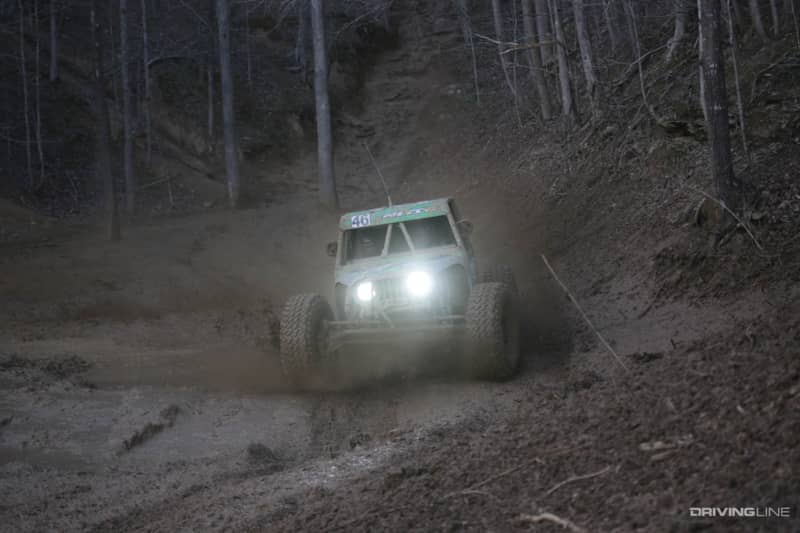 You can find all of the 4WP Battle in Bluegrass qualifying results HERE. 
Race Day
While racers and spectators alike lucked out on weather for qualifying on Friday, Saturday's weather turned to a mix of clouds, rain and chilly temperatures for race day. This made for a muddy start to the day with the Can-Am 4900 UTV Class hitting the 8.7-mile course first, starting bright and early at 7:30am ET.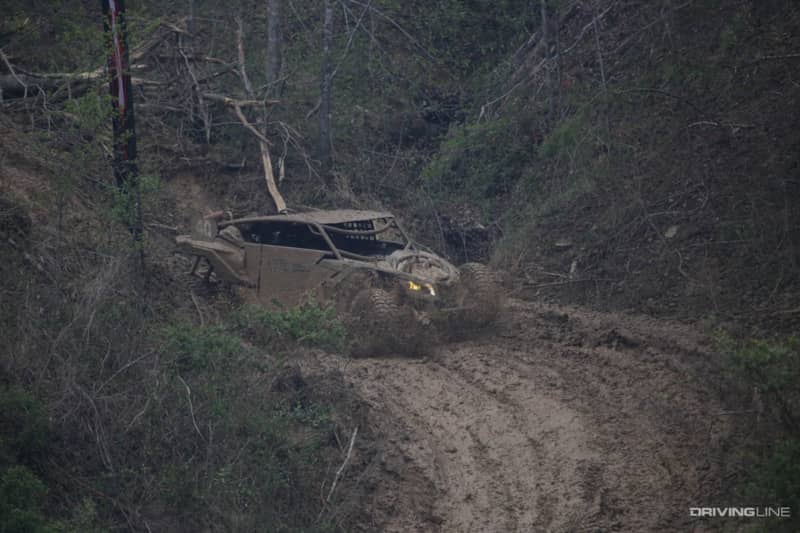 Having secured the pole position on Friday, Jon Schaefer was first out of the gate to take on nearly 35 miles of rugged East Coast terrain. This proved to be a challenge right from the get-go for many of the class's competitors as the slick ground and steep hills caused many to struggle getting up even the first hill, as well as causing some racers to tumble within the first half mile.
By lap three of four, the attrition rate was high but many of the top competitors pressed on. By the time the checkered flag dropped, it was factory Can-Am driver Jamie McCoy up front, securing his position at the top of the podium with an elapsed time of 1 hour, 16 minutes and 38.238 seconds. Following him into the finish line was Levi Metzinger, who broke a diff half way through lap three, causing him to have to run in just two-wheel drive for the last several miles. Still, he was able to solidify second place with a time of 1 hour, 18 minutes and 28.798 seconds. Placing third was Cody Martin, also having broken a diff on the second or third lap and completing the race in 2WD, with a time of 1 hour, 19 minutes and 10.599 seconds.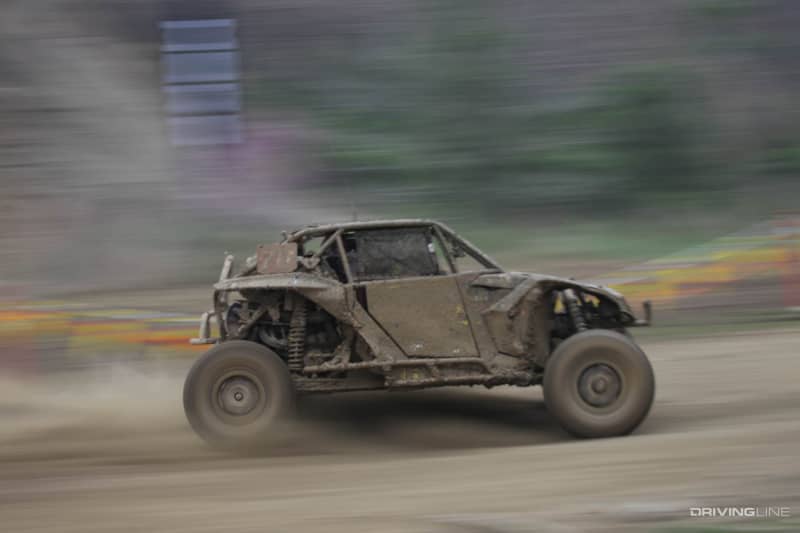 Up next were the limited classes, a combination of the Spidertrax 4600 Stock Class, the Yukon 4500 Modified Class, and the Branik Motorsports 4800 Legends Class, all run at the same time. Legends Class pole-setter, Casey Gilbert kicked off the race, going full-throttle right out of the gate to take on four muddy laps. Following him off the line at 20-second increments were the rest of the top eight from the Legends Class qualifying, followed by a mix of the Modified and remaining Legends class drivers based on their Friday qualifying times. Last off the line were the Stock competitors, facing three 8.7-mile race laps.
Right off the bat, racers struggled with the mud, both from a traction standpoint and when it came to visibility. The more laps each competitor did, the harder the course got as bigger holes, deeper ruts and longer wet sections developed.
Despite the tough conditions, Casey Gilbert was able to stay out front all race, securing his position on top of the box for the 4800 Class with a time of 1 hour, 23 minutes and 38.354 seconds. Joining him on the podium were George Schooley in second place with a time of 1 hour, 34 minutes and 22.717 seconds, and Justin Barth in third with a time of 1 hour, 41 minutes and 2.327 seconds.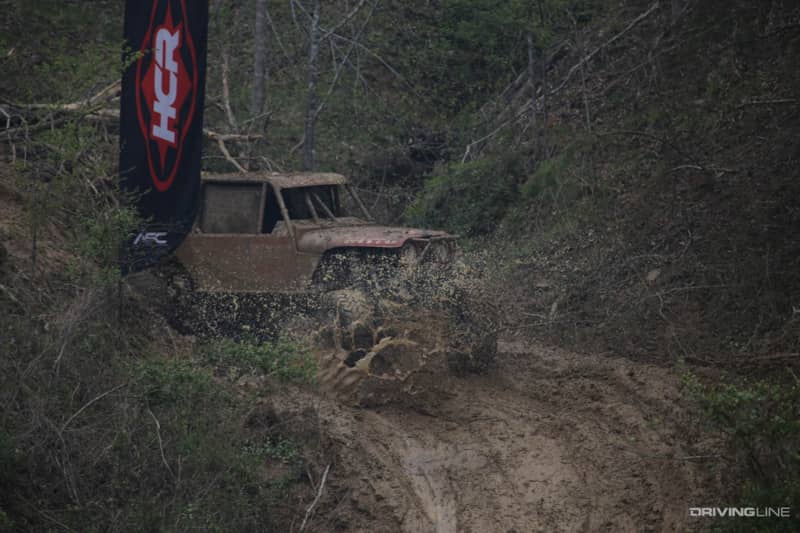 For the 4500 Class, it was pole-setter Duane Garrettson who stayed out front, running a time of 1 hour, 38 minutes and 30.696 seconds for first place, followed by Jesse Oliver in second with a time of 1 hour, 47 minutes and 57.485 seconds, and John Grounds in third with a time of 1 hour, 57 minutes and 30.142 seconds. Staying out front in his class with a pole-setting position was Jon Schaefer, who took home the 4600 Class win with a time of 1 hour, 21 minutes and 54.775. Following him in were Matt Gresser with a time of 1 hour, 39 minutes and 57.192 seconds, and Ken Carter, who moved up from the very last starting position to take third place with a time of 1 hour, 49 minutes and 53.307 seconds.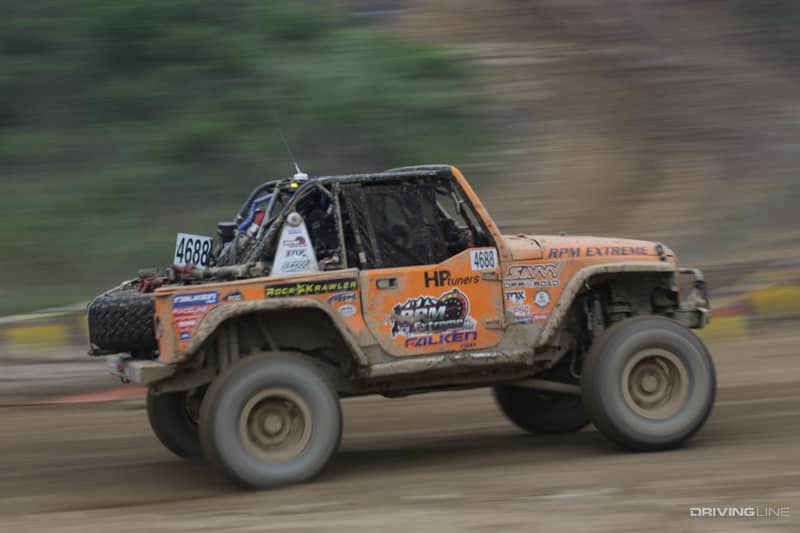 Last up was the 4400 Unlimited Class race, with three-time King of the Hammers King Jason Scherer leading the pack. Just like with all the other classes, the attrition rate started early with many competitors breaking suspension components, cutting tires, and losing brakes on the now well-worn course. Leading at first, Scherer got off-course on the first lap citing visibility issues, which kicked him back to third position once he got back on track. His Rock Royalty teammate Bailey Cole also ran into some difficulty, battling brake issues early on, quickly pushing him to fourth physically.
While their IFS counterparts found themselves with challenges quick out of the gate, both solid-axle Kings Josh Blyler and Erik Miller did what they do best—carve the tree-lined track like their lives depended on it. This true East Coast way of racing proved in their favor as both Blyler and Miller finished all six of their laps in quick form.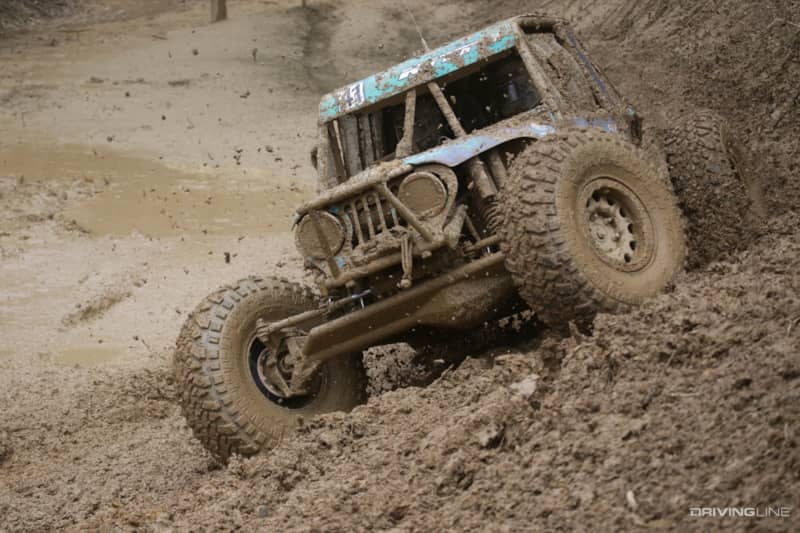 Neither was the first one in physically, however. That nod went to Jason Scherer himself, who was able to gain his front-running position over the remainder of the 52-mile race. But, as you know, this race was scored on elapsed time from start to finish for each racer. That meant that Blyler, though through the finish line physically second, won in the 4400 Class with a time of 1 hour, 53 minutes and 32.779 seconds. Miller followed suit, securing a second-place finish with a time of 1 hour, 54 minutes and 55.275 seconds.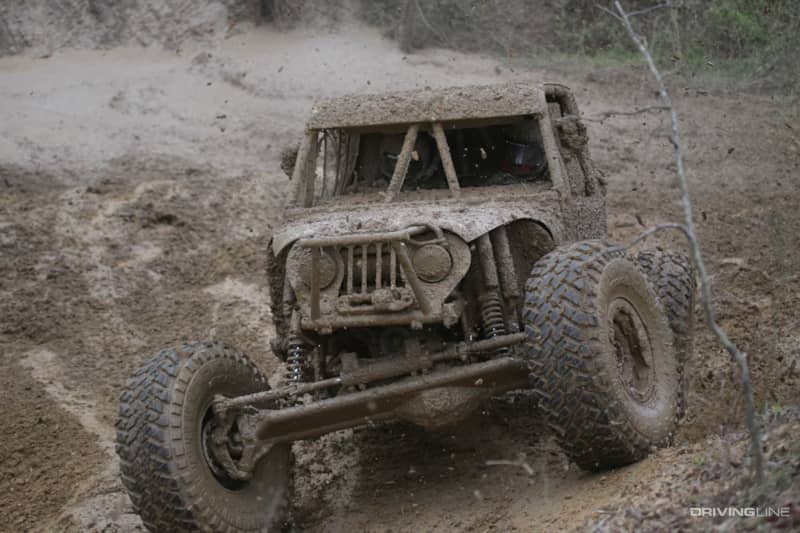 While Scherer was originally presumed to be in the top three, it was found that he unfortunately didn't quite backtrack enough when getting back on course on the first lap, causing him to be disqualified. This left the door open for another racer to make the podium, and although Cole crossed the finish line physically in fourth, it was Kevin Porterfield who secured the last podium spot with an adjusted time of 2 hours and 50.144 seconds, having moved up from ninth position off the line.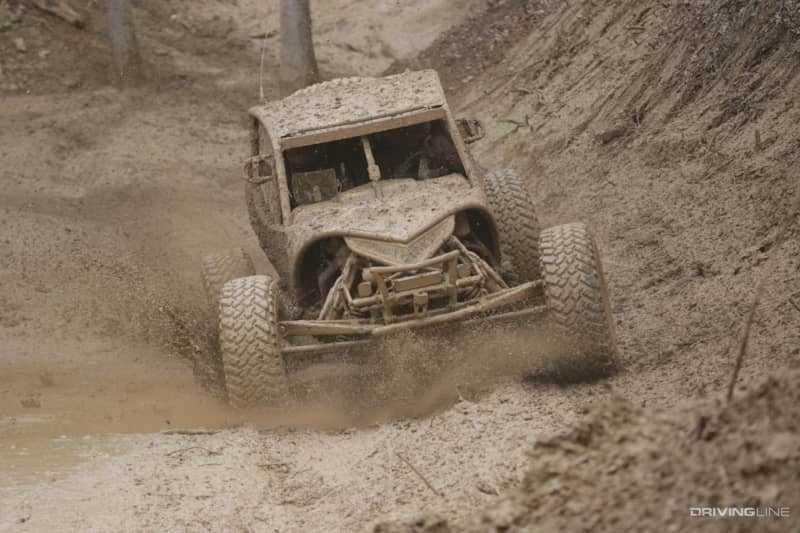 With Blyler, Miller and Porterfield on the box, Nitto once again swept the 4400 Class podium!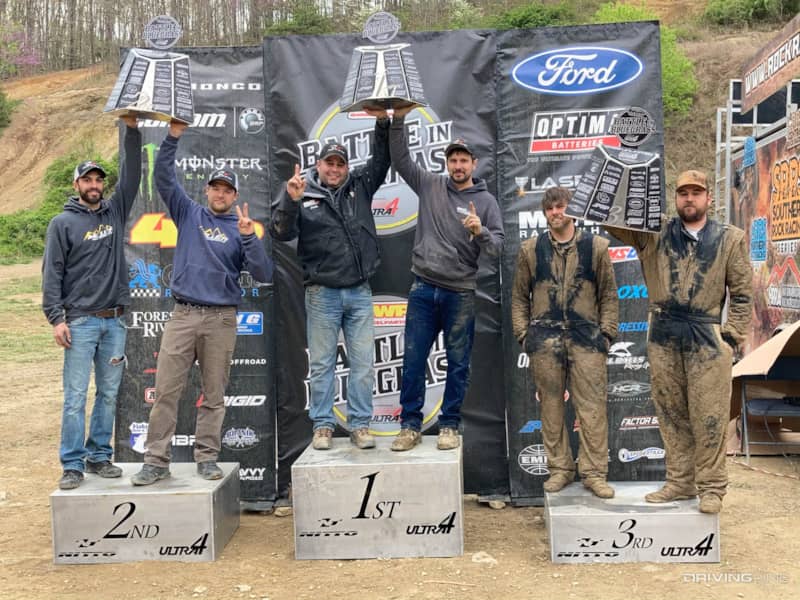 For top main race results, please see below. For full race results, please visit Ultra4Racing.com. We'll see you all next month for the next Ultra4 series race, El Ray De Las Baja in San Felipe, Mexico!
4WP Battle in Bluegrass Main Race Results:
Can-Am 4900 UTV Class (4 laps):
Jamie McCoy: 1:16:38.238

Levi Metzinger: 1:18:28.798

Cody Martin: 1:19:10.599
Branik Motorsports 4800 Legends Class (4 laps):
Cassie Gilbert: 1:23:38.354

George Schooley: 1:34:22.717

Justin Barth: 1:41:02.327
Yukon Gear & Axle 4500 Modified Class (4 laps):
Duane Garrettson: 1:38:30.696

Jesse Oliver: 1:47:57.485

John Grounds: 1:57:30.142
Spidertrax 4600 Stock Class (3 laps):
Jon Schaefer: 1:21:54.775

Matt Gresser: 1:39.57.192

Ken Carter: 1:49:53.307
4400 Unlimited Class (6 laps):
Josh Blyler: 1:53:32.779

Erik Miller: 1:54:55.275

Kevin Porterfield: 2:00:50.144

Bailey Cole: 2:03:44.401

Rusty Blyler: 2:12:16.433

Kevin Taylor: 2:22:36.850

Tim Hooper: 2:30:49.510

Frank Vonderheide: 2:24:34.934 (5 laps)

Stan Haynes: 2:27:34.678 (5 laps)

Cody Hardesty: 1:25:57.060 (4 laps)