2020 King of the Hammers Recap: Josh Blyler Becomes Newest King
After a great week of racing, it was finally time for the 2020 Nitto King of the Hammers Powered by Optima Batteries. With a race that had so many storylines coming into it, there was one that flew under the radar, but really shouldn't have, considering this race's reputation: attrition. As much as the drivers battled each other on the course, they battled the damage the course did to their cars even more. At the end of the day, it was Josh Blyler in his solid-axle Miller Motorsports chassis on Nitto Trail Grapplers sitting on the throne.
With breakdowns, lead changes and heart-stopping moments galore, this was one of the most exciting Hammers races in recent memory. Whether you're reliving the race or missed the action, follow along with our minute-by-minute updates all the way to the end. If you haven't seen it yet, trust us, it won't go like you expect.
8:04 Engines start on all 99 cars, with the Grand Marshall giving the command.
8:13 Loren Healy and Jason Scherer are off and the race is underway! Scherer has the early lead.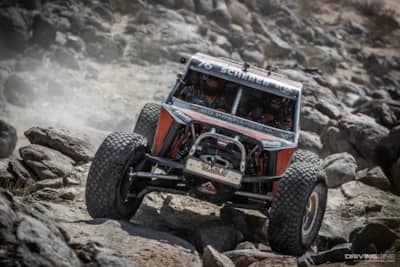 8:14 Jason Blanton and Jordan Pellegrino are off, the surprises from qualifying.
8:16 Levi Shirley and Erik Miller are off.
8:17 Shannon Campbell leaves with Cameron Steele. Steele has had a tough week in all the previous races this week.
8:19 Bailey Campbell leaves the starting line all by herself as Tom Wayes is still fixing his car and not ready to start.
8:20 Paul Horschel leaves with Rusty Blyler. Paul has a new rig and sponsor and is looking to make some noise this year.
8:21 Cars are already getting bunched up through the first rocks area.
8:25 The dust hangs up in the air from the cars, with not much of a breeze on the lakebed. This could be dangerous for trailing cars.
8:31 Jason Scherer is the first car to roll through Pit 1. Everything looks good for him and he doesn't pit.
8:32 Randy Slawson finally gets off the line after being assessed a penalty from qualifying, starting in 73rd. 
8:34 Jason Blanton makes his way through Remote Pit 1, after Jason and Loren, but unlike them, he has to pit.
8:36 The rest of the lead cars pass through Remote Pit 1, while Loren stays a little way behind Scherer.
8:38 Marcos Gomez leaves the line after rolling his car over in qualifying, and Jordan Pellegrino makes his way through the rocks in physical third.
8:40 Jason Blanton is still stopped in Remote Pit 1.
8:49 Jason Scherer is into Cougar Buttes, with Loren a little way, but not far, behind him. This was part of Loren's plan, to go a little slower in the desert and save the car.
8:52 Loren closely follows Scherer's line.
8:53 Paul Horschel is up to third on adjusted time from a starting position of 30!
8:54 Shabs Piercy, whose car had blown two motors in Hammers week, starts the race in a spec class car that Dave Cole gave to him so that he could live his dream of racing KOH.
8:55 Cougar Buttes is getting crowded with the front pack coming through it.
8:58 Wayland Campbell starts off leading a train through Couger Buttes, but he gets passed. Horschel, who is in time adjusted third, sits in the middle of this pack. He is followed by Bailey and Shannon Campbell.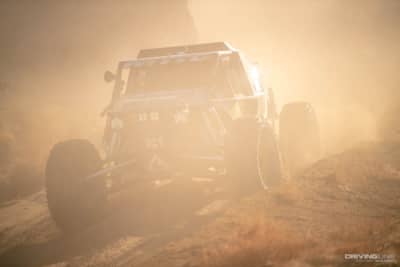 9:02 Current leaderboard: Jason Scherer, Loren Healy, Raul Gomez, JP Gomez, Josh Blyler
9:11 Cody Miller makes his way through Cougar Buttes, attempting to finish the 4400 race in a UTV.
9:15 Jason Blanton, Greg Adler and Casey Currie are all broken down and stopped on course. Attrition is starting to take its toll.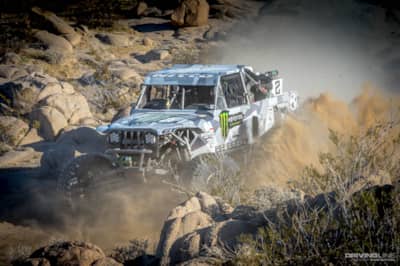 9:25 Scherer and Healy still maintain a healthy physical lead on the field, but on adjusted time, anyone could be challenging them.
9:32 Jason Scherer is the first to make his back through Remote Pit 1 and rolls straight through. 
9:34 Cougar Buttes didn't serve to space the cars out, as a huge line of cars makes its way through the desert.
9:37 Loren now comes through Remote Pit 1. It looks like something may be wrong with a tire, but his crew decides to keep him out to not give up any more ground to Scherer.
The attrition is starting to make itself noticed. Already a few strong contenders have been slowed or taken out. Jason Blanton's good starting position has been wasted. Casey Currie, coming off his Dakar win, couldn't even make it through Cougar Buttes. Greg Adler was doing well at the time of his breakdown, too. However, aside from a few bangs and scratches, attrition hasn't too badly hit our leaders—yet. 
The dusty conditions have served to bunch up all the drivers not named Loren Healy and Jason Scherer. This has let the two of them, and especially Scherer, open up a bit of a gap on the field. They sit out front for now, but this is the King of the Hammers. Nowhere on the racecourse makes you safe from the racecourse.
9:40 JP Gomez rolls through Remote Pit 1.
9:44 Jason Blanton is back up and running through Cougar Buttes.
9:45 A line of cars makes its way through Remote Pit 1 for the second time, including Vaughn Gittin Jr., as Shabs Piercy makes his way through the first time.
9:47 Erik Miller, Wayland Campbell and Bailey Campbell also make their way through Remote Pit 1.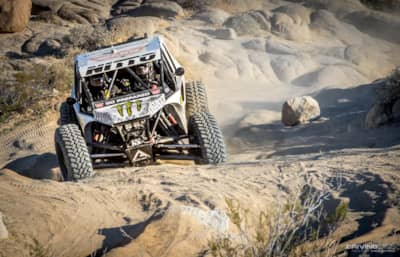 9:50 Jason Scherer has made it down backdoor and is right near Hammertown.
9:52 Bailey Cole, Rusty Blyler and his son Josh Blyler all go through Remote Pit 1.
9:53 Jason Scherer finishes lap 1 and heads into his pit with a time of 1:40:08. His team checks over the car for leaks and any issues. Now we wait for Loren.
9:55 Loren now makes his way to and through Backdoor as Jason Scherer roars away from his pit.
9:56 Vaughn is out of his car in Remote Pit 1 and livestreaming as his team works on the car!
9:58 Loren comes into Hammertown and hits his pit. They change the front tire that looked to be damaged, but not flat, and then he makes his way back onto the course.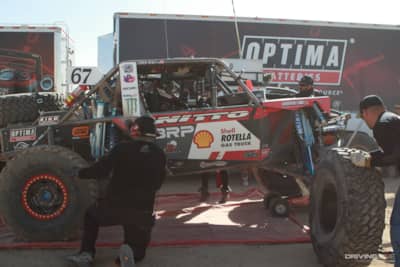 10:01 JP Gomez is the third driver to make is way through Hammertown.
10:04 Raul Gomez comes through Hammertown after Bryan Crofts, but Crofts stops for his crew to check everything since the car is so new.
10:06 There's a tire left in Backdoor that's helping drivers on the way down, including Paul Horschel.
10:08 Raul Gomez goes back out on course after his pit as Bailey and Shannon Campbell go through Backdoor and Wayland blows through the pits entirely.
With most of the leaders either almost finished or finished with lap 1, things look pretty normal. Our top two drivers are out in front with a comfortable lead. There have been a few breakdowns, but none from anyone who going into the week was a true favorite, and all the cars are still bunched up for some exciting racing. But anything can happen at the Hammers, and it can happen to anyone.
10:09 Scherer is stopped on course and Loren has passed him for the lead!
10:10 Shannon Campbell pits while Bailey cruises on through. It's a busy time in Hammertown.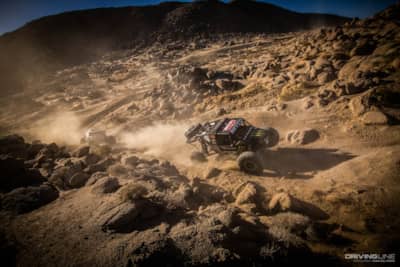 10:11 Paul Horschel is getting his differential fixed in the pits in Hammertown.
10:13 Paul Horschel is off and headed back onto lap 2, while Shannon takes some more time in the pits and Rusty and Josh Blyler go through Backdoor.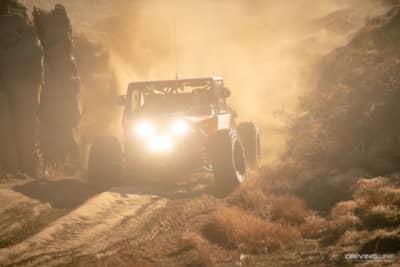 10:15 Scherer appears to be back up and running, but he is now in a battle with JP Gomez for physical second. 
10:17 Shannon is out of his car and the panels are off. It looks like he has a big problem, while Loren has opened up a bit of a physical lead on JP and Jason. However, on adjusted time, JP isn't too far back.
10:20 Shannon confirms they are changing out his transmission.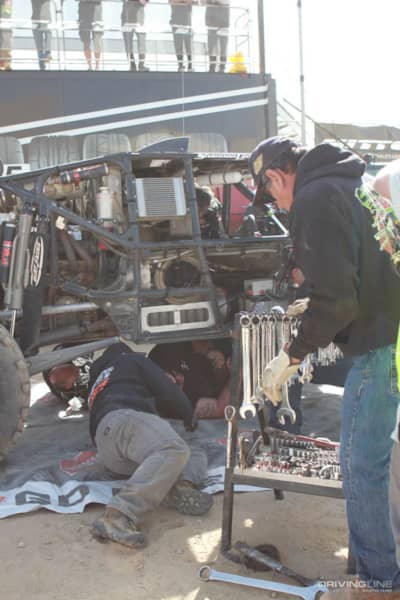 10:24 Jason Scherer is stopped in Remote Pit 1. He potentially got a flat and had the tire switched out.
10:25 Randy Slawson started in 73rd and is now up into the 20s physically, so he's made up a ton of time.
10:28 Wayland passes through Remote Pit 1 and makes his way back out to the desert before the rocks.
10:34 Loren is less than a minute ahead of JP Gomez. He needs to create more space before the rocks.
10:41 JP Gomez makes his way across the lakebed a few minutes after Loren. Is he ahead on adjusted time? It's looking close.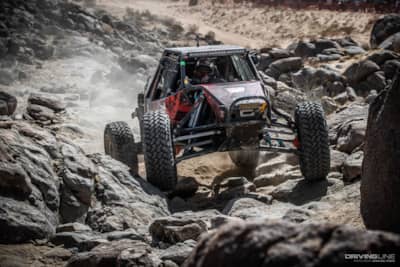 10:43 Jason Scherer follows only seconds behind JP Gomez.
10:44 As the drivers start the Hammers trails, the unofficial time adjusted leaderboard is Loren Healy, Wayland Campbell, JP Gomez, Jason Scherer and Raul Gomez.
The King of the Hammers includes two different kinds of racing disciplines: desert and rock racing. In the desert the cars need to drive fast over the undulating terrain, whereas they need to go slowly over the rocks to maneuver with pinpoint accuracy. Some drivers are better in the desert, and some are better in the rocks. This makes for times when the lead can drastically change when a driver leaves or enters their preferred discipline.
Up until this point, the drivers have been doing mostly desert racing. However, the next lap and a half is going to be mostly rock racing. We normally expect to see some lead changes at this point, and this Hammers race is about to take that to an extreme level.
10:45 The trails are super dug out after all the racing, making it even tougher on the drivers. Loren begins Aftershock. Will the changes affect him? We'll see.
10:48 Raul Gomez, the furthest back of the leaders, starts the trails. JP can also almost see Loren, meaning he's making up time through the trails.
10:52 As Loren comes out of Aftershock, JP is right behind him. 
10:53 Erik Miller has lost position as he comes into the rocks, but can his prowess in that area make up the time?
10:55 As Wayland makes his way through Aftershock, steam looks to be coming out of the top of his car. He may have an overheating issue. He's trying to push through and make it to Remote Pit 2 to get the problem solved.
11:03 Jordan Pellegrino, another row two starter, has had an issue on lap 2 and is out of the race.
11:06 Loren, still in the physical lead, starts through Jackhammer.
11:10 Jason Scherer has passed JP Gomez back on the course, but he's still behind him on corrected time.
11:14 Raul Gomez has made up over two minutes of corrected time, putting Scherer back to fourth on time.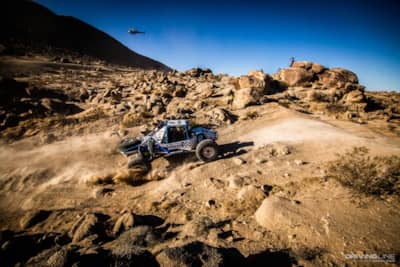 11:17 Loren Healy heads down the rocks to Chocolate Thunder. It's supposed to be pretty torn up, so how easily will he be able to navigate it?
11:18 He spins his wheels and gets stuck for a moment. He's struggling more than he normally would, but he's able to get through.
11:21 Scherer reaches Chocolate Thunder. He starts spinning his tires in the same place as Loren and has to back up for another go. JP Gomez is right behind him now and waits to see what he does.
11:22 Jason finally gets up and over, followed by JP effortlessly getting over where the other two struggled. Waiting paid dividends for him.
11:23 Raul Gomez comes into Chocolate Thunder. He struggles for a second, but in not much time at all he's through. In the lead four, it was easiest for JP and hardest for Scherer.
11:27 Bailey Campbell and Cameron Steele battle their way into Chocolate Thunder, with Cameron taking the lead into it. Their battle continues into the canyon.
11:28 Loren, our leader, makes his way for the first time down Bender Alley, a new trail. It has a ton of huge, untouched rocks and should prove to be a challenge.  
11:31 At the bottom of the trail, Loren climbs out of the car to see if something is wrong. Scherer, followed closely by JP Gomez, start coming down the trail to meet him.
11:33 Both Scherer and JP pass Loren as he's still out of his car. It looks like something in the rear of the car broke. Scherer may be back in the physical lead, but JP has a fair amount of time on him.
This is when the most surprising aspect of our theme of attrition begins to emerge: the course hates the leader. Just when it seems like someone has control of the race or is in a good position to win, something happens, and most of the time they brake down. Maybe Jason Scherer should have let JP Gomez go on by, but that likely would have only been delaying the inevitable. He's too close to the lead to avoid getting swallowed up by this course—he just doesn't know it yet.
11:38 Bailey Campbell and Cameron Steele are still battling back and forth as they pass Loren, who is still broken down.
11:43 JP Gomez is stopped in Remote Pit 2, letting Scherer put some time on him.
11:48 JP Gomez is back on course, but Scherer now has a lead. Can he track him down?
11:51 Loren is back up and moving with his issue fixed, but he lost around 20 minutes of time.
11:52 Bailey Campbell is just 30 seconds behind Scherer for the lead on corrected time!
11:59 Cameron Steele is now in physical second place, having a great day.
12:00 The top four of Jason Scherer, Cameron Steele, JP Gomez and Bailey Campbell have separated themselves from the rest of the field.
12:03 A car is stuck in the main line on Chocolate Thunder, creating a bit of chaos as other drivers come up to try to get around.
12:09 JP Gomez is back physically in second and flying through the desert again.
12:13 Erik Miller and Cody Addington race through Wrecking Ball, still in the rocks behind the leaders.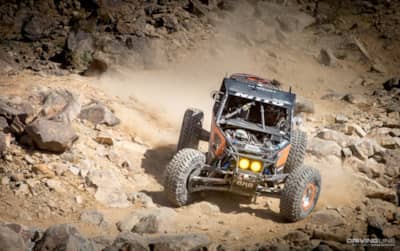 12:17 Cameron Steele is stopped and out of the car. He needed to replace a flat tire.
12:21 Loren Healy is stopped again and is out of his car with a toolbox. All chances to win the race for him are gone.
12:22 JP Gomez is confirmed to be stopped and the tracker shows Scherer to be stopped as well! Bailey Campbell may be the only leader still making progress.
12:26 Bailey is now the first driver down Backdoor, confirmed in the lead. JP Gomez is also confirmed to have a blown motor and is done for the day.
12:28 Bailey Campbell makes her way into Hammertown and hits the pits for fuel. Cameron Steele has also finished changing his tire and is headed for Hammertown.
12:32 Cameron Steele is the second driver to make it to Hammertown and also comes into the pits.
12:34 Cameron makes it to Hammertown and finishes his pit stop. The top two drivers are on their way to battle for the crown, with Cameron about five minutes behind Bailey.
Oh, how much can change in a lap. Just a few hours ago Loren Healy and Jason Scherer were racing through Hammertown, two kings looking to take the crown again. Then they both broke down, along with the other frontrunner JP Gomez, leaving the door open for new challengers.
Of course, now that Bailey Campbell and Cameron Steele are in the lead heading into the last lap, they need to be careful to avoid the damage this racecourse can wreak on anyone who looks like they have a good shot at winning. And there is someone sitting right behind them in third in a solid-axle chassis made for the rocks who is perfectly positioned to take the lead should they have problems.
12:41 Josh Blyler has made up a ton of time on the first rocks lap and is the third driver into Hammertown.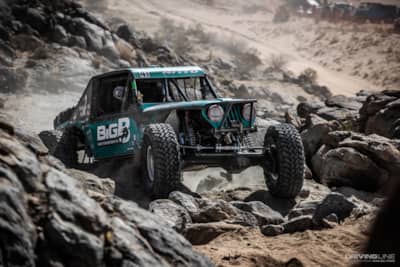 12:43 Jason Scherer's day is officially done, ending his dreams of a three-peat.
12:45 Levi Shirley goes down Backdoor in physical fourth, but the big news is Randy Slawson in physical seventh. He started 73rd, so how far can he climb in the order on corrected time?
12:47 Bailey Cole drops down Backdoor followed closely by Randy Slawson. The leaders appear to be far ahead, but the race isn't over yet. Loren is also finally back up and running again.
12:50 Randy Slawson comes into the pits, right in front of Bailey Cole, who leaves first.
12:52 Rusty Blyler comes through Hammertown as Randy Slawson leaves.
12:57 Marcos Gomez comes through Hammertown with a massive corrected time advantage as well, as he started at the absolute back of the field.
12:58 It's confirmed that Slawson was only 30 seconds behind Cameron Steele through Hammertown on corrected time.
12:59 John Webb and Justin Pawlak also come through Hammertown in good position.
1:00 Cody Miller is picking his way through the Chocolate Thunder traffic. It's pretty clogged and could get worse before the leaders come through.
1:03 Current adjusted time leaderboard: Bailey Campbell, Cameron Steele, Randy Slawson, Marcos Gomez, Rusty Blyler.
1:04 A car is stuck on the right and another car flips in the middle of Chocolate Thunder. It's a total mess. Erik Miller is also dropping down Backdoor, much farther back than he would expect or like.
1:07 Dave Cole has cut out Idle Issues, Her Problem and Chocolate Thunder for the third lap of the race to let the leaders keep racing and not sit behind stuck lapped traffic.
1:10 Bailey's rig has had an issue and her codriver is out of the car! Cameron Steele passes her to retake the lead.
1:13 A second-lap car stops to see if they can help, but Bailey waves them on.
1:16 Slawson is showing no movement on the tracker, too! The attrition this year has been insane!
1:17 Bailey Cole has had a spark plug issue and is stopped in Remote Pit 1.
1:21 Josh Blyler passes Bailey Campbell for physical second. Now he needs to track down Cameron Steele.
1:28 Paul Horschel is just coming into Chocolate Thunder, so he must have had further issues on lap two. One silver lining for him, though, is that at least the traffic is gone.
1:30 Slawson has retired and Cameron Steele is having trouble through the first rocks section and has to winch. No leader is safe this race. Will this give Marcos Gomez the time he needs to take the lead?
1:34 Josh Blyler is getting close to Cameron Steele. Is he now in the best position to take the win as the only solid-axle car left with the leaders?
1:36 Bailey Cole has been fixed up and is flying across the lakebed before the rock trails.
1:38 Cameron Steele has been stopped for a while, and now Josh Blyler is right up on him! Josh needs to make up four minutes of time and the two are battling for the physical lead.
1:40 Josh makes the pass and is on his way!
1:41 Marcos Gomez passes Bailey Campbell before the rocks, and don't forget, he very well may be the adjusted time leader.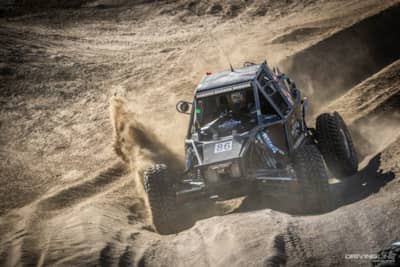 1:42 Unofficially, the problem with Bailey Campbell's car is a water pump pulley. That's a really tough fix.
1:43 Marcos Gomez is confirmed to have a three-minute lead on Steele and Blyler!
With about half a lap left to go, there are three drivers left who can reasonably claim a good shot at taking the crown. On this day, all that really means is that there are two cars left we can expect to break down. In this war of attrition, it's the last driver left on four wheels who will take home the crown. As the only solid-axle car left among the leaders, Josh Blyler looks to be in a good position to survive, but if either of the other contenders can make it to the end, he'll likely come up short.
Despite how he is currently in the physical lead, Josh Blyler is actually sitting in third on adjusted time. He needs to pull ahead, and if anyone can do that in the rocks, it's him. This race is still very much up for grabs.
1:50 The change has been changed back! Dave Cole has undone the bypass and told the drivers to go back on the original course through Chocolate Thunder now that the traffic is gone in that area.
1:56 Cameron is getting around lapped traffic easier than Blyler, letting him make up a bit of ground and keep his time-adjusted lead.
1:58 Cameron Steele is driving right behind Blyler, following his line and holding pace. He's in a really good position.
2:00 Bailey Cole needs to winch in the same spot as Cameron did, with Rusty Blyler right behind him.
2:02 Bailey Cole gets going, but now Rusty Blyler needs to winch!
2:04 Josh Blyler takes the right and Steele takes the left through Chocolate Thunder. It was much easier for Steele, but Blyler remains in front.
2:10 Cameron Steele has broken down and is out of the race! Almost every leader has broken down now. This puts Josh Blyler and Marcos Gomez neck-in-neck for the lead, despite how far apart they are on course. Erik Miller is in the top five now as well, having survived long enough to make his way up the standings.
2:22 Despite all of his problems, Loren is still running and making his way through the rocks on lap 3.
2:23 We're getting confirmation that Marcos Gomez can finish 22 minutes behind Josh Blyler and still win. Josh knows it and is still pushing to get through as fast as he can.
2:30 Loren Healy has broken down again, for the third time. He's been the hardest working driver today for all the wrong reasons.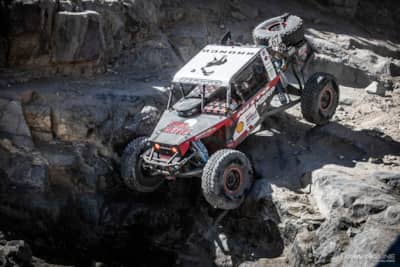 2:31 Bailey Cole and Marcos Gomez both take the left line through Chocolate Thunder and get through it easily.
2:33 Marcos Gomez has a flat, but it looks like he doesn't want to get out to change it.
2:35 Rusty Blyler is having trouble getting up Chocolate Thunder, and his front end is broken and can't pull the car up the rocks anymore.
2:40 Marcos Gomez stops next to Cameron Steele. He very well may have asked Cameron for help with changing his tire.
2:43 Bailey Cole has lost a limit strap, keeping him from being able to push to the finish. We'll see if he can keep it together and take it home.
2:48 Erik Miller has battled into physical second place, with Marcos Gomez right behind him. Marcos appears to have four full tires and has replaced his flat. Erik still needs to get 20 minutes ahead of Marcos to win, but to see him back up that far is impressive.
2:51 Shannon Campbell is fixed and still racing on lap 3, the lone Campbell left running, while Josh Blyler is working as hard as he can to get past a ton of lapped traffic.
2:52 Marcos Gomez is now 30 minutes behind Josh Blyler, putting Blyler in a great spot to take home the win, if nothing on his car breaks.
2:57 Josh Blyler finishes the rocks and transitions back to the last desert section before heading for Hammertown
3:00 Slawson confirms his rear differential is what broke and ended his day.
3:04 John Webb is still moving along in physical fifth place, having a great day. Cody Miller is also still moving along in his UTV on his third lap.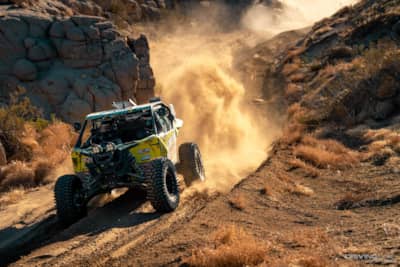 3:13 Josh Blyler rolls the car coming into Backdoor! This is the opening Marcos Gomez and Erik Miller needed. 
3:14 Fellow racers and the course workers are trying to help him flip it back over. His car is facing the wrong way, so the course workers have attached a winch to the front of the car to spin it around first before flipping it back over.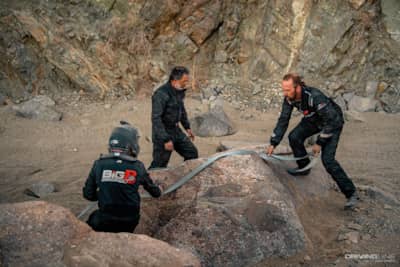 3:19 The course workers have gotten the car back righted! Josh leaves his co-driver at Backdoor to save precious seconds as he heads straight for Hammertown.
3:21 Josh Blyler heads through the Bronco arch and is the first to cross the line! Now we wait 22 minutes to see if he ends up the winner.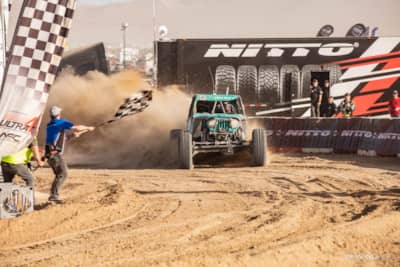 3:23 Josh Blyler: "Just to finish this race is absolutely amazing. It's an honor to finish it."
3:24 Erik Miller is now in front of Marcos Gomez in the desert, with both of them going as fast as they can.
3:31 Marcos Gomez almost rolls the car in the desert and breaks the front suspension! He's still driving it, but this has likely given Josh the win.
3:38 Erik Miller drives into Hammertown and is the second driver to cross the line!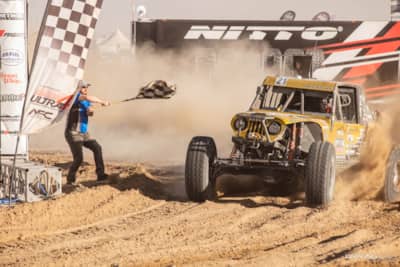 3:41 Erik Miller: "If there's one car I'd want to be behind today, Josh is it. It wasn't in the cards for us today, I'll tell you that."
3:45 Twenty-two minutes pass and Josh Blyler is officially the 2020 King of the Hammers!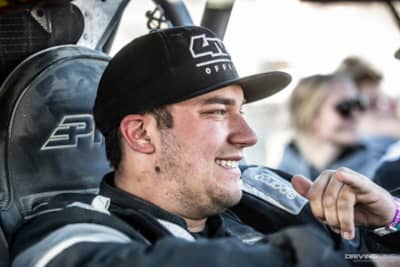 Congrats to Josh Blyler on being crowned the newest King of the Hammers. It was a crazy ride getting here. Out of the eight drivers who were either physically in the lead or challenging for it on corrected time from far back in the field, Josh Blyler was the only one not to have a severe mechanical issue, and even he flipped the car right before the finish!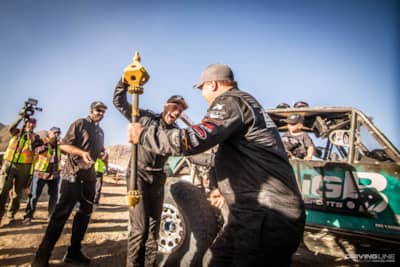 In last few years, the leaders have been in front wire-to-wire, which might have caused us to forget how challenging this race is. Driving a car as hard as you can for hours and hours through these trails is a punishing endeavor that it takes an immense amount of skill and patience to master. Josh is absolutely deserving of his victory this year for managing to take what the course gave him and not do anything that would endanger him—aside from the rollover, that is.
3:50 Marcos Gomez gingerly goes down Backdoor closely followed by Bailey Cole.
3:53 Bailey Cole drives up and over to Hammertown, crossing the line in third.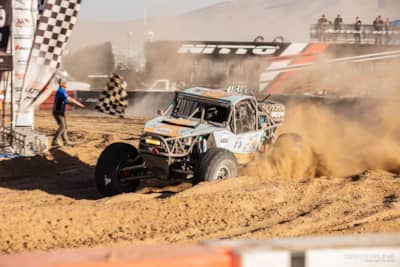 3:54 Marcos Gomez limps back to the line and is the fourth to cross the line.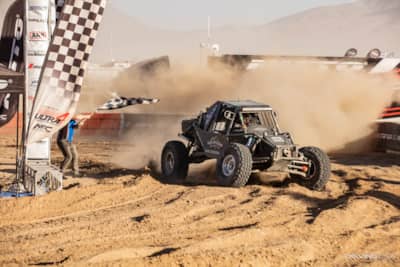 3:57 Marcos Gomez is confirmed as third place, with Miller coming in second for the third year in a row. 
3:58 Marcos Gomez: "I'm speechless. I'm ready for another round. These tires were hooking up. Starting from second to last, I think I was still in bed when my brothers crossed the line. Cameron and Wayne helped me change the tire. That was awesome."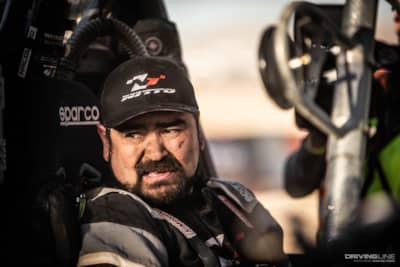 4:01 Bailey Cole: "It was a blast all day. The course is super fast. The rocks were just hard enough to keep everybody honest, but you couldn't mess up all day long."
4:01 Raul Gomez crosses the line and rounds out the top five to finish.
4:04 John Webb is the sixth driver to cross the line.
4:05 John Webb officially finishes fifth and Raul Gomez finishes sixth.
4:06 Erik Miller: "This is like a dream for me to have two of our chassis finish one-two. At the end of the day, I couldn't be more proud of [Josh], but I want to kill him on the track."
4:22 Loren Healy, after all his troubles, crosses the line and finishes seventh.
4:23 Marcos Gomez: "I hit everything on this course. I hit every rock, every cactus, everything that was standing up. And these Nitto tires held up."
4:39 JP Gomez says on the main stage that he raced the last lap for his brother Raul after his blew his motor on lap 2. Raul had suffered a broken hand earlier in the week.
4:44 Bailey Cole: "The limit strap, we were just really worried about breaking an eyelid off the bottom of the shock when it flexes out, so we took it easy through the desert after Spooners and just got it home."
5:02 Loren Healy: "I felt like we had a car to win today, but obviously luck didn't go my way. Killed two driveshafts, the diff skid took me out. Had a little bit of a rough day, but can't ever be unsatisfied with a top 10 at King of the Hammers."
5:03 Brett Harrell crosses the line eighth.
5:17 Bailey Campbell is finally up and running again. She's through Chocolate Thunder and is making her way towards Outer Limits.
5:33 Day Wyrick crosses the line ninth.
5:37 Darren Henke crosses the line tenth.
5:38 The sun has gone down and there's little light left. Anyone left out on course is going to have to make it home in the dark. 
5:40 Shannon Campbell crosses the line eleventh.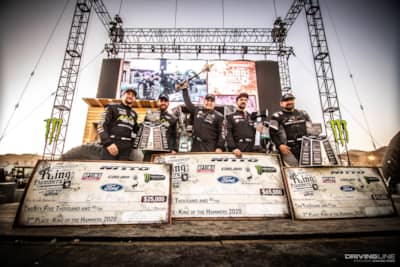 Congrats again not only to Josh Blyler but all our finishers at the 2020 Nitto King of the Hammers Powered by Optima Batteries. As any of the leaders of this year's race will tell you, finishing is an incredible accomplishment in and of itself. We can't wait to get back on the lakebed next year to experience another exciting and action-packed race. If it's anything like the one we just watched, it'll be one for the ages.
King of the Hammers Results
| Position | Name | Number |
| --- | --- | --- |
| 1 | Josh Blyler | 41 |
| 2 | Erik Miller | 21 |
| 3 | Marcos Gomez | 86 |
| 4 | Bailey Cole | 4454 |
| 5 | John Webb | 4468 |
| 6 | Raul Gomez | 83 |
| 7 | Loren Healy | 67 |
| 8 | Brett Harrell | 4456 |
| 9 | Dan Wyrick | 818 |
| 10 | Darren Henke | 4441 |
| 11 | Shannon Campbell | 5 |
| 12 | Joey Weber | 686 |
| 13 | Levi Shirley | 81 |
| 14 | Michael Justice | 78 |
| 15 | Cody Miller | 221 |
| 16 | Dan Fresh | 8 |
| 17 | Nathan Gesse | 802 |
| 18 | George Pronesti | 4432 |
| 19 | Dennis Sterndahl | 726 |
| 20 | Chris Paiva | 906 |
| 21 | Chad Owens | 60 |
| 22 | Bailey Campbell | 35 |
| 23 | Tray McKinlay | 342 |
| 24 | Chip MacLaughlin | 4 |
| 25 | Eric Wicks | 59 |
| 26 | Brian Trotter | 313 |
| 27 | John Hall | 71 |
| 28 | Eric Miramon | 4215 |
| 29 | Michael Ayersman | 306 |
| 30 | Sam Collins | 32 |
| 31 | Jade Wickham | 823 |
| 32 | Tony Pellegrino | 4485 |
| 33 | Kevin Stearns | 11 |
| 34 | Randy Watson | 1943 |
| 35 | Edwin Abd | 4475 |
| 36 | Andrew McLaughlin | 4493 |
| 37 | Kris Wicks | 792 |
| 38 | Vaughn Gittin Jr. | 25 |
| 39 | Brian Caprara | 9901 |
| 40 | Inaki Lanzagorta | 51 |
| 41 | Jeremy Hammer | 97 |
| 42 | Chris May | 725 |
| 43 | Fabio Manno | 100 |
| 44 | Michael Feagins | 929 |
Want more from the 2020 King of the Hammers? We've been covering everything from the lakebed.
And, check out the gallery below for more action photos from the race.