5,000-Mile All-Terrain Review of the Nitto Recon Grappler A/T Tire
The recent launch of the Nitto Recon Grappler A/T has been met with excitement and rave reviews from many, but we wanted to know how this tire performed long-term. With a number of long-distance trips planned, it was the perfect opportunity to get a 5,000-mile long-term review of the new Nitto Recon Grappler A/T. Our test ride was a 2019 Ford F-150 single cab with a 2.7L EcoBoost V6.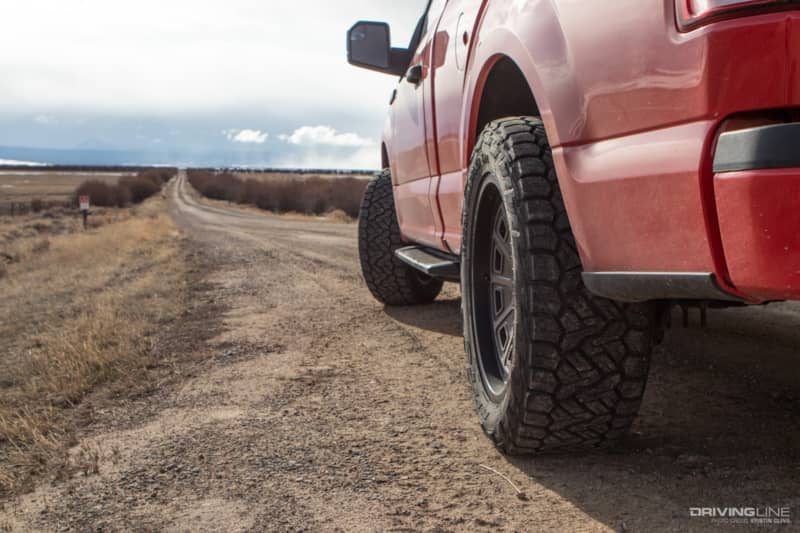 An All-Terrain Tire That Stands Out
Previously, this truck was fitted with Nitto's last-released all-terrain, the Terra Grappler G2. While we were happy with the G2s, we loved the looks of the Recon and knew a beefier all-terrain would better support our increased time spent off-road. So, we wanted to see if the Recon Grappler's aggressive and bold looks could still give us the smooth, quiet ride we wanted for on-road driving while providing even greater versatility and peace-of-mind for the work and adventuring we get into off-road.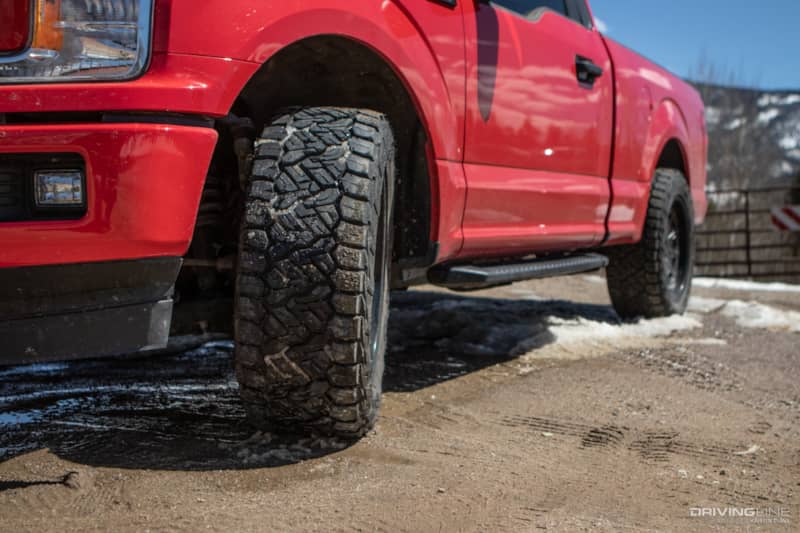 Our F-150 is running aftermarket 20x9 zero-offset wheels with a reverse-level and we swapped out LT285/50/R20 Terra Grappler G2s for LT275/55R20 Recon Grapplers. Compared to the G2s, the overall dimensions were almost equal with the Recons having a higher load index of 120 versus 116. The thicker tread depth of the Recon Grapplers did add a little weight, but not enough that we noticed any adverse effects on ride or suspension.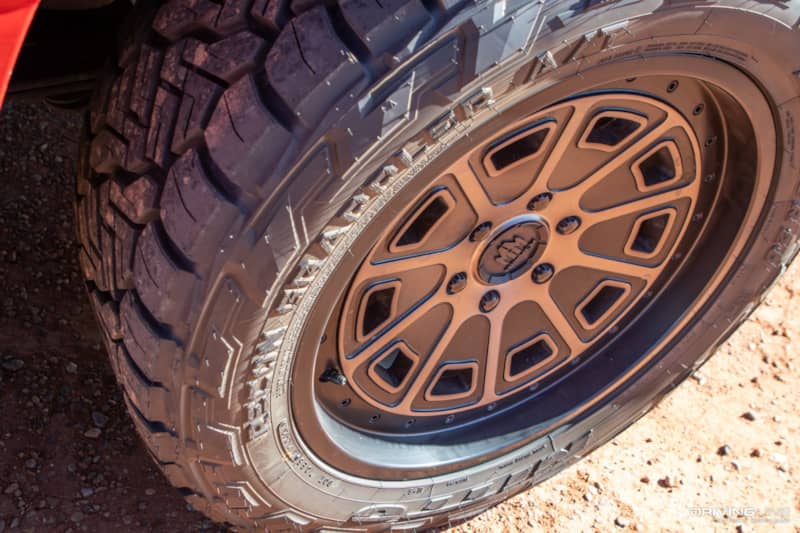 Nitto Recon Grappler A/T Tire Specs
Size:

LT275/55R20

Inflated Diameter:

31.89-in.

Inflated Width:

11.18-in.

Approved Rim Width:

8.0 – 9.5-in.

Maximum Air Pressure:

80psi at 3,085 lbs

Load Index:

120

Carrying Capacity:

3,086/tire

Factory Tread Depth:

15.9/32"

Limited Treadwear Warranty:

55,000 miles

Miles Tested:

5,907

 

Putting the Recon Grappler A/T to the Test
Logging nearly 6,000 miles on these tires from Texas to Montana gave us the opportunity to drive through rain, snow, light mud, dirt and plenty of regular highway miles and all-in-all we couldn't be more pleased with how they performed and how they've worn. On-road the Recon Grapplers track straight and provide confidence in curves. Encountering wet conditions didn't change that, the siping did a terrific job of expelling water and kept us solidly gripping the pavement.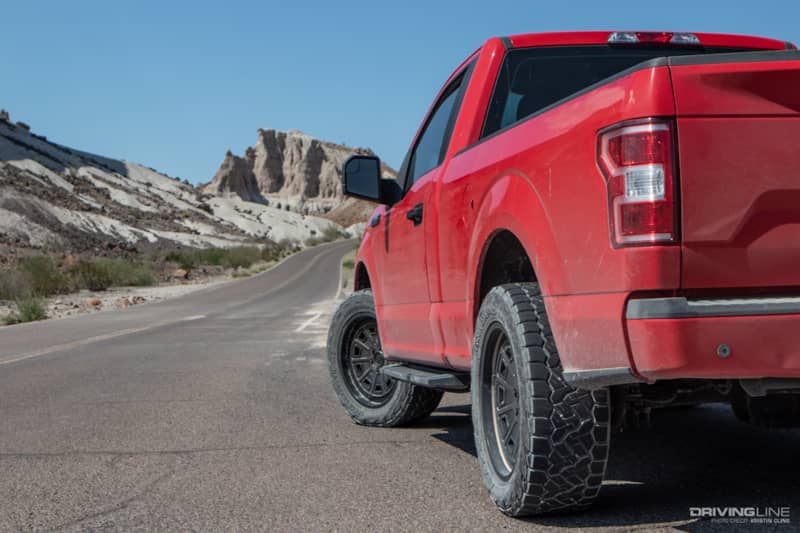 For the ultimate noise test, we turned the radio and air conditioning off and the windows up—even then we really had to listen to hear any tire noise. Phone calls could also be taken through the Ford's built-in media system with zero problem. For as aggressive a tread as the Recon Grappler sports, this minimal noise was less than expected thanks to Nitto's engineering and tread block arrangement.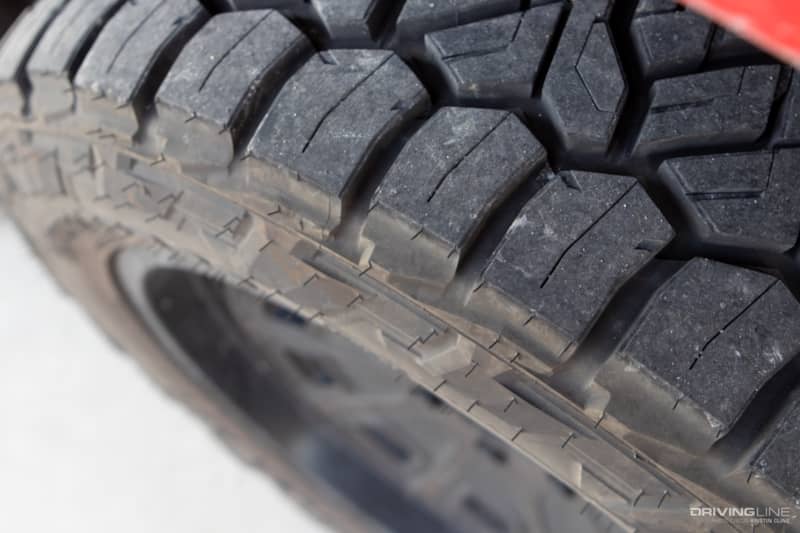 For 1,600 miles of our test drive we were hauling about 1,000 lbs in the truck's bed with a small trailer added in the rear. Through both dry and wet conditions, our time towing with the Recons only made us love them more. Stability and traction were just as confident with a load as without. The LT275/55R20 Recon Grapplers have a load rating of E, plenty for what our F-150 pickup can tow. For those looking for even more towing capacity, the Recon Grappler is available in an F load rating with an index up to 127. Full Recon Grappler A/T sizes and specs are available here, with an even larger size range still being released.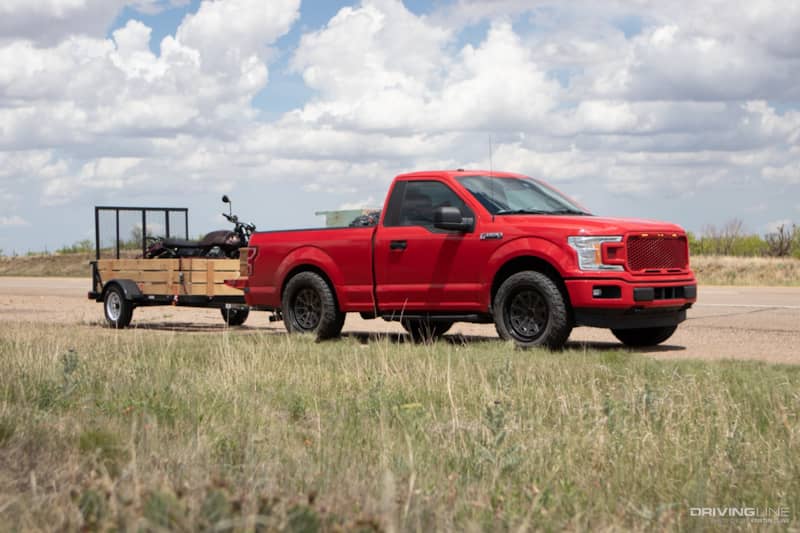 Sidewall Choices for the Look You Want
You can mount the Recon Grapplers with your choice of sidewall showing, just like other Nitto Grapplers. We chose the slightly less aggressive option of the two sidewalls, simply preferring its appearance. As always, whenever I get any type of Nitto Grapplers mounted, the tire tech comments on how easy the tires were to balance with minimal weight needed. That's something we've come to expect from Nitto's Grappler line-up. Their manufacturing process allows highly uniform tires, even in the larger widths.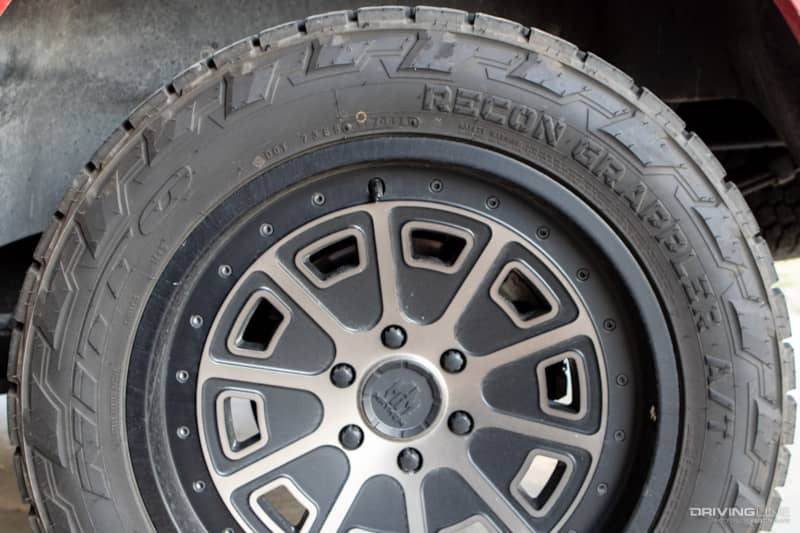 An All-Terrain That's Confident Anywhere
Driving cross-country in some rural and very remote areas, we loved the assurance of running on such a capable all-terrain. Multiple times, even when we weren't expecting to go off-pavement, we found ourselves on dirt roads—some were soft dirt, some rocky and others even got a little muddy as snow melted away for the spring. As with everywhere we drove, the Recon Grappler A/Ts provided all the traction and sureness needed for forging ahead with confidence.
Mud and small rocks were expelled quickly with the tread arrangement and grooves of the Recon Grapplers. While we did get in some dedicated off-roading in Big Bend National Park, for a more comprehensive off-roading review of the Recon Grappler A/T, our senior off-road editor Ali Mansour took this tire through the paces here.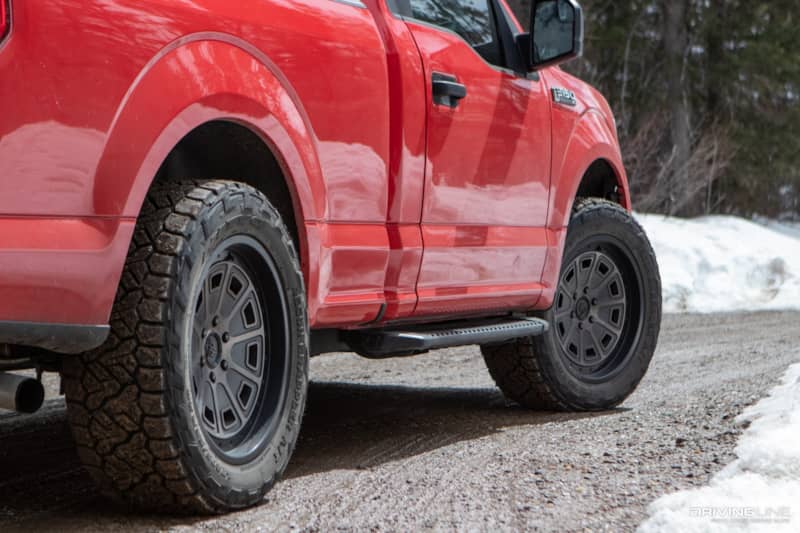 With more than 5,000 miles logged on the Recon Grappler A/Ts, we've fully tested the Recon Grapplers across many terrains and circumstances. Across all these miles the tires still look brand new, but we expect to see even wear when it does start to show up down the road. And backed with Nitto's 55,000-mile warranty for both LT-metric and flotation sizes, we're excited to be driving on these for a long while, even with the high amount of miles we're logging.
One of the most important factors in choosing a tire you'll love is knowing what you want and need out of it. We want a tire that we can feel confident driving anywhere but we also need it to be quiet, durable and provide a comfortable ride. For an all-purpose vehicle like our F-150 pickup is, it's great to have a solid and dependable all-terrain underneath it, an added bonus is how good the Recon Grapplers look. From the steep mountain passes of Montana to the long and lonely roads of west Texas, the Recon Grappler has provided stable and confident driving in whatever situation we find ourselves in. We look forward to where our Nittos will take us next!