Trail Tested: Nitto Tire Recon Grappler A/T Review
Innovation in the automotive world is at an all-time high. Never before have vehicles been so powerful, fuel efficient, and off-road capable right off the showroom floor. Just as automobile manufacturers are redefining the enthusiast car landscape, so are companies such as Nitto Tire. This time, Nitto is looking to redefine a category that is long overdue for a refresh: the all-terrain.
The bar for the all-terrain tire has always been seemingly impossible to reach. As the name implies, a given all-terrain tire should be capable over any terrain it faces. However, ask anyone who has tested an all-terrain tire in the mud, and you'll learn this is rarely the case. While an A/T tire will never take the place of a dedicated mud-terrain tire, Nitto contends that a true all-terrain should give you confidence no matter the road ahead.
And this is how the all-terrain as we know it was reimagined with the all-new Recon Grappler A/T. Nitto designed this tire with the outdoor enthusiasts in mind. Fit with bold styling, massive lugs, and an aggressive tread pattern, the Recon Grappler A/T is anything but conventional. Of course, we were eager to test out the latest all-terrain on the market. So, we strapped a set of 37x13.50R20's under our 2020 Jeep Gladiator Rubicon and went to work.
How did they do? Well, the results may surprise you.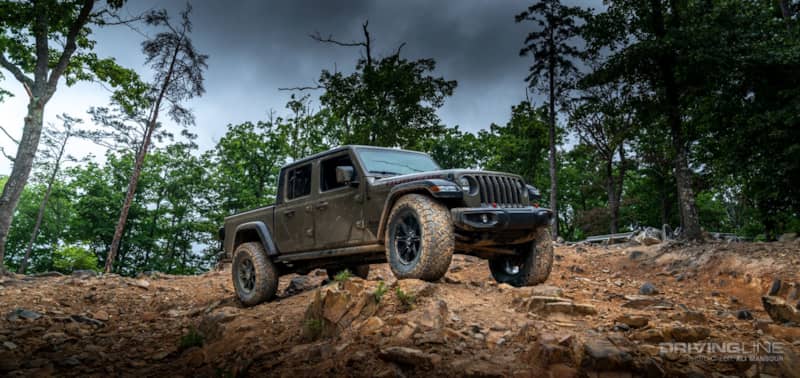 Tread Design
There's no denying the fact that the Recon Grappler A/T tread pattern defies convention. The strategically placed large tread blocks and deep voids are the culmination of decades worth of tire engineering. As you would expect from an all-terrain tire, there's still a gracious amount of sipes to help with wet-weather grip. We've found this tread pattern to not only keep you moving forward, but on the trail, it keeps the vehicle from sliding when you get off-camber.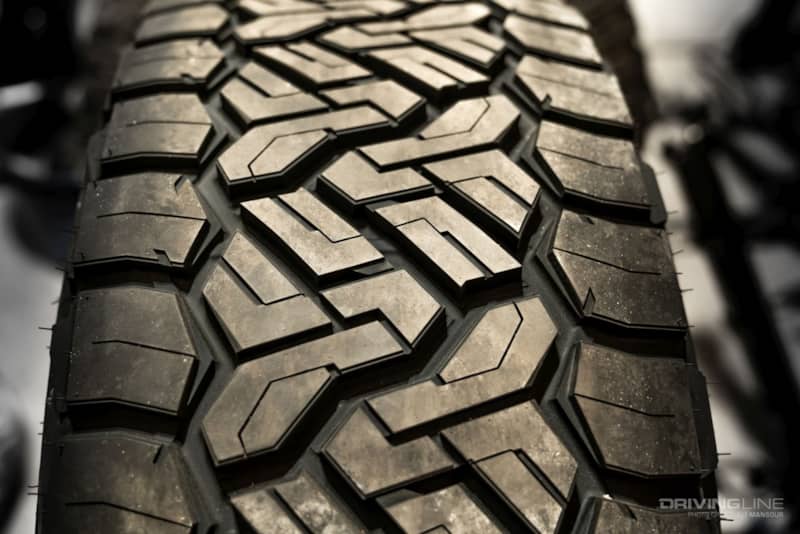 MOTIV Match
Since the first batch of Recon Grappler A/Ts are primarily for 20-inch and larger wheels (Yes, 17-inch-wheel sizes are coming soon!), we needed to swap out our previous wheelset. Our new lightweight cast-aluminum wheels come from MOTIV Wheels. Aside from the clean styling of the 428 Balast, we knew that these 20x9 wheels with 5 inches of backspacing and zero offset would reduce the scrub radius of our new combo.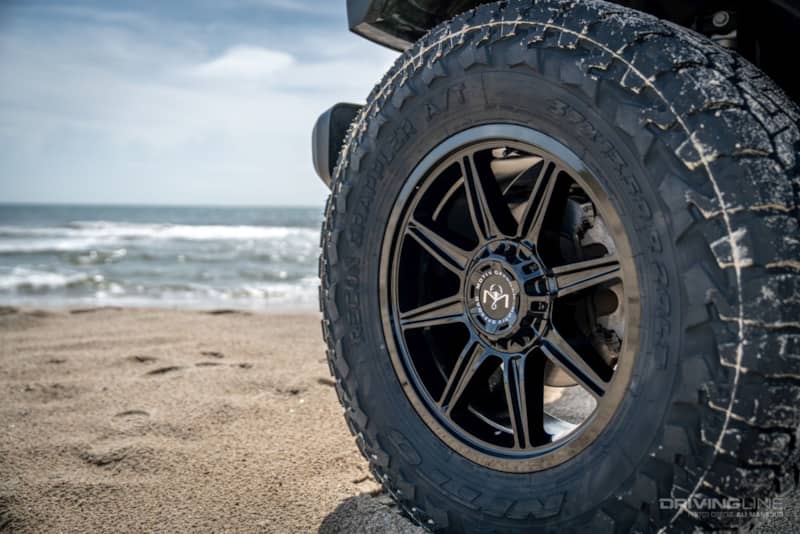 Road Recon
Taking truly little weight to balance, our tires rolled extremely smooth right out of the gate. They ran as quiet or similar to Nitto's other A/T offering the Terra Grappler G2. We've experienced plenty of rain here in southeastern North Carolina and can attest that this tire feels surefooted rain or shine.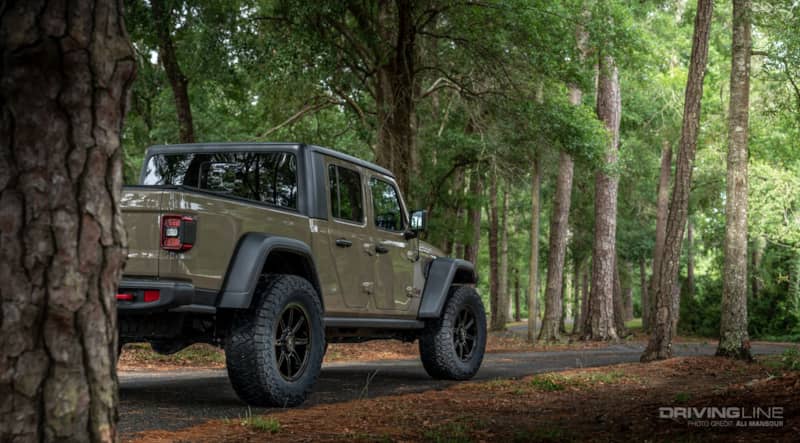 Mud
The seemingly impossible feat of an all-terrain tire is to excel in mud. We got to test this out in Uwharrie National Forest after a full night of rain turned the previous days trails into a much more challenging mix of wet red clay and rocks. While there were a few times we needed to lay on the gas to get the tires to clean out, in general, they had little trouble keeping the Jeep moving forward. Even on some of the larger climbs (hello Dutch John Trail!), the tires kept us moving forward with little effort. Don't worry, there will be an Inside Line video of the test coming soon!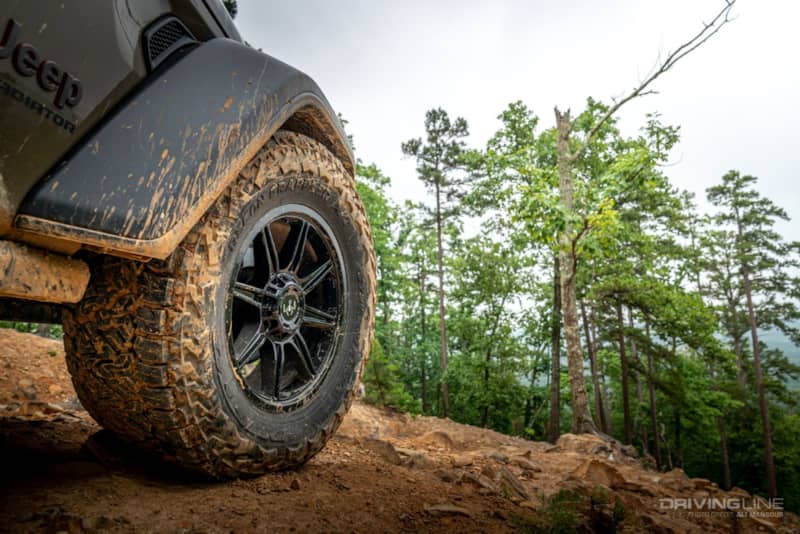 Under Pressure
Nitto is known for its extremely tough sidewalls, so we didn't worry much when it came time to drop the pressure in the tires for the trail. Even when rubbing against jagged rocks in the mountains, our sidewalls were unphased. At 17 psi we found that we didn't sacrifice too much clearance under our Gladiator. This drop from street pressure kept the ride smooth and allowed the tires to absorb the rocky terrain more effectively.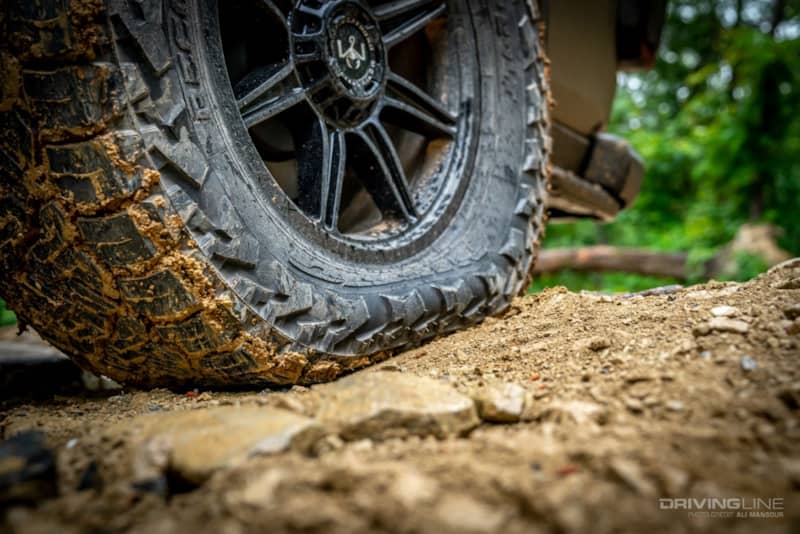 Sidewall Style
Speaking of sidewalls, Nitto offers two distinct sidewall designs. We opted for the more aggressive of the two (B) to be mounted outwards. These bold styling cues not only allow the Recon to shed this stigma of a bland A/T appearance but adds another element in the fight for traction off-road.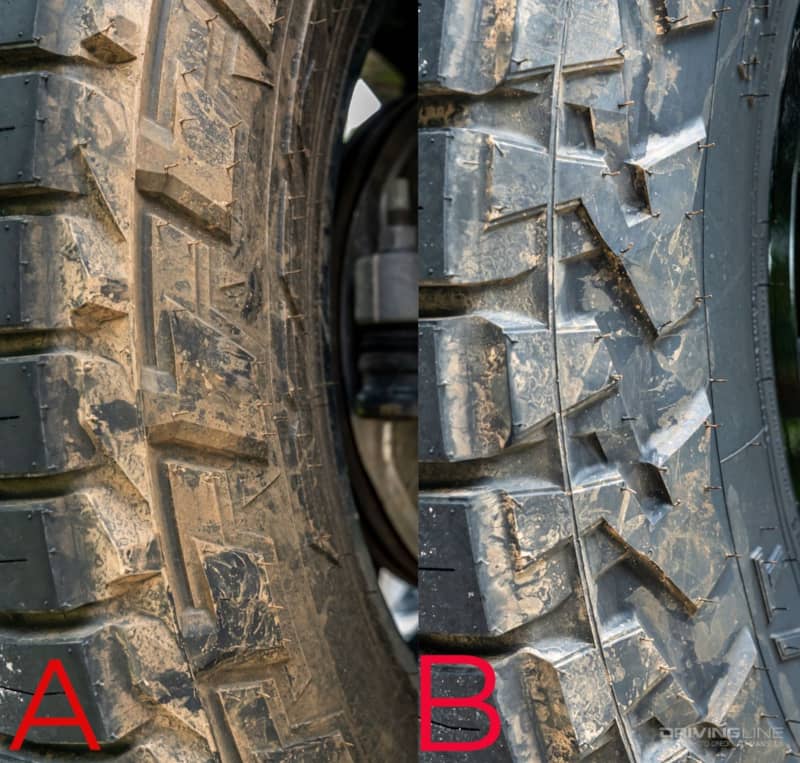 Gravel & Go
If you spend your free time chasing never-ending two-tracks and gravel backcountry roads, you'll be happy to know that the Recon does a fine job at not turning your tires into a gravel rocket launcher. While getting small pebbles lodged between the treads isn't completely avoidable, the large tread stagger of the Recon helps keep the gravel in check.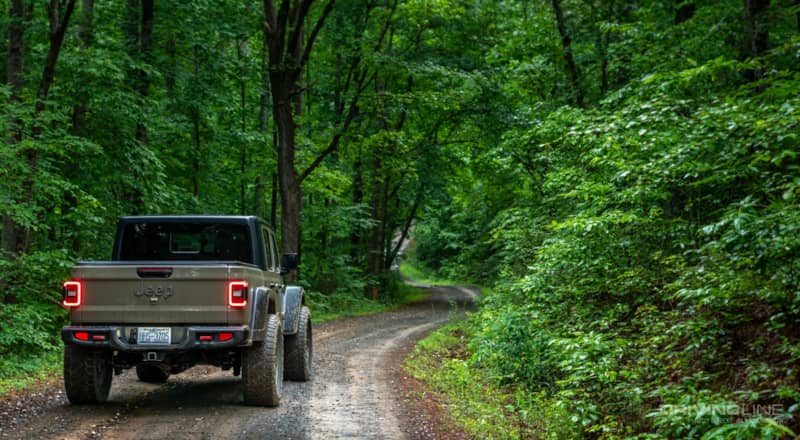 Sandy Soil
Dropping back down from the mountains to the coast, we've found that sand and loam soil are no issue for this tire. On this type of soil, you want a tire that will bite and release just enough to keep you moving forward, not digging straight down. We haven't needed to air down with this setup on the beach, which is a great testament to the tire's ability in this terrain.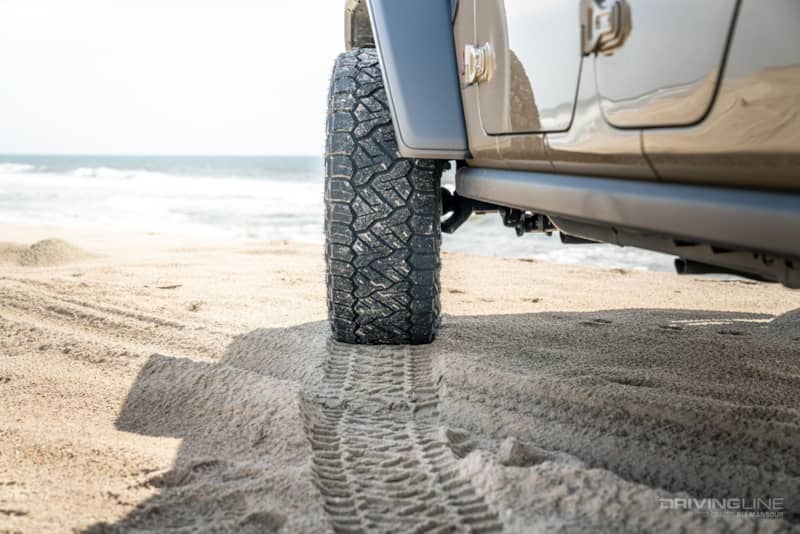 Loaded Up
With the Recon Grappler A/T rolling out in different phases, one thing we are especially excited about is that you'll be able to purchase this tire in a Hard Metric and an LT version. This means if you need the high capacity demands of a load range F tire, you can get it. However, if you just want a replacement set of smooth-rolling and aggressive looking new tires for your light duty range, like an F150 or Tahoe, you can opt for the lighter Hard Metric version.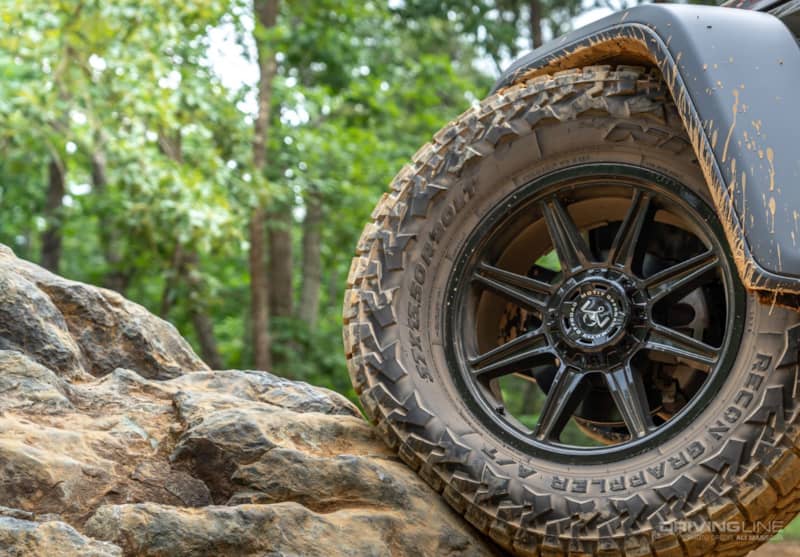 Going The Distance
Nitto is fairly confident that you'll get plenty of miles from your new Recon Grappler A/Ts. So much so, they are offering a 55,000 mile treadwear warranty on LT and floatation sizes. We look forward to seeing just how many miles we can get out of ours.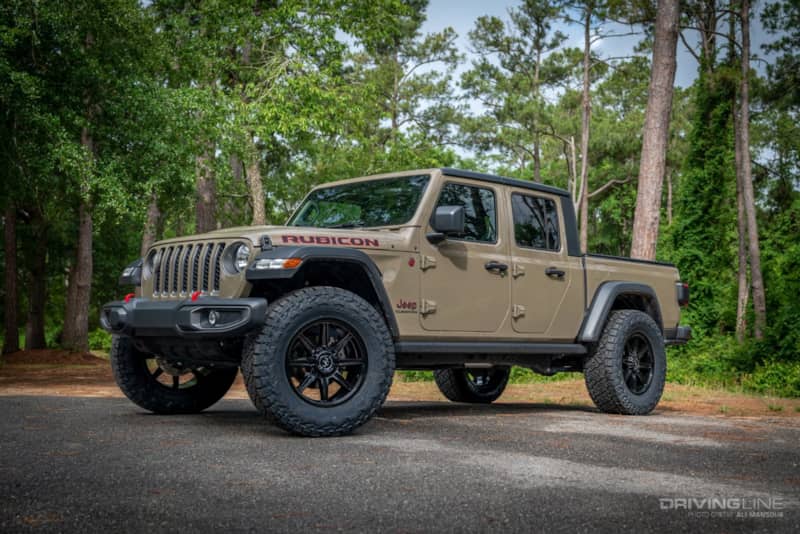 A True All-Terrain
We've been able to test these tires in a variety of terrains. Rocks, sand, mud, rain, gravel, you name it. Everything but snow. Over our time with the new tires, we have been continually impressed. Especially with just how well they worked in the mud. We know that might be the least important reason for some of you to invest in a tire, but it's a feat that few, if any, of the modern all-terrains have been able to achieve. 
Is it a mud-terrain tire replacement? No, but it's not trying to be. Nitto sought to evolve the all-terrain tire in a meaningful way, and they did that and then some. It rides great on the road, makes truly little noise considering the aggressive tread pattern, and work fantastic off-road. It's also worth pointing out that the tires look great, which is an attribute we think tire manufacturers often overlook.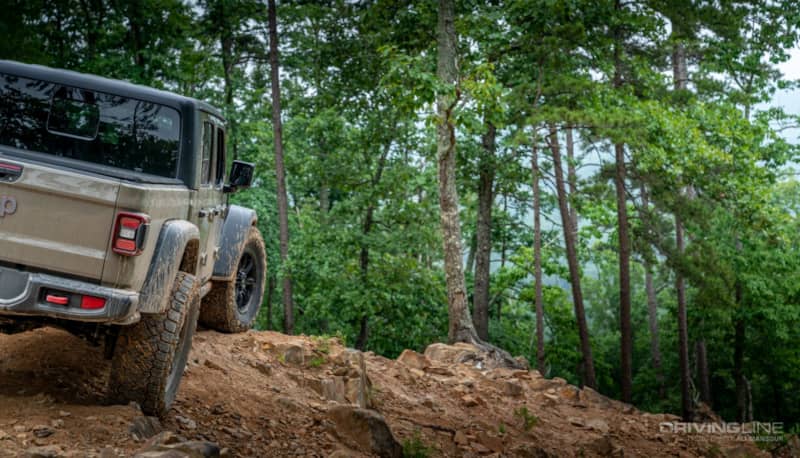 The Tester
In order to clear our new tire and wheel combo, we raised our Jeep Gladiator Rubicon by installing a 1-inch TeraFlex front spacer and ¾-inch Daystar rear spacer. This combined with a 1-inch bumpstop extension up front was all that we needed to make this combo work on-road and off. Given that Nitto's run very true-to-size, we were a little worried about rubbing, but never had an issue on the trail. Kudos to Jeep for building the Gladiator with such massive wheelwell openings.