5 of the Fastest Cummins-Powered Dodge Rams in Existence
Diesel drag racing has been picking up steam for more than a decade now. As fuel injection, cylinder head, tuning and turbocharger technology continue to advance, perpetual horsepower gains are found each winter, and quicker time slips are achieved every summer. Among some of the most recognizable race-ready oil burners are the Pro Street diesel trucks. This heads-up racing class requires a minimum weight of 4,500 pounds, places no limits on engine size or power-adders and is primarily made up of late model half-ton, ¾-ton and 1-ton trucks.
While Pro Street isn't the fastest organized class in diesel drag racing, it is the crowd favorite. The full-bodied appearance of these rigs makes them highly relatable to the average spectator, the class always attracts plenty of competitors and 9-second quarter-miles are the norm — with 8-second passes becoming more and more frequent in recent years.
From four-wheel drive to two-wheel drive, mechanical to common-rail injection and single turbo setups to multi-charger configurations, join us as we take a look at five of the fastest Cummins-powered Dodge Rams in existence.
1. Seth Sullivan
Seth Sullivan's '98 Dodge Ram is the face of Pro Street diesel drag racing. It's been around since its previous owner Dale Smith and his son Jimmy Dale Smith decided to turn it into a 12-second race truck way back in 2003. It didn't take long for Dale and Jimmy to go 11s, then 10s with the truck. Its first 9-second pass came in the form of a 9.97 at 138 mph in the spring of 2007. Then, it was on to clawing its way deeper and deeper into the 9s, and by 2011, the second-gen Dodge clicked off its first 8.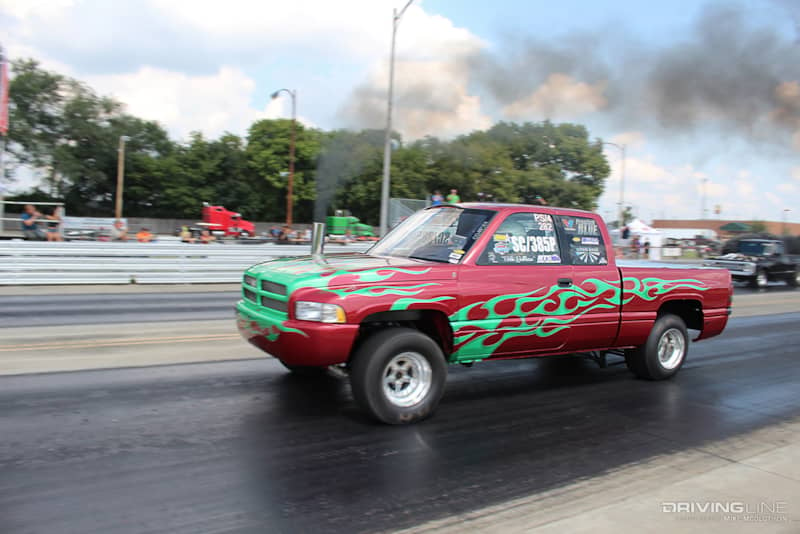 Scheid Power
Seth's quickest quarter-mile pass to date is an 8.83 at 162 mph, but we've seen the old Dodge trap more than 164 mph on a few occasions. With a low compression, Scheid Diesel-built Cummins, hulking turbos and mechanical injection under the hood, the inline-six shares a lot in common with the mega-horsepower engines Scheid builds for its high-end truck-pulling customers. The best place to see this flagship vehicle in action is at the TS Performance drag race in Bowling Green, Kentucky, the Scheid Diesel Extravaganza in Terre Haute, Indiana, and along the Outlaw Diesel Super Series racing circuit held each summer.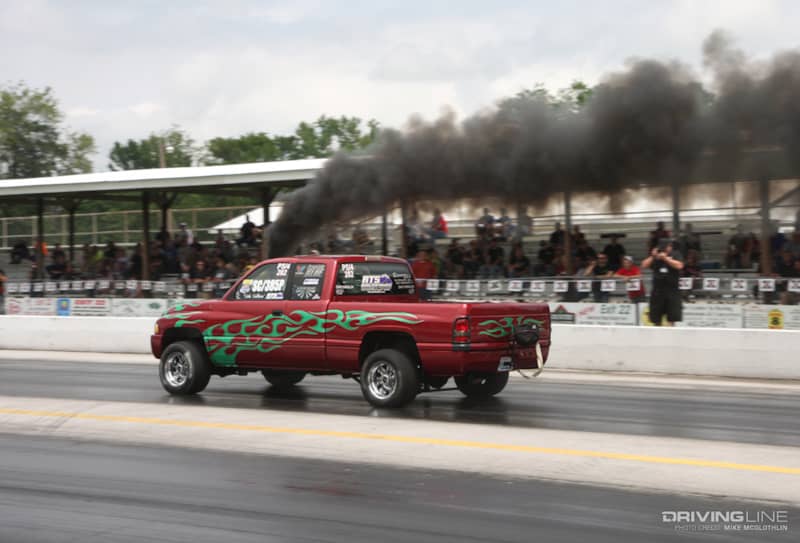 2. Lavon Miller's Two-fer
In just a few short years, Lavon Miller has become a household name among some of diesel drag racing's best drivers. After he and his company (Firepunk Diesel) earned a reputation for putting together some of the toughest, competition-ready Dodge automatics you can buy, Lavon slowly but surely transformed his '04½ Dodge Ram 3500 into a 10-second tow rig, won back-to-back Diesel Power Challenge competitions, and then built this 4,600-pound Pro Street truck to compete in the 2016 Ultimate Callout Challenge. Lavon would win that event, too. So far, his '06 Dodge Ram 2500 Pro Street rig has gone 8.27 at 166 mph thanks to a D&J Precision Machine-built 6.7L Cummins, a triple turbo arrangement from Engineered Diesel, dual 12 mm CP3s and 400-percent over Exergy Performance injectors. And of course, a Firepunk-built 48RE is utilized to send well over 1,500 hp to the track.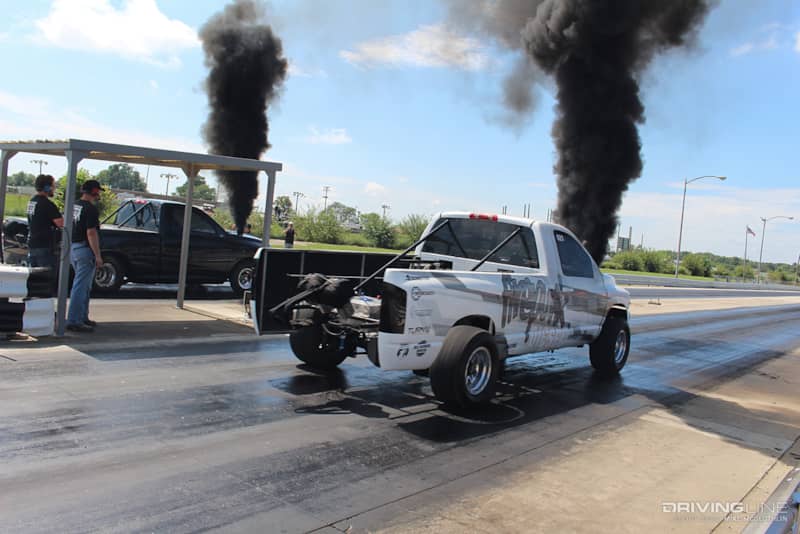 The 9-Second Daily
This is the truck that put Lavon in the national spotlight: a single rear wheel '04½ Dodge Ram 3500 crew cab, long bed 4x4. Just a couple years back, he was known for toting his tandem axle camper to the drag strip with the truck, unhooking it, running mid 10s all weekend, and then towing everything home on Sunday. Since then, the truck has been as quick as 9.83 at 140 mph on an all-out pass, but it regularly receives a slight detune at events and runs (very consistently) in the 10.50 Index Class. Not bad for a 7,900-pound 1-ton diesel pickup!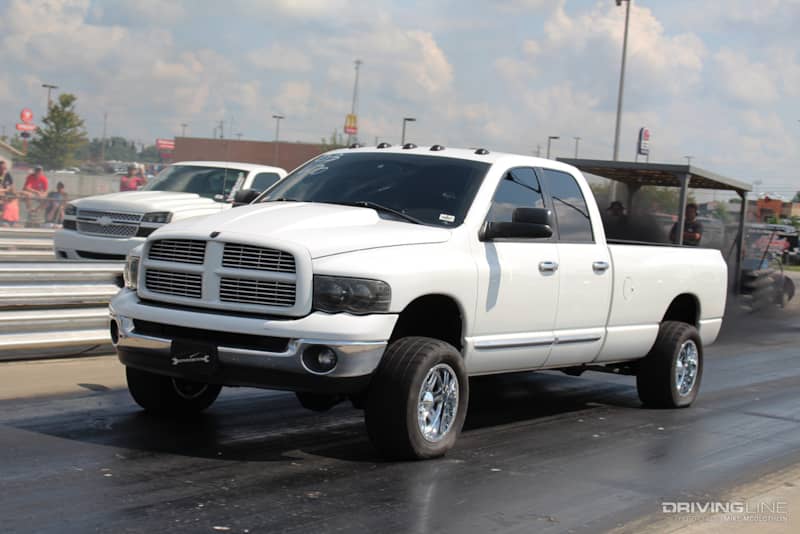 3. Ryan Milliken
After racing a 4x4 Dodge Ram 2500 nicknamed "Buckwheat," Ryan Milliken of Hardway Performance decided to give something else a try in diesel drag racing. Enter this two-wheel drive, 4,600-pound '14 Ram 1500, conveniently coined "Mini-Wheat." An adjustable four-link rear suspension and full roll cage, courtesy of Fleece Performance Engineering, readied the truck for Pro Street, along with a Strange Engineering Pro-Race 9.5 rear axle. Up ahead of the Strange rear end sits a TH400 Powerglide with a lockup torque converter put together by Sun Coast Converters. To date, the little truck has stormed through the eighth-mile in as quick as 5.29 seconds.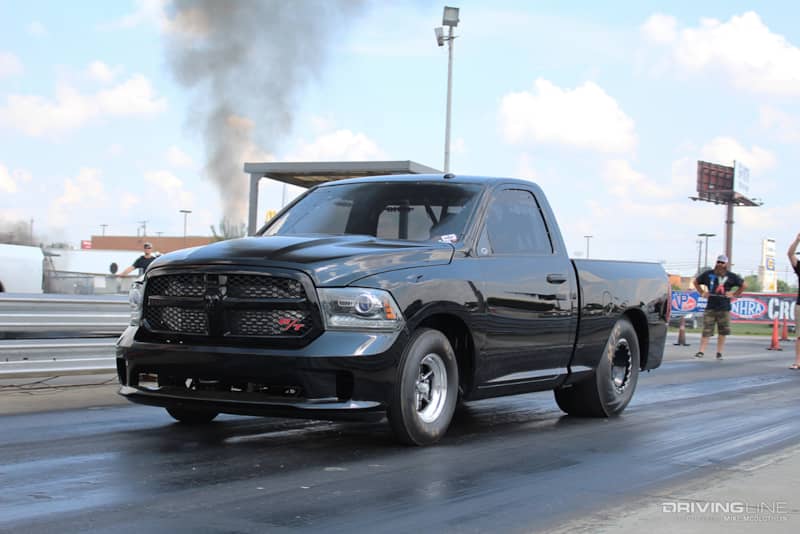 Comp 6.4
Under the hood of Milliken's half-ton Ram sits a Comp 6.4 engine from Fleece Performance Engineering. It started life as a 6.7L Cummins but has been sleeved (hence the lower displacement), fitted with Diamond Racing pistons, Wagler Competition Products rods, a ported common-rail head (by way of Fleece), and a 194/220 cam from Hamilton. For fuel, dual 10 mm stroker CP3 pumps, also from Fleece, send a whopping 36,000 psi worth of rail pressure to a set of 450 percent over S&S Diesel Motorsport injectors. Big boost is crammed into the engine via an 82 mm S400 on the Steed Speed exhaust manifold and a massive Garrett GTX5533R atmosphere unit. Milliken uses a Bosch MS15.1 stand alone ECU to tune the engine, along with a Spaghetti Menders wiring harness.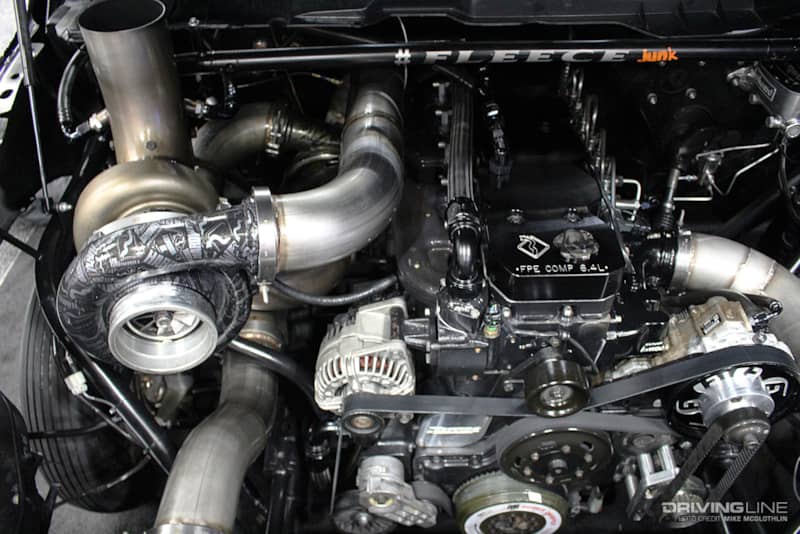 4. Anthony Reams
Bringing it back to the often-preferred (lighter weight) second-gen body style ('94-'02) is the XDP Pro Street Dodge driven by Anthony Reams. Once powered by a mechanical 12-valve Cummins, the truck debuted a common-rail Comp 6.4 built by Fleece Performance Engineering last year. The combination of 450 percent over S&S Diesel Motorsport injectors, BD Diesel dual 12 mm CP3s, triple-turbo arrangement (two 75 mm units feeding a 91 mm), two-stage Nitrous express system and Done Right Diesel Performance tuning culminated in a host of bottom 9-second passes. Then, just before the end of the 2016 racing season the truck rocketed to an 8.85 at 156 mph, indicating that somewhere in the neighborhood of 1,600 hp is making it to the ground.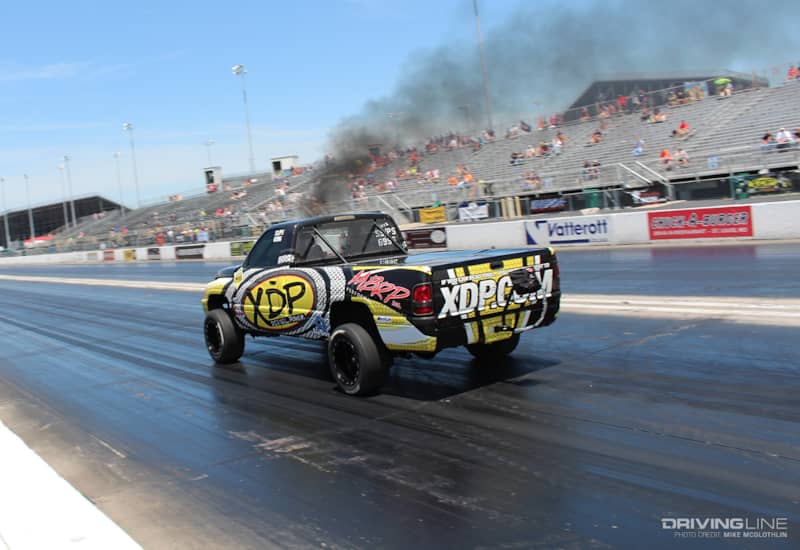 5. Micah Sullivan
One of the more consistent runners in the Pro Street class is Micah Sullivan and his '97 Dodge. Round after round, it's pretty much a guarantee that this regular cab Ram will click off a mid-to-low 9, and the truck's consistency has landed it in the Pro Street winner's circle in the past. So far, Micah's fastest trip through the 1320 has been a 9.35 at 149 mph, but that may just be the tip of the iceberg being that only one turbo is being used, and the truck could stand to go on a considerable diet. At 5,900 pounds (and turning out near-150 mph trap speeds), roughly 1,400 hp is being applied to the track.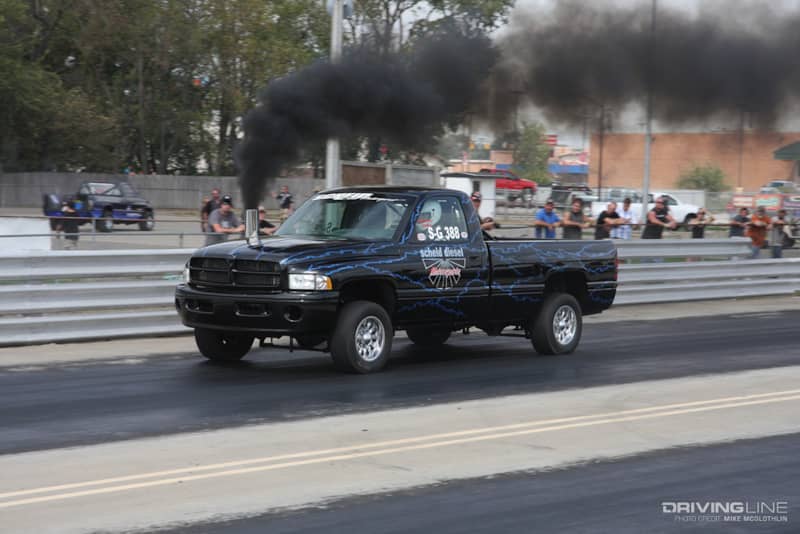 One Turbo, 80 psi of Boost
Speaking of horsepower, the 5.9L Cummins was built by Scheid Diesel and has produced 1,800 hp on the company's in-house engine dyno. The block is filled, fire-ringed and stuffed with R&R connecting rods, Arias low-compression pistons and one of Scheid's billet-steel roller camshafts. The 5.9L utilizes a common-rail fuel system employing dual injection pumps (a stock Bosch CP3 combined with a massive pump that the folks at Scheid refer to as a "CP10"), Scheid's "Red Man 30" injectors (they're big) and a standalone Bosch ECU to control everything. A single, 88 mm turbocharger from Precision Turbo & Engine builds 80 psi of boost at full tilt and, thanks to a 3,500-rpm stall DPC torque converter, Micah leaves the line at 3,800 rpm, with 25 psi of boost on tap. A built 47RE with 300M shafts gets shifted at 4,800 rpm, via a manual valve body.